Zen Monk Thich Nhat Hanh passed away at Tu Hieu pagoda in his birthplace Hue city, the central province of Thua Thien-Hue, early January 22 aged 95.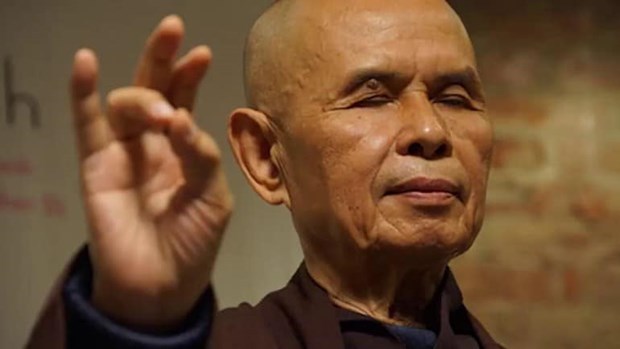 Zen Monk Thich Nhat Hanh (Photo: Plum Village)
Prominent Buddhist monk and Zen master Thích Nhất Hạnh passed away at Từ Hiếu Temple where his spiritual journey began, at midnight Saturday aged 95.
Hạnh was born in 1926 at Quảng Điền District, Thừa Thiên-Huế Province. He later joined Từ Hiếu Temple in Huế as a novice monk at the age of 16.
The famous Zen master was not only a monk but also a culturalist, writer, poet, scholar and calligrapher.
He was known for giving public lectures on mindfulness and peace to tens of thousands of people worldwide. He also founded Plum Village monasteries in France and Thailand.
He is the author of more than 120 books in Vietnamese, English and French.
Some of his famous books published in Việt Nam include 'Đường xưa mây trắng' (Old Path White Clouds), 'Phép lạ của sự tỉnh thức' (The Miracle of Mindfulness) and 'Giận' (Anger: Wisdom for Cooling the Flames).
In the book "In the Buddhist World," Prof. John Powers, an Australian Buddhist scholar, selected 13 monks who had contributed to the formation and development of world Buddhism over the past 2,500 years, and Zen master Thích Nhất Hạnh was in 10th place.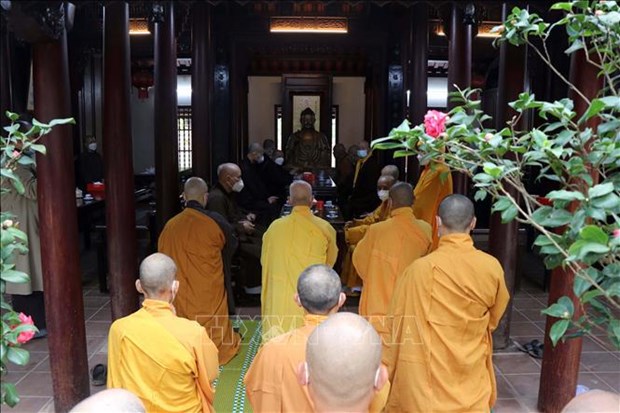 Monks at Tu Hieu pagoda gather to plan a funeral for Monk Thich Nhat Hanh.
In 1967, American Pastor Martin Luther King nominated Zen master Thich Nhat Hanh for the Nobel Peace Prize, calling him "an Apostle of peace and nonviolence."
In 2018, Zen Master Thích Nhất Hạnh returned from Thailand to Từ Hiếu Communal House with the wish to live out his remaining days.
He told the monks: "If one day I die, don't build me a tomb tower. It costs money. It costs the people's land. Our people are still very poor. Burn me. My ashes, divide them, then give them to Plum Village's monasteries around the world and spread them on the roads where you go to meditate every day. In doing so, you and I will still go on walking meditation together every day."
Most Venerable Thích Nhật Từ, member of the Executive Council of the Việt Nam Buddhist Sangha, said: "Let's stop, and take a minute of silence to remember the merits and great contributions of a venerable, compassionate and wise teacher for Vietnamese and global Buddhism."
Source: VNS