Minh Phương & Vân Nguyễn
To keep international lovers of Hà Nội entertained during the pandemic, one guide is offering virtual tours to bring them a real taste of the capital from the comfort of their homes.
Lê Hoàng, 28, has five years' experience working as a tour guide for foreign visitors. His job was to walk tourists around Hà Nội and talk about the beauty and history of the city.
But like many other tour guides, Hoàng had to stop when the pandemic hit the country. To keep his job going, Hoàng started to organise tours to bring authentic experiences through live streams.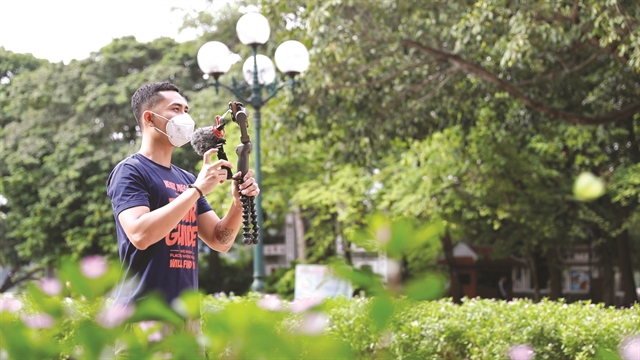 Hoàng has started to organise virtual tours around Hà Nội since the pandemic broke out. — VNS Photo Minh Phương
"Việt Nam cannot receive foreign tourists due to the COVID-19 pandemic. So as a tour guide, when the pandemic broke out, I couldn't work anymore," Hoàng said.
"I tried to find a way to change to guide tours online. Fortunately, this is a trend of the tourism sector in the world, so I started to organise more online tours.
"Most tourists are very satisfied with my online tours, they are happy when having a chance to know about a new country at this time."
During his tours, he will guide online tourists to signature spots in Hà Nội, try out some iconic food from every nook and cranny of the city.
With his passion for coffee, Hoàng also shows off the city's vibrant lifestyle through his coffee tour. In this tour, he tells the story about Vietnamese coffee, and sometimes he also hosts a coffee-making classes guiding people to brew and enjoy coffee in the Vietnamese way.
"My virtual tours tell the history of Hà Nội and Vietnamese coffee," he added.
"For those tours, I usually walk around the Old Quarter, Sword Lake and the French Quarter to show tourists the history of Hà Nội.
"My best online experience right now is the one with coffee..
"I was born and raised in Hà Nội, the heart of coffee culture in Việt Nam. So I really like coffee. My father taught me how to brew coffee when I was only six and since then, I never stopped brewing.
"When tourists join the coffee tour, they can feel my love for coffee as well as the culture and history of Hanoians, especially about drinks and how they are enjoyed here."
His best tour is the one with coffee. — VNS Photo Vân Nguyễn
Each virtual tour session will last around one hour. His live tutoring session on coffee making is the most popular tour that he has offered.
"I remembered I hosted a coffee tour for an online birthday party. The birthday guy is a fan of coffee. They wanted to learn about Vietnamese coffee so they bought my online coffee experience as a birthday gift for him," Hoàng said.
"The participants are in a big family but live in different parts of America. So they book my tour to join together via live streams.
"At that party, I instructed them to brew coffee in Vietnamese style so they could enjoy and talk about coffee at the party. It was interesting, so we could have such an experience only in the COVID-19 time."
The demand for virtual tours has surged as the pandemic is still complicated. More than ten thousand foreign tourists have booked his online tour over the past two years. After joining his tour, many expressed their wishes to visit Việt Nam when the pandemic falls away.
More than ten thousand foreign tourists have booked his online tour over the past two years. — VNS Photo Minh Phương
"I think the connection between tour guides and tourists did not vanish, it just got switched to a different platform," Hoàng said.
"I still get to make new friends from all over the world every day, while they get to experience Hà Nội as they wish."
Hoàng thinks virtual tours can be developed more in the future even when the pandemic is eased.
"I think online tours are the future of the tourism sector," he said.
"When a foreign tourist visits Việt Nam, the first impression might interest them or intimidate them. Online tours will help them get familiar with a different culture before arriving in a new country.
"I think online tours will be a good way to promote traditional tours when the border reopens.
"Since 2020, virtual tours can also be applied in some high schools or universities as virtual school trips."
To make this experience more lively to online visitors, Hoàng thinks it will depend on the technology development.
"Online tours can convey information through image and voice, but online tourists will hardly feel the space. Using a 360-degree camera is a proper solution, but it might require a very strong internet connection," Hoàng said.
"I think we have to wait for the 5G network to have a better image quality.
"However we all hope that the pandemic will soon be contained, so I can meet my customers in person and tourists can also have a real visiting experience." VNS