Prof Phung Van Dong, who is head of a strong research team in High Energy Physics and Cosmology at Phenikaa University, is the youngest professor recognized this year.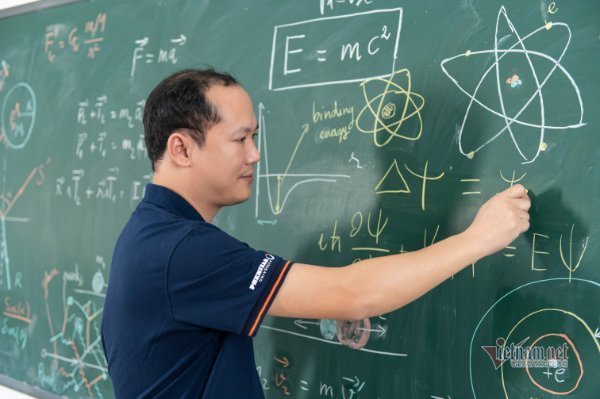 Prof Phung Van Dong
Dong, born in 1981, is a former student at the Hanoi University of Natural Sciences, a member of the Hanoi National University. This was a favorable environment for him to develop his love for physics and have the opportunity to do in-depth research in theoretical physics.
After graduation, Dong decided to study for a master's degree and then a doctorate in Vietnam, while many other people went abroad.
Dong said at that time he was led by good professors with research teams at the Hanoi University of Natural Resources and the Physics Institute under the Vietnam Academy of Science and Technology. He said, in the field of theoretical physics, human resources are the major factor.
Within the first year, Dong fulfilled his doctoral dissertation with five published research works, including four articles published in Physical Review D and one in Physics Letter B. He was allowed to defend his dissertation and successfully did so in October 2007. However, he had some problems at that time which could only were fixed two years later.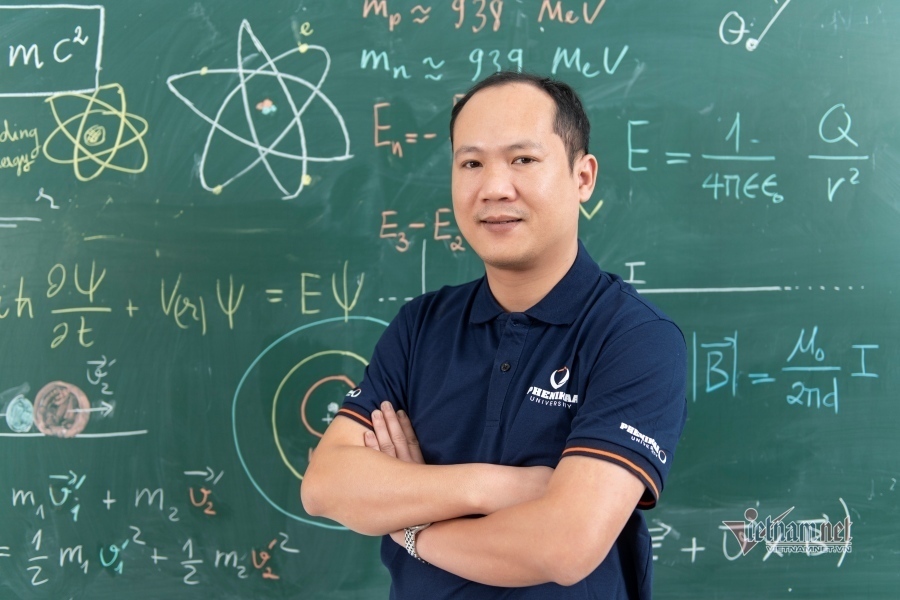 Dong received the doctorate in 2009, when he had 14 research works.
After that, Dong decided to go abroad for postdoc study. He conducted research at KEK (the High Energy Accelerator Research Organization) in Japan, CERN (European Organization for Nuclear Research) in Switzerland, and AS in Taiwan, and widened his research orientations.
After completing his post-doc internships, he decided to return to Vietnam.
Explaining the decision, he said when living overseas for a while, he had many achievements in his career but he had to exchange many things for these achievements. He loves the life in Vietnam and likes to meet friends, members of his old research team and family members.
"After a period of postdoc study, I realized that I had a certain maturity in my work and profession. My field is theoretical physics, which does not depend too much on experimental equipment, so I can work anywhere," he said.
In 2016, Dong received the Ta Quang Buu Award for his '3-3-1-1 model for dark matter' which marked his first step into the new field of dark matter.
He also had a research article on dark matter published in Physical Review D Rapid Communication. His research team at Phenikaa University had their work in about 10 publications each year. Their research helped put Vietnam into the list of 50 top countries by Nature Index.
After 18 years of research, Dong has had 54 scientific research works published, mostly in prestigious journals.
However, according to Dong, for researchers, the number of articles published is less important than having breakthrough research results. He knows some professors who don't have a high number of publications after receiving Nobel prizes, and he knows some research teams with a high number of members but only publish some works each year. Their principle is to find the best results or results useful to the professional community.
"The number of publications is necessary to gradually improve the quality of research. However, if there are no breakthrough research results, it will be meaningless if there are up to 100 works," he said. "That is the principle we are pursuing."
In the past, when the country had many difficulties, Vietnam had good scientific research works, especially ones in basic sciences.
Later, to improve research quality, Vietnam developed research teams associated with human resources development in universities with investments from funds and private schools. Vietnam has also seen improvement in international cooperation in scientific research.
This, plus support from NAFOSTED (National Foundation for Science and Technology) over the last 10 years, has helped produce many good scientific research works, while the number of published works has increased year after year.
However, while the number of published research has increased sharply, the number of high-quality work has not risen increase proportionally, he said.
In order to solve the problem, according to Dong, it's necessary to accelerate cooperation in research and develop human resources.
Cooperation improves the quantity and quality of scientific research as scientists can work with each other to solve big questions. Meanwhile, training provides human resources to solve questions. If predecessors cannot solve the questions, successors will continue their work.
Dong believes that in order to have developed science and technology which allows Vietnam to walk abreast developed countries in the near future, Vietnam needs to apply the "triangle" model. The wider and stronger the side of the triangle, the higher the peak will be pushed. So, Vietnam needs to have strong human resources, use young and capable scientists, encourage the participation of the private sector, and invite international scientists to Vietnam to work.
Thuy Nga
Nguyen Tri Hai, 29, thought that he just needed to find a good professor and a lab to have a future. However, he had no work to publish after two years of research.
Luu Nguyen Nguyet Minh is working on sustainable solutions to help solve Mekong Delta's problems.