Truong Thanh Tung is a young doctor with great aspirations. With experience working abroad, Tung and his research team hope to make antiviral drugs in Vietnam to treat infectious diseases such as COVID-19.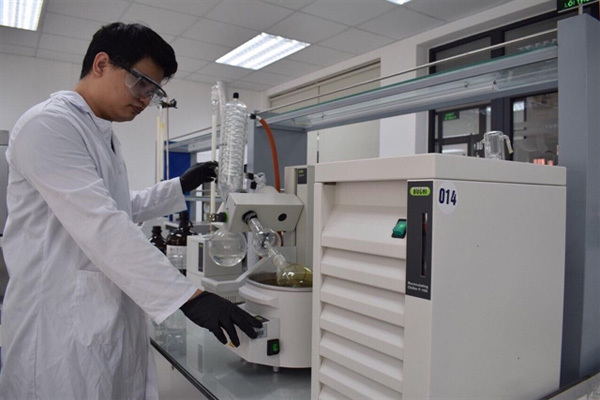 Truong Thanh Tung researches drugs in the laboratory of the Faculty of Pharmacy, Phenikaa University, in Hanoi. — Photo baotintuc.vn
When still a high school student, Tung was fascinated by creating new substances from chemical reactions. He decided to follow his dream to become a pharmacist and invent new drugs to save patients.
As a Hanoi University of Pharmacy student, Tung had research papers published in international journals. "My recognised research work helped me believe that scientific research is my greatest strength," said Tung.
A mentee of Prof. Nguyen Hai Nam, Rector of Hanoi University of Pharmacy, Tung has had the opportunity to study and do scientific research in many countries worldwide, such as Korea, the United States and in Europe.
By the age of 33, Tung had 28 articles published in scientific journals, of which 26 were published in international scientific journals.
Although being offered many jobs abroad, Tung chose to return to his homeland of Vietnam to fulfill his dream of making medicines.
"Two years ago, I asked myself these questions: Am I ready to return to Vietnam? Have I accumulated enough experience to return to my homeland and fulfill my dream? Can I research and develop pharmaceuticals in Vietnam?" said Tung.
"When I knew the answers were yes, I quickly returned to Vietnam."
When the pandemic hit, Tung saw that this was the golden time to return to Vietnam due to his passion for researching infectious diseases.
"In the United States and many European countries, people are interested in making medicines such as cancer treatment and management drugs," said Tung.
"In Vietnam, infectious diseases and antibiotic resistance are more common. Thus, research on new antibiotics and antivirals are very much needed."
One of the difficulties stated by Tung in Vietnam is that almost all drugs, including functional foods or therapeutic drugs, have to import pharmaceutical and chemical raw materials from abroad.
Such materials are not available in Vietnam but many countries such as India, China, Korea, and the United States.
"When I returned to Vietnam, the lab where I worked was empty," said Tung.
Fortunately, he received an offer to work at Phenikaa University, where Tung and his research team at the Faculty of Pharmacy were sponsored and they have received investment in research equipment.
"After a while, I found a way to adapt myself to the conditions in Vietnam, that is, to conduct studies according to foreign methods and flexibly utilise the equipment I have," said Tung.
Duong Thi Ly Huong, deputy dean of the Faculty of Pharmacy, Phenikaa University, comments: "Tung is a person who is passionate about scientific research. Despite receiving many job offers from foreign companies, enterprises and research institutes, he still returned to Vietnam with the desire to contribute to his home country, which I deeply respect."
While studying and researching abroad, Tung was a member of the editorial boards of leading international journals specialising in pharmacy. Thanks to that, he has networked with many leading professors in pharmacy, which has supported Tung and his team immensely, especially with the free testing of new drugs that the research team found.
Tung believes that finding drugs against infectious diseases is crucial for the community. Once an infectious disease is discovered, the number of people infected could be very high. COVID-19 is a clear example.
"If drug research for infectious diseases is successful, more people will have a better chance of being cured," said Tung.
Until now, Tung's research team have found several pharmaceutical products that can replace antibiotics. These drugs can help people with antibiotic resistance to treat diseases. They also have had some success in antiretroviral drug work tested on HIV. These studies would be modified to be applied to other viruses, including SARS-CoV-2.
On March 26, Tung was honoured to be awarded the 2021 Young Vietnamese Face Award in scientific research. This is a result of the difficulties he overcame and motivation for him to continue with his passion.
"My team's long-term aspiration is to produce Made in Vietnam medicine to bring to the people drugs that are synthesised, produced and supplied in Vietnam," said Tung.
"We will work together to have world-class projects so that international scientists and global pharmaceutical companies can come to Vietnam for technology exchange. I hope our efforts can put Vietnam on the world pharmacy map."
Source: Vietnam News
While Vietnam's pharmaceutical and healthcare industries are waiting for a big push to shine, foreign enterprises continue to seek more adjustments of legal barriers.
Molnupiravir, the Covid-19 drug manufactured in Vietnam, is expected to be priced at VND300,000-500,000 a box. In the black market, it has sold for VND10 million per box of 20 tablets.