Nguyễn Thị Mỹ Hạnh (right) and Nguyễn Thị Mỹ Trang pose with their medals. Photo of baophapluat.vn
Thanh Hà
Don't take it easy.Never give up. Don't rest on your laurels.
These are some of the shibboleths wrestlers Nguyễn Thị Mỹ Hạnh and Nguyễn Thị Mỹ Trang have learned by heart as they return to practise in a new round of competitions after their recent success at the SEA Games.
The 31st Games has now finished, but the 32nd edition in Cambodia is coming within a year. A 12-month gap might be a long period for some, but not for elite athletes such as the sisters who will defend their titles and expect to lift their other siblings to succeed in the same arena.
Unique
Their family in Khe Village, Quảng Điền District, in Thừa Thiên Huế Province, is surely one of the most special in the nation's sports community.
Four of the household's seven children are wrestlers. Two are senior national team athletes expected to represent Việt Nam in high-level tournaments; one is a member of the national junior squad, and the last has much potential within the province and beyond.
Hạnh, born in 1997, was the second child after her eldest brother, and has understood the challenging conditions of her family since she was small. Hạnh and her siblings told each other they had to do whatever they could to help their poor parents.
Hạnh chose to practise wrestling to reduce the burden on the family.
Nguyễn Thị Mỹ Hạnh (standing behind) watches her sisters Nguyễn Thị Mỹ Trang and Nguyễn Thị Mỹ Linh (right) during practice. Photo cand.com.vn
A cousin invited Hạnh to test her abilities with the provincial sports centre. And the 13-year-old, who had no idea of sport at the time, especially wrestling, was picked.
"Farming is hard, but practising sport is even harder. I was exhausted in the first days of training. I was tired of crying and sometimes wanted to quit," said Hạnh, who became a national team member three years later.
"But practising means I have a salary to support my family. I was encouraged a lot by both my parents and coaches. God bless me that my strong effort brought sweet results."
She has several domestic titles under her belt in the women's 62kg category, a bronze from the Asian Games in 2018, bronzes at the Asian Youth Championship in 2017 and 2018, and a gold in the SEA Games in 2019. She also received a certificate of merit from the Prime Minister for her achievement.
Hạnh later suggested that her sister Trang, born in 2001, also follow a sports career.
"I agreed because I liked wrestling too. And also, my parents' workload would be reduced as they would not have to feed me. Although, I still wished to return to school one day and have a job, not being a wrestler," said Trang, who has 10 golds in the Southeast Asian Championship and bronzes in the Asian Youth Championship in 2018 and 2019 in the women's 57kg pool.
"Following Hạnh, I learnt many things and got acquainted with the sport, which is my passion now, and I will stick with it till the end."
Their younger sisters, Nguyễn Thị Mỹ Linh, (born in 2003) and Nguyễn Thị Mỹ Tiên (born in 2005), have also stepped into the wrestling ring.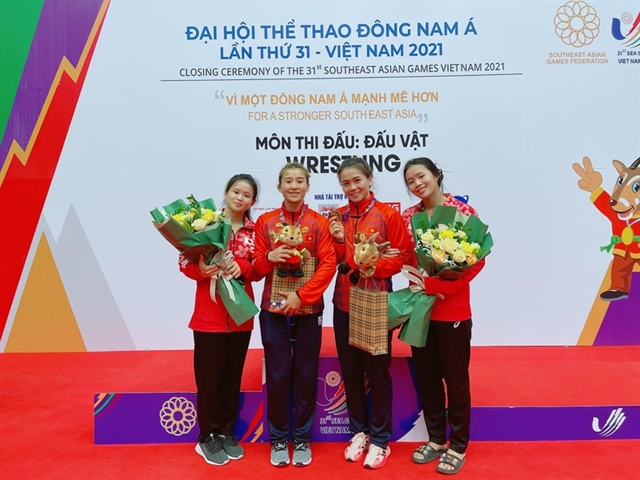 Four women of the Nguyễn family celebrate the two older sisters' SEA Games wins last month in Hà Nội. Photo baophapluat.vn
Linh showed her potential with two golds from the Southeast Asian Youth Championship in 2018 and 2019 in the women's 55kg class.
"Hạnh is great with her consecutive attacking style. Trang is good in defence, while her overwhelming style can stun her opponents from the first seconds. She will be Việt Nam's medal hope in continental tournaments in the next one to two years," coach Đinh Văn Kiên said.
"Linh, on the other hand, combines her sisters' styles. She wrestles technically and is good in both attack and defence. These three have strong competitiveness. Whenever they are on the floor, they will fight their best. They will dominate all Việt Nam events and cast their shadow further."
SEA Games champions
May 18 would be a special day for the family as the oldest daughters topped the SEA Games podiums together.
Nguyễn Thị Mỹ Hạnh (right) wrestles Indonesian Kharisma Tantri Herlina in the final of the women's 62kg class of the 31st SEA Games in Hà Nội last month. VNA/VNS Photo
Minutes after Trang's victory came Hạnh's celebration, which contributed to Việt Nam's brilliant domination of the wrestling events, winning 17 out of 18 titles available at the Gia Lâm Gymnasium in Hà Nội.
"I was so happy to see my sister winning in her SEA Games debut," Hạnh said.
"The 31st SEA Games will be our best memory as we competed and won together. It was much more meaningful as my parents, and provincial teammates travelled from Huế to Hà Nội to support us. I believe that our victories will be strong pushes for us. Our results are not the highest yet. We still have higher and tougher tournaments awaiting."
Theoldest sister Hạnh hopes her win will strongly inspire her younger siblings (Linh and Tiên), who were also in the stands, to pursue their careers.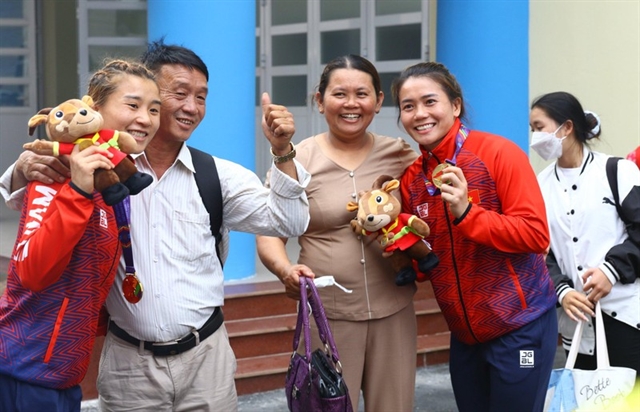 Their parents are the duo's biggest fans. They travelled from their home town of Huế to Hà Nội to support their two daughters. Photo baophapluat.vn
Hạnh expects that Linh will not only be picked to compete but also win at the Cambodia SEA Games slated in mid-May 2023. Tiên is also earmarked as a teammate for the near future. VNS