The Ministry of Investment and Trade (MOIT) has estimated that wood and woodwork exports in November brought turnover of $1.15 billion, an increase of 21 percent over the month before.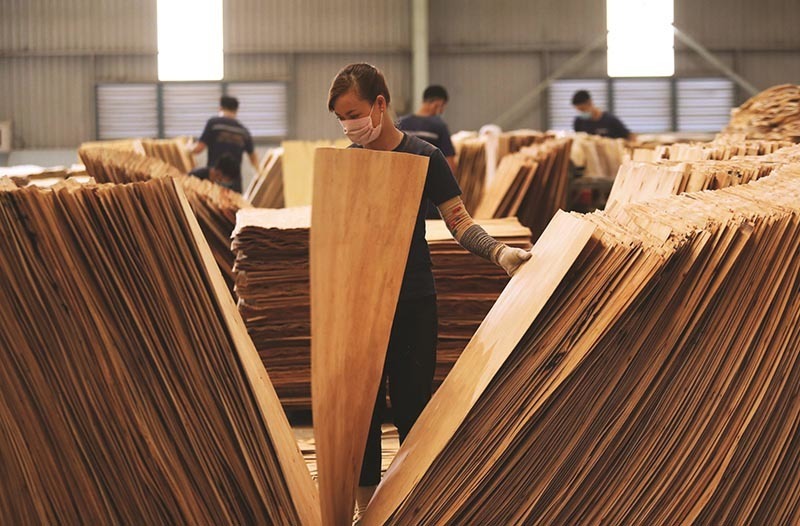 Of this, export of wooden products brought $840 million, up by 35.4 percent. As such, wood and woodwork exports have surged again to over $1 billion after three months of staying below $1 billion.
Nguyen Chanh Phuong from Hawa said in the first year of the pandemic, enterprises quickly adapted to the new circumstances, keeping contact with clients via e-commerce channels and online showrooms.
He said the success of the woodwork industry was due to staying safe over the last two years. It even saw a 60 percent growth rate in revenue. The sales went well thanks to the support of IT and growth in demand in some markets, including South Korea.
During the fourth pandemic wave which caused the most severe damage, 50 percent of factories maintained production under the 'three on-the-site' mode.
"High technology and the resilience of Vietnamese are the two factors that helped woodwork enterprises stay safe and continue production," he said.
Phuong said all the services the wood industry association provides to member companies are based on technology.
In early 2020, FPT gave support by organizing online conferences and providing online training courses. Soon after that, enterprises had a platform for online showcases and are still maintaining virtual showrooms on that platform.
Soon, manufacturers will have to observe rules on authentication of legal timber origin. Technology application is a must to help businesses identify their supply chains, especially the legitimacy of timber.
Phuong attributed supply chain disruptions to the lack of information. B2C (business to customer) has done well, but B2B (business to business) not so well, possibly because of the lack of specific platforms.
Le Nguyen Hoang Minh, CEO of Hung Thinh Innovation, said the pandemic had spurred use of technology that helps connect businesses with consumers.
Phan Thanh Son from FPT Information system said that a new tendency may take shape after the pandemic: furniture-tech, or the shift to smart furniture. It sometimes takes 10-20 years to have a revolution, but Covid-19 accelerated the process and shortened the time to 1-2 years.
Nguyen Tuan Hong Phuc from KPMG Vietnam said that digitization doesn't just mean buying new technologies but also changing the way businesses operate. If they don't go digital, they will lag behind.
Tam An
Despite the adverse effects caused by the Covid-19 pandemic, export sales of Vietnam's woodwork industry have climbed.
Canada slapped provisional duties of up to 101.5% on upholstered seating products manufactured in Vietnam, the Canada Border Services Agency (CBSA) announced.