As there are few guests, many 5-star hotels have shifted to selling Tet food to survive the pandemic.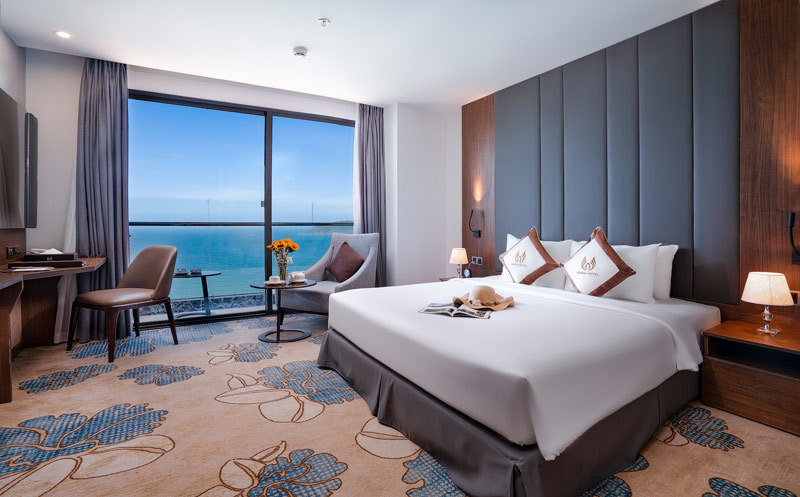 Pan Pacific Hanoi has introduced Tet gift boxes priced at VND5 million containing French wine bottle, tea, sweets and other food items.
Sheraton Saigon has marketed two products – walnut butter cookies and mixed nut chocolates.
Park Hyatt Saigon sells Tet gift boxes priced at VND3.2 million, with five kinds of jam, a box of fruit biscuits, a box of dried cashews soaked in ginger honey and a bottle of wine. The products have sold out.
Prior to that, InterContinental Saigon sold Tet gift boxes valued at VND1.3 million with nuts, cookies, chocolate and fruit jam.
Since the pandemic began, hotels have boosted online sales via digital platforms.
Hotels are trying all possible ways to survive the pandemic. A representative of Rex Hotel said the hotel is cooperating with marketplaces specializing in distributing food to access the large customer base.
Sofitel Legend Metropole last summer began providing home party services. Food is processed and delivered to customers at their home. The menus include Australian beef tenderloin, Norwegian salmon, French cheese and premium sausages.
JW Marriott has also provided lunch and dinner with free delivery for customers within five kilometers, and a VND100,000 fee for over five kilometers for bills VND750,000 and over.
High-end hotels even sell common foods such as fried rice with beef and fried noodle soup. Pan Pacific Hanoi and Media serve purely Vietnamese dishes such as bun cha (vermicelli and grilled chopped meat), pho ga (noodle soup with chicken) and chao suon (pork rib gruel). Some rations are priced at VND25,000 only.
Savills' Q4 2021 market report showed that the hotel and service apartment segments are still heavily affected by the pandemic. In Hanoi, where social distancing has been eased since October, the hotel occupancy rate was 27 percent. Five-star hotels had the highest occupancy rate of 31 percent, while 4-star had 24 percent, and 3-star 18 percent.
The average hotel room rate in 2021 fell by 9 percent to VND1.68 million/room/night, led by five-star hotels with stable demand from businesspeople to long-term guests.
The supply was stable with half from 17 5-star hotels. This segment is expected to lead supply through 2023, with eight out of 13 new projects coming into operation. The market is mainly in the inner city, accounting for 54 percent of the total supply.
In HCM City, the occupancy rate was 20 percent, down 36 percent QoQ but stable YoY, due to a demand decrease from businesses after the "three on-site" and "one route, two destinations" policies were no longer valid.
Four-star hotels had the highest occupancy rate, 28 percent, thanks to reasonable room rates and high-quality services, which attracted business and international specialists.
The average hotel room rate saw a 21 percent QoQ increase to VND1.4 million/room/night as tourism activities resumed. However, the hotel room rate fell by 5 percent YoY as 5-star hotels slashed room rates to serve domestic guests, and 3-star hotels cut food services because of a lack of workers.
The supply of hotel rooms used for quarantine services increased by 55 percent QoQ to 2,760 from 23 hotels, as international air routes reopened in October.
In Q4 2021, the supply was 14,470 rooms from 104 projects, an increase of 39 percent QoQ, but a 5 percent decrease YoY, after 1,000 rooms of 37 hotels reopened.
Five-star hotel rooms dominated the supply with 47 percent of market share, followed by 4-star rooms with 27 percent and 3-star with 26 percent. Fourteen projects halted operation, 13 of which were from 3-star segment because of a sharp fall in demand.
Sixteen new projects with 3,300 rooms are expected to join the market by 2025. This includes nine projects in the 5-star segment, some of which will be run by international brands such as Mandarin Oriental, Hilton and The Ritz-Carlton.
Vo Thi Khanh Trang from Savills said the recovery of domestic and international tourism will infuse a new lease of life into the hotel market in 2022. Hotels need to renovate to catch up with changes in guests' tastes.
'Travel in 2021', a report from Visa, said that international Millennial and Gen Z tourists would lead the tourism recovery as they are more willing to travel as soon as the pandemic is under control.
Duy Anh
Tourism experts say that technology has become essential in hotel operations.
Going digital, using staff for multiple tasks, and opening new businesses, hotels have been struggling to survive the second year of the pandemic.