Hà Văn Hiếu celebrates his fourth SEA Games title in wrestling. VNA/VNS Photo
Thanh Hà
Vietnamese wrestler Hà Văn Hiếu stepped into the competition arena. Just a minute later, he jumped up and did the trademark celebration of the footballer Ronaldo. Hiếu had just made the fastest championship victory of the 31st SEA Games and pocketed a gold medal for his collection.
"My son loves Ronaldo. The celebration was for him," Hiếu said, pointing to a smiling boy in the stands. "I have not seen him for months because I have been practising for the Games."
The nation's biggest wrestler confirmed this was the last Games he would attend. He will move on to a new life which will see him work as a coach and occasional actor.
Việt Nam's Hulk
Hiếu was born in 1985 in a Tày ethnic minority family with four siblings. He naturally stepped into the sports community at the age of 15, following his brother and sister, who were well-known in their hometown of Đồng Ý Commune, Bắc Sơn District, in Lạng Sơn Province.
After two years of training, Hiếu secured his first national championship in 2002. With a height of 1.92m and a weight of 125kg, he was a giant, putting fear into opponents at first sight.
The 'Hulk' of Việt Nam has been domestically dominant to this day. He had no worthy rival and pocketed 17 national titles, a record that many believe will stand for decades.
He is the only wrestling athlete to still compete at the age of 37.
"At first, I thought wrestling was easy, but it isn't. Wrestling is a truly competitive contact sport that consumes a lot of energy, and athletes easily get injured," Hiếu said.
Hà Văn Hiếu needed only 52 seconds to beat Singapore rival Timothy Yu in the final of the men's 130kg category. VNA/VNS Photo
Hiếu said wrestlers must not only practise to improve their skills but also manage their living habits to make sure they are at their peak fitness at all times.
"I don't smoke. I try to avoid beer and wine as much as possible. I have to control the alcohol in my body because I know that wrestling is my job. I have to protect myself for my career. It is better to set regulations for myself and strictly follow them," he said.
This simple but difficult secret has made Hiếu a champion of Việt Nam and the SEA Games.
Hiếu first competed in the regional sport meet in Laos' 25th Games in 2009 and defeated Chum Chivinn of Cambodia in the final to take his first international title.
Wrestling was then organised in the 26th and 30th Games in 2011 and 2019, and Hiếu had no difficulty taking two more golds.
"Whenever I take the national flag on my shoulders and sing the national anthem, it is always a special mixed feeling, moving, pride and happiness," Hiếu said.
"It is, somehow, a strong push for my tireless effort to improve myself to contribute to my country and produce a new generation of athletes."
Hiếu planned to retire after completing a golden hat-trick at the last Games in the Philippines. However, the 31st Games was to be held on home soil, so he was encouraged to wrestle in one more edition.
After nearly three years of waiting due to the pandemic, Hiếu challenged him in the Greco-Roman wrestling, a change from his favoured freestyle event.
One of the main differences between these two styles is that Greco-Roman forbids any holds below the waist, whereas freestyle wrestling allows athletes to use their legs as both defensive and offensive weapons. They can also use a double leg or single leg takedown to pin their opponents to the mat.
Hiếu had to switch up his strategies and techniques, but it was not a big problem for him.
"In freestyle wrestling, I knew my opponents. But in Greco-Roman, I had to fight strangers from the Philippines, Cambodia and Indonesia. I had to make up my tactics while competing," Hiếu said.
He went straight to the final, where he met Timothy Yu of Singapore. It took the host wrestler just 52 seconds to score a maximum of eight points to win.
"I am thrilled. I grabbed a gold medal on home turf in my last SEA Games. It is a wonderful feeling right now," Hiếu said after winning. "I didn't think I could have such an easy win as this."
He will compete in the National Sports Games later this year before moving on to be a coach, ending his 20-year career as an athlete.
"I am 37. Age does not allow me to wrestle well anymore. It is time to move on. I will seek and train talent for wrestling," he said.
Potential actor
Hiếu's first film role was in 2017. If his role in the first film Lời Nguyền Huyết Ngãi (Blood Curse) by director Bùi Thạc Chuyên did not make a big impression, his second film Cha Cõng Con (Father and Son), certainly did.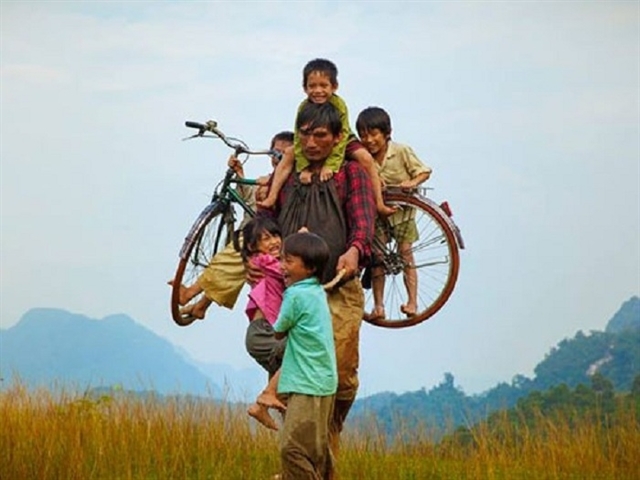 Hà Văn Hiếu plays a father in 'Cha Cõng Con' (Father and Son), which won various international awards. Photo of Hà Văn Hiếu
Hiếu played a blind father who spends his entire life by the river. His little boy suffers from an incurable disease and cannot wait for the day his father has enough money to take him to the doctor.
The movie, directed by Lương Đình Dũng, won the Best Cinematography award at the 17th Milano International Film Festival, and Best Foreign Feature and Special Jury Award for Outstanding Cinematography at the 26th Arizona International Film Festival in Arizona last month.
Currently, his new film 578: Shot of the Madman also directed by Dũng is playing at cinemas nationwide.
He plays a gangster named 'Huge Sơn', a henchman of a local tycoon. His powerful fists leave many trembling. Near the end of the film, Sơn shows off his martial arts ability against the main actor.
The movie will be screened in Japan in July and has been invited to the Tallinn Black Nights Film Festival in Estonia and the International Film Festival of India in Goa, along with other prestigious film festivals later this year.
"It is clear that playing a character in a movie is more difficult and harder than practising as an athlete," Hiếu said.
"Film is a kind of additional event in my life. I just do it for fun. Sport is my passion and career, and I will focus on sport and hope to develop well when I move to a new position." VNS