The World Health Organisation (WHO) will continue to work with the Government of Vietnam to plan for and transition towards endemic COVID-19.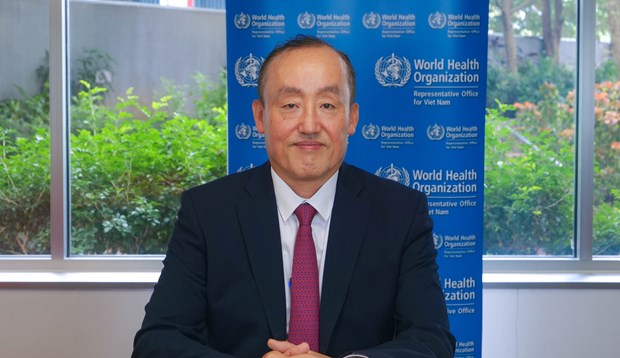 Dr. Kidong Park, WHO Representative in Vietnam (Photo: VNA)
The World Health Organisation (WHO) will continue to work with the Government of Vietnam to plan for and transition towards endemic COVID-19 and learning to 'live safely with the virus' over the long term, even when there are new surges in the future, Dr. Kidong Park, WHO Representative in Vietnam has affirmed.
This includes a focus on protecting the vulnerable and avoiding the 'red line', where health services get overwhelmed, Park told the Vietnam News Agency (VNA).
"Although we may not eradicate the virus and it would be difficult to predict future scenarios of virus mutation, we now know how to save lives and the adverse social and economic impacts," according to the WHO Representative.
"As we transition safe and flexible adaptation to COVID-19, it is critical that we continue our strong public health response through vaccination together with calibrated public health and social measures," he continued.
Park said WHO commends the Vietnamese Government for the hard work and relentless efforts to suppress the COVID-19 outbreaks with the whole-of-society approach.
He highlighted that Vietnam's pandemic response strategy is anchored on a very strong political commitment from the highest level of the Government. It has a robust surveillance and public health emergency response system; dedicated and highly skilled health care workers both at prevention and clinical management side, and the Vietnamese people cooperated with the implementation of the public and social measures.
WHO also expresses its admiration for the persistent commitment from localities through the excellent work of community COVID-19 teams; and Vietnamese people, for doing their share in fighting the virus with personal protection through consistent practice of 5K and getting themselves vaccinated when it was their turn.
Regarding WHO's assistance to Vietnam in the pandemic combat, Park said the organisation has been working closely with the Vietnamese Government even before the pandemic to prepare for any public health emergency.
Since the beginning of the COVID-19 pandemic, WHO has been providing technical, operational and logistical support to the response.
"We will continue to do so and keep providing the most updated scientific evidence to support the Government in their response decision-making processes," he pledged.
WHO's support focuses on strengthening capacity across technical areas including surveillance, risk assessment, outbreak investigation and response, communication, laboratory (including provision of test kits and supplies).
WHO continues supporting the Vietnamese Ministry of Health to review and update the technical guidelines based on the latest evidence, such as diagnosis and treatment for COVID-19, infection prevention and control of COVID-19, how to ensure safety of health workers, and ICU care of COVID-19, among others.
"We have also deployed medical equipment and supplies, especially for hotspot provinces," he said.
As a co-lead of the COVAX Facility, WHO, at the global level, provides technical recommendation on vaccination by convening the Strategic Advisory Group of Expert on Immunization (SAGE); assesses efficacy, safety and quality of vaccine products through WHO Emergency Use Listing (EUL) procedure; and advocates for equitable access to vaccine based on science-based prioritization.
WHO recommends for Vietnam to prepare for Omicron, Park said, noting that the country should work to enhance surveillance including gene sequencing of circulating SARS-CoV-2 variants, achieve high COVID-19 vaccination coverage in all eligible populations in combination with 5K measures, continue to increase public health and medical capacities with well-coordinated patient referral system from primary care to intensive care services to manage an increase in cases, and continue to provide correct information in timely and transparent manner to the public so people make informed decisions to protect themselves and their family./.
Source: VNA