The World Health Organisation (WHO) has singled out Vietnam for its effective and rapid vaccine diplomacy strategy, describing it as a success story and desiring to share it with other regional countries.
Both the WHO and COVAX, the global initiative that accelerates the development and manufacture of COVID-19 vaccines and guarantees fair and equitable access for every country in the world, also highly appreciated local vaccination efforts, noting the country has been efficiently implementing the campaign scientifically and effectively without wasting a single dose.
A success story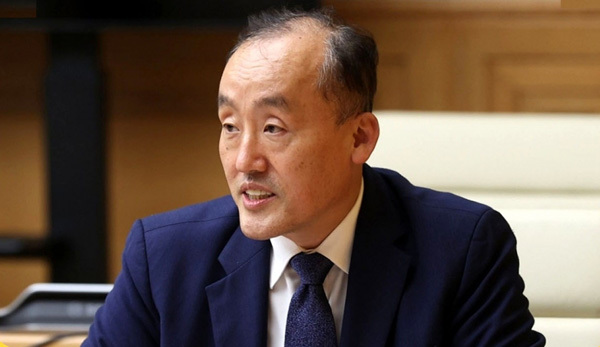 Kidong Park, Representative of WHO Vietnam, hails Vietnam's vaccine diplomacy as a success story.
Kidong Park, representative of WHO Vietnam, said Vietnam has made great strides in carrying out its vaccine diplomacy campaign to ensure a sufficient supply of vaccines for its population.
Due to these efforts, the country has reaped impressive success in mobilising more than 160 million vaccine doses and injecting more than 147 million doses to eligible citizens in a short period of time, Park told VOV.VN.
According to the WHO official, the COVAX mechanism has rolled out more than 800 million doses of vaccines to 144 member economies, of which 46 million doses have been delivered to the Southeast Asian nation.
He noted that both the WHO and UN agencies in Vietnam are strongly committed to supporting the Government and its partners in enhancing the capacity building to prepare for the epidemic, as a core part of their mission in order to look towards a healthier world and achieve sustainable development goals (SDGs).
To successfully fight the pandemic, Park stated that Vietnam must complete its COVID-19 vaccination campaign as soon as possible, and ensure no one is left behind, with priority being given to vulnerable groups of people.
During a working trip made to Hanoi in January, Dr. Takeshi Kasai, regional director for the Western Pacific of the WHO, praised Vietnam's high vaccination coverage, as well as its last-ditch efforts to inoculate vulnerable people and those living in hard-to-reach areas of the country.
The country has been impressive in adopting its door-to-door vaccination approach that has saved plenty of lives, especially for the elderly and those with underlying health issues who are unable to get to vaccination centres, said Dr. Kasai.
Behind the success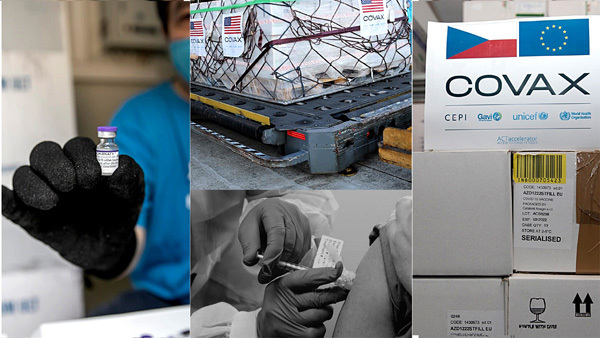 COVAX has delivered nearly 50 million doses of the COVID-19 vaccines to Vietnam.
The successful Vietnamese vaccine diplomacy campaign has also impressed plenty of diplomats in Hanoi who were fully aware of the country's difficulties in accessing vaccines in the early stages of the pandemic.
As a means of deploying vaccine diplomacy, besides directly negotiations with vaccine manufacturers and suppliers, Vietnam also comprehensively promoted relations with other countries to facilitate greater vaccine access. Alongside vaccinating local residents, Vietnam did the same with foreigners, including diplomats, experts, business executives, engineers, and their relatives, with this move receiving strong support from other countries.
This represented a comprehensive policy that greatly contributed to Vietnam accessing vaccine sources, whilst simultaneously highlighting the country's interest in its partners' aspirations and proposals, said Nguyen Minh Hang, assistant to the Vietnamese Foreign Minister.
Hang, who is member of the Government's working group on vaccine diplomacy, recalled that the initial three waves of the COVID-19 pandemic saw the country successfully contain the virus, while many of its partners such as the United States and Europe were left confronting the complex nature of the disease.
Amid this dangerous context, the Vietnamese Government decided to lend a helping hand by donating large quantities of face masks and other medical supplies to its partners.
Foreign partners highly appreciated the goodwill gesture made by the Vietnamese Government and they stood ready to assist the Southeast Asian nation in the fight against COVID-19, said Hang.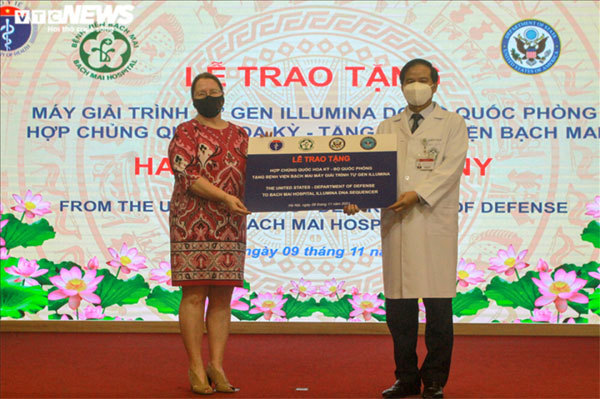 Marie C. Damour, Chargé d'Affaires for the US Mission to Vietnam, hands over an Illumina gene sequencing machine as the US gift to a leader of Bach Mai Hospital in Hanoi in November 2021. (Photo: VTC News)
During working trips made to localities nationwide, Marie Damour, Charge D'affaires at the US Embassy in Vietnam, voiced the US Government's strong support for the Government and people of Vietnam amid the COVID-19 fight in response to the latter's practical assistance.
Up to now the US has provided Vietnam with more than 24 million COVID-19 vaccine doses, a true testament to the effective co-operation between the two countries in the health sector, emphasised Damour.
The US diplomat also acknowledged Vietnamese efforts in distributing vaccines to its people whilst simultaneously supporting other countries in the region.
COVID-19 outbreak is expected to continue to evolve in a complex manner in the year ahead, especially following the emergence of the Omicron variant. Given this, vaccine diplomacy will be further promoted in 2022 to ensure access to vaccines for children, and support local COVID-19 vaccine and drug production.
Source: VOV
Once left behind in vaccine coverage, Vietnam managed to become the 53rd country in the world achieving the goal of covering basic doses of COVID-19 vaccine for 70 per cent of its population after just a few months.
In the relentless efforts to control the epidemic, vaccine diplomacy has become a key factor.
Vaccine diplomacy isn't just about calling international partners and organizations to continue providing vaccine aid, but also about seeking vaccine purchases and negotiating for vaccine production technology transfer.