Hanoi plans to build three urban railway lines in the next five years.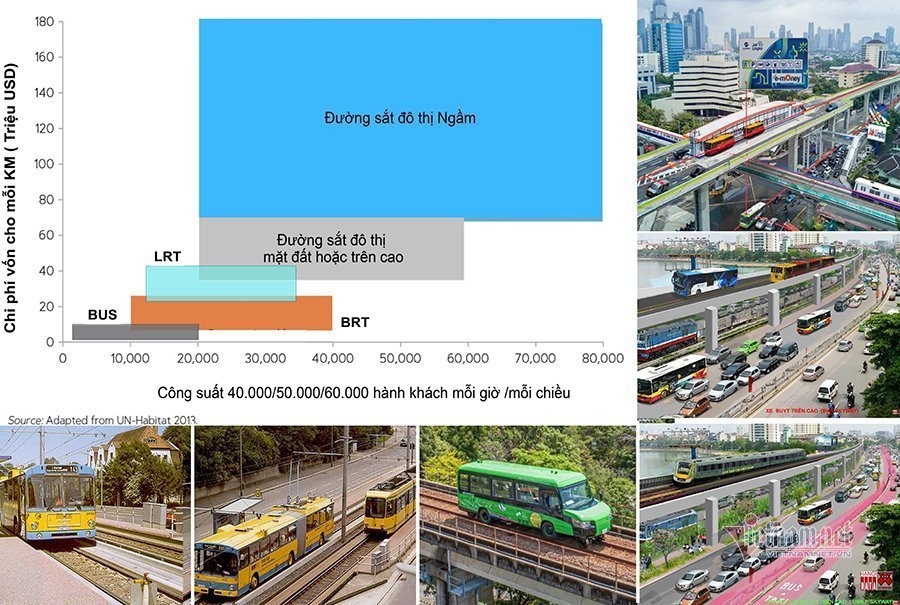 The planning of five urban railway routes was announced by JICA (Japan International Cooperation Agency) in 2006 along the six existing tramcar lines since 1900 and the railway through Hanoi since 1902. Urban railway lines extend in all directions, double the length.
But after 100 years, trains of different kinds need to change. To carry more cargo and run faster, they need to be elevated or go underground.
With old railway routes, townhouses were built as far as railways reached. Railway developers were allocated land alongside the railways to do business. As such, the city did not have to spend money to develop railways, while its revenue increased thanks to the tax collections.
But with new railways routes, the city has no land to sell. It has to borrow money to buy trains, but has to sell tickets at low prices.
Hanoi's railway lines have shown low feasibility over the last 20 years of deployment.
Demand
In 2016, JICA released a forecast about travel demand in Hanoi by 2030, showing that 80 percent of day trips are within 20 percent of Hanoi's central area.
Meanwhile, the Hanoi transport planning by 2030 with the vision towards 2050 shows eight railway lines, with total length of 460 kilometers.
It's estimated that total investment capital of the eight lines is $50-60 billion, while Hanoi's budget for investments is smaller than $0.5 billion in total. This means that Hanoi would need 100 years to fulfill the network.
The documents guiding the development of urban railways released by the World Bank in 2018 (WB 2018 documents) recommend that countries should only develop urban railways when the travel demand in each direction is higher than 20,000 people per hour.
Meanwhile, the figures shown in the investment reports are much lower. The 2A Cat Linh – Ha Dong, for example, is just 10 percent. So, Hanoi needs to have reliable calculations about travel demand before it draws up any new urban railway lines. At first, it's necessary to assess the 460 kilometers of urban railways programmed and announced in 2016.

Hanoi needs to have reliable calculations about travel demand before it draws up any new urban railway lines. At first, it's necessary to assess the 460 kilometers of urban railways programmed and announced in 2016.
The Cat Linh – Ha Dong metro line began commercial operation in early November, 2021.
3 out of hundreds of train types chosen
Under the program, there are three types – urban railways, monorail and BRT. WB 2018 documents showed that urban railways alone are three types – LRT (light rail transit) with the investment rate of $20-40 million per kilometer; elevated or ground railways at $35-70 million, and underground railways at $75-180 million.
Hanoi decided to buy the most expensive, $68.5 million per kilometer (Cat Linh – Ha Dong elevated railway), and $200 million per kilometer (underground railway from Hanoi Station to Hoang Mai). Though they are both urban railways, they use different technologies.
Hanoi can choose one or many types with different investment rates, but they must follow common technical standards. But Hanoi still doesn't have the standards.
Other cities in the world, both rich and poor, always follow common technical standards, so they can develop a variety of means of transport which run smoothly. Vehicles and trains share the same railways and roads to take full advantage of the existing infrastructure.
Jakarta (Indonesia) has the Jaclingko system that integrates intercity, suburban and urban railways with BRT – BUS and 7-seat small bus in the same service system with a single ticket.
This shows that Hanoi can build an elevated two-way bus route – Priority Bus Lane (PBL) which can be converted into urban railways when Hanoi has enough passengers and the investment rate is lower by tens of times, just $10 million per kilometer.
Railway 'lonely' in dense city
The two urban railway lines have tens of stations standing 'lonely', with no connection with other transit points, safe walking routes and commercial centers, which is quite different from urban railway routes all over the world.
In Bangkok (Thailand), urban railway lines connect streets with a safe walking network leading to bus, taxi, tuc tuc stations, commercial centers, office buildings and residential areas. This is the result of the multidisciplinary investment management model.
Hanoi needs to change the single-task investor model, under which investors just develop urban railways with state money and don't care about profits and losses. Only when Hanoi applies the multi-task and multi-interest mode will its urban railways solve the problem of having high investment rates but low number of passengers.
5 or 50 kilometers of urban railways for next 5 years?
Hanoi plans to spend trillions of dong to ease traffic jams and reduce the number of private vehicles from Belt Road No3 towards the central area of the city, while developing public transport with low fares.
The Urban Railway No1 (Yen Vien – Ngoc Hoi) kicked off in 2004 with the investment capital of VND81 billion (the initial investment capital was VND9 trillion). With the old way of project planning, just 5 kilometers can be built after five years. Meanwhile, Hanoi needs 50-70 kilometers immediately.
The most feasible solution is building PBL convertible to urban railway, and upgrading the existing railways.
The favorable condition is that the 80 percent of land is 'clear', i.e there would be no need to spend much time on site clearance. A multi-sector integrated planning model and mobilization of mass capital for public means of transport will ensure investment efficiency and implementation progress.
Tran Huy Anh (Hanoi Architect Association)