Deputy Prime Ministers Vu Duc Dam and Pham Binh Minh have encouraged overseas Vietnamese to return to celebrate Tet.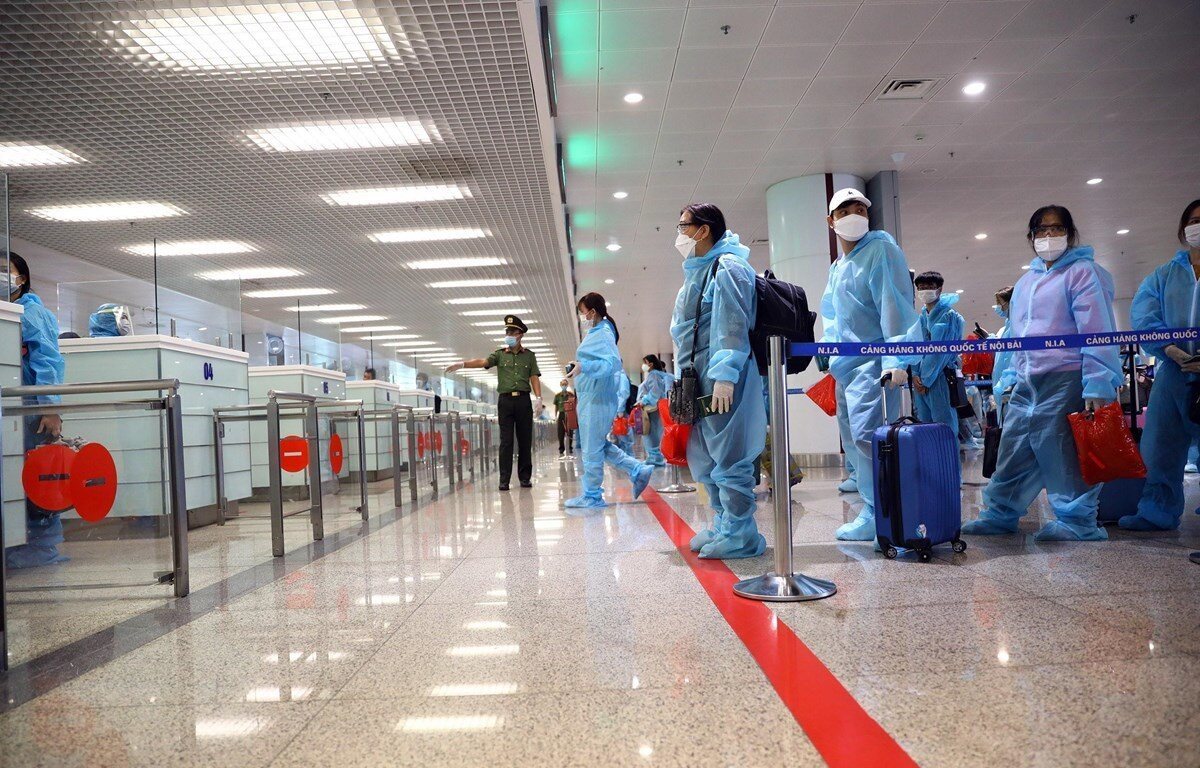 At a meeting with ministries and branches on December 8, 2021, Dam asked the Ministry of Health (MOH) to issue new guidance on quarantine and health monitoring for people entering Vietnam. The rules are similar to those applied to people from pandemic-hit areas within the country to other localities.
At the meeting on December 9, 2021, Minh stressed that resuming international commercial flights is a requirement in the new normal, especially when travel demand increases in the year-end season.
According to Dam, those who have been fully vaccinated and have negative test results will only have to have self-quarantine and monitor their health at home. As for unvaccinated people, localities need to arrange quarantine facilities with good conditions.
He asked the Ministry of Transport (MOT), the aviation sector and ministries and branches to submit reports and urgently prepare for the reopening of international air routes and clarify procedures so that overseas Vietnamese can arrange their plans.
The instructions by the two Deputy Prime Ministers have brought hope to hundreds of thousands of overseas Vietnamese who went abroad to study, work and visit relatives and cannot return to Vietnam, and to overseas Vietnamese who want to return to visit.
"This is a very legitimate aspiration that we have the responsibility to satisfy promptly, especially when Tet is near," Dam said.
However, hundreds of thousands of Vietnamese are facing the risk of having to spend another Tet on foreign land with no opportunity to reunite with parents, wives, husbands and children, who have been impatiently waiting for them over the last two years.
Vietnam closed its border in April 2020. While other countries have reopened for international flights, Vietnam has yet to do so. Vietnam is among a few countries which only license 'rescue flights' and require citizens to have concentrated quarantine.
On some internet forums, Vietnamese citizens complain that they have to pay VND150-240 million for flights to Vietnam.
The travel rules restrict foreign specialists, qualified engineers and workers from entering Vietnam to work. Only 200,000 specialists have come to Vietnam over the last two years. Many businesses complain that their investment projects are still pending because of the lack of qualified engineers.
The tourism sector, which received 18 million foreign travelers in 2019, has suffered the most from the policy.
In June, the Politburo realized the necessity of reopening to receive international travelers. In Conclusion No07 on key tasks on strengthening anti-pandemic measures and promoting socio-economic development, the Politburo asked for a pilot program on vaccine passports for foreign travelers to some tourism centers that have controlled Covid, such as Phu Quoc.
Phu Quoc began receiving 2-3 groups of foreign travelers in November, 2021.
At the Government's November press conference, Deputy Minister of Transport Nguyen Ngoc said the ministry has a plan to resume flights between Vietnam and 12 countries, including Japan and South Korea based on agreements with the countries, and other factors such as their pandemic prevention and control measures and vaccination rate.
A report said that 94 percent of Vietnamese aged 18 and over have had one jab and 69 percent have been fully vaccinated, a relatively high proportion that could allow for reopening flights.
Solutions
After Resolution 128, which called for Vietnam to live with the pandemic and safely adapt to new circumstances, changes to travel of Vietnamese citizens occurred.
Dozens of flights between Hanoi and HCM City are provided daily to fully vaccinated domestic passengers who have negative test results. Passengers do not have to ask for permission to travel and do not have to have quarantine at destinations. Meanwhile, passengers entering Vietnam still have to have concentrated quarantine even if they are fully vaccinated and have negative test results.
Caution is necessary in the context of pandemic, but reopening is in no way less important. The number of imported positive cases accounts for a small proportion of hundreds of infections reported daily.
Vietnam needs to allow airlines to carry passengers who can meet requirements (vaccinations, certificates on antibodies, negative test results) to Vietnam.
The Government has just given green light to pilot resuming routine international flights between Vietnam and nine destinations (San Francisco or Los Angeles (the US), Singapore, Bangkok (Thailand), Phnom Penh (Cambodia), Vientiane (Laos), Beijing/Guangzhou (China), Tokyo (Japan), Seoul (South Korea), and Taipei (Taiwan) from January 2022.

The resumption of international flights is meant to resume international passenger transport activities, accelerate economic and tourism recovery and create favorable conditions for overseas Vietnamese to return to celebrate Tet.

Prior to that, MOT suggested that the government allows international flights to resume on nine routes from December 15, 2021.

Under the plan, the resumption be carried out in two pilot phases. In the first phase starting on December 15, flights between Vietnam and San Francisco or Los Angeles (the US), Singapore, Bangkok (Thailand), Phnom Penh (Cambodia), Vientiane (Laos), Beijing (China), Tokyo (Japan), Seoul (South Korea), and Taipei (Taiwan) would be resumed.

In the second phase, starting in January 2022, more international air routes would be resumed, including the ones connecting Vietnam and Kuala Lumpur (Malaysia), Hong Kong, Paris (France), Frankfurt (Germany), Sydney (Australia), and Moscow (Russia).
Tu Giang -VietnamNet