The signs of "imported inflation" have appeared as prices of goods purchased from abroad in the first two months of 2022 rose to higher levels compared to the same period last year.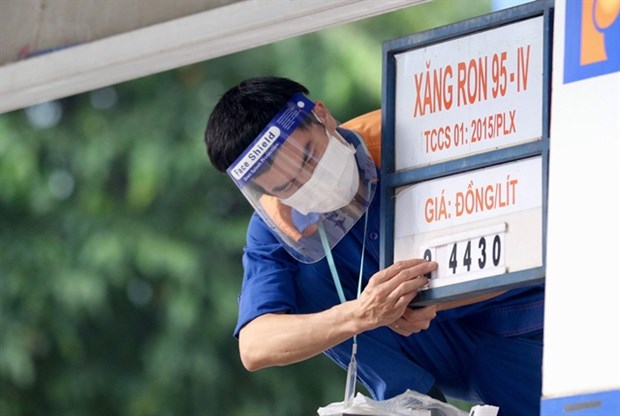 Rising oil and food prices are putting pressure on Viet Nam's inflation this year.
The increase in import prices caused a higher increase of import turnover than export turnover (115.9% compared to 13.2%), negatively affecting the trade balance (trade deficit of 936 million USD compared to trade surplus of 299 million USD in the same period of 2021).
If the trade balance is in deficit, the State Bank of Vietnam will not be able to aggressively buy foreign currency to increase foreign exchange reserves, and the total foreign exchange reserves that surpass three months of imports is the financial safety limit according to international practices.
The increase in import turnover in the past two months was partly due to an increase in import prices, while the quantity of imports did not increase or even decrease (such as iron and steel scrap, cashew nuts, coal, liquefied petroleum gas, raw plastics). The "break" in supply in the past two years was partly due to the pandemic, and partly due to the high price of imports in USD… If the pandemic is not controlled and import prices continue to rise, then "imported inflation" will continue.
In 2021, although "imported inflation" had an impact on Vietnam, it was mainly in the production stage, causing production and construction costs to rise, but the selling price of products increased less. The CPI did not increase higher than the set target, but also was lower than the previous year. This year, the CPI may be different.
Last year, the import price in USD increased, but the VND/USD exchange rate decreased, so the import price in USD did not increase accordingly, the " imported inflation" was partially prevented. This year it may be different. The VND/USD exchange rate will hardly continue to fall, but will increase. If the VND/USD exchange rate increases, the import price in VND will increase, having a significant impact on CPI.
To handle the impact of "imported inflation", it is necessary to have integrated solutions. The basic measure is to boost exports and control imports.
Regarding the exchange rate, the State Bank of Vietnam needs to continue with solutions such as controlling the central exchange rate, making foreign currency deposit interest at 0%, etc. The increase of the VND/USD exchange rate also needs to be taken into account to encourage export and limit import, but should only be at a slight level, around 1%.
Thanh Mai
Despite rising commodity prices following the Russia-Ukraine crisis, experts believe that within six months or a year from now, global inflation will cool down.