VNG has invested $22.5 million in Funding Societies (operating under the name Modalku in Indonesia), the largest digital funding platform for small and medium-sized enterprises (SMEs) in Southeast Asia.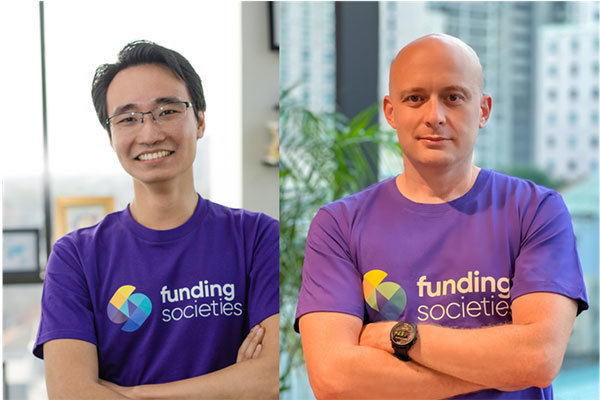 Kelvin Teo, Co-Founder & CEO of Funding Societies/Modalku (left) and Ryan Galloway, Country Manager, Funding Societies Vietnam.
In the Series C+ round, Funding Societies raised a total of $144 million, led by SoftBank Vision Fund 2 along with new investors: VNG Corporation, Rapyd Ventures – EDBI global investor in Asia, Indies Capital, K3 Ventures and Ascend Vietnam Ventures. The company also received $150 million worth of loans from lenders from Europe, the United States and Asia, some of which have been disbursed since 2021.
The funds help strengthen Funding Societies' position as the region's market leader in digital capital financing, while also promoting cost management and B2B payments services for micro, small and medium enterprises (MSME) across Southeast Asia. Funding Societies' latest funding round also allocated $16 million to former and current employees through the company's stock options package, in the form of share buybacks.
Funding Societies was established in 2015 by Kelvin Teo and Reynolds Wijaya, two alumni of Harvard Business School (USA), to support MSMEs in Southeast Asia. This Fintech company helps to solve the main difficulties that MSMEs often face in the process of growth, typically the lack of about $300 billion in private capital in Southeast Asia.
Accounting for nearly 99% of all businesses in Southeast Asia, small businesses still face many obstacles in getting loans from traditional financial institutions due to lack of credit records or collateral. Funding Societies provides small loans from $500 to $1.5 million, which can be disbursed quickly within 24 hours, timely r to MSMEs that are facing difficulties related to access to capital.
After seven years, this Fintech company has been licensed and registered to operate in four countries in the region: Singapore, Indonesia, Malaysia, Thailand, and will soon operate in Vietnam. To date, Funding Societies has disbursed more than $2 billion in business financing to MSMEs through more than 4.9 million lending transactions in Southeast Asia.
Nguyen Thai
In January, many tech startups in Vietnam received millions of USD from large foreign funds from the early round.
Digital technology is forecast to create US$74 billion for Vietnam's economy by 2027. However, Vietnam must attract investment capital from around the world, especially investment in startups.