Vietnam and the US have signed a Memorandum of Understanding to improve Vietnam's Commercial and Investment Alternative Dispute Resolution Ecosystem.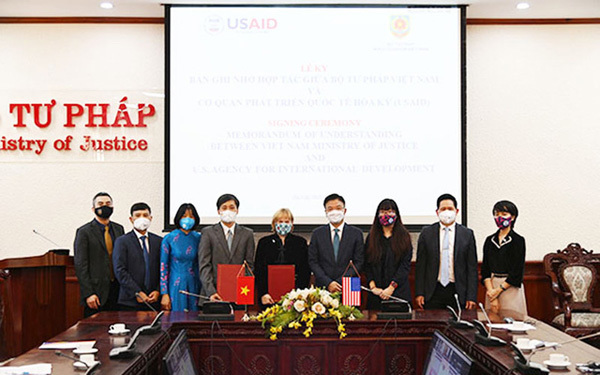 USAID Vietnam's Mission Director Ann Marie Yastishock (5th from right) and Deputy Minister of Justice Nguyen Khanh Ngoc (4th from right) sign the MoU, Hanoi, March 8, 2022.
THe MoU was signed by Deputy Minister of Justice Nguyen Khanh Ngoc and United States Agency for International Development (USAID) Vietnam Mission Director Ann Marie Yastishock.
The MoU aims to improve related legislation, such as the adoption of international standards and best practices, strengthening capacity and skills of stakeholders, reinforcing partnerships among stakeholders, and raising awareness among local businesses and other stakeholders of the benefits of alternative dispute resolution.
"Creating an effective alternative dispute resolution ecosystem is critical for developing an enabling business environment that helps spur economic growth," said USAID Mission Director Yastishock.
She expressed her hope that the long-term trust and goodwill built through past cooperation will extend to this new collaboration on improving the alternative dispute resolution environment in Vietnam.
The demand for alternative dispute resolution in Vietnam has increased along with the country's strong economic growth and active integration into the global economy.
Vietnam is a signatory to more than 60 bilateral investment treaties and many free trade agreements with investment protection provisions that subject investor-state disputes to arbitration.
In 1995, Vietnam adopted the Convention on the Recognition and Enforcement of Foreign Arbitral Awards, requiring it to recognize and enforce foreign arbitration judgments.
USAID has successfully collaborated in the past with the Ministry of Justice on the USAID Support for Trade Acceleration Plus (STAR Plus) and USAID Governance for Inclusive Growth (GIG) projects.
Source: VGP
USAID helps Vietnam strengthen e-Government capacity
The two-year USAID-funded project is expected to support the nation's strategy on the fourth industrial revolution to advance continued economic transformation./.