The proposals by MOH on requiring foreign arrivals not to leave accommodations for the first 72 hours in Vietnam have discouraged travel firms. They say the overly strict requirement is contrary to the Government's policy on tourism reopening.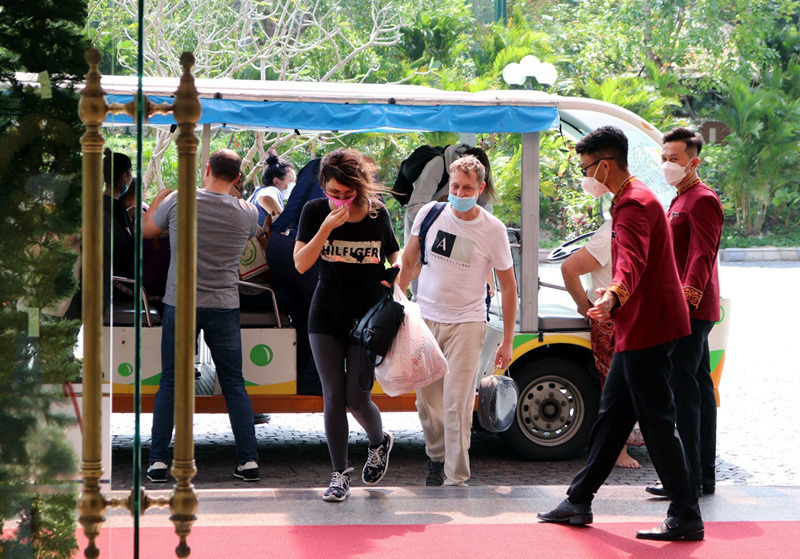 The Ministry of Health (MOH) has sent a document to the Ministry of Culture, Sports and Tourism (MCST) on the plan on receiving foreign investors from March 15 as decided by the Government. The proposals by MOH have stirred up the public on tourism forums.
With MOH's proposal, within the first 72 hours in Vietnam, foreign travelers should not leave accommodations, and if they want to leave the accommodations after the first 24 hours, they must be tested daily.
Nguyen Chau A, CEO of Oxalis, said he cannot understand why MOH still thinks that foreign travelers to Vietnam will spread the pandemic.
Nguyen Duc Chi, former deputy head of the Travel Division of the HCM CityTourism Department, cited a report of MOH as showing that foreigners accounted for only 0.02 percent of total infections (98,743) nationwide on March 1. This means that infections in Vietnam are mostly community transmitted.
Therefore, there's no need to worry that Vietnam will import Covid-19 cases.
"The Government has determined to reopen tourism from March 15. However, if MOH's proposals are approved, we still cannot 'reopen'," A said.
Nguyen Ngoc Toan, CEO of Images Travel & Events, said that the requirements will "be against development".
He said North European countries' economies are developing strongly. If Vietnam continues setting such strict requirements, it will in effect prevent foreign travelers from entering Vietnam.
Sharing the same view, Pham Ha, Chair of Lux Group, said that the tentative requirements proposed by MOH are 'outdated' and at the 'wrong time'. While Thailand, a rival of Vietnam's tourism, has removed the requirement on testing Covid-19 on the fifth day (foreign travelers now have to test on the first day), Vietnam now wants to require foreign travelers to test in the first three days.
"This is just like 'tying a stone to your body'," he said, adding that there are not 'domestic viruses' and 'foreign viruses', so there must not be discriminatory treatment.
Reopening
Because of upheavals in the world and the complicated developments of the pandemic, experts warn that Vietnam will attract few travelers once it reopens tourism fully from March 15. Ha said if Vietnam only keeps the market door 'half open', the risk of having no foreign travelers is very high.
Because of the Russia-Ukraine war, the ruble has depreciated sharply and the number of Russian travelers is expected to decrease sharply. Meanwhile, Vietnam may have to wait until Q3, or longer, to receive travelers from Northeast Asia (China, Japan and South Korea), after the countries reopen their doors.
Travel firms believe there will not be many travelers from the US, or high-spending travelers, as the US CDC has recommended its citizens not travel to many countries, including Vietnam.
Ha said that Vietnam could only expect travelers from near markets (ASEAN) and from countries that Vietnam's air carriers (Vietnam Airlines, Bamboo Airways… etc) have reopened air routes with, such as Europe and Australia.
"Some European groups of travelers want to re-book tours to Vietnam in June after a lot of postponements and cancellations. But they still cannot obtain a visa, simply because Vietnam has not granted tourism visas again," he said.
"This, plus the tentative requirement that foreign travelers not leave accommodations during the first 72 hours in Vietnam, will certainly affect the recovery of the tourism industry," he said.
Toan from Images Travel & Events said his firm has had to refuse foreign travelers in April and May for fear of changes in policy. This will not only affect the image of Vietnam and the fame of the company, but also create doubt among businesses in the stability of policies.
The CEO of Oxalis said that the firm may not focus on receiving foreign travelers in 2022 because he is not sure about the plan on tourism reopening.
For many years, the US has been among the top 5 markets in number of travelers to Vietnam. In 2018, Vietnam received 687,200 travelers from the US, which accounted for 4.4 percent of total travelers to Vietnam. The average growth rate was 11.55 percent in 2014-2018.

In 2019, Vietnam received 746,171 travelers from the US, an increase of 8.9 percent.

The number of US travelers to Vietnam accounted for 11 percent of total US travelers to Asia. However, Viet Kieu (overseas Vietnamese) accounted for a large proportion of that total.

American travelers mostly come to Vietnam by air or sea. A VNAT (Vietnam National Administration of Tourism) survey on foreign travelers to Vietnam in 2017 found that 90.2 percent came to Vietnam by air, and 6 percent by sea. The remaining 3.8 percent came by other means of transport.
Ngoc Ha
Some travel companies in Vietnam are worried that the worsening Russia-Ukraine crisis will negatively impact the tourism industry as Russia is one of the major source markets of Vietnam's tourism industry.
The prime minister has urged the Ministry of Foreign Affairs to reinstate the visa waiver for international travelers to revive the pandemic-battered tourism sector when tourism services for local and foreign visitors are fully reopened on March 15.