The export volume of made-in-Vietnam products has reached new highs and make up more share in the global market, helping set the foundation for the country to become a more attractive manufacturing hub.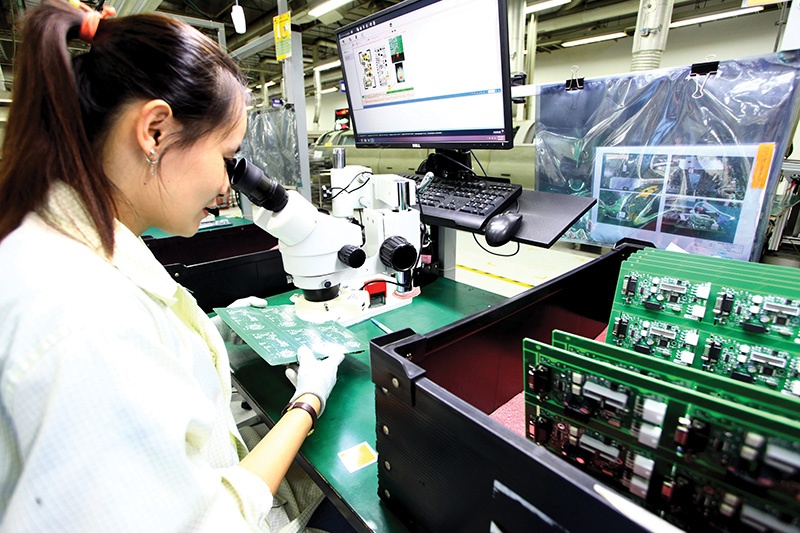 Manufacturing orders are rising as activity blossoms after a restricted 2021.
The General Department of Vietnam Customs reported that the country's export value of phones and components reached $57.54 billion in 2021, an increase of 12.4 per cent on-year. The export turnover has soared 25-fold from $2.3 billion in 2010.
As a leading manufacturer and exporter in the country, Samsung Electronics Vietnam reported $74.2 billion in total revenues, a rise of 14 per cent on-year and $65.5 billion in export value, up 16 per cent on-year.
A representative of the company said that they faced a lot of woes last year, but thanks to the timely and comprehensive support of the government, it has maintained manufacturing activities. Currently, more than half of all Samsung phones are manufactured in Vietnam, and these products have been delivered to 128 countries and territories.
Kim Huat Ooi, vice president and general manager of Intel Products Vietnam (IPV), meanwhile said that at the end of 2021 the company reached three billion units shipped out and generated $60 billion of export value in the span of 2010-2021. In 2020 alone, IPV exported $13.1 billion, making up about 70 per cent of Saigon Hi-Tech Park's total exports, 29 per cent of Vietnam's total exports in electronic components and accessories; and 30 per cent of Ho Chi Minh City's total exports.
At the end of November 2021, despite the tough third quarter, IPV generated an export value of $11.8 billion. This signifies the value of IPV to Intel Corporation as these made-in-Vietnam products are supporting Intel's customers worldwide.
"Our $1.5 billion in total investment here is an important part of Intel's worldwide manufacturing presence, as one of 10 manufacturing sites that Intel has globally. It is one of the largest assembly and test manufacturing factories in the Intel assembly and test network, with more than 2,700 employees and serving customers around the world," said Ooi. "Intel's manufacturing presence here has clearly put Vietnam on the high-tech map, and shown that the country has all the necessary infrastructure and policies in place to support advanced manufacturing operations of any kind."
In addition to Vietnamese-made high-tech products, Nike's financial statement noted that factories in Vietnam have made 51 per cent of the total output of this brand in 2021, while the contribution of China's factories has reduced to 21 per cent from 35 per cent in 2006. Thus, Vietnam has surpassed the neighbouring country to become the manufacturing hub of Nike products. Meanwhile, 40 per cent of all Adidas footwear is made in Vietnam.
According to a recent report from London-based market researchers IHS Markit, in January 2022 the number of orders and outputs in Vietnam's manufacturing sector soared sharply, while the number of jobs also increased for the two consecutive months. The Purchasing Managers Index of the manufacturing sector has climbed to 53.7, much more impressive than in previous months.
The Japan External Trade Organization announced at the end of January that 55 per cent of 700 Japanese companies surveyed planned to expand their operations in Vietnam. Chief representative Takeo Nakajima said that the ratio has declined slightly, which was the common trend in all markets, including Vietnam.
However, Vietnam remains the country with a ratio of Japanese companies wanting to expand operations higher than the ASEAN average. The biggest advantages of Vietnam in the view of Japanese investors are a large market, room for development, and labour quality, Nakajima highlighted.
Other manufacturers such as Lego, Wistron, Foxconn, and Pegatron are also continuing to make moves in Vietnam. Meanwhile, Panasonic has moved its factory for refrigerators and washing machines from Thailand to Vietnam, and Samsung has been building a research and development centre in Hanoi.
The leader of Nike in Vietnam told international media that thanks to the current pandemic-prevention strategy and high coverage of vaccinations, they are confident that manufacturing lines in Vietnam will not be further interrupted.
Ooi from Intel added, "Vietnam's stable socio-political environment, increasingly liberalised trade, and investment policies, as well as the availability of a young and talented workforce, have made it easier for Intel and foreign manufacturers to continue investing in Vietnam. All of these aspects help drive Vietnam's overall business and technology production potential."
Economist Le Dang Doanh said that Vietnam has diversified with the passage of many free trade agreements, so numerous exporting goods are exempted from tax.
"This is one of the most attractive factors for manufacturers to set up factories here, in addition to outstanding incentives for high-tech foreign-invested projects, young labour with good skills, and stable socioeconomic status," Doanh said.
"However, we should raise the added value in exporting products by developing supporting industries and strengthening the participation of local businesses in global supply chains to reduce importing products."
Source: VIR
Firms are increasingly confident about the year-ahead outlook.