Manufacturers whose products are meant for domestic use and export are struggling to find a way out amid the "storm" across materials and logistics prices after fuel prices reached new highs.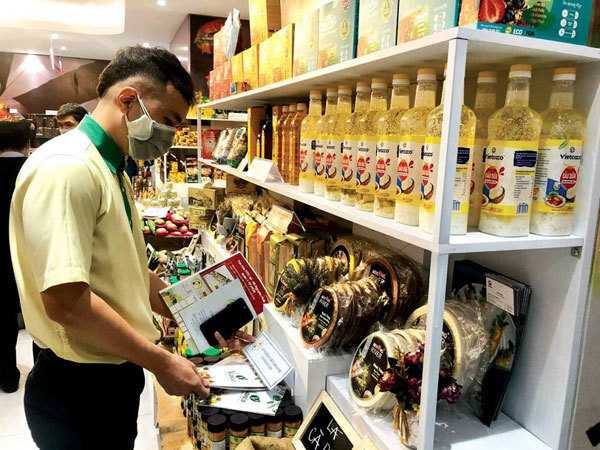 Manufacturers are struggling to find a way out amid the "storm" across materials and logistics prices after fuel prices reached new highs. – SGT Photo: Quoc Hung
From March 1 this year, Acecook Vietnam, a leading manufacturer of food and foodstuffs in Vietnam, increased the prices of all its products. Similarly, 3A Nutrition Vietnam, exclusive importer and distributor of Abbott infant formula products, raised the prices of 45 Abbott Grow, Similac and Pediasure products since the beginning of this month. Earlier, FrieslandCampina Vietnam made the same move, increasing the prices of 21 Frisolac and Friso powdered milk products for children aged under six by a maximum of 5%.
Ride-hailing firm Grab said it had increased the fares of all its services from March 10, with the spike in domestic fuel prices and consumer prices cited as the main reason. As for some supermarket chains, they said many of their suppliers had requested them to raise commodity prices, but the supermarkets are trying to keep their product prices unchanged.
Goods prices most likely to soar as production costs skyrocket
Kajiwara Junichi, general director of Acecook Vietnam, said Acecook's efforts are now in vain. A few years ago, when costs for purchasing input materials, fuel and logistics increased, Acecook Vietnam still made efforts to keep its product prices unchanged. "However, given the current situation, Acecook has failed to offset production costs despite having made all-out efforts," Junichi said, adding that Acecook's most recent price hike was over a decade ago.
As explained by Huynh Phuong Trinh, vice general director of International Mix Company, the scarcity of raw materials and the rise in sea shipping costs have driven up the prices of imported materials by 20-50%. "Most of our partners in Thailand, Japan and Europe said they lack a supply of goods and can only supply around 30% of the orders until July," Trinh continued, adding, "It's even more worrying that sea shipping costs have soared but vessels are insufficient. The time needed to transport commodities to Vietnam is around 1-1.5 months slower than before."
According to Trinh, the average production cost has expanded over 20% and her company will have to revise its product prices in the next few months by over 10%. "As the prices of input materials are on the rise, we are no longer able to keep our product prices the same; but we accept a decrease in profit and have not increased prices much," Trinh said.
Vissan Joint Stock Company has been feeling the impact of both a hike in prices of input materials and animal feeds and the constant increase of domestic fuel products. Nguyen Ngoc An, general director of Vissan, said the prices of animal feeds are surging, thereby driving up live pig prices.
However, low purchasing power has remained a major obstacle since the Lunar New Year holiday to date, and it could go lower if product prices are revised up. As a result, Vissan has yet to raise the prices of products under or out of the price stabilization program. Accordingly, Vissan will hold out at all costs.
Export orders: A thorny issue
Local exporters are also facing overlapping obstacles caused by soaring prices and costs. They were about to rejoice when production recovered and orders increased, but shortly after, they began struggling due to the upward spiral in domestic fuel prices that led to a sharp rise in production costs and a shortfall in input materials, as well as the impact of the on-going Russia-Ukraine military conflict.
Wood enterprises said they had felt the impact of the Russia-Ukraine conflict. A representative of An Lac Wood Company shared that since the start of the conflict, orders from Ukraine could no longer be shipped to Vietnam. The import of wood materials from Europe was also affected due to limited supply and soaring prices that pushed up production costs. Understandably, the EU will have to retain a specific volume of wood materials to compensate for an amount that cannot be imported from Russia.
Similarly, Vo Quang Ha, general director of Tan Vinh Cuu Joint Stock Company, said he called suppliers and knew that prices of wood materials would inch up. The auction of wood materials will be highly competitive, while sea shipping costs will continue rising.
Many businesses operating in other fields such as textile-garment, footwear and fishery said the hike in prices of input materials and fuels has fueled up production costs and reduced the competitiveness of products in the global market.
As shared by Tran Hoang Phu Xuan, vice chairwoman of the HCMC Textile and Garment – Embroidery Association, the local textile-garment sector is currently facing a sharp increase in the prices of input materials. The import price of cotton over the past two years has soared nearly 70%, while domestic textile-garment materials also edged up 40%, thereby plunging enterprises into hardship.
In addition to cost cuts, businesses have worked with clients over price revisions but this effort would not work as their contracts were inked earlier, Xuan added.
Many footwear manufacturers in HCMC received orders until July, but the spike in input material prices and logistic costs is giving them a real headache, according to Nguyen Van Khanh, general secretary of the HCMC Shoes and Leather Association.
Regulating costs actively
The difficulties prompted local manufacturers to take various measures to stabilize prices. Some even accepted offsetting losses to keep prices unchanged and retain consumers and importers. Cutting production costs is a self-help solution that many businesses are adopting.
A representative of Duy Anh Foods Import Export Company said the firm selected input materials carefully and signed a large volume of deals with its partners to offer them the best prices. The quality of its products remained unchanged, but the company halved its marketing costs compared to the previous period.
Similarly, Vissan had to review costs that do not depend on fuel prices.
Further, many companies switched to exporting a large volume of their products instead of just shipping several containers many times as before, in order to reduce sea shipping costs. For domestic shipping, they are opting to transport their products by sea instead of by road to lower costs.
In addition, manufacturers have switched to offering short-term orders from long-term ones, preparing input materials sourced from different suppliers to be offered better prices. They also prioritized purchasing materials that can be preserved for a long time.
Source: Saigon Times
Many businesses in HCMC that are struggling to make a recovery after a long period of closure due to the pandemic, are now finding it very difficult to cope with the pressure to pay various infrastructure fees.
Rising logistic costs are hindering exports, putting firms at risk.
Input cost increases have forced manufacturers to increase selling prices. However, purchasing power is weak, which is a warning about a tough year ahead.