Vietnam has officially reopened international tourism today – March 15. At present, the whole tourism ecosystem, from aviation, travel agents to accommodation and entertainment service providers, is ready to open doors to welcome visitors back.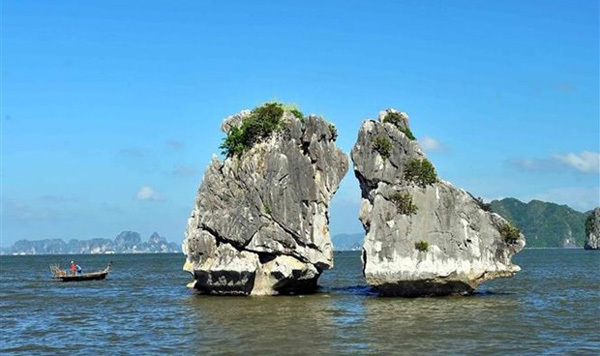 Ha Long Bay. (Photo: VNA)
Right in the morning of March 15, Vietjet and the People's Committee of Tuyen Quang held a conference to introduce and promote tourism in the northern province, and announce the largest- ever international hot air balloon festival in Vietnam slated for this month.
In addition, the carrier has also announced the reopening and increase in the frequency of a series of routes covering Vietnam, especially those to and from Phu Quoc, Nha Trang, Can Tho, and Da Nang right after the resumption of international routes to Japan, the Republic of Korea, Thailand, Singapore, Taiwan (China), Malaysia, India, and Indonesia. This is a strong move of Vietnam's first low-cost airline, aiming to meet customers' travel and trading needs in the coming summer.
In fact, from a month before the official full reopening, Vietnam has completely lifted the restrictions on international flights and their frequency. As a result, airlines have immediately implemented various plans to increase frequency and reconnect many flight networks after a 2-year hiatus.
Nguyen Quang Trung, head of the Planning and Development Department of Vietnam Airlines, said that on February 15, the national flag carrier restored the operation of routes from Malaysia with a frequency of one flight per week and Hong Kong (China) two flights a week. To prepare for the full reopening of international tourism, the airline has planned to expand and increase the frequency on its entire international regular flight network. In the immediate time, from the end of March, it will increase the total number of flights to 97 a week, linking to airports of most major cities of countries, and reopen its route to Singapore from April 15.
By July, Vietnam Airlines will continue to restore flights to China and Indonesia as well as routes to Da Nang and Nha Trang from major markets such as Japan and the Republic of Korea, thus bringing the total number of international flights to more than 160 per week.
Together with airlines, domestic accommodation and entertainment service providers are also ready to serve tourists with a series of new and attractive products and services.
Big names such as Sun World of Sun Group and Vinpearl of VinGroup have focused on upgrading their facilities and renewing their products to offer visitors with new experiences.
To date, Vinpearl's facilities, including 36 hotels and resorts with a capacity of over 18,500 rooms, three theme parks and two amusement parks, two safari parks, and four golf courses have come into operation.
Notably, the sea turtle-shaped Hai Vuong Palace, one of the world's largest aquariums, is scheduled to be launched this summer at the VinWonders theme park on Phu Quoc island, while Vinpearl Submarine Nha Trang – the world's first and only all-glass tourist submarine with a 360-degree infinity view will officially make debut in April.
After nearly three months participating in the pilot programme of welcoming international tourists back, Vinpearl facilities have served over 3,000 visitors from various countries such as the Republic of Korea, Russia, Uzbekistan, Kazakhstan and Laos.
Safe tourism reopening needs coordination in COVID-19 prevention, control: authority
Nguyen Trung Khanh, General Director of the Vietnam National Administration of Tourism (VNAT), has stressed the need for ministries, agencies and localities to observe regulations on COVID-19 prevention and control unanimously as the country fully opens its doors to international tourists from March 15.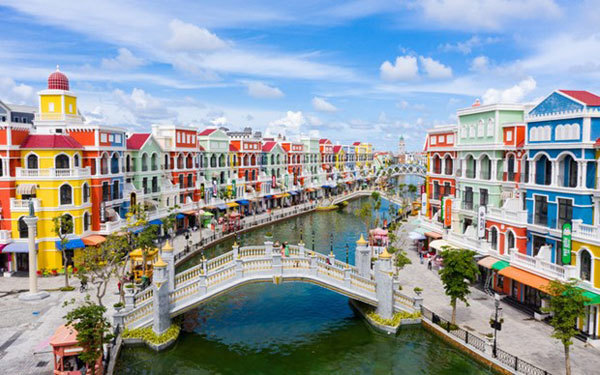 Vietnam fully opens its doors to international tourists from March 15. (Photo: Grand World Phu Quoc)
In an interview to the Vietnam News Agency (VNA), Khanh said Vietnam should restore policies simplifying exit-entry procedures, including those regarding visas grant and exemption, to attract foreign visitors.
With international commercial flights resumed from mid-February, the work lies on the coordination between airlines and travel firms in increasing international flights linking Vietnamese tourist destinations and major markets, he noted.
Preparations for the full tourism reopening have been made thoroughly, Khanh said, adding that the Ministry of Health has adjusted entry regulations to be issued soon.
The VNAT creates optimal conditions in terms of mechanisms and policies towards businesses, helping them with human resources development, while proposing the Government extend incentives to facilitate their operations.
It plans to step up the communication work to spread the message of "Live fully in Vietnam", the official noted.
The agency has suggested businesses to target such markets as Southeast Asia, Northeast Asia, Europe and Australia, with priorities given to countries which have mutually recognised vaccine passports with Vietnam.
For countries and territories that have yet to accept Vietnam's vaccination certification, the tourism sector will further coordinate with other ministries and agencies in negotiations.
Khanh also pointed out that limitations in visas grant and COVID-19 prevention and control under the pilot tourism programme launched last November have made Vietnam less attractive.
Moreover, the programme has not targeted international holiday-makers via sea routes and land roads, which are considered potential channels for the domestic tourism, he said.
Source: VNA
The market is completely new after Covid-19. All players, small and large, will be at the starting point. Those who have a good start will obtain more market share.
The tourism industry now has a golden opportunity as the Government has agreed on reopening. However, it needs to prepare well or it will miss the opportunity.