Though the Covid-19 pandemic has had a significant impact on traditional diplomatic activities, digital connections have made it easier for diplomats to fulfill their missions.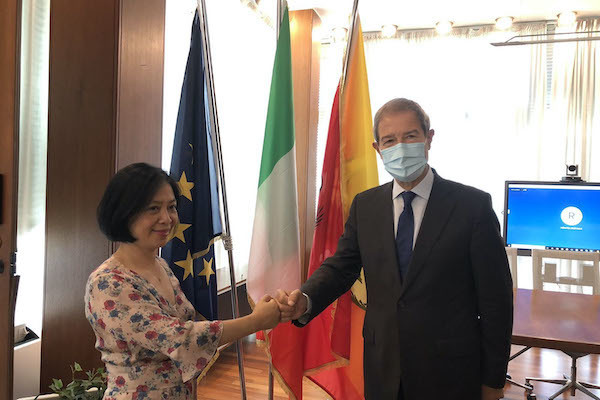 Vietnamese Ambassador to Italy Nguyen Thi Bich Hue (left)
As one of the female ambassadors who took up the task amid the global pandemic outbreak, Vietnamese Ambassador to Finland Dang Thi Hai Tam was very surprised about the new condition. Living in the pandemic, and closely monitoring the responses by governments and peoples, she found that digital connections have profoundly changed lives and helped people overcome the pandemic.
She realized that countries with good digital connectivity can better respond to the pandemic to develop their economies because exchanges between people are uninterrupted and communications only need to shift from offline to online.
In countries with good legal infrastructure and institutional foundation, with high confidence among people, the shift to online work has occurred rapidly, and projects have continued.
Nevertheless, digital transformation is a long process and may take many decades, from the day when a plan is designed to the day it is implemented. Estonia, the country which pioneered the process, began in the 1990s. However, the countries which begin later like Vietnam can proceed more quickly as they can learn from other experiences and take full advantage of existing technologies.
This has prompted Tam and her co-workers to bring experiences in digital technology to Vietnam.
"I learn from many people and from many aspects. Every contact gives me part of the answers. Diplomacy involves contact and learning, and being a student without a teacher. Diplomacy is a lifelong learning profession. The joy of life comes from the knowledge we accumulate in the diversity of these circumstances," she said.
"Sometimes technologies mess up my head: platforms, applications on the platform, which technologies determine which things. I have to think if this or that thing is necessary for Vietnam, how many countries have offered the technologies to Vietnam, and how different they are. If the technologies are necessary for Vietnam, I need to think about how to bring them to Vietnam and what would be the motivation for the parties to cooperate and create results in Vietnam," she said.
Despite difficulties, Tam has never felt discouraged. Online e-Estonia classes were organized in late 2020 with learners from the embassy and diplomatic officers in Vietnam. She also has made many contacts with Estonian telecommunication management agencies with an invitation to join cybersecurity projects with the EU.
Seeing and hearing with digital technology

Though the Covid-19 pandemic has had a significant impact on traditional diplomatic activities, digital connections have made it easier for diplomats to fulfill their missions.
Vietnamese Ambassador to Italy Nguyen Thi Bich Hue also believes that the digital era brings both opportunities and challenges. The effectiveness of digital diplomacy will depend on good preparation and deployment. However, a minor mistake will be enough to create serious consequences.
Hue said with the Ministry of Foreign Affairs' rapid and comprehensive transformation to fulfill foreign relation tasks in the new circumstances, Vietnam's Embassy in Italy has been making every effort to be a part of the transformation.
"Facebook and Twitter are supplementing the website of the representative agency. In the context of the pandemic, on the basis of new information platforms, we keep in contact with central and local agencies of the host country, participate in multilateral conferences, and organize Tet parties and online roundtable talks to introduce our culture and big events of the country," she said.
A Facebook page for the embassy was set up because of the urgent requirements to protect Vietnamese citizens, to transmit information in a widespread way, and connect groups of citizens, especially students, to organize flights to Vietnam from Covid epicenters.
She believes that digital diplomacy is becoming a new way to implement political tasks and release information about Vietnam (economic and cultural diplomacy), and introduce Vietnam's policies to the world.
Hue said that in such a context, diplomatic activities need to continue to change. First, there should be higher awareness of the opportunities, challenges and risks in the digital era, as well as rules on standard behavior and manifestations in cyberspace (for example, code of conduct should be disseminated to every member of the representative agency).
Second, in a more radical way, it's necessary to make investment in human resources and technical infrastructure based on specific and detailed plans.
Third, it's necessary to be proactive, creative, meticulous and cautious, and learn constantly.
New thinking, new approach
Ambassador Le Thi Hong Van, head of the Vietnamese Permanent Delegation to UNESCO (United Nations Educational, Scientific and Cultural Organization), also noted the significance of digital technology in foreign relation activities at global multilateral forums.
She believes that digital technology fundamentally changes the way of development, as well as interactions, and affects all aspects of socio-economic life. The pandemic has been accelerating the digital process. Diplomacy is undergoing a profound transformation, posing new demands on thinking, approaches and methods of implementation.
The need for international cooperation in the digital age is different from before, while the diplomatic complexion has changed radically. The changes require diplomats to apply digital technology in diplomatic activities, and use data in research and assessment of situations so as to make reasonable suggestions. At the same time, it is necessary to modernize the way of policy transmission and public diplomacy.
She said that the Ministry of Foreign Affairs is accelerating the implementation of its knowledge management strategy and building a comprehensive modern diplomacy. This is the right decision because it satisfies the requirements of diplomacy in the digital area, she said.
Thai An
The Ambassador chooses culinary as a funky and extensive way to introduce the rich culture of Vietnam to international friends.
Vietnam News Agency correspondent in New York has spoken with Ambassador Dang Dinh Quy, head of Vietnam's delegation to the United Nations, on the two years the country has served as non-permanent member of the UN Security Council.