2021 was a stormy year with two pandemic waves. However, thanks to reasonable strategies, Vietnamese billionaires weathered the storm and became richer.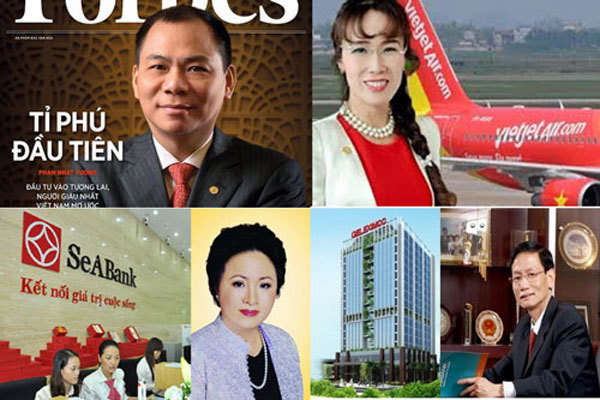 Billionaires are getting richer
The 2021 finance report of Vinhomes, owned by the US-dollar billionaire Pham Nhat Vuong showed pre-tax profit of VND48.5 trillion ($2.1 billion), an increase of 33 percent over the year before.
In 2021, Vinhomes reported consolidated revenue of VND85.1 trillion, up by 19 percent over 2020. Its total assets reached VND230 trillion and stockholder equity VND132 trillion, which were all higher than the year before.
With the huge profit, Vinhomes is now the 'champion' in the stock market.
Hoa Phat Group (HPG) of billionaire Tran Dinh Long in 2021 has reported the profit of VND34.5 trillion ($1.5 billion), an increase of 1.6 times over the year before.
Prior to that, Techcombank of billionaire Ho Hung Anh reported pre-tax profit of VND23.3 trillion ($1 billion), up by 47 percent. It is the first private bank in Vietnam to get pre-tax profit of $1 billion.
VP Bank also for the first time gained profit of $1 billion in 2021 and created a record in the banking sector, even surpassing Vietcombank and Techcombank.
VP Bank has reported pre-tax profit of VND38 trillion for 2021, or four times higher than the previous year, thanks to the deal of selling 50 percent of capital of FE Credit.
Prior to that, Vietcombank, one of the big four, was the first bank obtaining the profit of $1 billion. Its pre-tax profits were VND29.7 trillion and VND36.5 trillion, respectively, for 2019 and 2020.
As such, in the tough year of 2021, the Vietnamese stock market witnessed five businesses obtaining profits of VND1 billion and higher, including three new faces.
Some enterprises which faced difficulties for a period have also witnessed impressive recovery. Hoang Anh Gia Lai of Doan Nguyen Duc, or boss Duc, for example, regained strong growth in 2021 after a long period of restricting.
The group, established as real estate developer, has reaped fruits after 10 years of making investment in agriculture.
The prosperity in business helped HAG share prices increase sharply by three times in the last three months of 2021, thus stock assets rose by VND3 trillion to VND4.6 trillion. With the figure, Duc has rejoined the group of 35 richest stock billionaires.
Billionaire Nguyen Dang Quang has also reported sharp increase in profit and the strong rise of VinMart, the retail chain that his Masan bought from billionaire Pham Nhat Vuong
The enterprise of billionaire Dang Thanh Tam also regained its strength in 2021 after 10 years of ups and downs thanks to advantages in industrial real estate development. His KBC reported a post-tax profit increase of 7.6 times.
Positions

2021 was a stormy year with two pandemic waves. However, thanks to reasonable strategies, Vietnamese billionaires weathered the storm and became richer.
VIAC (Vietnam International Arbitration Center) Chair Vu Tien Loc, former Chair of VCCI (Vietnam Chamber of Commerce and Industry), commented that Vietnam experienced a tough year, but businesses did not 'sit idle and wait for the storms to finish', but struggled to survive and develop.
Like Masan and KBC, HoaPhat Group of billionaire Tran Dinh Long has been praised for weathering the storm.
After becoming No 1 in the steel market, Hoa Phat continues to make investment in Dung Quat steel mill with high capacity, thus allowing it to expand the market share and cement its position in the market.
Over the last two years, the steel industry has seen profits reaching record high to $1 billion and higher thanks to the super-cycle. HPG shares has soared by 4.8 times, which caused Long's stock assets to increase proportionally.
Long's Hoa Phat Group has also made heavy investment in agriculture, striving to become one of leading enterprises in the field, especially in chicken eggs and pork.
Meanwhile, billionaire Nguyen Dang Quang's pocket increased by $1 billion to $2 billion thanks to the two-fold increase in MSN share prices.
The reasonable strategy followed by Masan managers helped the group obtain revenue of nearly $4 billion in 2021, and pre-tax profit of VND8.6 trillion, up by 7 times.
Billionaire Pham Nhat Vuong continues to reap fruit from his real estate business, but now gathers strength on developing electric cars. His VinFast plans to completely switch to electric cars by the end of the year and become a global electric car manufacturer. VinFast's electric vehicles are believed to be in no way inferior to Tesla's.
Meanwhile, T&T Group of Do Quang Hien has joined forces with Hanwha, the partner from South Korea, KOSPO and KOGAS to reactivate the $2.3 gas-fired power project, LNG HaiLang, in QuangTri province. The capacity of the plant in the first phase will be 1,500MW.
T&T is also running another gas-fired power project, LNG Cai Mep Ha, worth $6 billion, in Ba Ria – VungTau.
Impressive results in 2021 are seen as a premise for a more favorable 2022, and in 2023 the economy is forecast to return to a high growth trajectory. The flow of billions of USD into Vietnamese private corporations is the basis for these businesses to continue to make breakthroughs and reach out to the world as in the case of VinFast.
M. Ha
In 2021, despite great challenges caused by Covid-19, the enterprises of Vietnamese billionaires are growing and thriving.
Vietnam currently has five USD billionaires and may have six by 2025. With the rise of the rich, the Vietnamese market will be a fertile land for luxury brands.