Vietnamese corporations have asserted their position and strength after many large acquisition deals. Big names are confident about holding onto the domestic market, even knocking out foreign retail giants.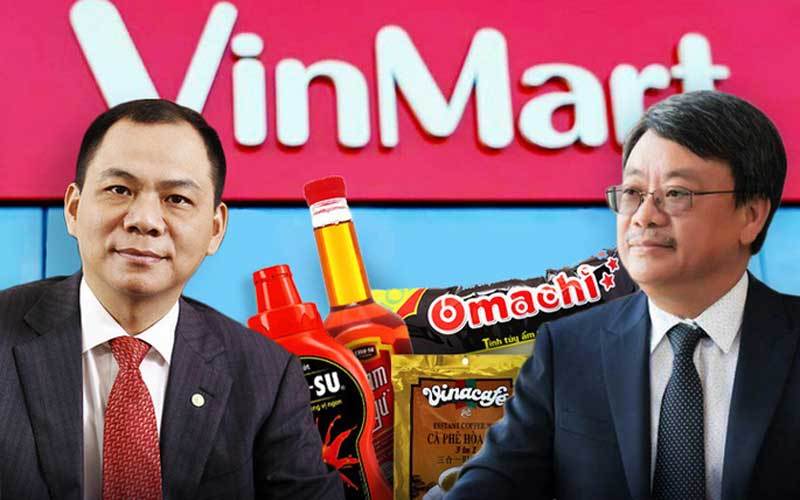 Billionaires Pham Nhat Vuong and Nguyen Dang Quang made a big deal in 2019.
Vietnam's retail market became vibrant in the past decade with the entry of large corporations from Thailand, South Korea, Japan, and France. The local retail market used to be controlled by foreign giants. The expansion of Metro (Germany), Big C (France and then transferred to Thailand), Lotte (South Korea), and Aeon (Japan) overwhelmed Vietnamese brands such as FiviMart, Intimex and Hapro.
However, the correlation between domestic and foreign forces began to change after Vingroup of Vietnam's richest man Pham Nhat Vuong joined the market. With the Vinmart brand, the speed of opening new stores was unprecedented. At the same time, this band conducted acquisitions of smaller supermarket chains – stores such as Ocean Mart, Fivimart, Maximark, Citimart, Vinatex Mart, Zakka and Shop & Go, etc.
Vinmart surpassed foreign retailers to become the largest retail system in Vietnam with about 2,600 supermarkets – stores. This brand is valued at more than US$3 billion.
In late 2019, a turning point occurred in the retail market: the handshake between billionaire Pham Nhat Vuong of Vingroup and of billionaire Nguyen Dang Quang of Masan to form a new empire as Vinmart was acquired by Masan.
For the first time, Vietnamese entrepreneurs mastered a big game, and the largest retail system did not fall into the hands of foreign corporations. Domestic manufacturers do not have to worry much about the possibility of being cut off o contracts, or Vietnamese goods being removed from store shelves ad in the case of BigC or Metro before.
This cooperation brings many benefits: expanding the distribution system for Masan Group and providing necessary safety for billionaire Pham Nhat Vuong to realize his dream of building a Vietnamese car brand and bringing it to the world.
The deal between two Vietnamese billionaires has protected the achievements of Vietnamese enterprises, after a series of French, German, and Malaysian retail giants had to say goodbye to Vietnam, from Metro to Parkson to Auchan.
Thaco Group of billionaire Tran Ba Duong has recently bought 35% of shares of Hung Vuong Seafood, one of the leading seafood processing and exporting enterprises in Vietnam, after injecting billions of US dollars to save Hoang Anh Gia Lai Group of tycoon Doan Nguyen Duc.
Thaco's subsidiary, Thadi (specializing in agriculture) of billionaire Tran Ba Duong, will invest in Hoang Anh Gia Lai's livestock segment, including seafood and pig farming. Duong once rescued HAGL Agrico, aiming to build a unique agricultural empire in Indochina and to help a leading agricultural enterprise in Vietnam not fall into the hands of foreign enterprises.
At Bibica, a big local confectionery brand, PAN Food, a subsidiary of Nguyen Duy Hung's PAN Group JSC, has held more than 50% of Bibica shares after a battle with Lotte Group from South Korea.
Bibica's representative once admitted to making the mistake when cooperating with Lotte. The cooperation did not go as expected because the Korean giant wanted to turn Bibica into their subsidiary. Many people did not expect that the Bibica brand could stand firm and thrive again. Nguyen Duy Hung's SSI disrupted Lotte's plot to acquire Bibica.
Position in the domestic market
This is not the first time that domestic corporations have prevented the expansion of foreign investors in the field of food processing. In 2016, it was also Nguyen Dang Quang's Masan Group that surpassed CJ CheilJedang of South Korea to win the right to buy and become a strategic shareholder of Vissan JSC. Earlier, this group successfully acquired two famous feed brands Proconco and Anco or Vinacafé Bien Hoa in 2011.
In 2019, Masan launched Masan MeatLife, entering the US$10 billion pork market, challenging the number one position of CP Group of Thai billionaire Chearavanont. Masan MeatLife also listed its shares on the stock market with a starting capitalization of $1.1 billion.
The appearance of Masan MeatLife is considered a good sign for Vietnamese businesses and farmers in the competition in the domestic market against big foreign players. For more than a decade ago, in the field of agriculture – Vietnam's strength – C.P Group of Thailand once stirred up the market, including animal feed, pig slaughtering, poultry, eggs and processed products.
After a decade waiting for the right time, Vietnamese enterprises made an impressive debut in the field of pig breeding and pork processing. A few months after its debut, Masan MeatLife's revenue reached several tens of billions of VND per month. Its distribution system also increased more than 10 times, to nearly 500 units and now it is a network of 2,600 Vinmart/Vinmart+ stores.
In the beverage sector, in 2012, tycoon Tran Quy Thanh's Tan Hiep Phat rejected an investment proposal worth US$2.5 billion from Coca-Cola. This group is realizing its ambition to conquer the No. 1 position in Southeast Asia in the beverage indstry.
As for the aviation sector, Vietnamese businesses are growing. Vietjet Air of billionaire Nguyen Thi Phuong Thao, Bamboo Airways of Trinh Van Quyet, etc. are growing stronger, increasing domestic market share and outperforming regional airlines to look towards the global market.
Some other Vietnamese businesspeople have also built large corporations, increasingly showing their strengths in domestic and regional markets, such as BRG of Nguyen Thi Nga, T&T of Do Quang Hien, and Geleximco of Vu Van Tien.
In the past, Vietnamese businesses were only strong in agriculture and seafood fields, but now have products and services in other fields.
The recent billion-dollar deals, bold decisions and cooperation between domestic enterprises are very positive signs. This proves that Vietnamese entrepreneur have the strength to rise to the leading position, contributing to protecting Vietnamese brands and the domestic market.
M. Ha
The increasing presence of foreign giants has put great pressure on domestic retailers.