Nguyen Tri Hai, 29, thought that he just needed to find a good professor and a lab to have a future. However, he had no work to publish after two years of research.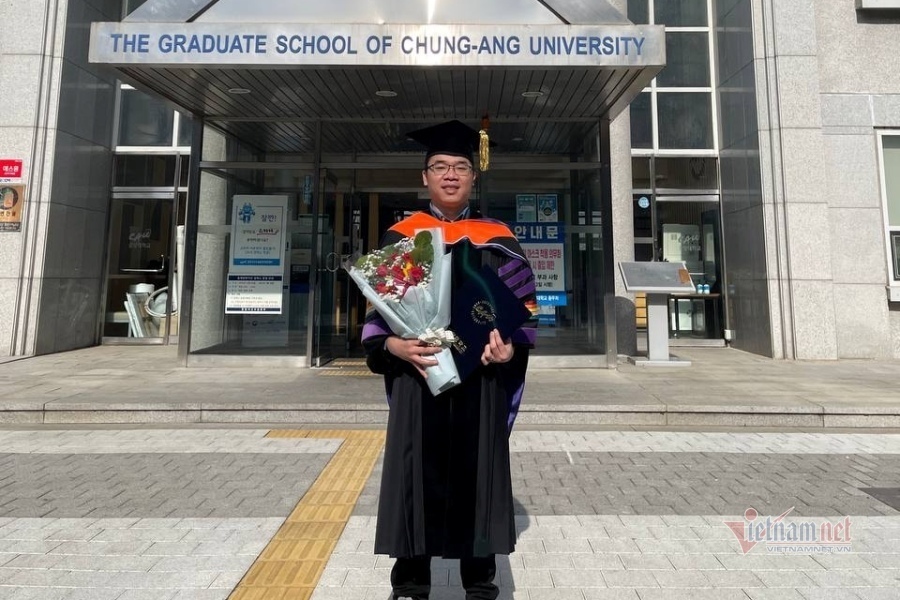 Nguyen Tri Hai
Hai is now a postdoctoral research professor at Seoul National University of Science and Technology. Prior to that, he obtained a doctorate at Chung Ang University.
Hai now has 10 patents in South Korea and one patent in the US, and has articles on many international publications.
However, Hai admitted that his path of obtaining the doctorate at under aged 20 was thorny. There was even a time when he felt that the future was insecure and uncertain.
Graduating from the University of Information Technology under Vietnam National University, HCMC, Hai planned to stay at the school to become an assistant professor. However, he found an opportunity to study for a master's degree at Soongsil University in South Korea.
"At that moment, I just graduated from school and got the opportunity to study abroad so I was full of energy," he recalled.
"In 2015, on the first Tet days that I was far from home, my advising professor asked what my wish was. I answered that I wanted to obtain a doctorate before I turned 30," he said.
However, the first days in South Korea were tough. In order to survive in labs, hard work and perseverance are important.
In 2017, after obtaining a master's degree, he stayed in the lab to become a PhD student. In the same year, he married and took his wife to South Korea to live and work.
During his doctoral studies, Hai continued to pursue the field of information and communications technology. However, he encountered another difficulty: his background was related to Computer Science.
That was why his studies in the 2-year study for the doctorate came to a standstill.
"During those two years, I had no scientific research work that was good enough to publish in international journals. At that moment, I felt helpless. I stayed at the lab until midnight every day. The professor urged me to find results, which was stressful," he recalled.
The situation was even more stressful when his wife wanted to study for a master's degree. He had to use his scholarship to cover their basic needs and his wife's Korean language study.
All these factors prompted him to leave the lab. However, leaving did not mean abandoning the academic path. A new opportunity at Chung Ang University opened up.
"The research at my previous lab was related to new technology for the internet in the future. Meanwhile, in the new lab, we use algorithms for urban traffic management. I believed this was the field in which I have many advantages," he said. "My advisor encouraged me to carry out research and was always ready to give support."
After 2.5 years of studying and working at Chung Ang University, in late 2021, at the age of 28, Hai successfully defended his doctoral dissertation with six articles published in SCIE journals, including three Q1 articles.
He won an award from the Rector of the Graduate School at Chung Ang University reserved for students with excellent academic and research achievements. After that, he became a postdoctoral fellow at Seoul National University of Science and Technology (SeoulTech).
Now, when looking back on his path, Hai believes that every turning point brings a new opportunity.
"It was a difficult decision, but it was the right one because I finally found the path that I wanted to follow," he said. "The most important thing is that I always made constant efforts and accepted risks. Being brave to give up doesn't fit me, so making a change to make a breakthrough can bring success."
Thuy Nga
Luu Nguyen Nguyet Minh is working on sustainable solutions to help solve Mekong Delta's problems.
"I chose to stay in the UK, not because I can find a good job here, but I believe that I still need more time to accumulate experience and money before I return to Vietnam and do something bigger," said Trinh Quang Vu.