Molnupiravir, the Covid-19 drug manufactured in Vietnam, is expected to be priced at VND300,000-500,000 a box. In the black market, it has sold for VND10 million per box of 20 tablets.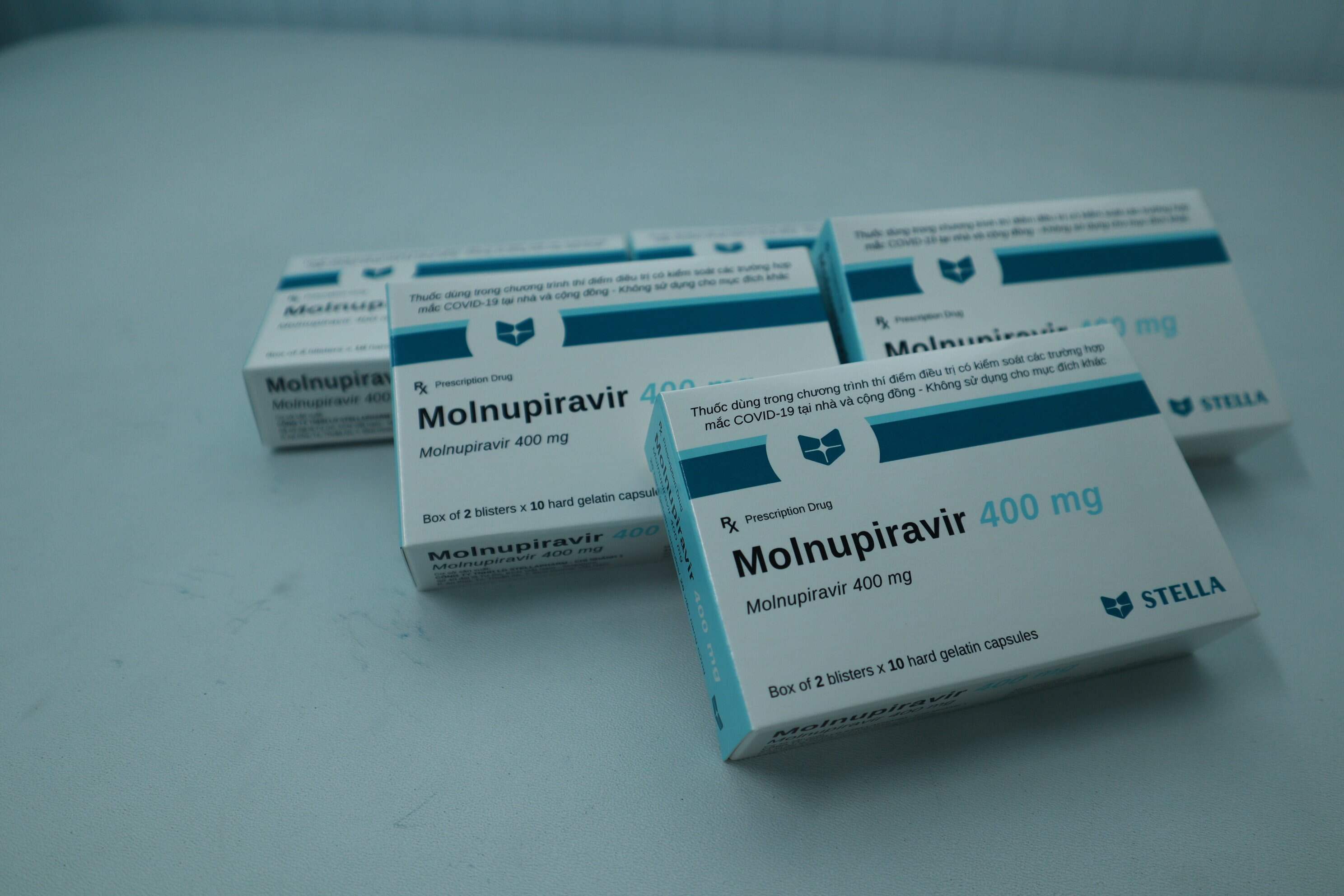 Le Van Truyen, chair of the advisory council for issuance of certificates on medicine and medicine material registration and circulation, said three drugs containing Molnupiravir active element which have been licensed belong to Boston Pharma, Mekophar and Stellapharm. All of these are in HCM City.
"The drug has been licensed for emergency use with many detailed conditions in the document released by the Drug Administration of Vietnam," he said.
Nineteen domestic pharmaceutical firms have applied to make Molnupiravir.
"In the first phase, the advisory board considers proposing licensing to three companies. Other companies need to supplement dossiers. The board will consider their applications and propose licensing," he said.
The licensed three drugs include Molravir 400 of Boston Vietnam Pharmacy, Molnupiravir 200mg of Mekophar and Molnupiravir Stella 400 of Stellapharm.
According to Truyen, the issuance of registration numbers to the three drugs containing Molnupiravir follows the Government's policy on licensing domestically made Covid-19 drugs.
Molnupiravir has been used under the program on using drugs to treat community-transmitted Covid-19 patients.
As of January 21, 2022, the Ministry of Health (MOH) has allocated 450,000 Molnupiravir doses to serve Covid-19 patients with mild symptoms in 53 localities.
"First, we have domestically made medicine, so we no longer rely on foreign supply sources," he said.
"Second, the licensing plays a decisive role in restoring order in the Molnupiravir market. The market was chaotic with drug prices pushed up to sky high levels."
Therefore, when licensing, the Drug Authority of Vietnam requested that three enterprises report the drug prices to MOH. The manufacturers have affirmed that the prices of drugs are just VND300,000-500,000 per box.
Molnupiravir is an active element with antiviral effects, used for Covid-19 patients with mild symptoms. The drug works to reduce the viral load when used in the early stages of the disease, reducing the risk of patients becoming seriously ill or dying.
In mid-August 2021, MOH approved the program on Molnupiravir to treat Covid-19 patients with mild symptoms in HCM City.
On February 17, the Drug Administration of Vietnam officially licensed the three Covid-19 drugs made in Vietnam.
The watchdog agency requires drug manufacturers and drug registration establishments to make drugs exactly in accordance with the process shown in documents registered with MOH. They are also required to print the registration numbers granted by MOH on product labels.
The manufacturers are required to cooperate with treatment establishments to observe current laws on using prescribed drugs. They have the responsibility of monitoring the use of the drugs to measure the efficiency and undesired effects on patients, and report patients' symptoms.
Local health departments must inform medical examination establishments and healthcare workers, while drug supply establishments are responsible for informing patients about the benefits and risks when using the drugs, as well as alternative drugs which can be used in treatment.
Medical examination establishments are required to supervise the use of drugs to discover harmful reactions, if any.
According to MOH, the three drugs containing Molnupiravir are for treatment of adult Covid-19 patients with mild and moderate symptoms and with at least one factor that may lead to disease progression.
The recommended dose for adults is 800mg Molnupiravir every 12 hours for five days. The safety and efficacy of Molnupiravir when using for more than five days have not been defined.
If patients forget a dose for more than 10 hours, they must not double the dose to make up for the missed dose.
They should not use Molnupiravir for more than 5 consecutive days.
Ngoc Trang
The Medicine Patent Pool (MPP) on January 20 announced it has granted licenses to manufacture the COVID-19 treatment drug Molnupiravir to 27 pharmaceutical firms worldwide, including Stella Vietnam (Stellapharm).
A number of antiviral drugs specifically for COVID-19 treatment such as Molnupiravir and Favipiravir are being traded on the black market locally at various prices and with unreliable quality, though they are strictly prescribed by doctors.