Mr. Tran Ngoc Tiep, a former information and communication officer, founded an incense factory in Thanh Liem district, in Ha Nam province, at the age of 57.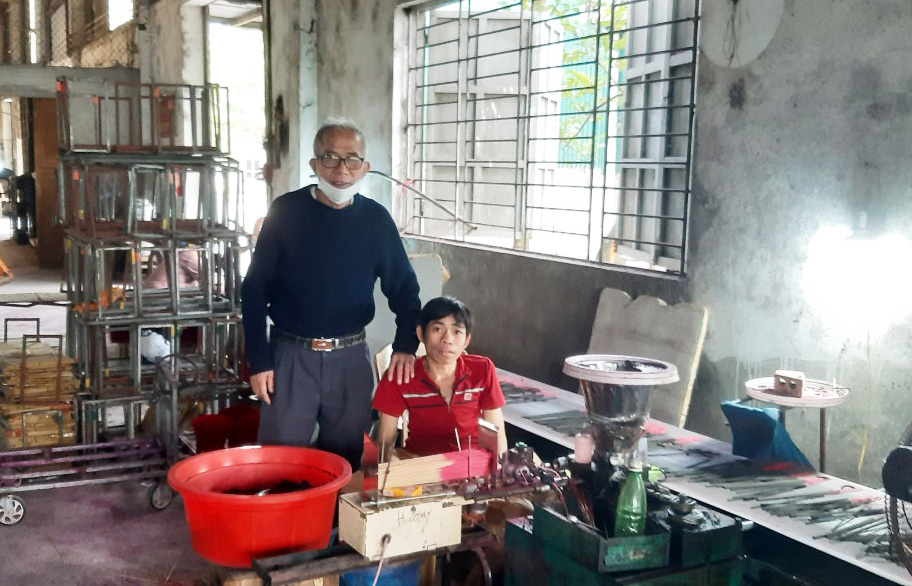 Mr. Tran Ngoc Tiep (standing) continues to manage the traditional incense factory every day.
Despite the incense factory's location in a low-lying area, many overseas partners come to observe and even stay for a few days to better understand how the firm operates before signing on the dotted line with the company.
During his five years in Hanoi, he was only able to oversee the job from afar and delegate responsibility to his colleagues. Once every three weeks, he made the trip back home to check up on the progress. Upon retiring in 2013, he returned to his hometown and has been running the workshop there ever since.
Due to the fact that his products are sold worldwide, his factory was also affected by the pandemic, just like many other companies were. However, there are presently more than 40 people employed at the plant. In 2020 and 2021, revenue was about VND 5-6 billion/year, which is just one fourth or one fifth of what it was in prior years.
During the peak season, the plant employs 80-100 individuals, most of whom are handicapped or old, or local farmers. There are some who work full-time and those who make the most of their free time.
When asked why he decided to go into the incense-making company, the owner explained that his previous employment had allowed him to travel to a wide variety of locations around the country. Learning about traditional jobs was made easier by his exposure to a variety of rural production models.
He also learned that many individuals, especially those in distant locations and those with impairments who are unemployed, are still living in poverty. As a result, his primary motivation for creating a business at retirement is to provide a source of income for farmers, rural communities, and the economically underprivileged rather than simply enriching himself.
He opted to construct a production plant in his hometown since it is a poor lowland area that is mainly agricultural, making it difficult to attract investment firms.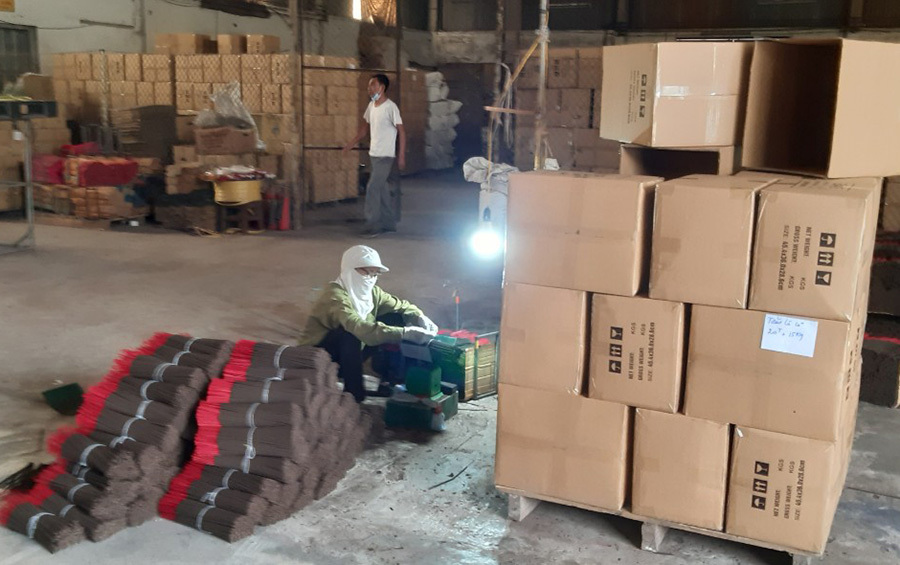 Mr. Tiep's business creates jobs for several dozen to hundreds of local people, including many people with disabilities and the elderly.
Countless challenges confronted Mr. Tiep when he first opened the workshop, he said. To manufacture high-quality final goods, he and his coworkers had to experiment and learn a lot, despite their understanding of the production process. The equipment was purchased so that he could study and test on his own for three months. "It was my intention to purchase and use the equipment for three months of self-study and testing."
His efforts were rewarded in the end. His facility was visited by partners from Mexico, Egypt, Argentina, Russia, and many other countries. Foreign businesspeople even spent days at his residence to get a feel for how the plant operated before making a deal with him. Even after a long time, these people continue to place their trust in his family's products.
Many firms and organizations making incense for export went bankrupt and temporarily stopped production and operation, yet his business continues without interruption.
In Mr. Tiep's words, he has no particular secret except to make sure that timetable, agreed price, and product quality are all met. "They allow a maximum of 3% flaw in the product, yet the biggest defect in my product is just 0.5%. Cunning and deception are two concepts that haunt me when it comes to business. All legal standards are met by my company as well."
Because he only uses safe materials, traditional smells and no chemicals, his incense products stand apart from the rest of the market.
Mr. Tiep elaborated on the motivations for his decision to pursue incense manufacture as a career into his golden years, stating: "As a starting point, the cost of raw materials is low and the supply is plentiful. Second, the amount of money needed to purchase machinery is small, making it ideal for those like myself with limited funds. The third reason is that anybody, even those with quite severe impairments or elderly persons in their 70s who are still working hard, can make incense. Because this profession does not require a lot of technical know-how or heavy labor, it's a good fit for someone with a strong work ethic."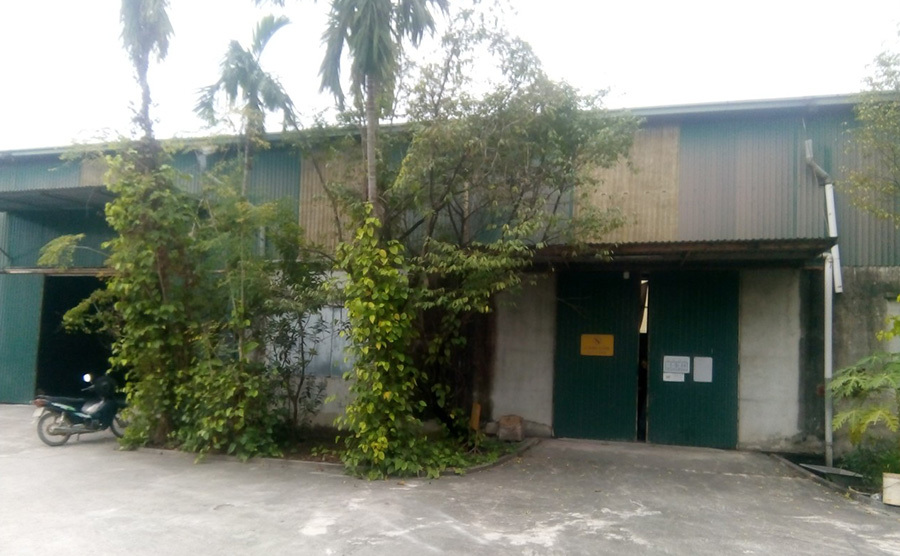 Mr. Tiep's traditional incense has been exported to many countries over the past 13 years.
He also understood that the lives of people in hilly and rural areas, especially those with disabilities and a lack of education, are still extremely challenging, especially in such places. In order to accommodate such people, he built a factory in his home. It's possible to accomplish the work very competently, so he dispatched people to help them for a few days, rendering hands-on instruction.
"Nine pairs of handicapped individuals have formed a happy relationship after working together at the workplace. This is what makes me the happiest. Some of them no longer work here, but still contact me on a daily basis to drop over and chat. I'm overjoyed that their children were all born perfectly healthy and normal." There are currently 11 handicapped individuals employed at the business, all of whom have a place to reside.
As a result of the pandemic, transportation charges have climbed 10-12 times, all raw materials have risen in price, and purchasing power has dwindled across the globe because it is not an essential commodity. However, he continues to sustain output in the hope that the virus will be contained and production will return to normal.
Wages are paid according to product. There is a big difference between individuals who work full-time and are very productive and those who work part-time.
"Despite the fact that my health has deteriorated significantly over the years, interacting with employees, as well as ensuring that farmers and people with disabilities are able to find work my employment keeps me happy. It's wonderful to have a steady source of money especially in the midst of a serious pandemic.
"Having a purpose in life is the most essential thing. Agricultural and forestry by-products, and the labor of the handicapped, the old and the weak, as well as the free time of solely agricultural employees, are all used in the manufacturing of export-quality incense. Our facility used to bring in roughly US $1 million a year in revenue before the outbreak. 'Life-enhancing' seems like a good thing, right?"
With support and assistance from organizations, he expects the epidemic will be under control by next year, the economy will recover, and income will return to its pre-epidemic level.
Nguyen Thao
Bodhi leaves, which at first glance appear to be lifeless, become 'storytellers' and have even helped hundreds of people have a livelihood thanks to Mr. Hoang Thanh Phuong's skilled hands.
Having only one arm has never prevented Mr. Phan Van Chanh, 57, from pursuing his passion to make distinctive household items and earn tens of millions of VND each month.