After graduating from Wellesley College majoring in biochemistry, Trinh Mai Chi, with impressive research achievements, has won a full scholarship to study at Johns Hopkins, the world's leading medical university.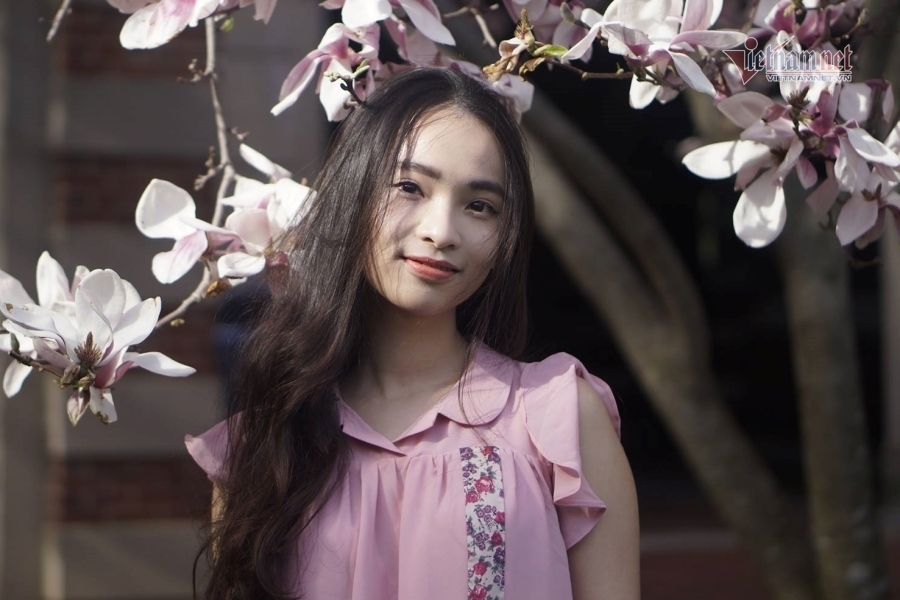 Trinh Mai Chi
Five years ago, the 18-year-old female who was in the German majoring class at the Hanoi High School for the Gifted in Foreign Languages left for the US to study at Wellesley College with a scholarship worth VND4.7 billion.
Chi said in the first semester of the first year at the college, she registered to study Introductory Chemistry and Introductory Molecular and Cellular Biology.
The classes on molecular genetics and organic chemistry aroused a passion for research and she decided to choose biochemistry as her major. The professor who taught chemistry in her first class became her professional advisor.
During the four-year study at the college, Chi was involved in research on the properties of BCR-ABL kinase protein, the cause of chronic myeloid leukemia.
"I studied the electrostatic interactions between some drugs, especially imatinib and ponatinib, and variants of this protein to understand more about resistance mechanisms. The research was presented at the American Chemical Society Conference," she explained.
Chi graduated from the college receiving Summa Cum Laude granted to the top 5 percent of students. She was admitted to Sigma Xi, the honorable society of college students carrying out scientific research.
Thanks to her excellent achievements, Chi became one of 15 students admitted to Phi Beta Kappa, the US honor society which only admits 10 percent of students with highest achievements from universities.
Chi spent her summer holidays on volunteer activities and research internship. In the second summer in the US, she had an internship at Dana Farber Cancer Institute and Boston Children's Hospital.
"My project was about experimenting with some new drugs on the cells of patients suffering from neuroblastoma and normal cells to evaluate the effectiveness and toxicity of compounds. I also learned the mechanism of operation and interaction with DNA/RNA/protein of these drugs," Chi explained.
The opportunity to meet and learn from doctors at clinics and seminars led her to the decision to become a doctor. Realizing that the competition for scholarship in this major is high, Chi began preparing for the scholarship application very early.
In the third year, Chi participated in clinical medical research on dermatomyositis in children at Lurie Children's Hospital in Chicago. She assisted the professor to analyze data from more than 3000 examinations of more than 600 patients made over the last 20 years to find new, objective and more effective diagnostic criteria for the disease.
"My research helps prove that the number of natural killer cells in blood is an important indicator in the diagnosis and prognosis of disease, and that this type of cell plays an important role in disease occurrence," Chi said.
The research results have been submitted for presentation at the American College of Rheumatology Convergence.
Chi is a volunteer with Blue Cancer Society raising funds for American Cancer Society, and also organizes registrations for marrow donations and inspirational meetings with cancer survivors. She also teaches primary school students from migrant families in Boston.
After one year of self-study and review for MCAT (Medical College Admission Test), she had results better than 97 percent of students attending the exam that year. She prepared her documents, focused on her essay, and asked for letters of introduction to apply for scholarships.
She regrets that clinical opportunities were cancelled because she graduated at the time when the Covid-19 pandemic became severe. She continued working as an assistant at the Laboratory of Hematology and Blood Diseases at DFCI/BCH.
Chi said she was surprised when receiving a full scholarship from Johns Hopkins. She signed a commitment to enroll in the school in April.
Ngoc Linh
Many students in the 12th Physics Majoring Class of the Hanoi-Amsterdam High School for the Gifted have won numerous medals at competitions, as well as scholarships to study at leading schools in the US, UK, Singapore and Canada.
Three students auctioned paintings to raise more than VND 200 million to donate to Covid-19 epidemic prevention organizations to buy vaccines and equipment.