2021 has been a fruitful year for Vietnam's agriculture as many farm specialties have entered choosy markets.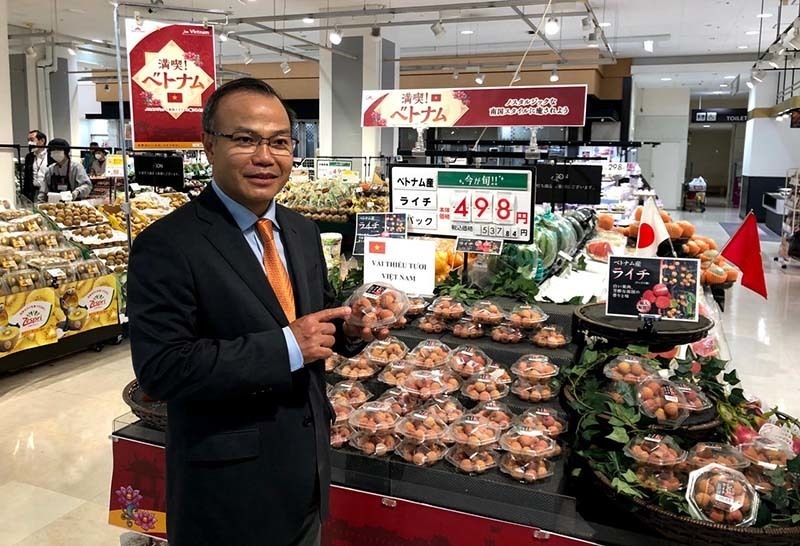 Litchis enter Japanese market
Despite Covid-19, 2021 witnessed a boom in Vietnamese litchis. The specialty was available in 300 supermarkets at the price of VND350,000-500,000 per kilogram. The first consignment of litchis sold out after half an hour.
Vietnamese growers in Bac Giang and Hai Duong had to spend five years making every effort to conquer the choosy Japanese market. The presence of Vietnam's litchis at Japanese supermarkets lent credibility to their value. After Japan, Singapore, the EU and Australia opened their markets to Vietnam's litchis.
At an auction in Perth (Australia) in mid-June 2021, a box of Vietnam's litchis sold at 3,000 AUD, or VND52 million. In Europe, France, Germany and the Netherlands, the prices were up to VND500,000 per kilogram.
Green mango favored by Australians
2021 was a tough year for mango growers. Because of the pandemic, farmers had difficulties in selling mango. The product sold at just VND3,000-5,000 per kilogram.
However, mango exports to Australia were sold at VND300,000 per kilogram, a sky high price for farmers, which paved the way for Vietnam's mango to enter the Australian market.
Green mango is not only available at supermarkets but also appears on the menus of some restaurants chains in Sydney. The restaurants are willing to help advertise, take orders, and distribute mangoes to clients.
Longan exported to European countries
Longan is sold in the domestic market and exported to China, but it also headed for Europe this year.
Longan, after harvesting, are preliminarily processed and packaged with a QR code for traceability, and then preserved at a standard temperature and humidity before leaving for the destination. The products in supermarkets are sold at 18 Euros, or VND490,000, which is 15-20 times higher than the domestic prices.
Vietnam's longan also successfully entered the Singaporean market with the price of VND220,000 per kilogram, targeting the high-end market.
An exporter said his company exported longan to Europe, the US and some Asian markets in 2021 to explore the market situation. As sales were beyond expectations, he plans to join forces with farming areas to boost longan exports to choosy markets.
Ginger enters Australian market
Vietnam's ginger is selling in Australia at 9-13 AUD per kilogram (VND155,000-220,000 per kilogram). This is a surprise to many Vietnamese, as ginger can be sold for thousands of dong per kilo in the domestic market.
According to the Vietnam commercial affair division in Australia, the fresh ginger price is increasing, reaching VND860,000 per kilo at times. Australia imports ginger in large quantities.
Vietnam's ginger not only sells at supermarkets and shops but online as well. In the first four months of 2021, Vietnam's ginger exports to Australia increased by 1,350 percent compared with the same period last year.
Dracontomelon goes abroad for first time
After litchis, mango and ginger, dracontomelon also arrived in Australia.
This is a familiar fruit for Hanoians. During peak harvesting days, the fruit is sold at VND25,000-30,000 only. However, at supermarkets in Australia, Vietnam's dracontomelon is sold at VND300,000 per kilogram.
With the high price, the first consignment of 22 tons of frozen dracontomelon brought revenue of VND6.5 billion.
Analysts say it is a modest figure, but good news as it shows that Australia is a potential market for dracontomelon. If Vietnam can create a growing and production area for the fruit, it would be able to earn tens of millions of dollars.
If Vietnam has a strategic policy on developing dracontomelon production, it would earn a lot as Thai does with tamarind exports.
Star apple sells for VND2 million per box in US
Star apple, another farm specialty of Vietnam, sold for $80 per box of 4 kilograms, or VND500,000 per kilogram in the US. This was the highest price level since the the fruit entered the market five years ago.
An exporter told VietNamNet that his company had shipped 5-6 containers of star apple a week to the US. After one month, 20 tons were exported at high prices.
The good news about consumption in the world market has led experts to say that if Vietnam develops good strategies, it will be able to have very high profits from farm produce.
T. An
Vietnam will have many more opportunities to export fruit and vegetables to potential markets in 2022, providing local producers meet international standards on quality and management of growing regions.
After tightening technical barriers, China now may suspend imports for at least six weeks during the Tet holiday. About 1 million tons of Vietnamese fruit may suffer from the decision.