Vietnamese-born former German Vice Chancellor Philipp Rosler said he has learned much about Vietnam's history, culture, country and people.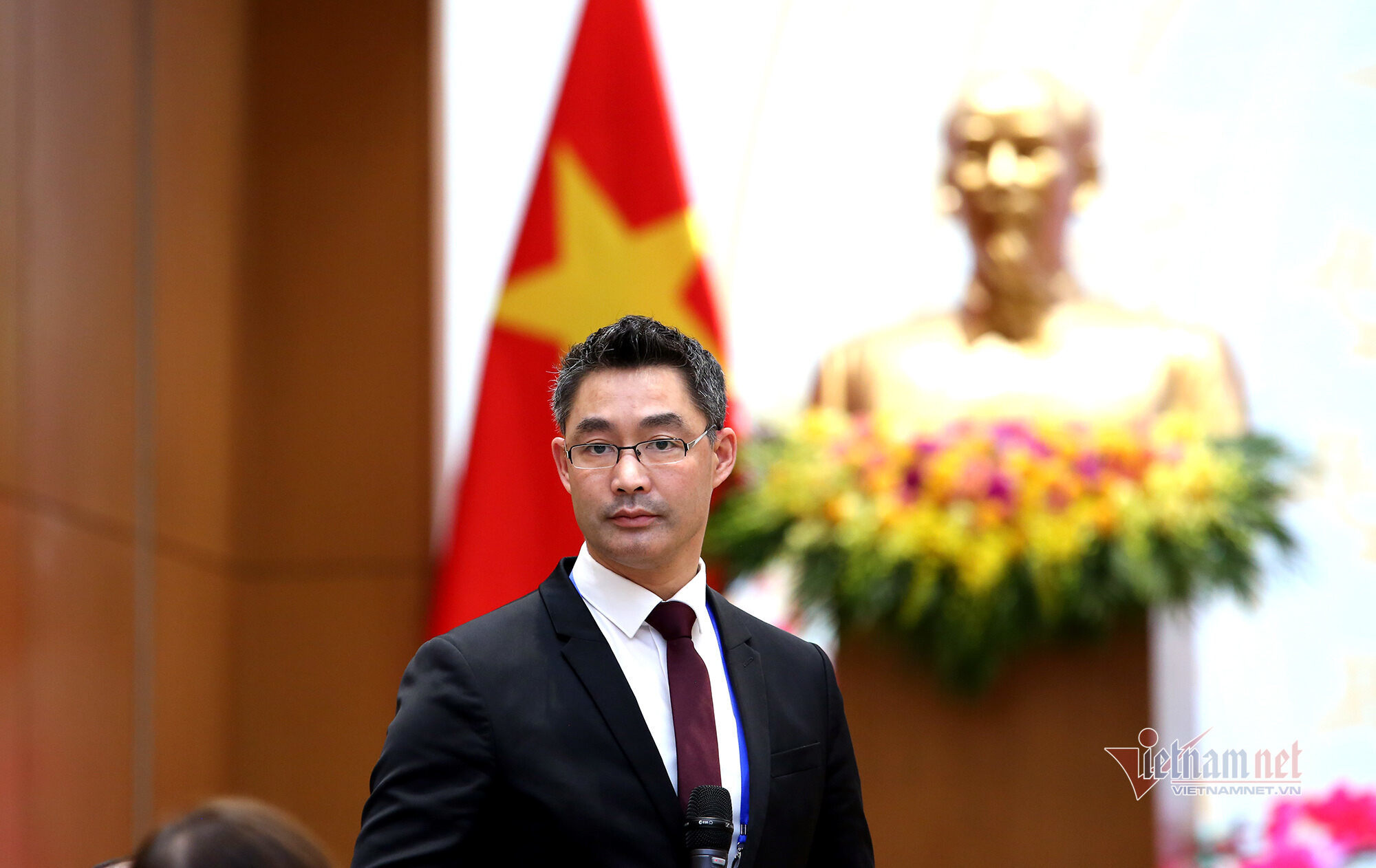 Former German Vice Chancellor Philipp Rosler
Every year, overseas Vietnamese from all over the world return to the homeland to celebrate Tet, reunite with their families and attend the Xuan Que Huong (homeland spring) program.
Xuan Que Huong 2022 was organized after one year of hiatus due to Covid-19. Nearly 60 overseas Vietnamese from 23 countries and territories gathered in the program.
In a warm and sincere atmosphere, overseas Vietnamese felt the delight and pride of achievements in socio-economic development, national defense and security, in foreign affairs and in building a national unity bloc. One of them was Philipp Rosler, who is now Vietnam's Honorary Consul to Switzerland.
Visiting the mausoleum to pay tribute to President Ho Chi Minh, offering incense at Kinh Thien Palace in the Imperial Citadel of Thang Long, and releasing fish at the President Presidential Palace together with the President, Rosler participated in all the events of the program.
Rosler thanked and congratulated the Government of Vietnam, the Ministry of Foreign Affairs (MOFA), and the Committee for Overseas Vietnamese for preserving the Vietnamese community not only in Vietnam but also overseas.
He said that it required great efforts to organize the program and gather overseas Vietnamese in the current conditions.
Rosler said he returns to Vietnam to give support and strengthen connections.
"Each of us can be an ambassador of Vietnam. Today I learned an important thing of Vietnamese Tet – eating banh chung (Stuffed sticky rice cake) and giving li xi (lucky money). There are overseas Vietnamese who come here without lucky money, but they bring love and desire to connect with overseas Vietnamese from all over the world. This is a great form of connection between the traditional and modern Vietnam," he said.
For him, Tet is a sacred traditional holiday, an occasion for family reunions.
"We come here with different means of transport, from train to aircraft and cars. But after today's experiences, I feel we are at home," he said.
"This trip has a special meaning. I have been to Vietnam many times, but it's a different feeling when returning to Vietnam to celebrate Tet. I have learned many things about culture, society, especially the meaning of family in Vietnam," he said.
As the Honorary Consul to Switzerland, Rosler said delegations of Swiss and German businesses would come to Vietnam in early 2022.
"I wish to promote bilateral trade relations and seek investment opportunities in Vietnam. We are also seeking opportunities to bring Vietnamese students to Germany or Switzerland to study new majors," he said.
He noted that the Government and people of Vietnam have handled the pandemic crisis well. Vietnam's task for now is reconstructing the economy, and it's necessary to strengthen economic ties and build partnerships with other countries.
He believes that Vietnam's development potential is great as it has a young population, well trained workers, and strong entrepreneurship. To take full advantage of the young labor force, the transfer of technology between Vietnam and Europe, especially in the healthcare sector, is important.
Philipp Rosler was born in 1973 in Soc Trang. He was adopted by a German couple when he was 9 months old. He was trained to become a Doctor of Medicine, and worked in the German army.
At the age of 36, he became Minister of Health of the German Federation. Two years later, he became Vice Chancellor cum Minister of Economy and Technology. After leaving German politics in December 2013, he worked for WEF (World Economic Forum) in Geneva, Switzerland.
Leaving WEF in late 2017, he moved to Zurich and worked as a consultant to many businesses. In 2020, he set up a private business, Consessor AG in the Swiss canton of Zug. It connects international investors and Southeast Asian countries, including Vietnam.
In September 201, Rosler was appointed as Honorary Consul in Zurich and Zug. He will promote business connections between Vietnam and the German-speaking area in Switzerland.
On January 22 evening, President Nguyen Xuan Phuc received Rosler. Phuc highly appreciated Rosler's significant contributions to the relations between Vietnam and Germany as well as between Vietnam and Switzerland.
Tran Thuong
President Nguyen Xuan Phuc on January 22 evening received Dr. Philipp Rosler, Vietnam's first Honorary Consul to Switzerland, a German politician of Vietnamese origin.
Prime Minister Pham Minh Chinh hosted a reception for a delegation of more than 50 Vietnamese intellectuals and entrepreneurs who returned from abroad to attend the "Xuan Que huong" (Homeland Spring) program 2022.