The State Securities Commission (SSC) has released a notice about a stock transaction without a report from Trinh Van Quyet, President of FLC Group.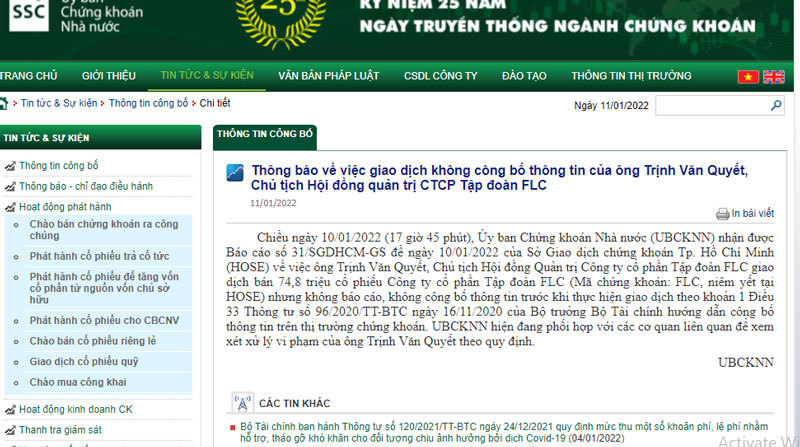 SSC releases a notice about a stock transaction without a report
On January 10, SSC received a report dated January 10 from HOSE about Quyet's sale of 74.8 million FLC shares, listed at HOSE, without reports and information disclosure before making transactions as required by the laws.
The agency said it is working with relevant agencies on the sanctions on Quyet for the violation.
On January 11, Quyet released a document explaining the transaction, blaming the problem on a mistake made by his assistants.
Meanwhile, FLC on Jan 10 issued a document which replaced the document dated Jan 5 on reporting to SSC and HOSE about Quyet's internal transaction, which says Quyet rescheduled the day of share sale. The days of sale will be Jan 14-February 14 instead of Jan 10-17.
With the change, the sale of 175 million FLC shares might not be implemented on Jan 10 as investors thought.
Under current laws, major shareholders, founding shareholders and internal shareholders must make information disclosure five days before the transaction days. Also, they must make report about the results of the transactions within five working days.
On January 10, FLC shares made a record in the history of the stock market when 135 million shares changed hands. The noteworthy feature was that the share prices increased to the ceiling level in the morning and then decreased to the floor level in the afternoon, at VND21,150 per share.
After six months of operating smoothly with the new trading system developed by FPT which can treat 3 million orders per session, the system once again broke down, with electronic boards not showing figures for half an hour. Meanwhile, the Hanoi bourse and UpCom were still operating smoothly.
With 135 shares traded within one trading session, FLC has become the share with tge largest daily trading volume over the last 21 years. The figure accounted for 20 percent of the enterprise's shares in circulation and 10 percent of liquidity of HOSE during that trading session.
Quyet is now holding 215 million FLC shares, or 30.34 percent of charter capital of FLC. If the transaction succeeds, he will hold 5.7 percent of shares only.
Prior to that, on January 5, FLC said on its official website that Quyet registered to sell 175 million FLC on Jan 10-17. However, the information was not found on SSC's official website at ssc.gov.vn or HOSE at Hsx.vn
Meanwhile, the information on FLC website showed that the group had completed a registration for the sale to SSC and HOSE. The information still had not been found on HOSE on January 11 morning.
There are 710 million FLC shares in circulation.
V. Ha
Vietnam's stock market will experience ups and downs, but the overall trend is still estimated to be up next year thanks to expectations of economic recovery after the pandemic.
As the local stock market has attracted a lot of attention and capital flows, many enterprises take it as an opportunity to go public or transfer stock exchanges.