The Ambassador chooses culinary as a funky and extensive way to introduce the rich culture of Vietnam to international friends.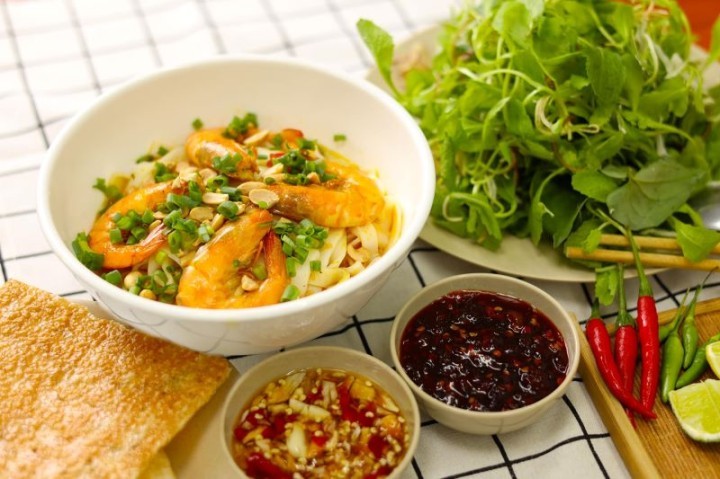 A dish of Mi Quang or Quang noodles. Photo: Phuong Nguyen
Vietnam and Japan will celebrate the 50th founding anniversary of diplomatic relations between the two countries in 2023 (September 21, 1973 – September 21, 2023).
On the year heading to this important event, told The Hanoi Times some anecdotes in his mission of promoting cultural diplomacy between Vietnam and Japan.
From Quang noodles winning the heart of Japanese PM to 500 bowls of Pho (rice noodles with beef) in Hokkaido
During his attendance at the 2017 APEC meeting in Vietnam, the then Japan's PM Shinzo Abe was treated by his Vietnamese counterpart Nguyen Xuan Phuc to a bowl of Quang noodles in Hoi An. Noting certain fondness of the Japanese leader on the dish, I took the opportunity to promote this specialty in the Nikkei – Japan's leading economic newspaper – which received a positive response. Japanese people were curious about the dish that their head of government tried.
But for the people in Japan to taste this delicacy, we had to bring in the ingredients unique to Quang Nam Province, the hometown of Quang noodles, which was really a headache taking into account the distance between Vietnam and Japan. In the end, the Vietnamese Embassy in Japan invited an artisan chef who is an expert in Mi Quang or Quang noodles to Japan with all the ingredients so as to offer Japanese diners the most genuine Quang noodles. After that, together with the impact of the article about the dish on Nikkei, many locals reached the embassy to ask how to enjoy it in Japan. The promotion of other Vietnamese traditional dishes such as pho, spring rolls was also as interesting as the publicity of Quang noodles.
Speaking of pho, there was no Vietnamese restaurant in Hokkaido when I arrived there in 2018. The embassy immediately organized a food promotion festival, in which 500 bowls of pho were prepared and brought to Hokkaido by truck from Tokyo- a journey of 12 hours over a distance of nearly 1,000 kilometers. The food fest took place over the weekend, but the pho sold out in just one morning.
Right in the following year, the first Vietnamese restaurant in Hokkaido was opened, and by now there is a chain of such restaurants in the northernmost prefecture of Japan. Through those restaurants, we promote Vietnamese culture, while diners can interact with the Vietnamese people working there. That is really meaningful.
Vietnamese lychee entering the Japanese market
We always bear in mind that our mission as diplomats is to promote, inspire and arouse curiosity about Vietnamese culture. Currently, the embassy cooperates with Vietnamese associations in Japan to organize cultural promotion events on holidays and anniversaries. There are about 20 associations in Japan with their own circles of friends, contributing to reinforcing the presence of Vietnamese culture in the country.
Vietnamese cuisines suit the taste of the Japanese pretty well. In the past, talking about cilantro put in Vietnamese pho might revolt them, but now there are even some Japanese who can't eat pho without that herb. People there also rarely eat vegetable stir-fry, but now when entering Vietnamese restaurants, they order the stir-fried water spinach with garlic as a first-choice dish.
That is an experience of implementing cultural diplomacy: telling people stories while they are enjoying and experiencing the dishes is an effective way of dissemination. Other Vietnamese agricultural produces are entering the Japanese market in this way.
I once visited a museum in a Japanese province and happened to meet a group of school children and their teacher. I asked them: "Do you know where Vietnam is? Which fruits does it have? Do you know lychees?"
The children knew about bananas and mangos, yet had never tasted lychees despite having heard of them. When the fruit was granted permission to be imported to Japan, I sent a box of lychees to the school as a gift. They wrote me back, saying they liked the fruit very much and even posted a status about Vietnamese lychee on social networks. Their parents also got curious and looked for the fruit which is sold in AEON malls.
At that time, the director of AEON Mall called me and jokingly said: "How come everyone knows about the fruit when I haven't promoted it yet? Now I am being pressured by people to bring the lychee to our shelves".
Ten tons of lychees were exported to Japan and sold out immediately at the beginning of 2020. In 2021, about 50 tons were sent to Japan. I'm sure that in 2022, Bac Giang lychees will be much in demand as hot cakes in this country.
Conquer the picky market – savvy customers
Japan is a market with great purchasing power. Vietnamese farm produce has great potential here, and a number of items have been sold steadily. Regarding advice for Vietnamese businesses wanting to do well in this famously picky market with very savvy customers, I want to emphasize the three "self" words: self-deprecation, self-confidence, and self-satisfaction for businesses to avoid.
Entering foreign markets in general and Japan in particular, businesses should avoid self-deprecation. They must believe that their fruits, fish, shrimps are of the best quality.
At the same time, they should not be self-satisfied, because building our reputation in the market is difficult, yet to earn customer trust is even more so. There are several products that infringe local chemical residue regulations in their fifth or sixth export batches. The Japanese attach great importance to food safety, and never buy a product known for being unsafe twice. We have to retain customers' trust by ensuring quality, even if doing so represents a loss. Trying to sell a poor product to recover capital will cost us dearly in the future.
So far, agreements like CPTPP and RCEP have opened more markets for Vietnamese products. Therefore, it is important that we comply with the safety standards, as well as build a comprehensive product brand from quality, designs, packaging, among others, according to the tastes of the host countries.
Source: Hanoitimes
Japan will promote comprehensive cooperation from policy, technology to financial issues with Vietnam to help it realise a zero-carbon society, Japanese Ambassador to Vietnam Yamada Takio said.