The Vietnamese Government has granted approval to a proposal put forward by the Ministry of Culture, Sports and Tourism to reopen the country's borders to international travel on March 15.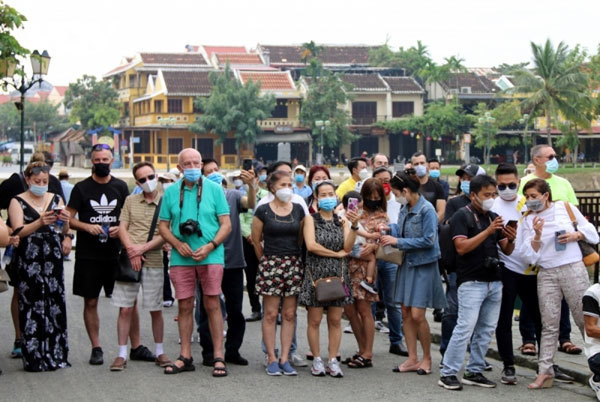 Foreign travellers visit Hoi An ancient city in central Vietnam in November 2021 under a pilot programme approved by the Prime Minister.
A document to this effect was released by the Government Office on February 16, outlining Deputy Prime Minister Vu Duc Dam's conclusions at a recent working session held alongside relevant ministries and agencies regarding the reopening of the country's borders to international tourism.
Deputy PM Dam requested that the Ministry of Culture, Sports and Tourism work alongside relevant ministries and agencies in order to formulate, complete, and make public a detailed plan relating to the reopening.
The Ministry of Culture, Sports and Tourism was assigned to work closely with the Ministry of Health, the Ministry of Foreign Affairs, and other relevant ministries and agencies to compile a detailed report to the Government and the Prime Minister regarding visa policies which will be applicable to international tourists wishing to enter the country.
Regulations to be relaxed
During the February 15 meeting chaired by Deputy PM Dam, representatives of six ministries in charge of tourism, foreign affairs, transport, public security, and national defence proposed removing barriers to travel, with the exception of major COVID-19 prevention and control measures.
The designated ministries proposed that the country resume issuing entry visas, including electronic visas, as well as unilateral and bilateral visa exemptions for international visitors as seen during the pre-pandemic period.
Vietnam had exempted visas unilaterally for citizens from 13 countries and bilaterally for citizens from 88 countries and territories. However, the Government issued a resolution to halt this visa exemption mechanism following the emergence of the SARS-CoV-2 virus in 2020 which subsequently spread across the globe.
Also under the proposal, foreign citizens wishing to visit the country only need to fully meet COVID-19 regulations set out by the Ministry of Health. Accordingly, they are required to be fully vaccinated and have a negative COVID-19 test before boarding their flight. They must install at least one health quarantine application as prescribed by authorised Vietnamese agencies and always turn it on constantly during their stay.
Visitors entering by air and displaying symptoms of the virus must undergo testing at the airport. Others will travel directly to their pre-booked accommodation where they will self-isolate for a period of 24 hours and perform a rapid test or RT-PCR test. They will then continue their medical surveillance for a period of 14 days under the guidance of the Ministry of Health, as well as strictly observing the 5K message.
Visitors entering via land routes will undergo testing immediately at the border gate.
Foreign visitors must also pay an insurance premium to enjoy the insurance rate of up to US$10,000 in the event that they test positive and must undergo COVID-19 treatment in Vietnam.
Source: VOV
The Ministry of Culture, Sports, and Tourism has proposed the Government resumes pre-pandemic waivers of visas for tourists from 24 countries when the country restarts international tourism.
Minister of Culture, Sports and Tourism Nguyen Van Hung has just submitted a proposed plan to the Government for reopening international tourism in safe and effective manner.