Vietnam will build another oil refinery, the third of its kind, to ensure a sufficient supply of petroleum products for local consumption, said Deputy Prime Minister Le Van Thanh.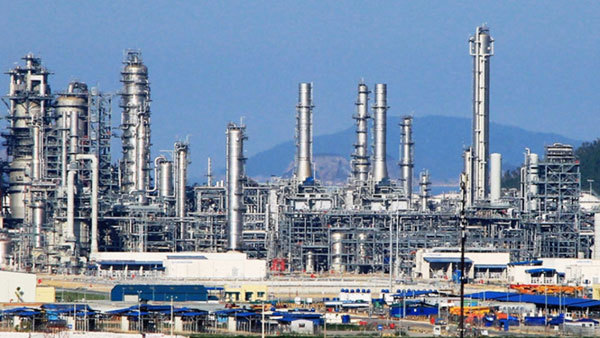 Nghi Son oil refinery, the largest of its kind that meets one third of local demand for petrol, has scaled down production due to financial problems.
The new plant is set to be built in the southern city of Vung Tau with a design capacity of 10 million m3 per annum.
Addressing legislators at the ongoing session of the National Assembly Standing Committee on March 16, Thanh revealed the Government has directed the Vietnam Oil and Gas Group to draft the investment project.
"If we have an additional 10 million m3 of petroleum, we will have a total of 23 million m3 on hand to meet the demand for local consumption," he said, adding the oil group is trying to complete investment procedures in 10 months.
Vietnam currently boasts Dung Quat and Nghi Son oil refineries. However, the Nghi Son plant, the largest at present that supplies one third of the country's demand, has cut production output to 80% or even to 55% at some point due to financial problems.
The cutting has led to a shortfall of petrol, forcing key petroleum businesses to increase imports to stabilize the domestic market, while oil prices skyrocketed in the global market recently.
Deputy PM Thanh also affirmed that Vietnam will increase crude oil drilling and exploitation capacity as the currently exploited crude oil only meets 50% of the raw materials needed for petroleum production.
Amidst legislators' concerns about growing inflationary pressure, Thanh reaffirmed that petrol is a strategic commodity that must be subject to close scrutiny.
"We have to strictly adhere to the market law of supply and demand, but we are trying not to let petroleum products affect production and inflation," he said.
According to the Deputy PM, the Government has decided to use the price stabilization fund and reduce fees to lower retail petrol and oil prices. It has also approved the Ministry of Finance's proposal to cut the environmental protection tax by half, and the proposal has been submitted to the National Assembly Standing Committee for approval.
"If global oil prices keep rising, the Government will continue to adopt new policies to ensure stable prices," he stressed.
Retail petrol prices hit all-time highs of VND29,824/litre for RON95-III and VND28,985/litre for E5RON92 after the government raised domestic petrol prices by an additional VND3,000/litre on March 11.
Earlier in the morning, Industry and Trade Minister Nguyen Hong Dien took the floor, answering legislators' questions relating to petrol and oil prices among other things. He affirmed that the ministry will work hard to ensure a sufficient fuel supply for local consumption.
Source: VOV
The limited supply of fuel from NghiSon, the biggest refinery in Vietnam, is not causing the current petroleum shortage in the market, analysts say.
The Ministry of Industry and Trade (MoIT) has instructed agencies to ensure the supply of petrol amid tight supply.