The Government has issued Resolution 01/NQ-CP on socioeconomic targets for 2022, following which the Government targets a gross domestic product (GDP) growth of 6%-6.5% and GDP per capita at US$3,900.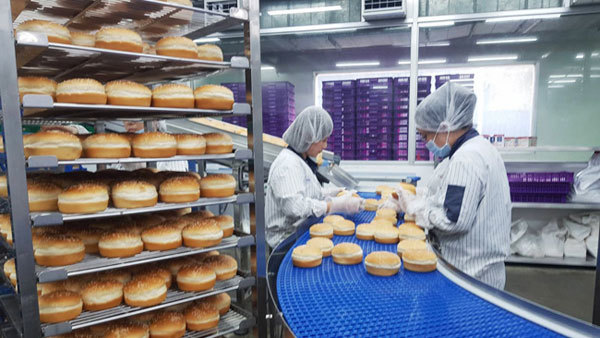 Female workers are seen at a bakery. The Government targets GDP per capita at US$3,900 this year. – SGT Photo: Minh Duy
According to the Government, 2021 was a tough year due to the Covid-19 pandemic, but the macro economy was kept stable and inflation under control.
The State budget deficit was below 4% of GDP in 2021. State budget revenues reached VND1,653 trillion (US$72.65 billion) last year, or 16.4% higher than the target, while budget spending was VND1,879 trillion, 11.4% higher than the target, including VND74 trillion for the Covid-19 fight.
The country's total import-export value of goods reached US$668.5 billion, soaring 22.6% against 2020, of which exports rose 19% and imports increased 26.5%.
Agriculture continued to be one of the main pillars of the economy, with agriculture, forestry and aquaculture exports reaching US$48.6 billion, while the manufacturing and processing industry grew 6.37% and the service sector also rebounded.
The Government cut several taxes and fees for businesses and spent nearly VND71.5 trillion to support employers and employees.
In the Covid fight, Vietnam was among the countries with the highest Covid vaccine coverage rates globally.
The Government pinned high hopes on socioeconomic recovery in 2022. Besides a GDP growth of 6%-6.5% and GDP per capita at US$3,900, the Government targeted consumer price index growth at 4% and the jobless rate in urban areas at below 4%.
Twelve targets for this year
The Government has set 12 major targets for this year. These targets are as follows:
Focusing on safely and flexibly adapting to and effectively controlling the pandemic, while boosting socioeconomic development;
Building and completing law enforcement institutions, and ensure the stable development of major markets such as money, labor, science and technology, and real estate.
Completing the legal framework to effectively monitor and ensure the safe operations of the financial and securities markets.
Developing modern infrastructure by accelerating key infrastructure projects, increasing local and regional connectivity and developing the power grid.
Improving education and training quality, develop human resources and boost scientific research, technological application and innovation.
Promoting the connectivity between regions, economic zones and urban areas; and approving national, regional and provincial planning for the 2021-2030 period, with a vision toward 2050.
Promoting cultural development and ensuring timely support for people affected by natural disasters and the pandemic, especially food, accommodation and necessities.
Focusing on environmental protection, natural disaster prevention and response, adaptation to climate change, and natural resource management.
Restructuring the Government apparatus and improving the quality of the civil servant system.
Strengthening national defense and security capabilities to ensure social security, peace, stability, order, territorial integrity and sovereignty.
Enhancing the effectiveness of foreign affairs and fostering international integration.
Fostering propaganda activities and civil service work to create social unity.
Source: SGT
Vietnam has set a 6-6.5% GDP growth target and US$3,900 in GDP per capita for 2022 with a focus on COVID-19 prevention and control and economic recovery, said top leaders during an online conference with localities across the country yesterday.
The Government has issued Resolution No. 01/NQ-CP on the main tasks and solutions for implementing the socio-economic development and State budget plans for 2022.