Vietnam has set a 6-6.5% GDP growth target and US$3,900 in GDP per capita for 2022 with a focus on COVID-19 prevention and control and economic recovery, said top leaders during an online conference with localities across the country yesterday.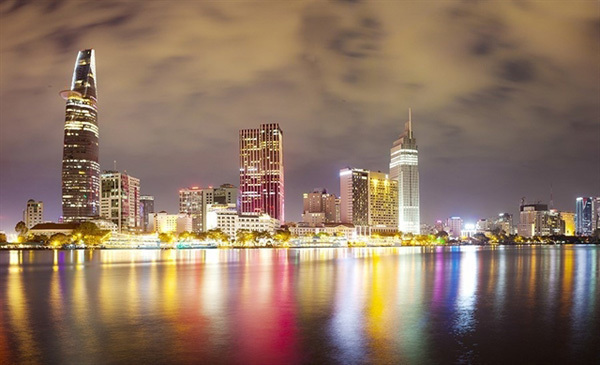 Vietnam has set a 6-6.5 per cent GDP growth target and US$3,900 in GDP per capita for 2022. VNA/VNS Photo Trong Dat
Speaking at the conference, General Secretary of the Communist Party of Vietnam Nguyen Phu Trong said against all odds Vietnam has managed to check the spread of the virus, minimise the damage done and provide ample support for the population as well as the business community.
He expressed his gratitude to the tremendous efforts of health workers, police officers, soldiers and other frontline workers, who have been putting their own health on the line in the fight against the virus.
The fight against corruption and effort to improve transparency is one of the Government's top priorities in 2022, said Prime Minister Pham Minh Chinh.
The year 2022 is to be the year Vietnam will overcome the pandemic, get back on track with its economy and development while maintaining social order, sovereign rights and peace, he said.
The Government has identified three major tasks for economic development in 2022, noting that the country is to capitalise on every opportunity to promote socio-economic recovery and development nationwide, maintain long-term growth momentum, and make use of new and sustainable drivers, said Deputy Prime Minister Le Minh Khai.
Among these, the first is to revive and promote production and business activities, boost exports, accelerate public investment disbursement, and encourage public-private partnerships for developing infrastructure, especially strategic infrastructure facilities.
The second is to persistently maintain macro-economic stability, control inflation, and improve the economy's self-reliance, resilience, and adaptability. The third is to boost substantive and effective economic restructuring; develop e-commerce, the digital economy, and new business models applying information and digital technology; and deal with outstanding problems that have lasted for years, according to the Deputy PM.
Another top priority for the Government in 2022 is to improve Vietnam's business environment with a coordinated effort by central and local governments to make the country an attractive and dynamic investment destination for foreign investors.
During the last decade, the country has gained some ground as its Global Competitive Index (published by the World Economic Forum) jumped 10 places to 67 of 141 in 2019 – the last release by WEF before the pandemic, Innovation to 44 of 132 for 2021, Digital Governance 86 of 193 and Sustainable Development 51 of 165 for 2020.
The country has set a target to further improve its ranking by breaking into the top 50 of the Global Competitive Index, top 40 of the Innovation Index and top 60 of the Digital Governance Index.
In order to realise said objectives, the central Government is to hold ministers and high-ranking government officials accountable and responsible for the improvement in their respective fields. In addition, the central Government is to continue to push its decentralisation effort to grant local governments additional autonomy as well as responsibilities.
Vaccine coverage
Vietnam is among countries with the highest vaccine coverage, ranking 6th among nations around the world, said Deputy PM Pham Binh Minh.
By the end of 2021, 99.6 per cent of those 18 and over received at least one shot of vaccine, with 90.9 per cent fully inoculated. Vaccine coverage among children from 12 to 17 are 85.6 per cent and 57 per cent, respectively. Work is underway to purchase vaccines for children from 5 to 11 years old.
Minh said the Government is to make the best use of every opportunity for national socio-economic development in every sector and locality and maintain drivers of growth for the long term. He required ministries, agencies and localities to prioritise resources for the effective implementation of the COVID-19 prevention and control programme and the socio-economic recovery and development programme.
Last year, Vietnam's gross domestic product expanded by 2.58 per cent. Revenue of the State budget surpassed VND1.56 quadrillion (US$67.8 billion), or 16.4 per cent higher than forecast. With a record $668.5 billion in export-import value, Vietnam's trade surplus was estimated at $4 billion, making it one of the 20 countries with the biggest trade scale in the world.
The country saw a 9.2 per cent rise in FDI inflows, demonstrating foreign investors' confidence in Vietnam's investment and business environment, Minh said.
At the same time, he called attention to existing problems, including potential macro-economic risks, rising inflation pressure and bad debts, exports' reliance on the FDI sector and several markets, falling domestic purchasing power, and disruption in several manufacturing and supply chains.
Equitisation of State-owned enterprises fails to pick up while the service sector, especially tourism, lodging and transportation, still faces difficulties. The handling of weak banks and less-efficient enterprises and projects remains ineffective and the disbursement of ODA and concessional loans is slow.
The Government has submitted to the extraordinary session of the 15th National Assembly fiscal and monetary policies to support the implementation of the programmes on COVID-19 prevention and control and on socio-economic recovery and development.
Source: Vietnam News
The first extraordinary session of the 15th National Assembly (NA) opened in Hanoi on January 4 via an online platform.
The Government, in its report on the COVID-19 prevention and control submitted to the National Assembly (NA) on January 4, affirmed that the Viet A Technologies JSC had took advantage of the COVID-19 pandemic to seek illegal profit.