Vietnam's great efforts in vaccine diplomacy helped obtain commitments for over 100 million vaccine doses in 2021, which allowed it to launch its biggest ever vaccination campaign.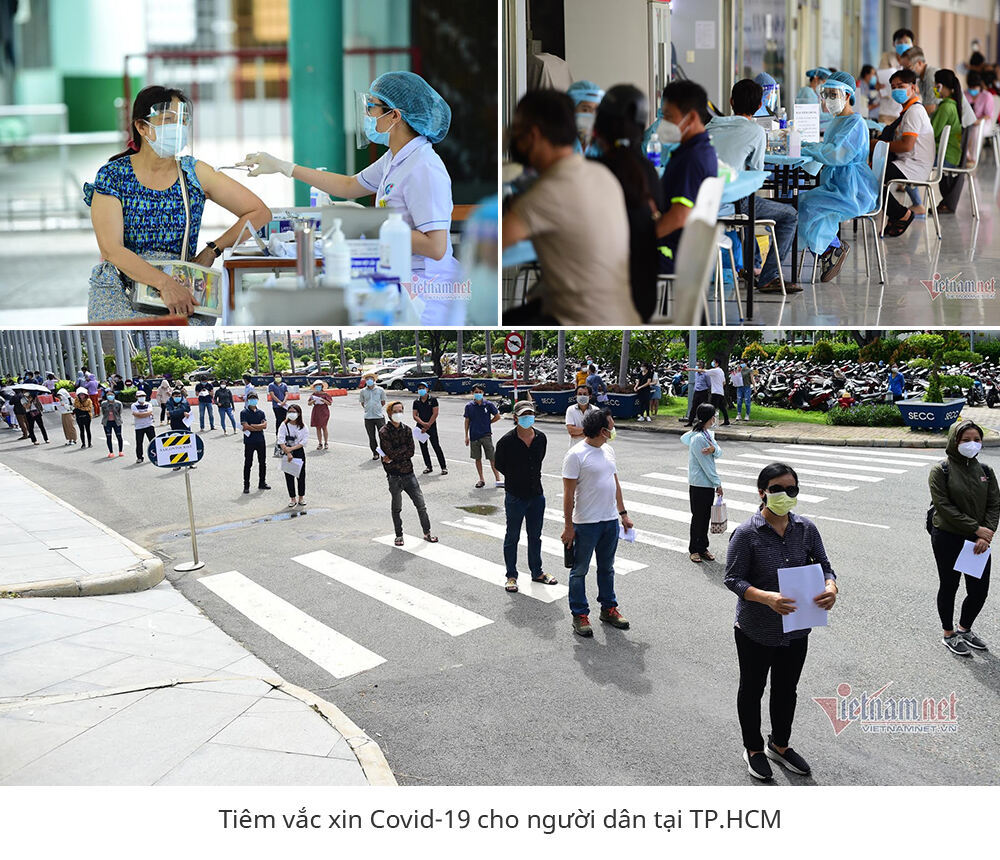 HCM City residents get vaccinated
On February 1, 2021, the Ministry of Health (MOH) officially approved the AstraZeneca vaccine made by the UK as the first vaccine for emergency use in Vietnam.
Three weeks later, on February 24, 2021, the flight carrying the first 117,600 AstraZeneca doses landed at Tan Son Nhat International Airport in HCM City, bringing hope to Vietnam in the fight against the pandemic.
The vaccine doses were part of VNVC's (Vietnam Vaccine JSC) contract on purchasing 30 million doses it had signed with AstraZeneca. Vietnam became one of the first countries in Asia to receive Covid-19 vaccines.
MOH has approved nine kinds of vaccines for emergency use so far, including AstraZeneca (February 24), Sputnick V (March 23), Vero Cell (June 3), Pfizer (June 12), Moderna (June 29), Janssen (July 15), Hayat-Vax (September 10), Abdala (September 17) and Covaxin (November 10).
Thanks to great efforts in vaccine diplomacy, as of December 3, Vietnam had received 150 million vaccines of different kinds, including 71.5 million doses purchased with the state budget and 79 million from international aid.
While Vietnam is seeking international supplies, it also has accelerated reserach and development (R&D) for vaccines. The first made-in-Vietnam vaccine – Nanocovax – was put into experiment on humans on December 17, 2020 and the second – Covivac – on March 15, 2021.
To date, Nanocovax has had the third clinical experiment on 14,000 people. The National Biomedical Research Ethics Council approved the phase 3 midterm review report in September.
Vietnam has also received Covid vaccine technology transfer from some countries, including Russia (Sputnik V), Japan (Shionolgy) and ARCT-154 (the US).
The first vaccine doses were given to frontline workers and people in epicenters. Later, when more vaccine doses arrived, Vietnam launched the national vaccination campaign on July 10.
This has been the largest ever immunization campaign in Vietnam, which has mobilized tens of thousands of medical centers, medical workers and workers in related fields, from central to local agencies, from public to military and private hospitals.
Minister of Health Nguyen Thanh Long, at the vaccination campaign launch ceremony, said that no vaccine dose and no dong would be wasted. Medical workers went to homes to vaccinate people who cannot go to clinics. In some localities, where the situation was serious, vaccination was implemented through the night for many days.

Vietnam's great efforts in vaccine diplomacy helped obtain commitments for over 100 million vaccine doses in 2021, which allowed it to launch its biggest ever vaccination campaign.
When the pandemic broke out in Hanoi, thousands of medical workers from 11 cities and provinces came to the city to help administer vaccinations. Thanks to this, within eight days, Hanoians got their first vaccination jab for people aged 18 and over.
As many as 14 cities and provinces have 100 percent of people aged 18 and over with at least one jab, according to MOH's report on November 30, including Hanoi, Hai Phong, Bac Ninh, Khanh Hoa, Binh Thuan, Dak Nong, HCM City, Ba Ria – Vung Tau, Dong Nai, Long An, Lam Dong, Can Tho, Tra Vinh and Binh Phuoc..
Vietnam is also vaccinating teenagers aged 12-17, with priority given to localities hit hard by the pandemic, and populous areas which have high infection risks.
The expanded vaccination coverage has brought great benefits. Reports from hospitals specializing in treating severe cases all show that vaccinations helped eased the number of severe cases and hospitalizations.
The director of a hospital in Hanoi said that previously 20 percent of patients had medium and severe symptoms, but the figure fell to 8-10 percent after vaccinations.
Continuing immunization
Prime Minister Pham Minh Chinh affirmed that 'zero Covid' is unattainable. Instead, Vietnam should pursue a strategy on safe and flexible adaptation to the new conditions, and effectively control the pandemic in accordance with the 5K (in Vietnamese: Khau trang – facemask, Khu khuan – disinfection, Khoang cach – distance, Khong tu tap – no gathering, Khai bao y te – health declaration) principle + vaccine + drug + technology + people's awareness and other solutions.
Chinh, at a recent teleconference with localities on Covid-19 prevention and control once again requested making quicker progress in vaccinations.
The Government Resolution 128 stated that vaccinations are one of the three most important factors that will help localities 'safely adapt'.
At a meeting with MOH on Covid-19 vaccine and drug supply several days ago, Chinh asked MOH to complete full vaccinations for 100 percent of people aged 18 and over, and set a roadmap for full vaccination for people aged 12-18 by December 31, 2021.
Meanwhile, all people aged 18 and over will get booster shots by June 2022.
MOH has also been asked to create a plan on giving booster shot to children aged 12-18.
Experts have expressed concern about the new coronavirus variant Omicron, which is very contagious. The World Health Organization (WHO), citing statistics from South Africa, said vaccines can at least help prevent severe illness or death. The organization stressed that in the struggle against variants, the best weapon is vaccination.
Deputy Minister of Foreign Affairs Nguyen Minh Vu on December 5, 2021, said the appearance of Omicron is worrying. But reports show that vaccines' protection effects remain relatively high against serious illness, while vaccine manufacturers are continuing their research to improve vaccine efficacy against new variants.
Vietnam received the following vaccines from March 2021 to December 5, 2021:
+ AstraZeneca: 48,688,076 doses
+ Pfizer and Moderna: 46,576,370 doses
+ Sinopharm: 48,700,000 doses
+ Abdala: 5,150,000 doses
+ SputnikV: 1,508,998 doses
Nguyen Lien
From March to December 3, Vietnam received 147.5 million Covid-19 vaccines. The Ministry of Health (MOH) has allocated 140.5 million doses in 95 campaigns through the country.
HCM City is the first city in the country to give COVID-19 vaccine booster shots under the guidance of the Ministry of Health.