Twenty-three airlines, including three domestic carriers (Vietnam Airlines, Vietjet Air and Bamboo Airways) have resumed flights between Vietnam and 20 countries and territories, according to the Civil Aviation Authority of Vietnam (CAAV).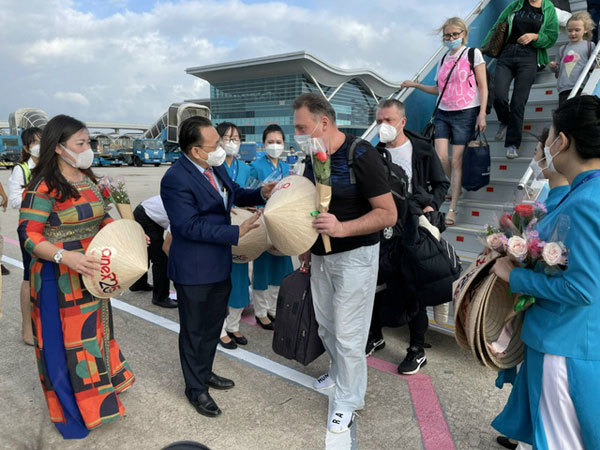 Foreign tourists arrive in Hanoi-based Noi Bai International Airport on the first international commercial flight on March 15, 2022 when Vietnam fully reopens international tourism.
Almost all international flights to Vietnam mainly landed at Hanoi-based Noi Bai International Airport and Ho Chi Minh City-based Tan Son Nhat International Airport.
It is expected that there will be flights from Taiwan and the Republic of Korea to the central city of Da Nang, added the CAAV.
Eight countries and territories, namely India, Indonesia, Myanmar, Macau, Finland, Italy and Switzerland have yet resumed regular air routes to Vietnam.
The Government decided to fully reopen borders to foreign tourists since March 15, 2022 after allowing foreign tourists to enter the country under a trial program that started in November last year.
Singapore Airlines was the first foreign airline to resume regular commercial flights to the central city of Da Nang this month after two years of suspension due to COVID-19 outbreaks.
It is also the foreign airline that has operated the most flights to Vietnam, with 45 return flights per week, representing 36 percent compared to the pre-COVID pandemic level.
Thanks to the reopening policy, foreign arrivals to Vietnam reached 141,600 between January and March, up 441 percent on year, official statistics show.
Meanwhile, international cargo transportation hit 38,000 tons, an increase of 113.9 percent against the same period last year.
The CAAV estimated that Vietnamese airlines accounted for 44 percent of the market share in international passenger transport and 13 percent in international cargo transportation.
Passengers on int'l flights required to take COVID-19 test
Under the latest regulations, foreign arrivals travelling to Vietnam by air shall be required to take a RT-PCR or RT-LAMP COVID-19 test within 72 hours or a rapid test within 24 hours before departure. This requirement is not applicable to children under two years of age.
The above requirement shall also applied to those who wish to enter Vietnam by road or by sea, or they can take a COVID-19 test at the port of entry.
Incoming air passengers shall no longer be obliged to take a COVID-19 or follow mandatory quarantine requirement after arriving in Vietnam.
All incoming entrants shall be required to fill health declaration form at the website tokhaiyte.vn prior to their departure and download PC-COVID app.
Within 10 days since the date of entry, entrants shall self-monitor their health and immediately notify the nearest medical facilities if they experience such symptoms like fever, cough, throat pain, runny nose, chills, headaches.
Entrants have to regularly wear masks and disinfect hands.
Insurance and COVID-19 treatment
Mandatory insurance coverage amount for COVID-19 treatment shall be at least US$10,000.
Incoming travellers shall have to pay for COVID-19 test and treatment and related costs (if any).
Domestic travel
All six Vietnamese airlines are now operating 55-60 air routes connecting Hanoi, Da Nang, and Ho Chi Minh City to 19 airports in other localities nationwide.
In the first quarter this year, the domestic airlines handled 6.5 million passengers and 48,400 tons of cargo, down 12.5 percent and 8.8 against the same period last year.
Source: VGP
The sky is "open" and the tourism industry will have to be ready with new requirements from visitors. It is a strategy that requires the cooperation of many stakeholders in the industry.
Foreign visitors and overseas Vietnamese returning home can take regular commercial flights from now to March 15 when Vietnam fully reopens tourism activities, instead of charter flights as previously.