The first electric bus route in Ho Chi Minh City will be put into operation starting March 9.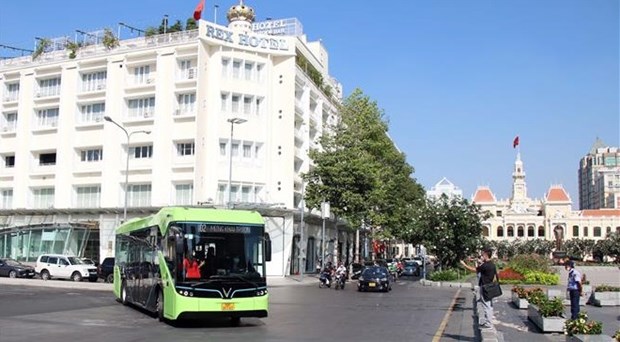 A electric bus runs in HCM City.
The first electric bus route in Ho Chi Minh City will be put into operation starting March 9.
The D4 route linking Vinhomes Grand Park with Sai Gon Bus Station will have a 20-minute interval between services.
It will pass areas housing high technology plants, new residential clusters and Thu Duc city's administrative centre, with major roads but few bus routes.
VinBus Ecology Transport Services Limited Liability Company (VinBus), the transport services arm of conglomerate Vingroup, proposed the trial run of five electric bus routes in the southern metropolis. It previously launched the first smart electric bus fleet of Vietnam in Hanoi.
COVID hospitalisations under control
Despite an increasing number of COVID-19 cases recorded in Hà Nội in recent days, the number of hospitalised patients has not increased considerably, according to the Ministry of Health (MoH).
Among nearly 5,900 COVID-19 patients being treated at hospitals in Hà Nội, there are 958 mild or asymptomatic cases, more than 3,800 moderate cases (down 2.6 per cent compared to the average seven days ago), with 91 patients in serious or critical condition (down nearly 3 per cent).
The number of cases that require High Flow Nasal Cannula and non-invasive respiratory assistance sharply decreased by 26 per cent.
According to the MoH, Việt Nam recorded 147,358 COVID-19 infections on March 7, bringing the national tally since the start of the pandemic to 4,582,058.
Hà Nội continued to top the daily numbers with a record of 32,317 transmissions and 15 deaths. It was followed by central Nghệ An (10,153), northern Bắc Ninh Province (7,873) and northern Phú Thọ Province (4,326).
More than 4,100 COVID patients are in serious or critical condition, with the majority requiring oxygen masks. An additional 78 COVID-related deaths were confirmed in the day, raising the nation's death toll to 40,891.
Fans may return for World Cup qualifier against Oman
The organising board in charge of putting on Vietnam's next World Cup third qualifying round match against Oman has put forward a proposal to welcome fans back to the My Dinh Stadium in Hanoi on March 24.
The proposal would see the Vietnamese team cheered on by 20,000 local fans in the upcoming match.
Tickets for the team's home qualifier at the My Dinh Stadium in Hanoi will cost up to VND1.2 million each.
There will be four price stamps for the tickets, including VND500,000, VND700,000, VND900,000, and VND1.2 million.
The Vietnamese national team is scheduled to gather at the Vietnam Youth Football Training Center on March 14 to prepare for their upcoming matches against Oman on March 24 and Japan on March 29.
Vietnamese language, culture promoted in Italy
The first bachelors of the Vietnamese language of Ca' Foscari University in Venice city will graduate in May this year, marking an important milestone in teaching and learning the language in Italy.
The Vietnamese language department under the Department of Asian and North African Studies of the university was established in 2019, providing students with knowledge of history, literature, economics, geopolitics, art and all aspects of the Vietnamese culture. The university has the most complete Vietnamese learning programme in Italy.
The idea of a programme to teach Vietnamese in particular and Vietnamese studies in general was initiated by Professor Marco Ceresa, Dean of the department, who said Vietnam as well as Southeast Asia plays a very important role in culture and economy.
RoK to strengthen cooperation with Vietnam in sailor training
The Republic of Korea (RoK)'s Ministry of Oceans and Fisheries (MOF) said it will continue to cooperate with Vietnam in sailor and navy officer training.
Recently, the ministry held an online conference to share the outcomes during the use of Hannara training ship, which was handed over by the Korea Maritime and Ocean University to the Vietnam Maritime University. During the event, participants also discussed the next steps in its sailor training cooperation plan with Vietnam.
In a statement released after the conference, Korean Minister of Oceans and Fisheries Moon Seong-hyeok said that at the RoK-Vietnam high-level conference in 2018, Vietnam asked for the RoK's support in large-scale training ship to serve training activities.
In 2019, the two sides reached agreement and in September 2020, the RoK handed over the Hannara training vessel, which has a tonnage of 3,460 tonnes, to the Vietnamese side. After arriving in Vietnam, the ship was renamed Viet-Han to mark the friendship with the RoK and put into use for training.
Vietnamese, Indian Level-2 Field Hospitals in South Sudan strengthen professional capabilities
A delegation of the Level-2 Field Hospital of India in Malakal, South Sudan, led by its Director Colonel Rishi Raj recently visited staff of Level-2 Field Hospital No. 3 of Vietnam in the African nation, following a previous online joint training course.
Vietnamese military medical staff shared with their Indian peers two techniques that were applied for the first time in South Sudan during their term. They were transverse abdominis plane (TAP) block, which is to provide analgesia after lower abdominal wall operations; and the Optic Nerve Sheath Diameter (ONSD), an indirect marker of the intracranial pressure.
The ONSD helped personnel of the Vietnamese hospital diagnose and perform first aid on a person suffering from a brain stroke. The patient was transferred to hospitals in Uganda and Kenya and eventually recovered.
Hailstorm wreaks havoc in Son La
A heavy rain and hailstorm have cost the northwestern mountainous province of Son La some 1 billon VND (43,763 USD) worth of damage (not including agricultural losses).
As of 5pm on March 7, the natural disaster had damaged 435 houses and many plants in fruiting period.
The rain and hail began on late March 6, mostly in hamlets of the Mai Son, Bac Yen, Quynh Nhai, and Yen Chau districts.
Taekwondo tournament marks 30 years of Vietnam-RoK ties
The opening ceremony of a national taekwondo championship in celebration of the 30th founding anniversary of the Vietnam-Republic of Korea diplomatic ties was held in the central province of Quang Nam on March 7.
The event, running until March 12, sees the participation of nearly 1,000 competitors from 56 taekwondo clubs across the country.
It is to help athletes sharpen their skills prior to major domestic and international sporting events such as the 31st Southeast Asian Games (SEA Games 31), to be held in Vietnam this May, the ninth National Sports Festival and the 19th Asian Games.
KOICA provides 9.45 million syringes for Vietnam
The Korea International Cooperation Agency (KOICA) on March 7 presented 9.45 million syringes and 200,000 safety boxes to the National Institute of Hygiene and Epidemiology (NIHE) to aid Vietnam's COVID-19 vaccination work.
According to a memorandum of understanding between the ministry and KOICA, the Korean agency will provide syringes and safety boxes to support Vietnam's expanded immunisation programme in response to the COVID-19.
In total, 42.5 million syringes and 400,000 safety boxes will be fully delivered by the second quarter of 2022. The RoK Government has been supporting Vietnam's pandemic prevention and control with vaccines, test kits and syringes.
No COVID-19 testing requirement for Vietnamese returning from Ukraine
The Ministry of Health has instructed that Vietnamese people repatriating from Ukraine do not need to test for SARS-CoV-2 and have the confirmation of having been vaccinated against or having recovered from COVID-19 before boarding planes to Hanoi.
Per the instruction, throughout their journey, they have to seriously comply with the health body's 5K message of khau trang (facemask), khu khuan (disinfection), khoang cach (distance), khong tu tap (no gathering) and khai bao y te (health declaration).
Those on entry, except for children under two years old, are tested by health authorities or self-tested for the coronavirus within the first 24 hours after entering Vietnam at their places of stay. If the test results are negative, they will continue to monitor their health within 10 days from the date of arrival. If the result is positive, they must inform local health authorities immediately for further instruction.
Marathon runner Le Van Tuan wins place at SEA Games 31
Le Van Tuan has won a place at the Southeast Asian Games after he won the VPBank Hanoi Marathon held on March 6.
In the pro men's 42km category, Tuan completed the race with a time of 2:27.41 to finish first, leaving behind the runners-up of Trinh Quoc Luong (2:36.45) and Dao Minh Chi (2:39.34).
Nguyen Manh Hung, General Secretary of the Vietnam Athletics Federation, said this win will guarantee Tuan, who finished second at the Tien Phong Marathon 2020, a place at the SEA Games.
At the age of 38, Tuan will be one of the oldest athletes in Vietnam's athletics to attend the 31st Games.
Vietnam to host meeting of ASEAN Maritime Transport Working Group
The Vietnam Marine Administration (VINAMARINE) has informed that it will chair the upcoming ASEAN Maritime Transport Working Group (MTWG) Meeting, which is scheduled to take place virtually in Hanoi on March 9 and 10.
A VINAMARINE leader noted the event will be participated by ten ASEAN member states, the ASEAN Secretariat, the International Maritime Organization (IMO), dialogue partners and regional associations.
The MTWG will discuss the implementation of the Kuala Lumpur Transport Strategic Plan 2016-2025 and the 2022-2023 action plan, new initiatives in the maritime transport sector, and related cooperation with the IMO and dialogue partners.
Earlier, the VINAMARINE chaired four conferences of the MTWG during 2008 – 2009.
Da Nang hosts over 700 MICE tourists
Da Nang city, a travel hub in central Vietnam, on March 7 welcomed 720 MICE (meetings, incentives, conferences, and events) visitors at the municipal international airport.
The delegation came to the city from localities nationwide to attend the 2022 Million Dollar Round Table organised by the life insurer Manulife Vietnam from March 7 to 9 to honour its outstanding agencies.
Da Nang has issued its MICE policy in 2022 to support related MICE services providers, thereby aiding the local tourism recovery.
According to the policy, MICE groups consisting 700 guests and above are welcomed at the airport, with cars arranged by the city's police to guide them from the airport to their hotels. The delegations also receive souvenirs from the authorities.
Hanoi strives to provide vocational training for 224,500 people this year
The Hanoi People's Committee has set a target of enrolling and providing vocational training for 224,500 people this year, including 25,000 persons at college level and 28,000 at intermediate level.
The rate of trained workers will reach 72.2 percent of the total workforce, of whom those with degrees and certificates will reach 51.2 percent or higher.
These goals are considered by the city's administration as one of the most important tasks in the realisation of its socio-economic strategy and ensuring social security.
To do this, the city will improve the quality of vocational training establishments, focusing on upgrading their infrastructure, school equipment and renovating curriculum to meet the demand of enterprises and labour market.
Quang Binh deactivates 230kg wartime bomb discovered near big market
The Mines Advisory Group (MAG) on March 8 said its team in the central province of Quang Binh has deactivated a nearly-230-kg wartime bomb found right next to the Dong Hoi city market which houses hundreds of small businesses and sees thousands of people passing by every day.
The MK82 bomb was discovered when an excavator dug earth for the construction of a 27-storey building at the construction site of an urban complex in Dong Hoi city's Dong Hai ward.
Indonesia issues visa on arrival for tourists from Việt Nam and 22 other countries
The Indonesian Law and Human Rights Ministry Directorate General of Immigration has reintroduced the visa on arrival option for tourists from 23 countries, including Viet Nam, arriving in Bali as of March 7.
This policy can only be obtained by tourists who enter Indonesia through Bali's airport I Gusti Ngurah Rai immigration facility. International tourists arriving through this airport are permitted to travel to other Indonesian regions.
In a written statement on March 6, spokesperson of the directorate general Achmad Nur Saleh announced requirements to obtain the special visa include a six-month minimum valid passport, a return flight ticket or to continue to another country, and health documents required under the COVID-19 task force policy.
The tariff for this special tourist visa on arrival is IDR500,000 IDR (about US$35) and is valid for a maximum of 30 days of stay and can be extended only once.
Two more metro trains to arrive in HCM City from Japan
Two more trains of the Ho Chi Minh City's Metro Line No.1 (Ben Thanh-Suoi Tien) are set to arrive in Khanh Hoi port in the southern city on March 11, according to the HCM City Urban Railway Management Board.
They are the 12th and 13th trains of Line No.1 and are set to be transported to the Long Binh depot where they will be assembled and tested.
Japanese contractors have since October 2020 far delivered 11 out of a total of 17 metro trains under a contract with HCM City.
Each train is designed to have 147 seats and serve up to 930 passengers. It can run at speeds of 110km per hour on elevated rail line and 80km per hour on underground rail lines.
The 19.7-km line No.1 will be the first of at least six to be built in HCM City , aiming to ease traffic congestion in its north-eastern gateway.
WEC builds wide network in women community in five years
The Women's Empowerment Club (WEC) has established a strong network of Vietnamese women and aimed to empower them, which is known as the club's biggest success over the past few years.
At a press conference in HCMC on March 7 to celebrate the International Women's Day and the five-year anniversary of the club, funded by the United States Consulate General in HCMC, Marie Damour, US Consul General, said that the club has built a network of over 250 members and 55 trainers and community partners.
Each member of the club has helped spread the influence of women in the community, stimulating other women to position their role and actively create their values for the society, a member of the club said on the sidelines of the event.
Vietnam Book Day 2022 promotes reading culture
Activities within the framework of Vietnam Book and Reading Culture Day 2022 will take place from March 15 to April 30 under a plan which has been released by the Ministry of Culture, Sports and Tourism.
The event aims to affirm the role and importance of books in improving knowledge, skills and thinking as well as educating human personally. It also promotes reading habits in the community and honours organisations and individuals who significantly contribute to the development of a reading culture in the community.
Activities that will be held on this occasion include the launching ceremony for 2022 Reading Culture Ambassador Contest and dissemination campaigns to introduce books as well as discussions relating to books and reading culture. The building of databases, sharing electronic documents and establishments of book clubs and reading clubs will also be on the agenda.
Last Lao tourists visit Phu Quoc with vaccine passports
Vina Phu Quoc Travel Co. Ltd on March 4 welcomed 12 Lao passengers flying private jet to Phu Quoc island city.
They are set to stay on Phu Quoc island in Kien Giang province until March 7.
This marks the third group of Lao billionaires to visit Phu Quoc island city organised by Vina Phu Quoc, and this is the last group of tourists with vaccine passports visiting Vietnam under a pilot programme to welcome back foreign visitors.
Lexus Challenge Golf Tournament 2022 starts
The Lexus Challenge 2022, hosted by the Việt Nam Golf Association (VGA), starts at Tràng An Golf & Country Club, Ninh Bình, on March 8.
The four-day tournament is sponsored by Lexus Việt Nam with a total prize purse of up to VNĐ 1.6 billion.
Lexus Challenge 2022 will host a competition of 134 golf players covering pro to amateur levels, welcoming young golfers living in the country and other parts of the world.
This is a record for the most participating players among the country's professional golf tournaments: 120 male golfers, 14 female golfers, 105 pro players and 24 international players.
Children from 5-11 years old in HCMC to get Covid-19 vaccine
In order to live safely and adapt to the pandemic, after completing vaccination campaigns against Covid-19 for people 12 years of age and older, Ho Chi Minh City is prepared to administer the Covid-19 vaccine for children aged 5-11 years old.
Up to now, the HCMC health sector is in preparations for the Covid-19 vaccination campaign. As soon as the Ministry of Health gives the green light, Ho Chi Minh City will start vaccine deployment for all children in the city.
Although students in the southern metropolis have only returned to school for less than a month, many parents are extremely worried because more and more infection cases have been recorded in schools.
According to a survey by the Ho Chi Minh City Department of Education and Training, the percentage of parents who agree to vaccinate children from 5 to 11 years old is from 68 percent to 90 percent, depending on the locality. The city is also the first locality in the country to deploy the Covid-19 vaccine for children aged 12-17 years old. A representative of the city's education sector said that parents' support will help the vaccination campaign take place faster.
Infrastructures connecting Metro Line No.1 to be constructed
The Department of Transport of Ho Chi Minh City, on March 7, informed that the city would invest in building bus terminals that connect with metro stations of the Metro Line No.1, with a total project investment of about VND118 billion.
Specifically, technical infrastructure works, parking lots, and bus stops will be built around metro stations along the corridor of Hanoi Highway, such as Van Thanh, Tan Cang, An Phu, Rach Chiec, Phuoc Long, Binh Thai, Thu Duc, Saigon Hi-Tech Park, National University, and Suoi Tien Bus Station (new Mien Dong Bus Station).
The connection of stations of the Metro Line No. 1 with the main bus line and branch bus routes to form a unified multi-modal public transport system, linking synchronous and unified development will promote maximum efficiency of the metro line.
Source: VNA/SGT/VNS/VOV/VGP/SGGP
Festival to introduce African cinema industry to Vietnamese cinemagoers