Festival to introduce African cinema industry to Vietnamese cinemagoers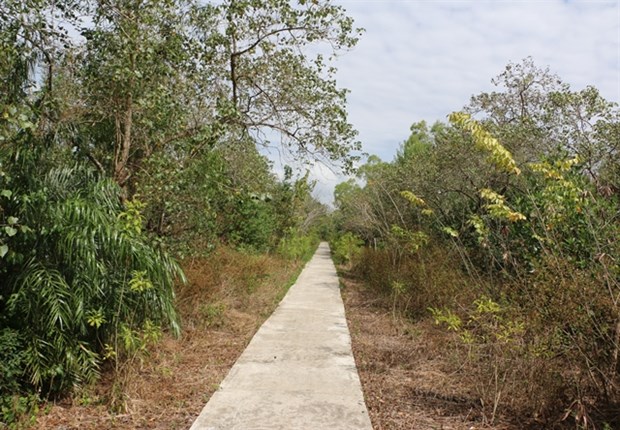 A road in the Bac Lieu Bird Sanctuary is cleaned and grass cut to minimise forest fire risks.
The Panafrican Film and Television Festival of Ouagadougou (FESPACO) will be held for the first time in Vietnam, from March 11 – 14 in Hanoi, with an aim to introduce the African cinema industry to Vietnamese cinemagoers.
The festival will introduce four special feature films from Morocco, Burkina Faso, Senegal, and Rwanda, which will provide moviegoers with an insight into the natural landscapes and people of Africa.
The four films, which were selected from the best entries of the recent edition of FESPACO, have received several awards at prestigious film festivals from around the world.
The films will be screened for free with Vietnamese and French subtitles, at the National Documentary and Scientific Film Studio, No. 465 Hoang Hoa Tham Street, Ba Dinh district, Hanoi.
Launched in 1969, FESPACO has been established as the largest film festival in Africa. It is held biennially in Ouagadougou – the capital of Burkina Faso.
PM orders gradual normalisation of COVID-19 pandemic
Prime Minister Pham Minh Chinh on March 5 requested the gradual normalisation of the COVID-19 pandemic at a teleconference between the National Steering Committee for COVID-19 Prevention and Control with ministries, sectors, and 63 provinces and cities.
PM Chinh ordered readiness without neglect and subjectivity as the pandemic may continue developing in a complicated and unpredictable manner with the Omicron variant.
He stressed the importance of continuing to prevent the spread of the coronavirus, focus on curbing the risks, limiting the number of severe cases and fatalities, promoting rapid recovery and sustainable development, ensuring social welfare and maintaining national defense and security.
As the spirit of pandemic prevention and control is without precedent, so it does not need perfectionism, cannot be in a hurry, but need closely follow the situation to continue to learn from experience and make appropriate adjustments, he stressed.
Vietnamese people travelling to Hungary from Ukraine receive support
Given that more and more Vietnamese people are being evacuated from war zones in Ukraine, the Vietnamese Embassy in Hungary has considered citizen protection a key task and required all of its staff to get ready around the clock.
The embassy sent a note to the Ministry of Foreign Affairs and the Border Guard of Hungary requesting coordination and creation of favourable conditions to support Vietnamese citizens to seek refuge in Hungary. In addition, it has closely followed Hungary's regulations on entry and stay for refugees from Ukraine, and continuously updated information through the channels of the Ministry of Foreign Affairs and the Vietnamese community in Hungary.
The embassy has coordinated with the Association of Vietnamese People in Hungary to set up a working board and issued a notice calling on the Vietnamese community in Hungary to promote solidarity, which has been warmly received by the expatriates.
As of March 4 evening, the embassy and the Vietnamese community in Hungary had provided assistance for 125 Vietnamese citizens from Ukraine.
Vietnam's U23 team to face Iraq, Croatia at 2022 Dubai Cup
Vietnam's U23 team is to play Iraq and Croatia at the 2022 Dubai Cup, which is a friendly tournament scheduled to take place later this March in the United Arab Emirates (UAE).
Ten football teams from Asia and Europe will compete at the event, including Uzbekistan, China, Saudi Arabia, Japan and host the UAE. Each team will play three matches throughout the tourney, which will be held on March 23-29.
Vietnam will play Iraq in the first round on March 23 and Croatia in the second round three days later.
The third one is slated for March 29.
The upcoming tourney is to help Vietnam get ready for the 31st Southeast Asian Games (SEA Games), to be hosted by the country this May, and the 2022 AFC U23 Asian Cup.
Border areas set for economic development
The Government has set out five key tasks to help boost socio-economic development in land border areas.
Recently issued Resolution No. 23/NQ-CP on economic development in land border areas covers mechanisms and policies, mobilising and using resources and promoting infrastructure development to boost development.
Other tasks are enhancing production, effective national defence and security missions as well as ensuring social security and improving social welfare and sustainable poverty reduction in land border areas.
Vietnam has more than 5,000 kilometres of land border, with many operational border gates. However, many border areas remain poor compared to other parts of the nation.
Accordingly, advancing socio-economic development and social security in these areas is of significant importance to narrow the development gap and strengthen the effectiveness of trade and investment ties with neighbouring countries.
HCM City strengthens COVID-19 prevention and control
The Ho Chi Minh City People's Committee has urged relevant authorities to strengthen COVID-19 epidemic prevention and control amid the domination of Omicron variant.
Rising cases of COVID-19 infections have prompted the municipal People's Committee on March 4 to issue an urgent document on measures to combat the pandemic.
Relevant authorities across districts and Thu Duc city are required to strictly implement Resolution 128 on safe, flexible adaptation and effective control of the COVID-19 pandemic.
Since it is forecasted that more infection chains will be recorded in HCM City, business establishments and schools should take immediate actions to curb the spread of COVID-19 among their communities.
Vaccination progress against COVID-19 has to be accelerated while necessary resources need to be prepared for vaccination for children aged 5 to 11 years old in the near future.
Distressed fishing ship safely towed to land
The Naval Region 4 High Command and a fisheries surveillance unit on March 6 handed over 12 fishermen and their vessel to authorities of the south-central province of Khanh Hoa.
The BTh 97497 TS encountered an accident about 6 nautical miles northwest of Sinh Ton Dong island of Khanh Hoa's Truong Sa island district.
The captain had to send out a distress call at sea since the ship suffered an engine breakdown.
Truong Sa 20 vessel of Brigade 955 of Naval Region 4 towed the fishing ship to Sinh Ton Dong island and helped fix the problem. The distressed fishermen received medical checkup and treatment.
On March 3, per request of the captain, relevant agencies began to tow the ship to land as it needs further repair.
Most of Vietnamese in three big Ukrainian cities already evacuated: ambassador
Most of the Vietnamese people wishing to move out of three big cities of Ukraine, namely Kyiv, Kharkov, and Odessa, have been evacuated in the face of the complicated situation there, according to Vietnamese Ambassador to the country Nguyen Hong Thach.
These three cities also house the majority of Vietnamese in Ukraine.
Vietnam's representative agencies in Ukraine and neighbouring countries said as of 5pm on March 6, they had received more than 2,600 Vietnamese people evacuated from war zones in Ukraine, including over 1,700 to Poland, 290 to Hungary, about 600 to Romania, and over 40 to Slovakia.
The agencies have assisted them to handle entry and transit procedures, and coordinated with authorities and Vietnamese associations in the host countries to prepare transport, accommodation, and essential supplies for the evacuees.
The Ministry of Foreign Affairs is working closely with relevant ministries, sectors, agencies, and airlines to arrange two flights repatriating the Vietnamese and their families from Romania on March 7 and Poland on March 9.
President requests highest priority for protecting OVs in Ukraine
President Nguyen Xuan Phuc has urged the Ministry of Foreign Affairs and relevant ministries and sectors to give the highest priority to protecting Vietnamese citizens in Ukraine, e in the context of the escalating conflict there.
During a meeting on March 6 with their representatives, the leader stressed that the spirit of humanity and responsibility are very urgent now.
The guiding spirit of the Party, State and the Party Central Committee's Secretariat is to protect Vietnamese people in war zones, he stated, stressing that the Party and State always pay great attention to the work.
The President applauded the Government's plan to conduct free flights bringing Vietnamese citizens with difficult circumstances in Ukraine back home, with priority to women, children and the elderly.
For those who stay, they must be evacuated from war zones to safe places, he said.
Another flight arranged to bring Vietnamese from Ukraine home
National flag carrier Vietnam Airlines will operate a third flight from Romania to Hanoi to bring back Vietnamese who fled from conflicts in Ukraine, per request of the Consular Department of the Ministry of Foreign Affairs (MoFA) on increasing such flights, Deputy Director of the Civil Aviation of Vietnam (CAAV) Dinh Viet Son said on March 6.
The flight is to depart from Hanoi's Noi Bai airport on March 10 to Bucharest, and return a day later.
The CAAV said the repatriation plan now is that the citizens in Ukraine will go by road to neighbouring countries, with those in Kyiv moving to Poland, in Kharkiv to Russia, and in Odessa to Moldova or Romania, and then flights will be arranged to bring them from these countries back home.
As it is unable to operate flights to Ukraine, which is currently a war zone, airlines have planned flights to destinations in nearby countries such as Poland, Romania, Hungary, Slovakia, Russia, and Belarus.
Apart from these destinations, Vietnamese carriers are also ready to fly to any other places under the Government's plan in the principle of ensuring safety and the best possible conditions for Vietnamese people and their families in Ukraine to return to the homeland, according to the CAAV.
Over 2,000 people join "Ao dai" parade in HCM City
More than 2,000 people of different ages took part in an "ao dai" (Vietnamese long traditional dress) parade on March 6, as part of the eight Ho Chi Minh City "Ao dai" Festival.
The event, themed "I Love Vietnamese ao dai", was jointly organised by HCM City's Department of Tourism, Women's Union and other agencies. It marks the 1982nd anniversary of the Trung sisters' Uprising, and 112th International Women's Day and welcomes the 13th National Women's Congress.
Spectators enjoyed a special "ao dai" parade with bicycles or on the double-decker bus. These images are familiar to visitors when coming to HCM city, contributing to promoting a lively and modern city that is still attached to national cultural values.
The "ao dai" festival, which runs from March 5 to April 15, aims to introduce the beauty and convenience of "ao dai", making it familiar costumes of people in contribution to preserving the nation's cultural identity and promoting the image of the country and Vietnamese people.
Hanoi economy on recovery path
The industrial production and trade of Hanoi has been on a recovery trend from the beginning of the year, driven by the capital city's policies of reopening business activities after months of closing down to fight the pandemic.
The capital city's index of industrial production was estimated to increase by 4.6 percent in the first two months of this year.
Specifically, the manufacturing and processing industry rose by 4.8 percent, power production and distribution by 1.8 percent, and water supply and waste treatment by 4.3 percent.
Industries that saw significant increases included paper production by 49.7 percent, wood processing and wood products by 20.7 percent, electronic products and computers by 11.9 percent, rubber and plastic products by 11.1 percent.
The capital city witnessed a rise of 30.9 percent in export to reach a value of more than 2.6 billion USD in January – February, of which the domestic sector's export value was estimated at 1.4 billion USD, up by 33.9 percent while the foreign direct investment (FDI) sector saw an increase of 27.7 percent in export value.
The total retail sale of goods and services was estimated at 109 trillion VND (4.77 billion USD) in the first two months of this year, representing a rise of 9.9 percent against the same period last year.
PM attends inauguration ceremony of irrigation system in Kien Giang
Prime Minister Pham Minh Chinh on March 5 attended the inauguration ceremony of the first phase of the Cai Lon-Cai Be irrigation project in Chau Thanh district, the Mekong Delta province of Kien Giang.
Regarded as the biggest of its kind in Vietnam, the irrigation system is intended to control salinity in the five provinces of Ca Mau, Bac Lieu, Soc Trang, Hau Giang and Kien Giang, helping to save billions of VND for the State budget. It will also serve as an agricultural highlight in the western region.
The construction of the first phase began in November 2019 with total investment capital of over 3.3 trillion VND (144.48 million USD).
Once fully operational, the system is expected to facilitate stable and sustainable production on an area of 384,120 hectares, including nearly 347 hectares of agriculture and fishery.
This is one of the major projects rolled out in line with the Government's Resolution No. 120, PM Chinh stressed, adding that the system and western sea dykes will help to control natural disasters, rising sea level and flooding.
Cold spell to hit northern Vietnam, light rain, humidity expected
A cold front is making its way through China to northern Vietnam, bringing rain and humidity in the coming days, said national weather forecasters.
The cold blast is set to hit northern border localities early Monday (March 7) and move further inland during the day.
The cold and high pressure will send temperatures to plunge to 11-13 degrees Celsius in the mountain areas and to 15-17 degrees in the plain.
On March 7-8, northern localities are likely to experience hailstorms, lightning, and strong winds. The meteorological agency warned of the risk of flash floods and landslides in mountainous areas.
Vietnam among countries with highest gender equality index globally
The World's Leading Market Research Association (WIN) recently published its annual survey, showing that Vietnam is among the countries with the highest index for gender equality in the world.
In Vietnam, up to 84% of respondents in big cities think the country has achieved gender equality at work and 93% think that there is equality between women and men at home. These are the highest figures recorded in 39 countries participating in this survey.
About 63% of respondents in Vietnam say there is gender equality in politics.
The survey was conducted by the end of 2021 in 39 countries, using face-to-face, telephones or online interviews.
In Vietnam, the survey was conducted by Indochina Research with 601 respondents in Hanoi, Ho Chi Minh City, Da Nang and Can Tho.
RoK's Idol Radio broadcasts Vietnamese children's song
Ngo Ngoc Hung, alias Hanbin – a Vietnamese member of Kpop boyband Tempest, sang Vietnamese song "A duck" on the Republic of Korea's (RoK) entertainment show Idol Radio.
After making its debut on March 2, Tempest has held a series of activities to popularize its name in the RoK's entertainment industry.
During the March 3 live broadcast on Idol Radio, Hanbin chose to sing "A duck" – a Vietnamese song composed for kindergarteners.
The Vietnamese boy confidently imitated some of the duck's funny, cute moves and "quack" sound, winning thunderous applause from the audience.
Government approves development plan for Mekong Delta
Deputy Prime Minister Lê Văn Thành has signed a decision giving the green light to a master plan for the Mekong Delta, which consists of Cần Thơ City and 12 provinces, in the 2021-30 period, with a vision to 2050.
It aims to promote the strength of the local agricultural economy towards sustainability and technology application; maintain the proportion of added value at a high level of about 20-25 per cent by 2030; and make effective use of free trade agreements for market expansion.
It sets a target of the regional economy growth at an average rate of about 6.5 per cent annually, with its regional gross domestic product in 2030 being 2-2.5 times larger than in 2021. Also by 2030, the Delta will build and upgrade some 830km of expressways; about 4,000km of national highways; four airports; and 13 seaports.
Regarding tourism, the Mekong Delta hopes to become an international brand for agro-rural, eco and marine tourism, with Cần Thơ and Phú Quốc earmarked to become two international tourist hubs and a gateway to welcome visitors to the entire region.
Transport Ministry to stop manual toll collection on expys from June 1
The Ministry of Transport has urged the relevant departments and agencies to stick identification cards on all vehicles to use the non-stop electronic toll collection (ETC) service and eliminate manual toll collection from June 1.
The ministry asked the Directorate for Road of Vietnam to review and place the ID cards on all vehicles managed by the directorate and call on civil servants to first attach the cards onto their private vehicles to ensure the manual toll collection model ends from June 1.
The Directorate for Roads of Vietnam was also told to pilot the ETC service on the Hanoi-Haiphong expressway and urge provinces and cities to quickly stick the cards on all vehicles, according to the ministry's directive.
The ministry also gave the same task to the Vietnam Register, including reviewing and placing the cards on all vehicles managed by the agency and encouraging its employees to stick the cards on their cars.
Besides, ETC service providers were asked to ramp up the ID card attachment sites and offer the service at the headquarters of State-owned agencies and residential areas to speed up the process of eliminating manual toll collection.
Smuggling Covid-19 test kits, medicine rampant in market
The functional agencies of many localities over the last two months have discovers several cases of trading Covid-19 test kits and drugs without any valid labels or invoices. These merchandise pieces were imported to Vietnam from different countries with an increasing quantity day after day.
The shipment of over 85,000 Covid-19 quick test kits illegally imported from the Republic of Korea to Vietnam on February 17.
Market Management Team No.2 (under the Quang Ninh Province Department of Market Management) has just cooperated with Traffic Police Team No.3 (under the Quang Ninh Province Department of Public Security) to inspect a 7-seat minivan with the license plate of 88A-400.08 on National Highway No.18A.
They have discovered 1,500 Covid-19 quick test kits imported from China with no valid documents. The van driver, Phung Gia Long from Kim Long Commune of Vinh Phuc Province, admitted that these kits were ordered online from an unknown source located in Mong Cai City (Quang Ninh Province). All the goods, worth VND94 million (US$4,100), have no legal invoice or documents.
The Thai Nguyen Province Department of Market Management reported that since the beginning of March, it has detected and fined 6 cases of Covid-19-related product smuggling, including 87 medicine packs and 2,000 test kits worth VND130 million ($5,700) in total.
A similar situation could be found in Hanoi. Recently, Market Management Team No.17 (under the Hanoi Market Management Department) has collaborated with the Economic Police Division (under the Hanoi Public Security Department) to check a business premise at the address of 115 Trung Phung Street in Dong Da District.
Chi Ma Border Gate Customs Division in Lang Son Province has also detected an unclaimed shipment on their patrol. The shipment includes 1,600 Covid-19 test kits from China.
Reports from the General Department of Vietnam Customs reveal that smuggling medicines to Vietnam has become worse since the beginning of this year. The most noticeable ones are two cases of illegal transport of Covid-19 medicine (14,650 pills of 'Arbidol' and 'Areplivir') to Vietnam from Russia. They were discovered by the Customs Division of Cam Ranh – Khanh Hoa International Airport.
The Anti-smuggling and Investigation Department (under the General Department of Vietnam Customs) has just worked with the Hanoi Customs Department to capture a shipment of over 85,000 Covid-19 quick test kits from the Republic of Korea, worth VND8 billion ($346,000) illegally transported to Vietnam via Noi Bai International Airport.
Due to the surge of Covid-19 patients in Vietnam lately, the demands for test kits and medicine have risen remarkably, leading to various smuggling cases of Covid-19-related medical products for profit. These merchandise pieces have no clear origin and quality warranty.
Ministry proposes more open regulations for patients in purchase of Molnupiravir
Because patients have experienced great difficulty in accessing the purchase of Covid-19 oral pill Molnupiravir even though this drug has been produced domestically and circulated on the market, the Ministry of Health has recently proposed more open regulations to help Covid-19 patients soon get the pill.
In its report to the Prime Minister, the Ministry said that Molnupiravir is a new drug, it is necessary to continue to monitor the quality, effectiveness, and safety of the drug during circulation. Currently, the drug has been licensed for conditional circulation by the Ministry of Health for three years and must be strictly controlled after licensing. People can only use Molnupiravir with a prescription from a doctor. Arbitrary use carries many risks due to unwanted effects of the drug as well as the creation of new strains of viruses.
To ensure easy access for patients to antiretroviral drugs to treat Covid-19 in the context of a high number of cases, the Ministry of Health proposed several contents on the dispensing of Molnupiravir. Specifically, for the distribution of free treatment drugs, localities and medical facilities can be assigned to purchase drugs to treat Covid-19, including Molnupiravir, which has been licensed for circulation in Vietnam according to regulations to promptly satisfy infirmaries' needs.
One more North-South twin train halts operation
The Hanoi Railway Corporation has just informed that one more North-South twin train was halted the operation as the Covid-19 pandemic has outbroken in many localities along with a decline in travel demand.
Particularly, the SE11 train will be temporarily ceased its operation at Hanoi train station from March 6 and the SE12 train shall be halted in Saigon train station from March 8.
Passengers holding train tickets traveling on trains SE11/12 in the suspended period can perform procedures to change or refund tickets in advance of the departure at the train stations.
Passengers will enjoy free of charge when they refund the tickets in accordance with the regulations. Besides, the free-of-charge refund policy will be also applied to passengers who bought roundtrip tickets.
Therefore, from March 8, there will be only three North-South twin trains daily connecting Hanoi and Ho Chi Minh City, including SE3/SE4, SE5/SE6 and SE7/SE8.
Cao Bang Border Gate Economic Zone master plan approved
Deputy Prime Minister Le Van Thanh has signed a decision approving the master plan for Cao Bang Border Gate Economic Zone towards 2040.
The economic zone located in the northern province of Cao Bang has a total area of over 30,130 hectares.
By 2030, the population in the area is projected to stand at about 73,000-78,000, including 35,000-37,000 urban residents.
The economic zone is divided into four regions. Each region has one key economic border gate which directly connects with China's border gate system.
Mekong Delta takes multiple measures to prevent forest fires
Authorities in the Mekong Delta are strengthening measures to prevent forest fires as the region enters its peak dry season and forests become highly vulnerable to fires.
With a total area of nearly 40,000sq.km, the delta, which comprises 12 provinces and Can Tho city, has about 347,500ha of different types of forests, including mangrove forests, cajuput forests, national parks, nature reserves and bird sanctuaries.
Many forest areas in the delta are said to be at high risk of forest fires because of the weather and illegal human activities including lighting fires inside forests.
Source: VNA/VOV/SGGP/VNS/SGT/VGP
Ten outstanding young faces of Vietnam announced