Sick Bangladeshi sailor saved in Khanh Hoa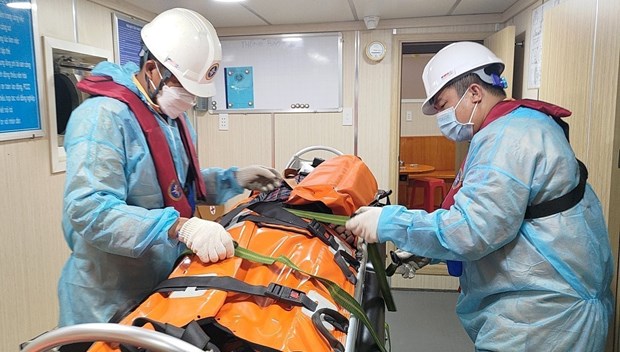 Crewmembers of Vessel SAR27-01 tend to the Bangladeshi sailor. (Source: VNA)
A Bangladeshi sailor who suffered from chest pain while working at sea gained timely aid in central Khanh Hoa province on early March 30.
At around 3pm on March 29, the Vietnam Maritime Search and Rescue Coordination Centre received a distress signal from the Panama-flagged vessel Izumo en route from China to Chennai, India.
The 25-year-old Bangladeshi crewmember suffered from severe chest pain when the ship was about 103 nautical miles to the northeast of Khanh Hoa's Nha Trang city.
The centre kept contact with Izumo to stay updated with the sailor's condition and provide first aid instructions. As his health worsened and he faced a high risk of mortality, it sent Vessel SAR27-01, which was performing duties in Nha Trang, and a medical team to give emergency aid.
The sailor was then brought to a healthcare station in Nha Trang city at around 1:30am on March 30.
Hanoi works to ensure medical services for SEA Games 31
Fourteen hospitals and 16 medical centres will provide healthcare and COVID-19 prevention and control services at 11 hotels and 15 competition venues in Hanoi during the 31st Southeast Asian Games (SEA Games 31), according to the municipal Department of Health.
SEA Games 31 will last from May 12-23 with 40 sports events. Health care services for the Games will be provided from May 10-24. Along with Hanoi, activities and sport events within SEA Games 31 will take place in 11 nearby provinces and centrally-run cities, namely Bac Ninh, Bac Giang, Ha Nam, Nam Dinh, Ninh Binh, Hoa Binh, Hai Phong, Hai Duong, Quang Ninh, Vinh Phuc and Phu Tho.
Hanoi will host the opening and closing ceremonies of the Games, as well as 22 sport events.
National database to serve asset and income management to be developed
Deputy Prime Minister Le Minh Khai on March 28 signed Decision No. 390/QD-TTg approving a project to build a national database on asset and income, aiming to promote digitalisation and modernisation in the management of assets and incomes.
In the 2022-23 period, the project will build and put into trial operations technical system and software for data updating, integrating, connecting and sharing to ensure safe and smooth exploitation of the database on asset and incomes.
A mechanism for the operation and exploitation of the database will be built, including legal documents, organisation and personnel needed for the operation of the database.
In the 2024-2025 period, the project will focus on updating data and integrating the database with the national database managed by the Government Inspectorate. The database will also be connected with other information and public service portals and other national database systems. In particular, 100 percent of property and income declaration forms of people obliged to declare their assets will be digitalised.
At the same time, the use of the national database on asset and income will be expanded to gradually replace traditional paper dossiers. In 2025, the replacement is expected to reach at least 50 percent.
Vietnamese Ao dai appears on the Oscar red carpet
Amidst a forest of European and American stars on the Oscar 2022 red carpet, the beloved Vietnamese ao dai has appeared for the first time
The person wearing the ao dai at the event at the Dobly theater, Hollywood, is Vietnamese American star Kelly Marie Tran.
She is the voice actress for the character Princess Raya in the movie "Raya and The Last Dragon", a Hollywood cartoon produced to honor Southeast Asian culture, including Vietnam.
The Ao dai the actress wore is a product of designer Thai Nguyen.
According to the designer, this is the first time the Vietnamese Ao dai has appeared on the Oscars red carpet.
Hung Kings' death anniversary to be commemorated both at home and abroad
The death anniversary of Hung Kings – the legendary founders of the nation – will be connected online to more than 40 countries and territories on April 10 or the 10th day of the third lunar month.
The project to mark the anniversary globally was initiated by a number of scientists, intellectuals and leaders of Vietnamese associations in seven countries, with the aim of connecting overseas Vietnamese and international friends in an effort to preserve intangible cultural heritage of humanity and the worship rituals dedicated to Hung Kings.
Therefore, the commemoration is a special cultural event for not only the Vietnamese community abroad but also international friends.
This year's event will feature rituals, art performances and a ceremony to honour outstanding Vietnamese abroad.
It will be held in both online and offline formats, at https://www.facebook.com/quoctovietnamtoancau, and be broadcast on such TV channels like Hung King TV Global, HITV and Future Now.
Foreign Minister meets with visiting British Minister of State for Asia
Minister of Foreign Affairs Bui Thanh Son received Amanda Milling, Minister of State for Asia and the Middle East at the British Foreign, Commonwealth and Development Office, in Hanoi on March 29.
Milling is on a working visit to Vietnam on the occasion of the 8th Vietnam – UK strategic dialogue at the deputy foreign minister level.
Minister Son expressed his delight at the strides in the two countries' strategic partnership as seen in Prime Minister Pham Minh Chinh's successful trip to the UK and attendance in the COP26 there from October 31 to November 3, 2021.
As the two countries are about to mark the 50th founding anniversary of diplomatic ties in 2023, Vietnam wishes to further intensify the strategic partnership with the UK, he said.
The two officials agreed to keep their countries' close coordination at multilateral forums, particularly the United Nations and regional cooperation mechanisms.
Ba Ria – Vung Tau, US city expand cooperation
The southern province of Ba Ria – Vung Tau's Phu My township signed a memorandum of understanding (MoU) on cooperation with Monterey Park city in the US's California state at a virtual ceremony on March 29.
Per the MoU, the sides agree to work together in economy, trade, investment, logistics, sea port, education, health, human resources development, cultural exchange, sports, and sci-technology. They are committed to establishing a working group to exchange information regarding business opportunities and support projects of Vietnamese and US firms.
HCM City raises 250 million USD for social security work last year
Over 5.7 trillion VND (about 250 million USD) was raised for social security work in Ho Chi Minh City last year, said Pham Minh Tuan, Vice President of the municipal Vietnam Fatherland Front (VFF) Committee.
Given the complicated development of the COVID-19 pandemic which has seriously affected all aspects of social life, the city's VFF Committee has adopted measures and ways to mobilise funds in line with the real situation, he said at a meeting held on March 29 to review the mobilisation and management of "For the Poor", "For Vietnamese Sea and Islands" and COVID-19 prevention and control funds.
Such activities as providing medical equipment and necessities for pandemic prevention and control have helped the city overcome the difficult period, gradually moving to the new normal state: flexible adapting to the pandemic and recovering the economy, Tuan said.
With capital from these funds, many models and solutions have been carried out with positive results including "Rice ATM", zero-dong booths, mobile oxygen stations and the transportation of COVID-19 patients.
Sa Pa to host street carnival in April
A street carnival is set to be held in Sa Pa town in the northern mountain province of Lao Cai from April 1 to April 3 to mark the occasion of the Mau Thuong Temple Festival 2022.
The event is set to take place on the town's main streets which will feature a variety of cultural activities. The occasion will also feature traditional dance and art performances of six ethnic groups based in Sa Pa, including the Mong, Dao, Tay, Giay, Kinh, and Xa Pho.
The major parts of the festival will be the palanquin procession and ritual offerings.
Traditional delicious food and agricultural products of Sa Pa will also be introduced to visitors on the occasion.
Nguyen sets national record in Hungarian swimming tournament
Trần Hưng Nguyên set a national record in the men's 400m individual medley event during a tournament in Hungary on Monday.
The Vietnamese came first with a time of 4min 19.54sec. The new bar beat the previous record of 4:20.65 that Nguyên set at the 30th Southeast Asian Games in 2019 when he was 16.
His result is close to the 2018 Asian Games' top three. Wang Shun of China took the bronze with a time of 4:18.67 in Jakarta, Indonesia.
It is the second national record that he set within three months. Earlier, during the first trip to Hungary in late December, Nguyên set a new height in the 200m backstroke with a time of 1:57.72 in the short course (25m) pool during the World Swimming Championship in Abu Dhabi, the UAE.
Nguyên and his eight teammates are in an intensive training course in Hungary in preparation for their 31st SEA Games in May in Việt Nam. They took part in the Eger Cup and even commemorated Hungarian swimmer Aladár Bitskey, at the weekend.
Spring colours on show at exhibition
Water coloured paintings of nature and portraits of people throughout the country will be displayed soon in downtown Hà Nội.
Titled "Spring Colours", the event features 50 painting by six artists, two professional [Nguyễn Đình Lâm and Hoàng Quốc Tuấn] and the rest architects [Lương Bình, Nguyễn Đức Cường, Phạm Thanh Sơn and Thẩm Trọng Hiếu]. This is the group's first exhibition although they have been travelling on field trips together.
The exhibition will run at Exhibition House 93 Đinh Tiên Hoàng between April 2 and 11.
Riverbank erosion destroys 4 houses, damages 1 in Can Tho
Erosion along the Ô Môn River in Cần Thơ City on Monday dragged four houses and a part of another into the water. There were no casualties.
The eroded site, in Châu Văn Liêm Ward in Ô Môn District, is 40 metres wide and 10 metres deep. There are many houses at the spot.
There have been signs of erosion for many years, according to locals.
In fact, 10 days before the incident, people in four of the five houses moved to safer places after seeing cracks appear.
Local authorities have installed barriers and boards instructing people to keep out of the eroded site.
The Ô Môn River, which plays an important role in the city's waterway transport, has a large number of boats travelling constantly, which create large waves that slam into the banks, triggering erosion.
The city is implementing many erosion prevention projects along the river, including embankments in three different places running 3.7km at a cost of VNĐ410 billion (US$18 million) in Ô Môn District's Thới An and Thới Hoà wards.
Vietnam, Hungary boost educational cooperation
The Ministry of Education and Training (MoET) of Vietnam and the Ministry of Foreign Affairs and Trade of Hungary on March 29 signed an cooperation agreement on the implementation of the Stipendium Hungaricum Scholarship Programme in the 2022-2024 period.
Stipendium Hungaricum is a scholarship programme of the Hungarian government, which ensures a place for 100 Vietnamese students in state-owned higher education institutions in Hungary.
The same day, the MoET also signed an agreement on tertiary education cooperation with the Ministry of Renovation and Technology of Hungary in the 2022-2024 period.
Over the past 70 years, education and training has been an important pillar in the Vietnam-Hungary partnership, which has considerably contributed to developing high-quality human resources for Vietnam.
Each year, Hungary provides 200 scholarships to Vietnamese students in different education levels and training sectors.
Vietnam attends ADSOM WG, ADSOM-Plus WG meetings
A delegation of the Ministry of National Defence attended the virtual conferences of the ASEAN Defence Senior Officials' Meeting Working Group (ADSOM WG) and the ADSOM-Plus WG on March 28 and 29.
The Vietnamese delegation was led by Col. Pham Manh Thang, Deputy Director of the Defence Ministry's External Relations Department, the Quan doi Nhan dan (People's Army) daily reported.
The events, chaired by Cambodia, continued to discuss the issues that were not scrutinised at the ADSOM WG and ADSOM-Plus WG meetings held in Phnom Penh in February.
The ADSOM WG session looked into draft documents proposed by Cambodia, including a concept document on enhancing cooperation in transboundary disease control among ASEAN countries' defence forces, a concept document on increasing the support mechanism for ASEAN servicewomen to take part in peacekeeping operations, and another on the establishment of cooperative ties among ASEAN defence academies.
Vietnam, Russia boost collaboration in legal affairs
Vietnamese Ambassador to Russia Dang Minh Khoi received a delegation from the Association of Lawyers of Russia led by its Chairman Sergey Stepashin on March 29.
They agreed to try promoting exchanges and cooperation between the two sides' law training institutions, and implement cooperation directions in accordance with the Strategic Partnership Agreement signed between the Vietnam Lawyers' Association and the Association of Lawyers of Russia.
The two associations established their cooperative relationship in 2011, becoming each other's first foreign partner. Since then, they have actively cooperated bilaterally and supported each other at multilateral forums.
Vietnamese continue to be second largest foreign community in Japan
Vietnamese continued to be the second biggest foreign community in Japan after China, despite a 3.4 percent drop in 2021, according to the the Immigration Services Agency of Japan (ISA).
According to the agency, the number of Vietnamese people in Japan reached 432,934, accounting for 15.7 percent of the total foreigners in the country.
The Republic of Korea came third with a community that made up 14.8 percent of total foreigners in Japan, followed by those from the Philippines and Brazil with 10.5 percent and 7.4 percent respectively.
As of the end of 2021, Japan had hosted over 2.76 million foreigners, down 4.4 percent from the same period last year, mostly because of tighter border management due to COVID-19 pandemic.
The agency reported that last year, the number of foreigners who were requested to leave Japan for violating immigration regulations fell by 1,328 to 4,122.
Tuyen Quang hosts first int'l hot air balloon fest
The northern mountainous province of Tuyen Quang kicked off the first international hot air balloon festival at Nguyen Tat Thanh Square on March 30.
The festival, which is jointly organised by the provincial People's Committee and the International Balloon Association in collaboration with Vietjet Air, is an activity in response to the domestic tourism programme launched by the Ministry of Culture, Sports and Tourism in line with the policy on safely, flexible adaptation to and effective control of the COVID-19 pandemic.
It is also part of the Tuyen Quang Tourism Year 2022 event and marks the 75th anniversary of President Ho Chi Minh's return to Tuyen Quang to lead the nation in the resistance war against the French colonialists (April 2, 1947 – April 2, 2022).
The event, which will last until April 3, takes place at three locations namely Nguyen Tat Thanh Square (Tuyen Quang City), Na Tong Stadium (Lam Binh district's Thuong Lam Commune) and Tan Trao Square (Son Duong).
It will bring together 20 hot air balloons from different countries and territories around the world including the United Kingdom, United States, Japan, Taiwan, the Republic of Korea, Thailand, Spain and the Netherlands. A Vietjet hot air balloon will represent the national colours of Vietnam at the festival.
Draw against Japan a major surprise in World Cup qualifiers
The Asian Football Confederation (AFC), Japanese media outlet Nikkan Sports, and Southeast Asian supporters have given their compliments to the Vietnam national team after they secured a 1-1 draw against Japan in the March 29 World Cup qualifying match in Saitama.
In a recent meeting held between the world's football governing body FIFA and the AFC in Qatar, AFC General Secretary Windsor John praised Vietnam's progresses in the World Cup qualification campaign.
The draw represented the biggest surprise in the Asian qualifiers for the 2022 World Cup and would be a source of motivation for Southeast Asian teams to strive for in the future, he said.
Also at the meeting members of the AFC congratulated Vietnam on their surprising 1-1 draw away from home against Japan.
Hanoi metro route expansion approved
The Nhon-Hanoi Station metro line will be extended by 8.76 kilometres, increasing the line to 21 kilometres.
According to the Metropolitan Railway Management Board (MRB), Prime Minister Pham Minh Chinh has approved a VND343 billion (USD14.78-million) project to research the expansion of the Nhon-Hanoi metro line and the development of an integrated urban traffic system to connect to the project.
VND49 billion will be funded from Hanoi's reciprocal capital, while the remainder is from Asian Development Bank and EU non-refundable loans. The project is scheduled to be conducted in the 2022-2024 period.
The MRB added that up to 8.13 kilometres of the extended section would be underground, travelling through Tran Hung Dao, Tran Thanh Tong, Kim Nguu and Tam Trinh. Seven underground stations will be built on the section.
The 12.5-kilometre Nhon-Hanoi Station metro line runs underground for 4.5 kilometres. It runs through the districts of Bac Tu Liem, Nam Tu Liem, Cau Giay, Ba Dinh, Dong Da and Hoan Kiem.
Lagging around 10 years behind schedule, the project's total investment capital has been raised to VND36 trillion against the initially-approved figure of VND18.41 trillion.
Northern region faces cold weather, heavy rains
The northern region of Vietnam has been forecasted to experience a cold spell with heavy rains from March 31-April 1.
According to the National Centre for Hydro-meteorological Forecasting, the lowest temperature in northern localities would be 14-17 degrees centigrade from March 31 evening. Several mountainous areas would see temperatures of below 12 degrees centigrade.
During that time, Hanoi would experience strong winds and downpours.
Localities from Thanh Hoa to Thua Thien-Hue would have temperatures of 15-18 degrees centigrade during this time.
Meanwhile, the central and Central Highlands regions of Vietnam have been predicted to witness heavy rains from March 30 to April 2. Flash floods, landslides and hail would occur during rains in some low areas.
Source: VNA/VIR/SGT/VNS/VOV/Dtinews/SGGP
Australia to receive agricultural workers from Vietnam