Cabinet discusses economic recovery, COVID-19 response
The Government convened a meeting on Thursday to review socio-economic performance in the first two months this year under the chair of Prime Minister Pham Minh Chinh.
Other discussion topics include economic recovery, COVID-19 response program for 2022-2023, pre-feasibility reports for Ring Road No. 4 in Ha Noi Capital Region and Ring Road No. 3 in Ho Chi Minh City, and preparations for the organization of the 31st SEA Games.
In his opening remarks, Prime Minister Pham said recovery is underway across fields despite complex evolution of the COVID-19 pandemic in Viet Nam and rising energy prices due to latest developments in the region and the world.
The average consumer price index (CPI) in the first two months of 2022 picked up 1.68 percent over the same period last year and core inflation increasing by 0.67 percent.
Trade with the rest of the world maintained growth momentum, increasing by 13 percent to US$108 billion, of which export turnover reached US$53.79 billion (up 10.2 percent) and import revenue stood at US$54.73 billion (up 15.9 percent).
The nation gained US$8 billion from exporting agriculture-forestry-aquatic products in the first two months of 2022, a year-on-year increase of 20.9 percent
The index of industrial production (IIP) grew by 5.4 percent year-on-year while total retail sales of goods and services rose 1.7 percent over the same period last year.
Positive signals were also recorded in business registration, with 20,300 new enterprises established and 22,300 firms resuming operation nationwide, up 11.9 percent and 102.5 percent respectively.
As of February 20, foreign investors poured nearly US$5 billion in Viet Nam, equal to 91.5 percent of the same period last year while the realized volume of foreign direct investment was estimated at US$2.68 billion, a year-on-year rise of 7.2 percent.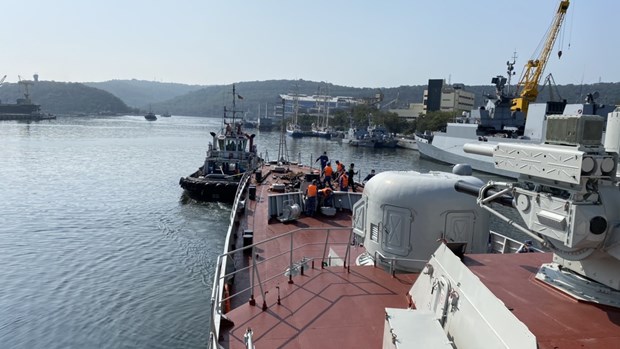 The MILAN 2022 sea phase runs from March 2 to 4 with a journey spanning 500 nautical miles.(Source: baohaiquanvietnam.vn)
Vietnam's frigate participates in MILAN 2022 sea phase
Vietnam's Frigate 016 – Quang Trung left the port of the Indian city of Visakhapatnam on March 2 to join the three-day sea phase of the ongoing multilateral naval exercise MILAN 2022.
The frigate belongs to the 3rd tactical group which includes seven ships from India, France, Sri Lanka, Seychelles and Vietnam. The group is set to perform a series of exercises involving communications, team movements, sea logistics, and boat training. In addition, it will exercise artillery fire and handling situations at sea like saving people falling into the water, and dealing with mechanical and technical problems.
As scheduled, during the sea phase, the 016-Quang Trung will manoeuver across 500 nautical miles in 56 hours.
At the end of the exercise, all 13 frigates of 13 nations participating in the phase will join a meeting to draw experience directly on board the Indian command ship.
Hai Duong proposes VND24-trillion belt road investment
The northern province of Hai Duong has proposed a VND24 trillion (USD1.03 billion) investment into the Ring Road 5 project.
Under the proposal, the city wants to build a 52.7-kilometre road section in the 2022-2025 period. The investment capital for the construction will be from the state budget, while the cost for the site clearance will be arranged by Hai Duong.
The road is expected to help ease traffic congestion for national highways 37, 38, 17B, 5 and 18.
Ring Road 5, which was approved by the prime minister in 2014, goes through Hanoi, Hai Duong, Bac Giang, Thai Nguyen, Vinh Phuc, Ha Nam, Hoa Binh and Thai Binh.
Vietnam, China cooperate in holding cyber security training course
The Vietnam Cybersecurity Emergency Response Teams/Coordination Centre (VNCERT/CC), in collaboration with the National Computer Network Emergency Response Technical Team/Coordination Centre of China (CNCERT/CC), recently held an online ASEAN-China international cyber security training course.
This is a training course for staffs of member units of the national information security response network and organisations and enterprises in the field of information security in Vietnam, with more than 200 participants.
It provided trainees with an overview of information safety and security; experience in addressing cyber attacks, as well as information and technical experience in ensuring information safety and security.
In addition, trainees were also equipped with information, knowledge and experience in building and implementing information security between CNCERT and VNCERT, and their international cooperation./.
Hanoi speeds up preparations for 31st SEA Games
Hanoi is speeding up all-round preparations for the 31st Southeast Asian Games (SEA Games) as the event is only two and a half months away.
The Games is scheduled to take place in Hanoi and some nearby localities from May 12 to 23. The capital city will provide 15 venues for 18 sports.
The venues are all existing facilities, including 12 managed by the district-level People's Committees and five by the municipal Department of Culture and Sports. Upgrades to most of the venues are being carried out on schedule.
From February 7 to 10, the Hanoi People's Committee and the Ministry of Culture, Sports and Tourism sent a team to examine the 20 competition and training sites. They demanded prompt moves to complete the upgrades by March 15 to gear up for the inspection by the Southeast Asian Games Federation on March 18 – 19.
The 31st SEA Games, themed "For a stronger South East Asia", will run in Hanoi and 11 neighbouring localities. It will feature 40 sports with 526 events and expect to attract around 10,000 participants.
Gov't issues Resolution on economic development in land border areas
The Government has promulgated Resolution No. 23/NQ-CP on economic development in land border areas.
Viet Nam has more than 5,000 kilometers of land border, with many operational border gates.
Under the Resolution, the Government said it will focus on envisaging mechanisms and policies, mobilizing resources, promoting infrastructure development, enhancing production capacity, and improving social welfare and poverty reduction in a bid to foster the development of the land border areas.
The Government tasked the Ministry of Planning and Investment to take prime responsibility and work with other relevant ministries, agencies and localities to step up international cooperation and attract domestic and foreign investment capital, including aid and concessional credits to infrastructure projects in these areas.
The Ministry of Agriculture and Rural Development was asked to coordinate with relevant localities in designing agriculture, forestry and fisheries development plans.
PM orders immediate procedure simplification for COVID-19 drug purchase
Prime Minister Pham Minh Chinh has demanded immediate simplification of administrative procedures for buying COVID-19 medications.
He asked the Ministry of Health to give instructions and guidance to immediately streamline administrative procedures for the purchase, while basing on the reality and referring to other countries' experience to quickly make decisions about COVID-19 drug import and use.
The Government leader also requested enhancing management over drug prices, strictly dealing with drug speculation and smuggling, and creating favourable conditions for people to access and buy COVID-19 drugs.
Earlier, local media reported that when the COVID-19 medications containing the active substance Molnupiravir officially hit the shelves of drugstores, not many people could buy since they failed to meet related regulations like having patient certificates or doctor's prescriptions.
African movies to be screened in Vietnam for first time
The Panafrican Film and Television Festival of Ouagadougou (FESPACO), the first of its kind in Vietnam, is set to be held between March 11 – 14 in Hanoi, providing a chance for local audiences to gain a greater understanding of the African cinema industry.
As part of the event, four special feature films from Morocco, Burkina Faso, Senegal, and Rwanda will be introduced to local moviegoers.
The four films have been selected from the best works of the recent FESPACO film festivals. They have received many awards at prestigious film festivals from around the world.
All of the films will feature Vietnamese and French subtitles and free entry is available at the National Documentary and Scientific Film Studio (NDSFS) on 465 Hoang Hoa Tham Street, starting at 7:30 p.m.
Quang Binh tackles 230kg wartime bomb
The Mines Advisory Group (MAG) on March 2 said its team in the central province of Quang Binh has safely handled a wartime bomb found by residents in Le Thuy district.
The dangerous explosive device was discovered 50cm underground, with its location about 1km away from the residential area. Weighing nearly 230kg, the MK82 bomb contained explosives.
After a thorough examination at the scene, experts assessed that the bomb was safe to move. It was then transferred to a storage area in line with regulations, waiting for safe detonation.
The bomb was the fifth of its kind successfully tackled by the team so far this year.
Hue hosts diverse cultural activities to spur nighttime economy
The former imperial city of Hue is anticipated to launch a range of diverse art and cultural activities from 6 p.m. to 10 p.m. on weekdays, starting in the second quarter of this year, in an effort to attract tourists.
The municipal administration expects to form cultural and art spaces at night to popularize Hue's image, culture and people, as well as develop the nighttime economy.
The activities will take place on walking streets such as Pham Ngu Lao, Chu Van An, Vo Thi Sau, Nguyen Dinh Chieu, 3/2 Park, and Tu Tuong Park.
Other cultural activities will also be held at Bia Quoc Hoc (Quoc Hoc Monument), Thuong Bac Park, Nghinh Luong Dinh Stadium, Ban Nguyet bridge, Phu Xuan park, Dong Ba Night Market, the Night Street of the Hue Imperial Citadel and the walking area on the north bank of the Perfume River.
A wide range of activities will be organised at these places, including calligraphy arts, folk games, Hue chamber songs, as well as performances of traditional craft and traditional long dress (Ao Dai).
Domestic tourists increase by 380% in February
The tourism industry has shown positive signs of recovery in February, with the number of domestic tourists estimated to have increased by 380% over the same period last year.
The report of the Ministry of Culture, Sports and Tourism said that domestic tourists were estimated at 9.6 million visitors in February 2022, while international tourists under the pilot programme reached about 1,558 visitors.
Total revenue from tourists is estimated at 41,380 billion VND, up 313% over the same period last year.
From the beginning of 2022, the total number of international visitors to Vietnam under the pilot programme is estimated at 7,358 visitors, with domestic tourists counting 17.6 million.
These numbers show huge a demand for tourism, signalling the positive resilience of tourism when fully reopening under new normal conditions.
Hoai Phuong to compete at Miss Eco International 2022
Tran Hoai Phuong, the third runner-up of Miss Eco Vietnam 2022, has been chosen to represent Vietnam at the Miss Eco International 2022, which is scheduled to take place in Egypt from March 6 to March 19.
Phuong, who stands at 1.71 metres tall, is currently studying at Public Relations & Communication Faculty of the Ho Chi Minh City University of Economics and Finance (UEF).
The Vietnamese beauty has acquired a wealth of experience competing in local beauty pageants, having finished among the Top 3 at The Face online which was held by UEF and in the Top 25 of Cuu Long Tourism Ambassador.
First Art Brut exhibition heads to Hanoi
As many as 52 abstract paintings produced by local artist Nguyen My Linh have been put on display at the nation's first Art Brut exhibition being held in the capital.
The exhibition is running with the theme of "Vibrant" features Art Brut acrylic works on linen.
In the middle of the last century, the great French artist Jean Dubuffet discovered, collected, and promoted a particular art movement in which "works are created from solitude and from pure and authentic creative impulses without the interference of any worries about social competition, acclaim or advancement…"
He called it Art Brut, also known as Outsider Art, which later became a terminology used to describe a specific kind of visual art.
The exhibition will open for free at VICAS Art Studio at 32 Hao Nam street in Hanoi and will last through to March 19.
Standard Chartered Vietnam launches carbon-neutral cards
Standard Chartered Bank has become the first bank to launch carbon-neutral credit and debit cards in Việt Nam. All new cards issued in Việt Nam will now be part of the carbon-neutral programme developed with Thales, the bank's card manufacturing partner.
The cards will carry a carbon-neutral certification logo, in accordance with the Carbon Neutral Protocol, demonstrating their green credentials.
With the carbon-neutral programme, there is no need for cardholders to proactively opt-in or sign-up to play their part to reduce carbon emission. The programme, built on Standard Chartered's commitment to sustainable and responsible banking, is one of the many ways the bank is reducing its carbon footprint.
Standard Chartered Bank announced the global launch of the neutral carbon card in November 2021 following successful pilots with the Smart cards in Malaysia and Hong Kong, the first of their kind in Asia.
K+ to broadcasts EPL for further three seasons
K+ Satellite Digital Television on Wednesday announced their broadcast rights for the English Premier League for three seasons from 2022-25.
In an announcement ceremony in Hà Nội, K+ managers said it would be 15 seasons in a row that the world-leading football league has been shown in Việt Nam, and it will be broadcast on all K+ platforms such as satellite TV, IP TV, OTT, cable TV, apps on mobile devices and on Smart TV.
For the last 12 seasons, K+ has established a close and good connection between Vietnamese football lovers and the EPL.
In the next three years, 380 matches covering 20 clubs will be brought to supporters in 'golden time' on Saturday and Sunday evenings every week.
UNDP, Australia to help VN reduce poverty by 50 per cent
A memorandum of understanding for a poverty reduction programme between the Ministry of Labour, Invalids and Social Affairs (MOLISA), UNDP and the Department of Foreign Affairs and Trade of Australia (DFAT) was signed on Monday.
The "UNDP-MOLISA-DFAT programme development and policy advising on multidimensional and sustainable poverty reduction 2021-2023" project has provided technical support and advice to MOLISA on developing the National Target Program on Sustainable Poverty Reduction (NTPSPR) 2021-2025.
The advice helps the NTPSPR have a more innovative and timely approach and allows the government and local people to innovate and strengthen community power.
The programme will also apply successful ideas in quick and sustainable poverty reduction and projects that improve livelihoods and connect businesses with people to assist in developing the value chain.
As the NTPSPR is more people-centric and focuses on improving poor people's capacity than in 2016-2020, methods must be used to solve the core problems of poverty.
HCM City targets removal of impediments to renovate old apartment buildings
Municipal authorities are seeking the construction ministry's approval to speed up replacement of old apartment buildings by removing shortcomings in compensation policies and investment-related procedures.
According to the HCM City People's Committee, the renovation and rebuilding of old, rundown apartments in the city has been slow with their current occupants not reaching consensus on compensation and relocation.
Most people living in old apartment buildings are poor and earn a living in nearby areas, and moving them to the suburbs would rob them of their livelihoods.
The municipal People's Committee has proposed that the Ministry of Construction issues a uniform policy for compensation, resettlement, and support for people living in the old apartments.
Vietnam, Laos enhance security collaboration
The 12th security cooperation conference between Vietnam and Laos took place in Vientiane on March 3, under the co-chair of Vietnamese Deputy Minister of Public Security Sen. Lieut. Gen. Luong Tam Quang and his Lao counterpart Sen. Lieut. Gen. Kongthong Phongvichith.
They agreed to maintain the effective implementation of existing cooperation mechanisms between the two security forces, and step up information sharing and coordination in addressing impact of non-traditional security threats that affect ties between the two countries in general and the two Ministries of Public Security in particular.
The sides also pledged to closely coordinate at international and regional security cooperation forums, promote collaboration in preventing and fighting international terrorism of ASEAN countries, and ensuring security for major events to be held in Vietnam and Laos in the coming time,
On the occasion, the two deputy ministers signed a Memorandum of Understanding of the 12th Vietnam – Laos Security Cooperation Conference.
Over 1,000 taekwondo athletes, coaches to compete in Korean Ambassador Cup
More than 1,000 taekwondo athletes and coaches from 55 teams nationwide will compete at the National Taekwondo Clubs Championships-Korean Ambassador Cup 2022 to be held in the central province of Quang Nam, said Vu Xuan Thanh, Vice President and General Secretary of the Vietnam Taekwondo Federation at a press briefing on March 2.
The tournament is held on the occasion of the 30th anniversary of the diplomatic relations between Vietnam and the Republic of Korea (1992 – 2022) and in response to National Tourism Year – Quang Nam 2022. It will include combat and performance events, and is scheduled from March 5-12.
The competition contributes to spreading the message of the Government's policy of realising the dual goals of fighting the COVID-19 pandemic and developing the economy at the same time. It also promotes the image of Vietnam as a safe destination.
PM requests faster project implementation for national digital transformation
Prime Minister Pham Minh Chinh on March 2 demanded accelerating implementation of the project on developing and applying the population data and electronic identification and authentication to serve national digital transformation.
The PM, who is also head of the National Committee on Digital Transformation, made the request while chairing a meeting on the initial outcomes and measures for stepping up this project for the 2022 – 2025 period with a vision to 2030, called Project 06.
After over one month of implementation, 38 ministries, sectors, and localities have set up working groups while 40 have released plans on the project implementation. The Ministry of Public Security and the Government's Office, as the standing bodies of the central working group, have taken proactive moves to promote other ministries, sectors, and localities' performance of tasks under this project, according to a report delivered at the event.
He ordered ministries, sectors, and provincial-level People's Committees to quickly carry out this project, speed up the making and overhauling of relevant legal documents, remove obstacles related to funding for IT projects, and address security loopholes to serve the project.
Vietnamese Ambassador presents credentials to Indonesian President
Newly-appointed Vietnamese Ambassador to Indonesia and Timor Leste Ta Van Thong presented his letter of credentials to Indonesian President Joko Widodo at a ceremony at Merdeka Palace in Jakarta on March 2, during which he promised to do his utmost to deepen the strategic partnership between the two countries.
The Vietnam-Indonesia strategic partnership has been increasingly strengthened in recent years, with bilateral trade exceeding 11 billion USD for the first time in 2021, up 40 percent year on year.
Vietjet to operate free flight repatriating Vietnamese citizens from Ukraine on March 6
A representative of Vietjet Air on March 2 announced that the airline plans to operate a free flight bringing Vietnamese citizens in Ukraine home from Warsaw, the capital city of Poland, on March 6.
The flight is prompted by Vietjet's sense of responsibility to the community, and its wish to share difficulties facing Vietnamese people and help them flee from the war area.
Kon Tum, Lao province cooperate in natural disaster response
Leaders of the Central Highlands province of Kon Tum and Attapeu province of Laos have reached consensus on their coordination and organising rescue drills during floods and landslides in the shared border areas.
At their meeting on March 2, Vice Chairman of the People's Committee of Kon Tum Nguyen Huu Thap and Deputy Governor of Attapeu Bunsot Sethilath reviewed natural disasters and fire accidents in the two provinces in 2021.
They concurred to sign a memorandum of understanding on cooperation in effectively implementing the protocol on rescue activities and dealing with natural disaster consequences reached between the Ministries of National Defence of Vietnam and Laos in December 2021.
They will rotationally organise provincial-level conferences in every two years to evaluate their cooperation in rescue activities and design collaboration plans for the following years.
Ha Long Bay, Cu Chi Tunnels among ten adventurous tourism places in Southeast Asia
The travel magazine The Travel has listed Ha Long Bay in the northern coastal province of Quang Ninh and Cu Chi Tunnels in Ho Chi Minh City among the ten must-visit epic and adventurous places in Southeast Asia.
Ha Long Bay, which is situated in Northeast Vietnam, is regarded as one of the world's geographical beauties due to its green seas scattered with hundreds of limestone islets, each capped with its distinct tropical jungle, the magazine said. Tourists may enjoy the destination by diving and snorkeling, renting a canoe, or simply relaxing on the upper deck of their boat tour with a beverage in hand, it added.
Meanwhile, the Cu Chi cave system, situated 60 km beyond Ho Chi Minh City, is a vast network of subterranean tunnels that stretches all distance towards the Cambodian frontier. The tunnels served as a way of communication among settlements. Furthermore, the tunnels were easily reachable from HCM City, with a one-and-a-half-hour trip.
ADB supports sustainable forestry and biodiversity
The Asian Development Bank (ADB) has signed a $15 million equity investment in New Forest's Tropical Asia Forest Fund 2 (TAFF2) L.P. to support sustainable forestry practices in Southeast Asia and reduce logging in natural tropical forests by helping sustainably managed plantation companies to scale up their operations.
The investment comprises $5 million from ADB's ordinary capital resources and $10 million from the Australian Climate Finance Partnership (ACFP) trust fund. TAFF2 investments will target climate adaptation as well as climate mitigation. Opportunities will be sought in Cambodia, Indonesia, the Lao People's Democratic Republic, Malaysia, Thailand, and Viet Nam.
With a target size of $300 million, the fund intends to invest in forestry and related companies that can demonstrate Forest Stewardship Council certification of their assets. It will invest in sustainably managed commercial forest plantation companies and acquire forestry assets, including established and brownfield plantations, greenfield developments, and processing facilities.
The fund will be managed by New Forests Asia (Singapore) Pte. Ltd., an established and leading forestry fund manager in Asia and the Pacific. ADB will work with New Forests Asia's social and environmental management system and capacities, such as investment screening, impact assessment, and monitoring. ADB will provide guidance on best practices to advance gender equality, including upskilling of female plantation workers. It will also help TAFF2 to apply a gender lens to investing through a scorecard to highlight areas where action is needed to improve gender equality.
HCMC announces schedule for its major holidays
The Department of Culture and Sport of HCMC on February 3 announced the schedule for the city's major holidays, historical and political events in 2022.
In which, main festivals are the lunar New Year, the 92nd founding anniversary of the Communist Party of Vietnam (February 3) and Vietnamese Doctor's Day (February 27); Ao Dai Festival; Hung Kings' Temple Festival; Vietnamese Traditional Arts and Cultural Festival; 47th anniversary of National Reunification Day (April 30), International Labor Day (May 1), President Ho Chi Minh's 132nd birth anniversary and 111 years since President Ho Chi Minh began a journey to seek a path for national liberation;
There are also he 46th anniversary of the day Saigon-Gia Dinh that was officially named after President Ho Chi Minh (on July 2), the 77th anniversary of War Invalids and Martyrs Day (July 27), the 75th anniversary of the 1945 August Revolution, National Day (September 2), and the 77th founding anniversary of the Vietnam People's Army (VPA).
French ship pays courtesy visit to Khanh Hoa