AstraZeneca COVID-19 vaccine to be used for booster doses
The Ministry of Health (MoH) has allowed the use of AstraZeneca COVID-19 vaccine for booster doses to be injected into people who received basic doses of mRNA technology vaccines (Pfizer or Moderna).In its official dispatch sent to the Health Departments of provinces and cities and relevant agencies, the MoH said that the booster doses can be administered at least three months after the last basic dose.It asked the Health Departments to give advice to the city and provincial People's Committees on people eligible for the third dose, and prepare necessary conditions for the injection of the booster shots.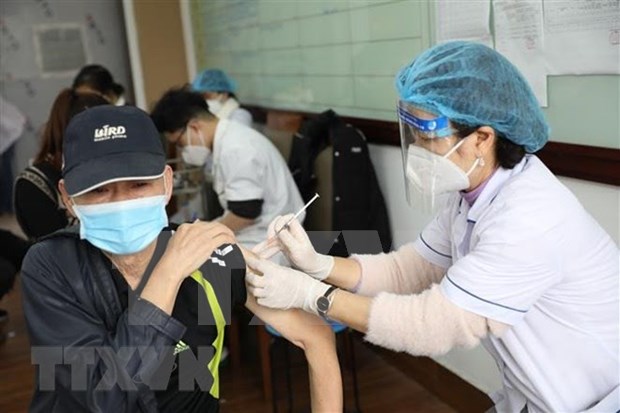 Vietnam to vaccinate children aged 5-11 against COVID-19 in early AprilChildren aged between 5-11 will be vaccinated against COVID-19 from early April, according to the Health Ministry.The Expanded Programme on Immunisation announced on March 27 that the Australian Government has officially committed to providing Vietnam with about 13.7 million doses of Pfizer and Moderna vaccines to inoculate children aged between 5-11 in the first week of April.Previously, on March 22, the Ministry of Health worked with the Australian Embassy in Vietnam on this issue.Training on vaccination for children has been conducted nationwide.Japanese experts to help Hoi An restore Cau PagodaHoi An city in the central province of Quang Nam and the Japan International Cooperation Agency (JICA) on March 26 signed an agreement on supporting the restoration of Cau (Bridge) Pagoda.Under the agreement, JICA will support Hoi An by sending experts to the city to help restore the pagoda. The activity may be adjusted depending on COVID-19 situation in Vietnam and Hoi An. All arising issues will be settled by both sides.Alongside, JICA will also help increase local capacity in preserving Hoi An Ancient Town's areas by providing the city with technical support.Cau Pagoda is situated right in Hoi An Ancient Town, connecting Tran Phu and Nguyen Thi Minh Khai roads.Initially, the bridge was built by Japanese tradesmen possibly in the 17th century, thus it is also called the Japanese bridge.It was not until 1653 that a tile-roofed structure was erected, connecting to the northern railings, protruding between the bridge, that's why local people often call the covered bridge Chua Cau (Pagoda Bridge). The pagoda was renovated many times.The current structure of Cau Pagoda was formed from renovations in the 18th and 19th centuries. Any visitors to the Hoi An Ancient Town are also impressed with the pagoda's unique architectures: a tiled roof structure on top, a bridge below.Although it is a pagoda, the pagoda is not worshipping the Buddha [like other typical pagodas in Vietnam], but a spirit that protects and brings happiness to the local people.Cau Pagoda is not only tourism symbol of the ancient town but also a place that connects the soul of the earth and Hoi An people.Over 300,000 kWh of electricity saved during Earth Hour 2022Vietnam has saved 309,000 kWh of electricity, which is worth 576.1 million VND (25,197 USD) by switching off the lights for one hour in response to Earth Hour 2022, according to the Vietnam Electricity (EVN).On March 26, from 8:30 pm to 9:30 pm local time, all Vietnamese people in 63 cities and provinces nationwide were encouraged to switch off lights in response to Earth Hour 2022, themed "Creating the future – Now or never".Being an annual tradition started by the World Wildlife Fund (WWF) in 2007 in Sydney, Australia to raise awareness of climate change, Earth Hour has become one of the world's largest grassroots movements for the environment.In Vietnam, Earth Hour 2022 was jointly held by the WWF and the Ministry of Industry and Trade (MoIT).Earlier, the MoIT asked the People's Committees of cities and provinces to coordinate in organising activities to respond to the event.Last year, Vietnam saved 353,000 kWh of electricity, equivalent to 658.1 million VND (28,635 USD) during Earth Hour.PM urges stepping up int'l tourism re-openingPrime Minister Pham Minh Chinh has stressed the need to further step up international tourism re-opening in association with safe and flexible adaptation to the pandemic in the new situation.The Government leader gave a keynote speech at the opening of the Visit Vietnam Year Quang Nam 2022 themed "Quang Nam- A Green Tourism Destination", held in Hoi An on March 26.The PM said the Visit Vietnam Year is a significant event in Vietnam's reopening of tourism with a series of activities planned for 2022."Vietnam's tourism sector will focus on positive pandemic resilience, safety and effectiveness, fast recovery and development as a key topic of 2022. The tourism industry will resume its growth on the bases of peace, sustainability, digital transformation and connections," he said.It will consistently follow the direction of sustainable value that has been built for decades, portraying an image of safety, hospitality and endless charm, he added.The COVID-19 pandemic has changed the socio-economic structure and human practices, but it also speeds up a chance for making Vietnam a top choice and an attractive destination among international travellers.Historically, Quang Nam – a focal point of culture, economy, heritage and landscapes – has been chosen as a starting point of the country's tourism economic recovery plan in 2022 when Vietnam officially opens its doors for international visitors from March 15," he added.Hanoi advised to re-open preschools and primary schools nowHanoi has been advised to re-open preschools and primary schools.Truong Huu Khanh, permanent vice chairman of HCM City's Infectious Disease Association, said it's time for Hanoi to re-open schools completely, as HCM City has done.There are many reasons to do this now, he said.The number of children infected with COVID-19 in Hanoi is believed to be significant. Most children living with parents or relatives who are infected with COVID-19 have also caught the virus, he said.However, children infected with the Omicron variant often have very mild symptoms and recover quickly, he said.The handling of COVID-19 students in schools is also simple, he added.For a number of weeks, Hanoi has recorded the country's highest daily number of COVID-19 cases. The capital city's Department of Health earlier this month announced that Omicron is the dominant COVID variant in the capital.Children could still contract COVID-19 when they stay at home. Therefore, it's time to re-open the schools, the vice chairman said.The benefits of sending children to school are that children could focus more on the lessons while their parents or caregivers could focus on their work, according to Khanh.Over 91,900 new COVID-19 cases confirmed on March 27The Ministry of Health confirmed additional 91,916 new COVID-19 cases on March 27, including 62,043 cases found in the community.The capital city of Hanoi continued to log the highest number of infections, with 10,252.It was followed by the northern provinces of Bac Giang (3,997) and Yen Bai (3,977), central Nghe An province (3,976), and the Central Highlands province of Dak Lak (3,909).The new infections brought the country's total caseload to 9,011,473.As many as 185,861 patients were declared to be free from the novel coronavirus SARS-CoV-2 on the day, raising the total number of recoveries to 5,351,978.Meanwhile, 61 deaths were recorded, lifting the national death toll to 42,306, accounting for 0.5 percent of the total infections.More than 205 million doses of COVID-19 vaccines have been administered in Vietnam so far, with 141,599 doses injected on March 27.First Vietnamese course opens in VenezuelaA fundamental Vietnamese language course has been opened in Venezuela for 40 local trainees who are from ministries, sectors, universities and media agencies.The course, jointly held by the Vietnamese Embassy un Venezuela and the Vietnam-Venezuela Friendship Association, is the first organised in Venezuela for beginners.The course will not only help trainees learn Vietnamese but also contribute to increasing the cultural exchange and fostering the friendship between the two countries, said Wimmer.The teaching and learning of Vietnamese language in Venezuela are expected to contribute to promoting the culture of Vietnam in the host country, while reinforcing the cooperation and friendship between people of both sides.New York Career Forum 2022 connects Vietnamese youthsMore than 100 Vietnamese young people and students studying and working in the US attended a career forum organised by the Vietnamese Youths and Students' Association in New York on March 26.The event was held at the headquarters of the Permanent Delegation of Vietnam to the United Nations, with a variety of activities, such as an online forum about studying in the US for high school students, career consultations, especially in the fields of finance and technology, and a talk to support Vietnamese youths and students to orient their careers as well as connect with companies with great potential globally, especially in the US.
More than 600 youths have participated in the programme's webinars, not to mention about 35,000 young Vietnamese people attending online from all over the world.During the event, many Vietnamese companies with headquarters abroad and many foreign companies with headquarters in Vietnam expressed their desire to recruit excellent, ambitious young Vietnamese students.According to the US data, Vietnam has about 26,000 students studying in the US, ranking sixth among the countries with the largest number of international students here in the 2019-2020 academic year.Vietnam hands over Bokeo TV-radio broadcasting station to LaosVietnam has handed over the project of constructing the TV and Radio Broadcasting Station of Bokeo province to the Lao side.The station, which has a total investment of 116.67 billion VND (about 5 million USD), with 113 billion VND as non-refundable aid from the Vietnamese Government, is one of the four projects implemented by the Vietnam Television in Laos.It has full equipment of a provincial-level broadcasting station.It was put into trial operation on October 25, 2020 and official operation on January 2021, serving audience in Bokeo and Laos as a whole.The project also helps local journalists and technicians access modern infrastructure and equipment to enhance their working efficiency.President attends ceremony to honour outstanding Vietnamese young facesPresident Nguyen Xuan Phuc attended a ceremony in Hanoi on March 26 night to announce winners of the Vietnam Outstanding Young Face Award in 2021.The event, held on the occasion of the 91st founding anniversary of the Ho Chi Minh Communist Youth Union (HCYU), honoured outstanding young people selected from 138 candidates, including self-nominated persons, who showed excellent performance in various areas.Exhibition displays Hue royal antiques in HanoiAn exhibition showcasing Hue royal antiques opened at Cultural Friendship Palace in the capital city of Hanoi on March 26.The event is jointly organised by Hue Royal Antique Collectors Association and Thanh Ngoc Antique Co. Ltd, aims to help the public have better understanding of Hue royal culture – the unique cultural identity of a dynasty which were associated with ups and downs of the nation's history.The exhibition introduces over 200 objects, including ceramic products dating back to Nguyen Dynasty through the reign of Kings Gia Long, Minh Mang, Thieu Tri, Tu Duc and Bao Dai.In addition to ceramic artifacts, it also showcases a number of royal embroidery paintings made by Vietnamese craftsmen as well as utensils for princes and princesses.Thousands run in HCM City in response to Earth HourThe Ho Chi Minh Communist Youth Union (HCYU) of Ho Chi Minh City and the HCM City Power Cooperation (EVNHCMC) on March 26 hosted a run to mark the 91st anniversary of the HCYU and respond to Earth Hour and Olympic Day Run 2022.The event is intended to encourage young people to improve their physical health and raise public awareness of limiting the use of vehicles that produce emissions, causing environmental pollution.Up to 1,500 people participated in the 3,500m run from the headquarters of the city's HCYU to the Youth Cultural House.The organisers handed over one first prize, one second prize, one third prize and five consolation prizes to each of the men's and women's groups.HCM City expects 3,000 foreign visitors in March and AprilHo Chi Minh City expects to welcome 3,000 international visitors in March and April, a tourism official has said.The city is an attractive destination with competitive prices compared to other cities in Asia, according to Nguyen Viet Anh, a representative of the city's tourism authority.It also has a variety of tourism products along with a system of rivers and inner-city waterways different from those in the Mekong Delta.However, the lack of a consensus on epidemic control and prevention has made it difficult for tourists to travel across neighbouring provinces.Former Argentine Ambassador to Vietnam honoured with Friendship OrderVietnamese Ambassador to Argentina Duong Quoc Thanh, empowered by the State President of Vietnam, on March 26 presented a Friendship Order to former Ambassador of Argentina to Vietnam Juan Carlos Valle Raleigh.During his tenure in Vietnam from 2017 to 2020, Raleigh made many contributions to further enhancing the bilateral relationship, and at the same time opened up new development directions with many high-level visits, especially President Mauricio Macri's official visit to Vietnam in early 2019. He also helped to promote economic and trade relations between the two countries.Raleigh contributed the good results he achieved during his term to the valuable and timely support of Vietnamese authorised agencies, showing their enthusiasm and respect for the bilateral relationship.All Vietnamese players tested negative to SARS-CoV-2 upon arrival in JapanAll players and most of the coaching staff members of the Vietnamese national football team have tested negative for the SARS-CoV-2 virus after they arrived at Narita International Airport on March 26 morning to prepare for the final World Cup 2022 qualifier match with hosts Japan.Because language assistant Le Huy Khoa tested positive for the virus, the players sitting near him on the plane were asked by the Japanese side to separate into another group for monitoring.The Vietnamese team suffered a serious loss in terms of personnel when many players can not play the match as they were infected with COVID-19, suffered injury or received two yellow cards. Therefore, coach Park Hang-seo will surely face many difficulties if any more players in the above group contract COVID-19.However, good news for Vietnamese fans is that the team will welcome the return of goalkeeper Dang Van Lam after a period of convalescence. Lam, who is playing for Japan's Cerezo Osaka Club, will join 20 other players at a hotel in Tokyo.At the request of the Japan Football Federation (JFA), all activities of the Vietnamese team will take place under the "closed bubble" model during the competition in the country.Coach Park and his players are expected to have three training sessions at Saitama Stadium before entering the match against hosts Japan at the stadium on March 29.Vietnam participates in Francophone Film Week in ChileThe Vietnamese Embassy, in coordination with the embassies of French-speaking countries in Chile, has organised the Francophone Film Week 2022 on the occasion of International Francophonie Day.The event, which will last until March 31, is part of the cultural activities of the Francophone Week, with 10 films from countries in the Francophone community being screened.It is expected to reflect the diversity in terms of culture of the Francophone community. Vietnam's movie "Yellow flowers on green grass" by director Victor Vu with Spanish subtitles will be shown at the film week.The Francophone Week in Chile is an annual event held for countries in the Francophone community to popularise their traditional cultures, images and cuisine to local and international friends, and at the same time, to show their friendship relationship among member countries.Khanh Hoa province welcomes 254,000 tourists in Q1The south-central province of Khanh Hoa, home to the famed resort city of Nha Trang, welcomed some 254,000 tourists in the first quarter of 2022, up more than 12 percent year-on-year, said the provincial People's Committee.Of the holidaymakers, 14,000 are foreigners, a year-on-year rise of nearly 49 percent, the committee said, noting that tourism brought about 1.33 trillion VND (58.17 million USD) to the province during the reviewed period.Khanh Hoa has asked travel firms to put forth operational plans in accordance with regulations set by the tourism and health sectors, including those on COVID-19 prevention and control.The enterprises have also focused on developing new products, improving the quality of products and services and boosting promotion activities.Lodging facilities and tourism destinations in Khanh Hoa have gradually resumed their operations after a long hiatus due to the pandemic, and met requirements to serve tourists in the new normal.Vietnam works to preserve vulnerable wildlife amid climate changeScientists have studied, evaluated and predicted the impact of climate change on wildlife species in Vietnam.The results of the studies conducted by the National Science and Technology Programme on natural resources, environment, and climate change for 2016-2020 showed that 18 out of 51 evaluated animal species were classified as seriously affected by climate change. The primates are the group that suffers the most.An assessment of 50 bird species also revealed that 16 species, which are distributed in areas at high risk of changes in temperature and rainfall, were feeling the impacts of climate change.Climate change seriously affected 93 out of 288 plant species examined. Da Lat pine is a precious and rare genetic resource which has been categorised as near-threatened species by the International Union for Conservation of Nature.According to scientists, climate change adaptation-related activities in Vietnam are still limited. Knowledge about biodiversity conservation in the context of climate change is still relatively new for staff of protected areas and national parks.Although there exists a number of conservation action programmes for important species groups such as the one for pangolins, turtles, elephants, primates, and tigers, there is none on protection for species which are vulnerable to climate change.Given the limited resources for preservation, it is necessary to identify priority conservation areas to focus on technical, financial and technological resources to achieve high efficiency. Twenty-six out of 105 protected areas including the nature reserve and habitat conservation areas are high priority. Most of them are located along the Truong Son mountain range, from Lam Dong province to the north central region.Source: VOV/VNA/VNS/SGT/Dtinews/SGGP
USAID, UNICEF provide 1 million USD in COVID-19 supplies to Vietnam