Seven rescued tigers handed over Phong Nha-Ke Bang National Park
Seven Indochinese tiger cubs which were rescued by the central province of Nghe An authorities have been taken to Phong Nha-Ke Bang National Park.In August last year, the animals, which were 1-1.5 months old, were saved from illegal wildlife traders.The tigers had been kept in cages and would have likely been sold and slaughtered for bone paste and other tiger-derived products. They were then handed over to Pu Mat National Park in Nghe An.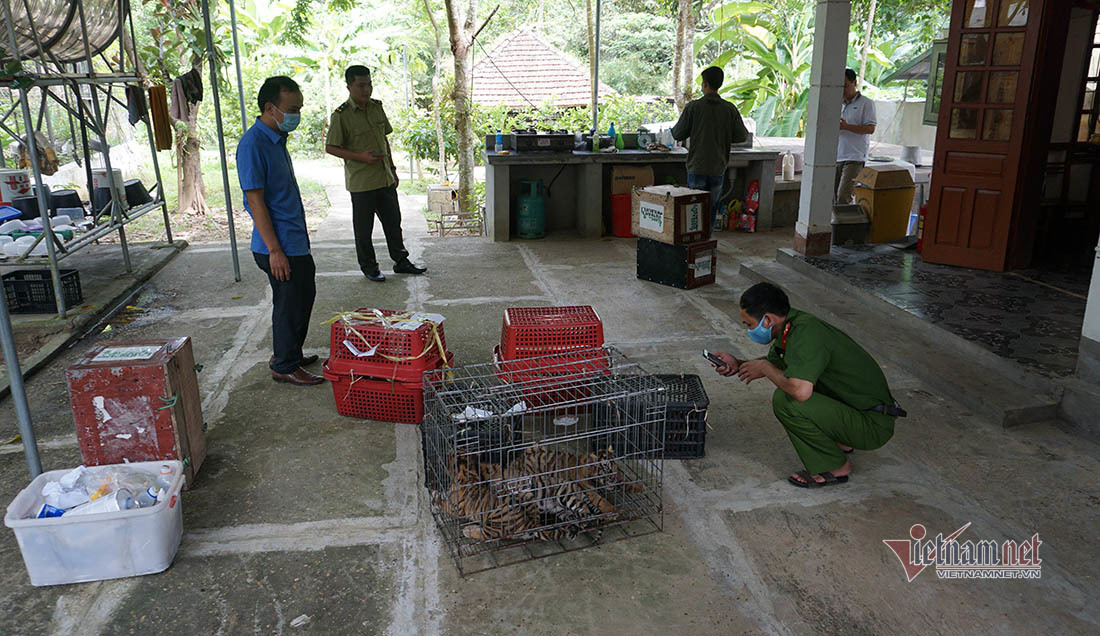 On March 22, Pu Mat National Park and Save Vietnam's Wildlife signed an agreement to transfer the tigers to Phong Nha-Ke Bang National Park for being taken care of in a long run.Dang Thanh Tuan from Pu Mat National Park said that the tigers had been trained to get familiar with cages to prepare for their relocation.Tran Xuan Cuong, director of Pu Mat National Park, while being taken care of there, the tigers have developed well. The smallest tiger weighs 56 kilos, while the biggest is 64 kilos. However, Pu Mat can't keep the animals over the long term.It took Pu Mat National Park VND865 million (USD37,284) to care for the animals over the past time.
Hanoi court jails anti-State propagandist for five years
The Hanoi People's Court has sentenced Le Van Dung, a resident in the city's Ha Dong district, to five years in prison for "conducting propaganda against the State of the Socialist Republic of Vietnam".At the first-instance trial on March 23, the court also decided to put the defendant, born in 1970 and living in Ha Cau ward, under five-year surveillance after he completes his jail term.His accessory, Nguyen Van Son, born in 1956 and living in Phuong Tu commune of Hanoi's Ung Hoa district, received a suspended 18-month prison sentence with 36 months' probation for "hiding a criminal".According to the indictment, from March 2017 to September 2018, Dung made and posted 12 video clips, including five that distorted the State's guidelines and policies, defamed the people's administration, and spread fabricated information stirring public concern.After police launched legal action, Dung fled and was later arrested while hiding at Son's house. Son knew that Dung was being wanted by the investigation agency but still let Dung stay at his home until Dung was uncovered and detained.At the trial, Dung admitted his acts as pointed out in the indictment but said those acts did not violate the law. Meanwhile, Son pleaded guilty to all of his wrongdoing.The jury held that this is a serious case that threats national security. Dung was aware that his acts ran counter to the law but still intentionally committed the crime.Earlier, he had been fined thrice by police of Hoan Kiem district for causing public disorder.
Hoa Binh to complete cycling venues for SEA Games 31 by March's end
Work on cycling venues in the northern province of Hoa Binh serving the upcoming 31st Southeast Asian Games (SEA Games 31) is projected to complete by the end of this month, according to the organising board.The province will host competitions in mountain biking on May 14-17 and road cycling on May 19-22, with the participation of about 400 regional athletes.A delegation of the SEA Games 31's organising board responsible for cycling is set to hold an inspection in Hoa Binh in early May.The Games will run in Hanoi and 11 neighbouring localities from May 12 to 23. It will feature 40 sports with 526 events and expects to attract around 10,000 participants. The biennial event was initially slated for late 2021 but delayed due to the COVID-19 pandemic's impact.
RoK's President-elect to talk with President Phuc on ways to promote bilateral ties
The Republic of Korea (RoK)'s President-elect Yoon Suk-yeol plans to discuss ways to deepen bilateral ties during his phone talk with Vietnamese President Nguyen Xuan Phuc scheduled on March 23, according to Yoon's spokesperson Kim Eun-hye."Vietnam is a friendly nation to us and has maintained a relationship of trust despite COVID-19 and global supply chain disruptions," Kim was quoted by local media as saying at a press briefing.She said that in 2022, the two countries will celebrate the 30th anniversary of bilateral diplomatic relations, and the bilateral relationship is currently upgraded to a comprehensive strategic partnership.The spokesperson also highlighted that Vietnam, as the coordinator of the RoK-ASEAN relations, plays an important role in the RoK's partnership with the Association of Southeast Asian Nations (ASEAN).The Vietnamese President will be the sixth foreign leader to speak with Yoon since his election on March 10 after US President Joe Biden, Japanese Prime Minister Fumio Kishida, British Prime Minister Boris Johnson, Australian Prime Minister Scott Morrison and Indian Prime Minister Narendra Modi.
Vietnam Art Photo Contest and Exhibition 2022 opens for entries
A contest seeking the best photographic works in 2022 has been launched by the Department of Fine Arts, Photography and Exhibition, under the Ministry of Culture, Sports and Tourism.Eligible applicants of the "Vietnam Art Photo Contest and Exhibition 2022" include both professional and non-professional photographers who are Vietnamese citizens or overseas Vietnamese, aged at least 18 years old.The entries, which are required to be created from July 2020 to July 2022, will compete in two categories: realistic and conceptual photos. Their content must reflect contemporary life, people, culture, landscape, nature, national building and safeguarding, or efforts in the fight against natural disasters and epidemics. The entries could also reveal problems of contemporary life, thoughts, opinions, ideas about life or have other content towards the values of truth, goodness and beauty.The organising board will award two sets of prizes for two photo categories with a total of 30 winners, including two gold medals, four silver medals, eight bronze medals, and 16 consolation prizes.The contest is open for entries at anhnghethuatvietnam2022.com until July.
Rehearsal for SEA Games 31 opening to be held on May 10
The rehearsal for the opening ceremony of the 31st Southeast Asian Games (SEA Games 31) will be organised on May 5, according to the Ministry of Culture, Sports and Tourism.The opening ceremony of the regional biennial games will take place on May 12 at Hanoi's My Dinh National Stadium, while the closing ceremony will be held on May 23 at the Indoor Athletics Palace.The organiser of the games has unveiled the slogan of the regional competitions as "For a Stronger South East Asia" which is expected to send to governments and people in the region a strong message of solidarity to build a powerful ASEAN Community and further promote its role in the international arena.The games' official logo and mascot have also been introduced, with the logo symbolising a flying bird and a V-shaped hand and the mascot based on the saola – a rare animal listed in Vietnam's Red Book of Endangered Species.
Vietnam proposes five measures to achieve net-zero targets at 144th IPU
Vietnam presented five proposals to promote parliaments' actions to achieve net zero targets at the plenary meeting of the 144th General Assembly of the Inter-Parliamentary Union (IPU-144) in Bali, Indonesia, on March 22.The Vietnamese delegate also warned that climate change has reached an alarming level, with obvious severe impacts of climate change like sea level rise, extreme weather phenomena and drought are threatening global food security and biodiversity, and increasing poverty, unemployment, social inequality, instability and conflicts in many countries and regions in the world.Such serious challenges require countries to solidify their commitments and take actions to reduce GHG, and follow a sustainable and inclusive green economic recovery process in the post-pandemic period, Head of the Vietnamese National Assembly delegation to IPU-144 Vu Hai Ha said.The legislator, who is head of the Vietnamese NA's Committee for External Affairs, underlined that the Vietnamese NA and Government are resolved to reduce dependence on fossil fuel, quickly raise the ratio of renewable energy and build a suitable roadmap to switch to a green, circular and low-carbon economy, thus delivering on its commitments at COP26.
Vietnam funds agricultural, infrastructure projects in Lao province
The Vietnam-Laos and Laos-Vietnam cooperation committees on March 22 started the construction of an agricultural technique and services centre in Xaysomboun province, which is funded by Vietnamese non-refundable aid.With a total investment of 64 billion LAK (5.54 million USD), the centre is expected to complete after two years.The heads of the two committees, Vietnamese Minister of Planning and Investment Nguyen Chi Dung and Lao Minister of Planning and Investment Khamjane Vongphosy said on the occasion that the project is a meaningful gift from the Vietnamese Government to Xaysomboun, which was established only eight years ago and is facing many difficulties.The same day, the two ministers also attended the inaugural ceremonies for Xaysomboun's provincial military school and a farm produce and herbal material processing plant, also built with Vietnamese aid.
Vietnam helps Cambodia build drug rehabilitation centre
A drug treatment and rehabilitation centre was inaugurated in Cambodia's coastal province of Preah Sihanouk on March 22, with part of its funding presented by Vietnam.Covering 20ha in Stung Hao district, the drug treatment and rehabilitation centre would accommodate around 1,200 people. It was constructed at a cost of more than 7.4 million USD, of which 3 million USD came from the Vietnamese government and 1 million USD is from Thailand.In his remarks, Vietnamese Ambassador to Cambodia Nguyen Huy Tang stressed that the centre demonstrates cooperation between the two countries in drug rehabilitation and social affairs in general.
Da Nang to host hot air balloon festival
The central city of Da Nang will hold a hot air balloon festival on March 27 as part of an event to celebrate the resumption of international tourism activities, including welcoming the first international flight to the city.The first flight from Singapore and another from Bangkok will land at Da Nang International Airport on the same day.The festival will showcase 17 colourful hot air balloons in several sizes which will fly over the APEC Sculpture Garden located on Bach Dang Street.
Francophone delegation seeks trade, investment opportunities in Vietnam
A Francophone delegation for trade and economic promotion is visiting Vietnam from March 21 – 30 to help French-speaking enterprises expand business overseas and promote sustainable post-pandemic recovery.Led by General Secretary of the International Organisation of La Francophonie (OIF) Louise Mushikiwabo, the visit forms part of the efforts to implement the Francophone Economic Development Strategy from 2020 – 2025.The Vietnamese Ministry of Foreign Affairs revealed that the delegation includes about 70 French-speaking companies, the largest number of foreign firms visiting Vietnam since the country entered the "new normal" phase post-COVID-19.From March 21 – 26, enterprises from 24 Francophone countries and OIF member governments are scheduled to meet with over 420 Vietnamese firms to discuss business and investment projects, mostly in the three main areas of agriculture – food processing, sustainable energy, commodity and digital services.The delegation will cooperate with Vietnamese ministries and agencies to host a Francophone business forum in Ho Chi Minh City on March 22 – 23 and the Vietnam – Francophone high-level economic in Hanoi on March 24 to introduce Vietnam's strategic orientation, business and investment opportunities and the local business climate.
Human milk bank opens in Hanoi
The National Pediatrics Hospital officially opened its Human Milk Bank on March 22 with the support of the Ministry of Health and the Government of Ireland, Alive & Thrive and Newborns Vietnam.This is the first human milk bank in Hanoi, which will provide donated breast milk for more than a thousand at-risk babies treated at the National Pediatrics Hospital, who are temporarily unable to access their own mothers' milk.The bank plans to expand its scope of operations in the near future, providing sufficient human donor milk for neighbouring hospitals in the Red River Delta.
Vietkings honours youngest writer of fiction in English
With the English-Vietnamese bilingual series for children "Star Team: A Quest For The Greatest Power ", Nguyen Hanh Phuong has been named Vietnam's youngest writer of fiction in English by the Vietnam Record Association, Vietkings.The 4-volume series will hit the shelf one every year.
Phuong, or Rosy Black, started writing it in July 2019 when she was 10 years old. After Finishing volume 1 in English, she translated it to Vietnamese.The Kim Dong Publishing House published the first volume "Back to The Past" and the subsequent three, "To The Future", "Up to Heaven" and "Down to Hell", will be released in the future.Phuong writes in English first and then translates into Vietnamese. She was taught English at the age three by her mother — an English-language teacher. At the age of four, she could read both Vietnamese and English. She has read so far over 1,000 books, mainly in English.Vietnam calls for peaceful settlement of international conflictsA Vietnamese delegation attended a discussion on emergency issues within the 144th Assembly of the Inter-Parliamentary Union (IPU) and related meetings in Bali, Indonesia, on March 22.Addressing the event, Thai Quynh Mai Dung, standing member of the National Assembly (NA)'s Committee for External Relations, reaffirmed that peace and cooperation is the top priority and goal of Vietnam, which is also the principle and purpose of the IPU from the very first days of its establishment 133 years ago.Dung underlined that international conflicts must be settled through peaceful measures in respect of basic principles of international law and the UN Charter as well as sovereignty equality and political independence and territorial integrity, non-interference in internal affairs of states and not using or threatening to use forces.Vietnam is deeply concerned about the current armed conflict in Ukraine, she said, calling on all parties to practice maximum restraint and immediately end the use of forces to avoid further casualties and damage, and to work to reduce tensions and resume dialogue and negotiations through all channels.Vietnam recognises negotiation efforts among the partners and hopes that they will work to protect the safety and security of civilians, civil infrastructure works to suit international humanitarian laws, she said.Midfielder Quang Hai to leave Hà Nội FCThe golden boy of Vietnamese football will leave his current club Hà Nội FC next month.Nguyễn Quang Hải will become a free agent when his contract expires on April 12, sparking a race for his signature.Recent meetings between the club and his representatives failed to reach an agreement for the attacking midfielder to stay with the capital team.At least 10 clubs have expressed an interest in signing the Vietnamese international, who will turn 25 the day his contract expires.Four teams in Europe have made contact over his availability, as well clubs in Asia and the US.Hải and teammates are currently preparing for the 2022 World Cup match against Oman at the Mỹ Đình Stadium on March 24. He will have two matches for Hà Nội FC before his contract ends.Twenty years after, Việt kiều singer releases new album in HCM CityVietnamese-American music star Như Quỳnh has released a new CD in HCM City titled Người Phụ Tình Tôi (Unfaithfulness) with ten bolero songs on love and women.The songs are composed by famous Vietnamese musicians like Y Vân, Duy Khánh and Thái Thịnh.This is the first time Quỳnh has released an album in Việt Nam after 25 years of living far away from her homeland.Quỳnh worked with her producer, Thuý Nga – an American entertainment agency founded in 1984 in Paris, to perfect her production.Musician Tùng Châu remixed the album with a new style.Online art project on Vietnamese theatre takes the stageAn online art project launched by a group of young people to preserve Vietnamese theatre is off to a good start, attracting thousands of viewers in Việt Nam and abroad.The project, Trường Ca Kịch Viện (The Epic of Theatre), is created and managed by Nguyễn Hữu Dương and his staff, who have got together from different universities and colleges across the country.It aims to introduce and expose young people to many genres of Vietnamese theatre including tuồng or hát bội (classical drama), cải lương (reformed opera) and chèo (popular opera). The project also encompasses the preservation and propagation of traditional music genres like nhã nhạc (royal music) and hát xẩm (blind busker's singing), which are features often in traditional theatre.Water puppetry, a 1000-year-old folk art where the stage is a pool of water, is also included in the project which collects and propagates information, paintings and photographs featuring performers and plays, as also traditional instruments and attires used in different theatre genres.The fanpage of the project's website, http://truongcakichvien, has attracted more than 4,000 views to date.12 HCM City wards, communes face medium COVID riskThe HCM City Department of Health yesterday said 12 out of 312 wards and communes were designated as medium-risk COVID-19 zones last week (March 14-20), while the rest were low-risk.The former are in districts 1, 6, 11, Phú Nhuận, Tân Phú, and Củ Chi districts and Thủ Đức city.Since there are no high- or extremely-high risk zones in the city, all cultural and religious activities, weddings and funerals and entertainment services have resumed.According to the Steering Committee for Pandemic Prevention and Control, as of March 20 the city had recorded a total of 583,746 cases.More than 4,960 people are undergoing treatment at medical facilities, with 87 requiring invasive mechanical ventilation and three in critical condition required ECMO (extracorporeal membrane oxygenation) intervention.Around 8.1 million people have received one shot of a vaccine, 7.3 have got a second and five million have got booster shots.HCM City addresses reports of sexual harassment on busesBus passengers in HCM City can ring the police's hotline 098 186 0202 to report sexual harassment and get timely intervention, the city's Department of Transport has said.Passengers can also call out bus drivers and bus assistants for immediate support.Speaking at a conference on Monday, Đỗ Ngọc Hải, head of the Department's Road Transport Management Office, said the department had received complaints about sexual harassment on buses in recent days.This has affected the security and order of public transport and caused fear among passengers.Hải said the centre had regularly implemented the combat of sexual harassment on buses for Public Transport Management with the participation of the city police's Criminal Police Department.The centre has also sent data on camera images to the police force to investigate the recent sexual harassment cases.Currently, all buses have been installed with four surveillance cameras as regulated, including one on the top of the vehicle, which are responsible for monitoring the observance of traffic safety on each route, one that monitor the driver, and another two to monitor the security on the vehicle.'Power of No' campaign to be launched for responsible drivingOne of the biggest threats facing young adults today is the risk of road crashes and injuries related to alcohol consumption.In the Asia Pacific region, road crashes claim the lives of 2,000 people each day; up to one-third of fatal road collisions involve alcohol as a contributing factor, and those at highest risk are young, promising individuals who are just getting started in life.In Việt Nam, 32 per cent of men's road crash injuries and 20 per cent of women's road crash injuries are related to alcohol.Furthermore, according to the World Health Organization, 34 per cent of Việt Nam's road traffic deaths involve alcohol.The United Nations Sustainable Development Goal 3 aims to halve the number of global deaths and injuries from road crashes by 2030. Now is the time to act. This is why the Automobile Association of Vietnam, AA Việt Nam, the Việt Nam Association for Responsible Drinking (VARD), the Vietnamese Motorsports Association, EuroCham Việt Nam are rising to the challenge.Together, these organisations have launched the 'Power of No,' a digital public awareness campaign to promote responsible behaviours around drink driving. This initiative aims to engage young adults of legal drinking age between 18-30 years old in Việt Nam.Japanese trainee programmes lack applicantsMany labour exporting countries are facing difficulties finding applicants for the trainee programmes in Japan.Director of Esuhai Company, Le Long Son, said that they have just resumed the sending of Vietnamese trainees to Japan after two years suspension due to the Covid-19 pandemic."About 1,400 people who were ready to fly to Japan for these programmes have been unable to go due to the pandemic over the past two years," Son said. "After receiving many orders from Japanese partners again, we have recently contacted those people and conducted interviews with 600 others for the coming programmes. However, many of them have cancelled their plans for Japan to take other jobs during the long waiting period."Son expressed worries that Japanese partners would turn to other markets if his company could not send enough applicants at this time.Two die in HCM City apartment building fireTwo people have been found dead after a fire broke out at their apartment in HCM City early Wednesday morning.According to a report from Tan Phu District Police Department, the fire broke out at around 4 am on March 23 at an apartment on the 10th floor of the Carillon 5 Apartment Building on Luy Ban Bich Street.Some residents said that they heard a loud explosion coming from the apartment and ran to it to see the fire and smoke breaking out. They tried to put out the fire while waiting for the fire police but it was spreading too fast.The police then arrived and put out the fire in some minutes. They found the bodies of two women and pieces of broken glass on the yard of the building below the apartment. It is believed that the two women jumped out from the window during the fire. They are identified as a 41-year-old woman and her 21-year-old daughter. Police are investigating the cause of the fire.Northern province seizes over 9,000 synthetic pillsThe police of the northern mountainous province of Son La on March 21 arrested a drug trafficker and confiscated 50 bags containing more than 9,000 synthetic pills.The trafficker was identified as Lo Van Yen, aged 24, a resident of the province's Song Ma District, the local media reported.The trafficker admitted that he was hired to transport the illicit drugs from Song Ma District to Son La City by an unknown man and would get VND30 million.The police are investigating the case.Source: VNA/SGT/SGGP/VNS/VOV/Dtinews
VN jumps two notches in global happiness ranking