French ship pays courtesy visit to Khanh Hoa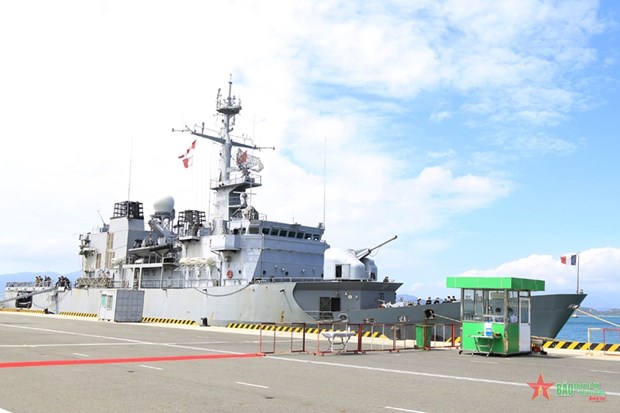 The Vendémiaire of the French Navy (Photo: qdnd.vn)
The Vendémiaire of the French Navy arrived at Cam Ranh International Port of the south-central province of Khanh Hoa on March 1, starting its courtesy visit to the province until March 5.
The ship crew comprised of 100 officers and sailors led by Lieutenant Colonel Alain Gaborit. It is the fourth port call in Vietnam by the ship.
During its stay, the French officers will pay courtesy visits to leaders of the Khanh Hoa People's Committee and Naval Region 4 High Command.
In addition, crew members will participate in contactless joint training activities with their counterparts of the Vietnam People's Navy.
VN completes consultation on National Green Growth Strategy
The Ministry of Planning and Investment (MPI) has announced that it has collected comments on a Government draft decision approving the National Green Growth Strategy for 2021-2030.
The overall goal of green growth is to accelerate restructuring the economy in conjunction with growth model transformation to achieve economic prosperity, environmental sustainability and social equity. Green growth aims to facilitate a transition to a green and carbon-neutral economy, minimising the global temperature.
It will focus on reducing greenhouse gas emission intensity per GDP by at least 15 per cent by 2030 and at least 30 per cent by 2050, promoting sustainable consumption based on the principles of equality, inclusivity and raising resilience.
The strategy will focus on exploiting and efficiently using natural and energy resources with advanced science and technology as the foundation, applying digital technologies and digital transformation, developing sustainable infrastructure to raise the quality of growth, bringing competitive advantages and reducing the negative impact on the environment.
To solidify the strategy, ministries, agencies and localities are asked to focus on identifying specific actions, times and responsibilities for mobilising resources.
U.S. donation of 1.66 million Pfizer doses arrives in HCMC
A shipment of more than 1.66 million doses of the Pfizer Covid vaccine donated by the U.S. arrived in HCMC on March 1, according to the U.S. Embassy in Vietnam.
Up to now, the U.S. has provided over 26 million doses of the Covid vaccine, mostly Pfizer, to Vietnam through the COVAX Facility, becoming Vietnam's biggest donor of the Covid vaccine.
As of March 1, Vietnam had administered some 195 million doses of Covid vaccines nationwide, including 178.2 million doses for people aged 18 or older and 16.8 million doses for children aged between 12 and 17.
The Ministry of Health on Tuesday officially approved the Comirnaty (Pfizer BioNTech) Covid vaccine for use for children aged 5-11, with a dosage lower than that used in people aged 12 and above.
According to Deputy Minister of Health Do Xuan Tuyen, the procedures to purchase nearly 22 million doses of the Pfizer vaccines for children aged 5-11 have been "basically completed".
Gov't sets up appraisal council for press network planning
An appraisal council with representatives of several ministries and agencies has been established to evaluate the development plan for press, radio and television, electronic information and publishing networks for 2021-2030 period, with a vision to 2050.
The appraisal council will be headed by Nguyen Manh Hung, Minister of Information and Communications and Pham Anh Tuan, Deputy Minister of Information and Communications will be the council's vice chairman, according to Decision 276/QD-TTg signed by Deputy Prime Minister Vu Duc Dam.
The council's members include leaders of ministries of Public Security, National Defence, Justice, Planning and Investment, Finance, Home Affairs, Natural Resources and Environment, Culture, Sports and Tourism, as well as representatives from the Party Central Committee's Commission for Popularisation and Education, Nhan Dan newspaper, Vietnam News Agency, Radio The Voice of Vietnam and Vietnam Television, among others.
The council will be responsible for organising the appraisal of the master plan on development of the network of press, radio, television, electronic information and publishing for 2021 – 2030 period, with a vision to 2050 in accordance with provisions of the law on planning.
600 local athletes to compete at 2021 VPBank Hanoi Marathon
Hundreds of runners from across VN will participate in the VPBank Hanoi Marathon 2021 (VPHM) on Sunday.
Due to the pandemic in the capital, the race organising committee has decided to trim the size of the event from the expected 10,000 people to 600 qualified full marathon runners to compete to be on the official track for the marathon at the 31st SEA Games.
The 42km full marathon starts from Mỹ Đình Stadium and is fully located in Nam Từ Liêm District.
The race will take runners through the National Sports Complex in Mỹ Đình, the F1 Racing Road and routes including Đỗ Xuân Hợp Road, Tân Mỹ Road, Lê Đức Thọ Road and Lê Quang Đạo Road.
The start times will begin at 5 pm on March 6 for the 42km full marathon within 5 hours of the cut-off time.
This year marks the first time a running event has been allowed by the Vietnam Athletics Federation (VAF) to introduce the National Record-Breaking Prize in the marathon.
Standard Chartered Vietnam launches carbon-neutral cards
Standard Chartered Bank has become the first bank to launch carbon-neutral credit and debit cards in Việt Nam. All new cards issued in Việt Nam will now be part of the carbon-neutral programme developed with Thales, the bank's card manufacturing partner.
The cards will carry a carbon-neutral certification logo, in accordance with the Carbon Neutral Protocol, demonstrating their green credentials.
With the carbon-neutral programme, there is no need for cardholders to proactively opt-in or sign-up to play their part to reduce carbon emission. The programme, built on Standard Chartered's commitment to sustainable and responsible banking, is one of the many ways the bank is reducing its carbon footprint.
MoH suggests COVID-19 control measures for tourism sector
The Ministry of Health (MoH) has suggested that the Ministry of Culture, Sports and Tourism adjust and supplement the contents of its draft plan to reopen tourism sector regarding COVID-19 prevention and control measures.
The MoH suggested conditions for specific tourist groups, under which visitors aged 12 years and above must have a certificate of full COVID-19 vaccination isssued by authorised agencies, with the last dose given at least 14 days and no more than six months from the time of departure, or a certificate of recovery from the disease or equivalent documents certifying that they have recovered from COVID-19, issued by a competent authority in the country of treatment within a period of not more than six months.
High-risk groups, including people from 65 years old, pregnant women and people with background diseases, should be advised to restrict their travel until a new instruction, while getting full COVID-19 shots before entering Vietnam.
Tourists should carry negative test result for SARS-CoV-2 (by RT-PCR/RT-LAMP method) within 72 hours before entering Vietnam.
Foreign tourists must make health declaration before entering the country and use PC-COVID app throughout their stay.
Photo exhibition celebrates Women's Day
An exhibition themed "Portraits of Women" is underway at the Da Nang Fine Arts Museum in the central city of Da Nang to mark International Women's Day (March 8).
The exhibition showcases photos taken by 15 young Vietnamese artists under the guidance of renowned photographers Maika Elan, Binh Dang and Nicolas Cornet.
The exhibition is an opportunity for young photographers to reflect themselves through inspirational stories about women, she said, adding that they will depict the topic in a modern method.
Outstanding works including Noi (Grandmother) by Nguyen Manh Quan; Chi Dau (Ms. Dau -the main character in classic Vietnamese literary work Tat den [Turn off light]) by Nguyen Kim Nhi and Cho ca Vinh Hien (Vinh Hien Fish Market) by Do Minh Hoang. The photo exhibition will run until March 23.
Cold wave weakens in north, salt intrusion increases in south
The intensity of cold waves is forecast to decline gradually in March so northern areas are likely to see light fog, rain, and scattered light rain, mainly at night and early morning, according to the National Centre for Hydro-Meteorological Forecasting.
The temperatures in the north region from March 11-20 are expected to be higher than the many-year average by 0.5 degrees Celcius.
Meanwhile, hot days are predicted to occur in the southern region, especially in the second half of March.
MJO (Madden-Julian Oscillation) – the dominant mode of intra-seasonal variability in the tropical troposphere, has the potential to contribute to an increase of local rainfall and showers in southern coastal areas in the first 10 days of the month, the centre said.
Notably, saltwater is likely to intrude upstream of the Mekong River at the highest-level from March 1-5, and between March 14-19.
Three more university training programmes meet int'l accreditation standard
The Ho Chi Minh City University of Technology (HCMUT)'s Faculty of Mechanical Engineering under the Vietnam National University, HCM City (VNUHCM) has earned the Agency for Quality Assurance (AQAS)'s accreditation for three more of its training programmes.
The programmes – namely mechatronic engineering, mechanical engineering, and industrial system engineering, were all tested online by AQAS in December 2021.
The accrediting unit used multi-dimensional methods to collect assessment of lecturers, students, graduates, and employers, for its accreditation.
As many as 36 training programmes of the HCMUT have met international accreditation standards, accounting for 25.53 percent of the total number of the university's training programmes.
Particularly, 32 out of 63 Bachelor's programmes of the university have satisfied international accreditation standards, accounting for 50.79 percent.
Completion schedule of HCM City Metro Line No.2 extended to 2030
Ho Chi Minh City's Metro Line No.2 (Ben Thanh-Tham Luong) is scheduled to complete in 2030 instead of 2026 as previously planned, according to the city Management Authority for Urban Railways (MAUR).
In its recent report to the city People's Committee on the project, the authority explained that the slow ground clearance has led to the slow selection of contractors for bidding packages.
Currently, only 83.45 percent of the ground has been handed over to the project.
Metro Line No 2 will have 10 stations and span more than 11km through Districts 1, 2, 3, 10, and 12, and Tan Binh and Tan Phu districts. Trains will travel underground for about 9.2km. Completed, it will connect the Thu Thiem new urban area with downtown HCM City and neighbourhoods in the city's northwestern section.
Germany removes Vietnam from list of COVID-19 high risk areas
Germany's Robert Koch-Institute (RKI) on March 1 decided to remove 60 countries and territories across the world, including Vietnam, from the list of the countries that are highly affected by the COVID-19 pandemic.
Accordingly, passengers entering Germany from Vietnam will no longer be subject to relevant strict regulations.
This new regulation will take effect from 00:00 on March 3, 2022.
Vietnam was classified by Germany as one of high risk COVID-19 areas from August 15 last year. Accordingly, passengers from Vietnam entering Germany were requested to test for SARS-CoV-2 following the RT-PCR method prior to their flight, make online health declaration, and be quarantined for 10 days after their entry.
Foreign arrivals rise 71.7% over two months
The number of foreign arrivals to Vietnam during the past two months has risen 71.7% year on year to 49,200, reported the General Statistics Office on February 28.
In February alone, Vietnam attracted 29,500 foreign visitors, up 49.6% month on month and up 169.6% year on year.
More than three fifths of the foreign arrivals (32,700) came to Vietnam from Asia, one fifth (10,100) from Europe, and 10% (4,800) from the Americas. The remainders came from Oceania and Africa.
The rise was attributed to the government's decision to reopen all regular international air routes from 0:00 on February 15.
Vietnam to play China at U23 Dubai Cup 2022
U23 Vietnamese players will take on their Chinese opponents in the United Arab Emirates in March where the U23 Dubai Cup 2022 – an international friendly tournament- takes place.
According to the fixtures announced by the organizing board on March 1, Vietnam will play Iraq in their opening game on March 23, and then China three days later.
U22 Vietnam last faced U22 China in an international friendly in China in 2019 where the former coach by Park Hang-seo stunned the latter 2-0 with a brace from striker Nguyen Tien Linh.
At the U23 Dubai Cup 2022, 10 teams from Thailand, Saudi Arabia, Uzbekistan, Croatia, Japan, Qatar, Vietnam, China, Iraq and hosts the UAE will play in a round robin format. Matches will be held at the Sevens, Dubai Police and Dubai stadiums.
VNSO spring concert to be held in Binh Duong
The Viet Nam National Symphony Orchestra (VNSO) Spring Concert will take place in the Convention and Exhibition Centre of the southern city of Bình Dương on March 5.
The concert takes place in the framework of Bình Dương New City Culture Festival, and is free for locals in the city.
It will cover famed works by international and Vietnamese composers such as Light Cavalry, Intermezzo from Opera Cavalleria Rusticana, Bolero, Prelude from Opera Carmen, Die Moldau, A Town With An Ocean View from Kiki's Delivery Service, One Summer's Day from Spirited Away, Bài Ca Hy Vọng (Hope Song), and Mùa Xuân Đầu Tiên (The First Spring).
The VNSO Spring Concert will be conducted by Honna Tetsuji and performed by artists from the Việt Nam National Symphony Orchestra. Phạm Thu Hà will be the main singer. It will be broadcast live on Facebook and YouTube. The Convention and Exhibition Centre is at 1, Lê Lợi Street, Bình Dương City.
Documentary debuts on extraordinary life of Dr Alexandre Yersin
A special documentary on the outstanding life of Dr Alexandre Yersin and his career in Viet Nam has debuted in Hà Nội.
The Remarkable Life of Dr Alexandre Yersin (1863-1943) hopes to inspire young people, especially those working in health care research and development. The documentary is a result of collaboration between the International Livestock Research Institute (ILRI), embassies, research institutes and universities in Việt Nam.
The film highlights a "One Health" approach to address zoonotic diseases, in the context of emerging diseases, especially the current COVID-19 pandemic.
The documentary was directed by Stéphane Kleeb and produced by Vitascope Independent Film & Video Productions GmbH. The producers hope that it will highlight Dr Yersin's extraordinary life and accomplishments in Việt Nam, while also discussing lessons learned from his interdisciplinary work serving local communities.
Dr Nguyễn Việt Hùng – the protagonist in the film – is also the co-leader of a programme on animal and human health at ILRI, and previously worked for the Swiss Tropical and Public Health Institute (Swiss TPH) and the Hà Nội University of Public Health.
Viewers can watch the film through links with fixed subtitles in English and Vietnamese at https://youtu.be/mxoRTvO2c1o and with a choice of French/English/Vietnamese subtitles at https://youtu.be/c88-mCVfna4.
'Ballet Girls' art exhibition opens in Da Lat
Artworks inspired by ballet performances by Hà Nội-based artist Lê Anh Quân are being introduced to the public in Đà Lạt City in the Central Highlands province of Lâm Đồng.
Những Bé Gái Ballet (Ballet Girls) presents 17 works that have been elaborately decorated and created from a variety of materials like mirrors, glass and wood. They are being displayed at Le Lycée Ballroom, a space designed on the concept of a French high school within Ana Mandara Villas Dalat Resort & Spa in Đà Lạt.
The exhibition will last until March 30.
Born in 1977 in Hà Nội, Quân graduated from the Việt Nam University of Fine Arts and became one of the few young painters who soon asserted their own style with constant creativity and artistic exploration.
He has successfully organised many exhibitions at home and abroad that have been highly appreciated by audiences and experts such as the Asian contemporary art group exhibition in New York in 2008, group exhibition Một Chuyến Đi (One Trip) in Berlin, Germany in 2015, group exhibition Amitié in Paris, France in 2019 and a solo exhibition at the Việt Nam National Museum of Fine Arts in 2019, among others.
Hoi An listed among 11 dream vacations around the world
Renowned US magazine Travel + Leisure has recently named Vietnam's Hoi An ancient city among the top 11 dream international vacations, that are surprisingly affordable, based on analysts from Kayak.
Accordingly, Hoi An is described as one of those charming types of towns, that people didn't think could possibly exist anymore. "The ancient town has buildings that date back to the 15th century, with pagodas, shrines, and tea houses, dotting practically every street".
"Be sure to chat with the extremely friendly locals, for their genuine recommendations on where to get the best banh mi and silk clothing, while you're in town.", noted the magazine.
The article also wrote, that thanks to an increase in flights between the US and Vietnam, American visitors can nab a round-trip flight to Da Nang Airport (about a 45-minute drive from Hoi An) in the low month of November.
Vietnamese film participates in Osaka Asian Film Festival 2022
This is the fifth movie in the well-known series Gai Gia Lam Chieu (The Tricky Ladies) directed by Bao Nhan and Namcito will participate in the Osaka Asian Film Festival (OAFF) 2022 that will be held from March 10-20 in Japan.
The film is nominated for the ABC TV Awards given by ABC TV through OAFF. It will also be screened in the New Action! Southeast Asia, a special program highlights new movements in Southeast Asian cinema, at 6:30 pm on March 12 and 1:45 on March 17 at the Cine Libre Umeda in Osaka.
Marking its 17th edition this year, OAFF will again select high-quality Asian films. The Competition section, which receives increased recognition every year, will again select films previously unreleased in Japan. This year's event attracts 76 films from 31 countries and territories across the country.
HCMC-Con Dao high-speed boat service to be launched
The HCMC Department of Transport has thrown its support behind a proposal to launch a high-speed boat service between HCMC and Con Dao Island in Ba Ria-Vung Tau Province to meet the travel demand and develop waterway tourism.
The proposal was made by Greenlines DP Technology Co., Ltd and Phu Quoc Express JSC, the local media reported.
According to the HCMC Department of Transport, the proposal is in line with the HCMC government's plan to boost inland waterway transport development.
In addition, the project is on the list of waterway transport routes from the mainland to the islands, according to Circular 30/2021/TT-BGTVT of the Ministry of Transport.
Planned completion of HCMC's second metro line delayed by four years
HCMC has proposed delaying the expected completion date of its second metro line project to 2030, four years later than the previous plan, although site clearance for the project has been nearly complete.
According to the Management Authority for Urban Railways (MAUR) of HCMC, compensations for site clearance of the entire project have been 99.67% complete. Particularly, compensations in the districts of 1, 10, 12, Tan Binh and Tan Phu have been fully complete.
Over 80% of the compensated households have handed over their lands to the city.
MAUR said Germany's KfW Development Bank, a sponsor of the project, has agreed with its proposal to delay the project's planned completion until 2030.
HCMC's largest Covid-19 ICU closed as critical cases decline
HCMC has suspended the operation of the Covid-19 ICU in Thu Duc City, restored it to its original function as an oncology hospital and also shut down three more Covid field hospitals.
Municipal vice chairman Duong Anh Duc made this decision following the proposal of the city's Department of Health, after the number of Covid cases under treatment at local hospitals fell below 1,000 per day and new fatalities and severely-ill cases also declined.
The closure of field hospitals will also help healthcare frontliners recover and make preparations to cope with possible outbreaks.
The Covid ICU at the Oncology Hospital No.2 in Thu Duc City is the largest of its kind in HCMC as well as in Vietnam.
Vietnam not to limit number of reporters at SEA Games 31
The first 31st Southeast Asian Games (SEA Games 31) International Press Conference was hosted in Hanoi on March 1 with both in-person and online forms.
Regarding the reporter card for domestic and international reporters, the organizing board will start to receive registrations from March 15 and the SEA Games 31's press center shall be put into operation from May.
Deputy Minister of the Information and Communications, Head of the Information and Communications Sub-Committee of the SEA Games 31 Pham Anh Tuan said that the country had planned the live television for 15 to 17 sports of Olympic and Vietnam's strengths. As for the country requiring live broadcasts of their strong sports, they can directly work with Vietnam Television (VTV).
Representatives of the Information and Communications Sub-Committee affirmed that the organizing board will not limit the number of reporters performing their tasks at SEA Games 31 but all of the international reporters in the ASEAN region and other regions have to comply with the immigration regulations when they arrive in Vietnam.
Japan provides financial support for agriculture, education projects in Southern localities
Japan will provide US$310,000 to agriculture and education development projects in three Mekong delta provinces of Dong Thap, Kien Giang and Tra Vinh.
Japanese Consul General at Ho Chi Minh City Watanabe Nobuhiro signed the agreements to this effect on February 28.
The total funding include US$184,000 for development of organic agriculture in Dong Thap province and US$127,000 for promotion of inclusive education for children with disabilities in Kien Giang and Tra Vinh provinces.
Japan is currently the largest official development assistance (ODA) provider for Viet Nam with accumulative amount of JPY 2,578 billion (or US$23.76 billion).
Designs of Tran Hung Dao bridge to be exhibited for public comments
The People's Committee of Ha Noi has agreed with the proposal made by Management Board for Investment Projects of Traffic Construction to organize an exhibition for the results of architectural contest of Tran Hung Dao bridge, starting from March 1.
The bridge project is 31m wide and 5.5km long, connecting Hoa Kiem and Hai Ba Trung Districts to Long Bien District in the northern bank of the Red River.
The bridge has its starting point at the Tran Hung Dao-Tran Thanh Tong intersection in Hoan Kiem District and extended to Nguyen Van Linh Road in Long Bien District. The project will include different infrastructure such as water supply and drainage, trenches, tunnels, trees and lighting.
Base on public opinions, the city's Department for Planning and Architecture will submit a report to the Municipal People's Committee for consideration and approval of the architectural plan of the bridge.
VN tennis aces face tough test at Davis Cup World playoffs
Vietnamese tennis players will face tough challenge at the 2022 Davis Cup World Group II playoffs as they play Dominican opponents, who rank 48th place in the tournament, 18 places higher than Vietnam.
Notably, games with Roberto Cid Subervi of the Dominican Republic (383rd place in ATP rankings) are worth watching as the 29-year-old player has climbed to 211st in the men's singles rankings and 262nd in the men's doubles rankings.
According to schedule, the games are expected to take place on March 4 -5.
If Vietnam beat the Dominican Republic, then they will qualify for the 2022 Davis Cup World Group II. If they lose, the team will then have to play in Group III of the Asia-Oceania zone.
Vietnam triumphed in Group III of the Asia/Oceania zone in 2019, although they missed out on a place in World Group II after losing 4-0 to Morocco in the play-offs in 2020.
Source: VNA/VOV/VNS/SGT/ND/VGP/SGGP
Prompt moves taken to ensure safety for Vietnamese citizens in Ukraine: spokeswoman