PM pays tribute to fallen soldiers in Gac Ma battle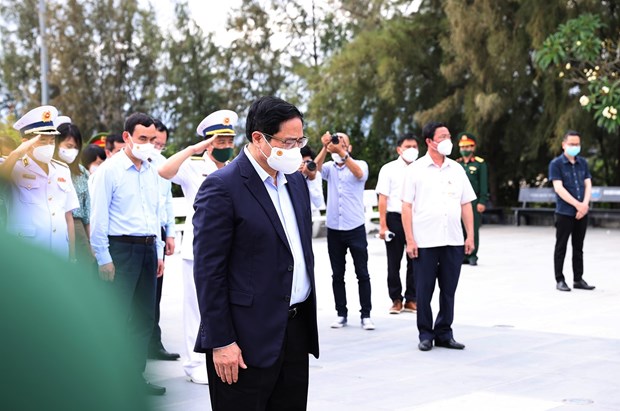 PM Pham Minh Chinh pays tribute to fallen soldiers in Gac Ma battle (Photo: VNA)
Prime Minister Pham Minh Chinh on March 12 offered incense in commemoration of naval soldiers who sacrificed their lives while safeguarding Gac Ma Reef in Vietnam's Truong Sa (Spratly) archipelago (March 14, 1988).
He paid tribute to the fallen soldiers at the Gac Ma soldiers' memorial site in Cam Hai commune of Cam Lam district, Khanh Hoa province, during a fact-finding trip to Cam Lam as part of his working visit to this central province.
Earlier on the day, he listened to reports about the planning of a Cam Lam Airport urban area. The Government leader instructed that the planning must aim at turning Cam Lam from a rural and mountainous area into a modern, green and smart city which is also a tourism, service, educational and healthcare centre.
Later the same day, the Government leader visited officers and soldiers of Submarine Brigade 189 and Brigade 162 of Naval Region 4.
Second flight from Romania brings 291 Vietnamese evacuees from Ukraine back home
On the evening of March 12, the second flight operated by national flag carrier, Vietnam Airline, carrying 291 Vietnamese citizens fleeing war-ravaged Ukraine from Bucharest, Romania took off for Hanoi.
According to information from the Vietnamese Embassy in Romania, Vietnam Airlines flight VN68 carries 291 Vietnamese citizens, including 216 adults (including the elderly, pregnant women, and students), 60 children from 2-12 years old, and 15 children under 2 years old, took off at 19:20 (local time) from Bucharest Henri Coandă International Airport and landed at Noi Bai International Airport at about 11 am on March 13.
After the end of the second flight, the Vietnamese Embassy in Romania is urgently carrying out citizen protection work in order to handle necessary procedures aimed at continuing to bring stranded people back home on upcoming flights.
Three-year-old girl dies after assault
A three-year-old girl brutally injured allegedly by her mother's boyfriend, died on Saturday.
The child, named only as Đ.N.A, was pronounced dead at 7:15pm, Saint Paul General Hospital announced.
The toddler suffered serious brain trauma after she was struck with blunt objects. She was taken to Thạch Thất Hospital on January 17 and fell into a coma.
An X-ray found nine, nail-like objects embedded in her skull and doctors also said the child had developed meningitis.
She was transferred to the upper-level Saint Paul General Hospital where she passed away as a result of her extensive injuries.
It has also been revealed the child had a long history of medical issues including ear pains, a broken arm, and also three months ago was admitted to the National Paediatrics Hospital after ingesting pesticides.
Seeing the girl in such an abnormal condition, Thạch Thất District General Hospital immediately informed the police.
N.T.L, the mother of the girl, is divorced with three children. Her two older children live with her ex-husband and the three-year-old girl lives with her and her boyfriend Nguyễn Trung Huyên, 30.
Initial investigation showed that Huyên allegedly caused the girl's injuries. Huyên, from Thạch Thất District on the outskirts of Hà Nội is now under investigation for murder.
HCM City readies to welcome foreign tourists
Since the government decided to open up to international guests from March 15, Ho Chi Minh City's tourism sector has sped up preparations and introduced many new products to cater to tourists. It also recently allowed nine tourist destinations to open to visitors under a pilot program.
The Ho Chi Minh City Department of Culture, Sports and Tourism has organised interdisciplinary survey teams and prepared staff to welcome international tourists in accordance with regulations set by the government, ministries, and authorised bodies.
The city plans to welcome 3.5 million international tourists and 25 million domestic tourists this year. After the government decided to open the doors to international guests from March 15, the city's tourism sector has sped up preparations and created many new products for tourists to enjoy.
State committee calls for OVs' continued support for evacuees from Ukraine
The State Committee for Overseas Vietnamese (OV) Affairs (SCOV) on March 11 sent an open letter asking Vietnamese people's associations in some European countries to continue helping with the evacuation of those from Ukraine.
The SCOV under the Ministry of Foreign Affairs called on the associations in Ukraine, Poland, Romania, Hungary, Slovakia, the Czech Republic and Germany to help the Vietnamese leaving Ukraine register for repatriation flights and make contact when necessary.
The committee asked the associations to instruct the evacuees to stay updated with the announcements published on the official websites of the Vietnamese embassies in Romania and Poland.
The Vietnamese evacuees needing assistance can liaise with the embassies via the followings:
– The Vietnamese Embassy in Poland: website: vnembassy-warsaw.mofa.gov.vn; email: sqbl.covid@gmail.com; hotlines: (+48) 782 257 359; (+48) 22 742 01 00.
– The Vietnamese Embassy in Romania: website: vnembassy-bucharest.mofa.gov.vn; email: dangkychuyenbayvn@gmail.com; hotline: +40 744 645 037.
– The Vietnamese Embassy in the Czech Republic: citizen protection phone number: +420792392299.
– The Vietnamese Embassy in Germany: citizen protection phone number: +49 152 2133 5656.
Vinh Long: First training course held for engineers working in Japan
A cooperation programme for training Vietnamese engineers working in Japan on March 11 opened its first course for 2021-2025, enrolling 64 students in the Mekong Delta province of Vinh Long.
The programme is co-orgarised by the Vinh Long University of Technical Education and the Esuhai limited company, with its course consisting of two stages. In the first stage, students receive university-level training and classes on Japanese language, and skills, and working style in a Japanese environment at the university. The second one offers graduates from the previous phase working programmes in Japan organised by Esuhai.
Over the past five years, the university and the firm jointly trained over 1,500 students, of whom more than 780 worked in Japan.
Quang Ninh becomes first in North to apply electronic ISO-standard governance system
The People's Committee of Quang Ninh on March 12 held a conference to announce its application of an electronic ISO software system following the Vietnamese standard ISO 9001:2015 in the operations of 227 local public administrative agencies, making the province the first in the northern region to do so.
The application ensures the provision of services for involved agencies' general management and electronic document exchange. As a result, workflows are automated, unified, standardised, and independent of participants' subjective will. In particular, local people can participate in quality control and work outcomes.
Norwegian NGO continues support for Quang Tri in mine action
The People's Committee of Quang Tri has approved a Norwegian-funded project on capacity building for this central province's mine action centre during 2022 – 2025.
The project is financed with over 1.3 million USD in non-refundable aid by the Norwegian People's Aid (NPA).
It aims to successfully and effectively implement the plans and programmes related to the settlement of war aftermath, minimise unexploded ordnance (UXO) accidents, and create a safe environment for local economic activities.
Quang Tri is the most UXO-contaminated locality in Vietnam, with 82 percent of its area affected. Wartime bombs and landmines have killed more than 3,430 people and injured 5,100 others here.
Five tasks set to boost economic growth in land border areas
The Government has set out five key tasks to help boost socio-economic development in land border areas.
Recently issued Resolution No. 23/NQ-CP on economic development in land border areas covers mechanisms and policies, mobilising and using resources and promoting infrastructure development to boost development.
Other tasks are enhancing production, effective national defence and security missions as well as ensuring social security and improving social welfare and sustainable poverty reduction in land border areas.
Vietnam has more than 5,000 kilometres of land border, with many operational border gates. However, many border areas remain poor compared to other parts of the nation.
Quang Nam works to promote image of safe, friendly tourist destination
The central province of Quang Nam, which hosts the National Tourism Year 2022, has taken steps to upgrade its tourism products, destinations, tourism services and accommodation facilities since the beginning of the year so as to provide the best services to visitors.
According to Director of the provincial Department of Culture, Sports and Tourism Nguyen Thanh Hong, the National Tourism Year-Quang Nam 2022 is the first in a series of events to promote tourism recovery and development of the country in general and Quang Nam in particular after a long period of heavy impacts by the COVID-19 pandemic.
This is also a chance to promote tourism connectivity and cooperation among cities and provinces with tourism potential and strengths, he added.
Embassy in Hungary strives to assist Vietnamese evacuated from Ukraine
The Vietnamese Embassy in Hungary has supported 680 Vietnamese fleeing war-ravaged Ukraine as of March 12.
Of the evacuees, 370 have been aided with food and accommodation and 310 people with food and train tickets to continue moving to other countries in the EU according to their wishes.
Further support is being offered to the group by the embassy, the associations of overseas Vietnamese and Vietnamese students in Hungary.
Do Thi Ha departs for Miss World grand final
Do Thi Ha, the Vietnamese representative at Miss World 2021, departed from Tan Son Nhat International Airport on March 11 as she heads back to Puerto Rico to compete in the grand final of the pageant, according to information given by organisers.
Ha's participation on the final comes after she was named among the list of 13 finalists in the Top Model competition, in the leading 27 of the Top Talent segment, in the top 28 of the Beauty with a purpose segment, as well as being among the top 16 in the Head to head Challenge.
The final night of Miss World 2021 will officially take place on March 17. Previously, the final night of the global pageant had originally been scheduled for December 17.
Forum seeks effective ways to safely reopen tourism
The Vietnamese tourism sector has been advised to improve its overall product quality, upgrade tourism infrastructure, and improve the skills of its workforce to thoroughly prepare for the reopening of international tourism in the future, according to industry insiders.
This information was released by experts during a forum held on March 11 to discuss measures aimed at reopening inbound and outbound tourism in a flexible, safe, and effective manner.
Delegates emphasized that with the COVID-19 pandemic now being brought under control in the country, there will be huge opportunities moving forward for the local tourism industry to recover as it enters a new normal period.
According to data compiled by Google Destination Insights, the number of foreigners searching for information about flights to the nation since the beginning of this year has increased by 425% against the same period from last year.
Most notably, people seeking tourism information about Vietnam mostly came from the United States, Australia, Russia, France, Germany, Japan, India, the UK, and Canada.
Delayed HCM City airport terminal threatens losses
Prolonged delay in building the T3 passenger terminal for the Tân Sơn Nhất International Airport can inflict heavy losses, experts warn.
Construction of the new third passenger terminal was expected to start late last year, but it is still waiting for 16ha of land managed by the Ministry of National Defence that is yet to be handed over.
The delay is happening despite the fact that the terminal has been proposed as a key and urgent traffic project for the city.
It has a total investment capital of nearly VNĐ11 trillion (US$480 million) and is expected to be completed within 37 months.
While the defense ministry has completed a plan to hand over the 16ha area in Tân Bình District and is waiting for a decision from the municipal People's Committee, the ACV is yet to hear in writing from the latter.
After the decision is made, new procedures will take a lot of time, at least another next six months, ACV has said. Several experts have stressed that construction of the project needs to begin on time to avoid financial losses. If the project is delayed by even one year, thousands of billions of Vietnamese đồng would be lost, they've warned.
North-South Expressway's component projects needs accelerating
Three component-projects of the North-South Expressway are behind schedule, according to the Ministry of Transport.
The three projects of Cam Lộ-La Sơn, Vĩnh Hảo-Phan Thiết and Diễn Châu-Bãi Vọt are 0.54 per cent, 8.2 per cent and 6.93 per cent behind schedule, respectively.
According to the Department of Construction Management and Traffic Works Quality, so far 10 North-South expressway projects in the East for 2017-2020 are under construction, reaching about 29.7 per cent of the contract value.
Specifically, seven component projects are on schedule, including Mai Sơn-National Highway No 45; National Highway No 45-Nghi Sơn; Nghi Sơn-Diễn Châu; Nha Trang-Cam Lâm; Cam Lâm-Vĩnh Hảo; and Phan Thiết-Dầu Giây.
The North-South Expressway project in 2017-2020 is 654km long, divided into 11 component projects, including eight public investment projects and three investment projects in the form of public-private partnerships.
The 11 component projects going through 13 provinces include the Nam Định, Ninh Bình, Thanh Hóa, Nghệ An, Hà Tĩnh, Quảng Trị, Thừa Thiên-Huế, Khánh Hòa, Ninh Thuận, Bình Thuận, Đồng Nai, Tiền Giang and Vĩnh Long
The project has a total investment of about VNĐ100 trillion (US$4.36 billion), in which the cost of compensation for site clearance of the project is about VNĐ12.4 trillion.
Hanoi posts new record in Covid-19 infections
The Vietnamese Ministry of Health on Saturday reported an additional 454,212 Covid-19 infections including 225,693 cases confirmed in Hanoi, raising the country's patient tally to over 5.89 million.
According to the ministry's report, most of the new patients are locally-transmitted cases confirmed in all 63 localities in the country with five localities seeing the highest numbers including Hanoi (30,693), Nghe An (11,666), Phu Tho (7,216), Bac Ninh (5,669), and Son La (4.872). Hanoi today added 195,000 more infections, and three provinces of Nam Dinh, Hung Yen, and Phu Tho also added 35,949, 33,760 and 20,784 cases to the national tally.
As of Saturday evening, the number of Covid-19 patients in Vietnam has increased to 5,895,555. The country now stands 20th among 225 countries and territories worldwide in the number of infections. Some localities that have recorded the highest number of patients include Hanoi (779,115), HCM City (566,515), Binh Duong (336,200), Bac Ninh (217,725), and Nghe An (205,929).
On Saturday evening, a further 62 deaths related to Covid-19 were announced, bringing the total number of fatalities in Vietnam to 41,290. The high fatalities were reported in some localities including Hanoi (10), Dong Nai (4), Quang Ninh (4), Quang Trị (4), Bac Lieu (3), Nam Dinh (3), and Nghe An (3).
Binh Dinh Province stops Banh It Tower restoration project
Vice Chairman of Binh Dinh Province People's Committee Lam Hai Giang yesterday chaired a meeting with related departments and agencies regarding the restoration project for Banh It Tower (located in Phuoc Hiep Ward of Tuy Phuoc District).
Having listened to a report from the Binh Dinh Province Department of Culture and Sports as well as concerns from related agencies and departments, Vice Chairman Lam Hai Giang delivered detailed direction.
Firstly, the restoration project investor must immediately halt any work being carried out on the site of Banh It Tower complex (including Cong Tower, Hoa Tower, Bia Tower, and the Main Tower).
Secondly, the Binh Dinh Province departments of Culture & Sports and Construction must take into consideration experts' consultation to adjust designs related to these towers, such as eliminating the construction of flower beds right at the feet of the towers, fine-tuning the paving task for the ground around the towers to avoid negative impacts to these structures.
More importantly, the project investor must request construction contractors not to use machines inside protection zone No.1 of Banh It Tower. No digging or leveling job can be done here.
Thirdly, certain construction works like the functional area (service provision area, reception area, exhibition area, security booths, and toilets), the Southern way to the Main Tower, the 1,100m2 parking lot must be completed neatly one by one.
Hanoi enhances IT application for Covid-19 treatment at home
Hanoi has promoted the role of medical groups to take care of Covid-19 patients at home while applying IT to better supervise them, said Director of the municipal Department of Health Tran Thi Nhi Ha at a meeting with the city's Covid-19 prevention steering committee this week.
She admitted that facilities and equipment at grassroots healthcare stations are degraded, unable to attract high-quality human resources and meet the needs of the pandemic prevention and control.
IT has been useful in helping patients make medical declaration to local authorities online, avoiding large gatherings in the local People's Committees.
Ha added that telemedicine platform has also been applied extensively in Hanoi-based hospitals for contactless treatment.
She stressed that the access to the database of thousands of patients has assisted doctors in giving advice, and prescribing medicines for patients.
Currently, Hanoi is a "hot spot" of Covid-19 in the country, thus all medical staff are working at full capacity but still could not keep up with the spread of the virus.
Climate adaptation eats up 70% of Vietnam climate budget in 2016-2020
As many as 70% of the climate budget spent in Vietnam in 2016-2020 went to climate adaptation, according to a report on Climate Public Expenditure and Investment Review of Vietnam (CPEIR).
In detail, over 70% of ministries' climate budget and more than 90% of localities climate budget were poured into the process of adjusting to current or expected climate change and its effects, which is aligned with government policy priorities for public expenditure during 2016-2020.
The Ministry of Agriculture and Rural Development and the Ministry of Transportation accounts for 80% of the total climate change budget with spending on large infrastructure projects such as irrigation and roads.
The report shows that Vietnam has increasingly allocated its financial resources for climate change response. The total budget and expenditure of the six ministries and 29 provinces and cities were almost US$6.5 billion, or an average of $1.3 billion per year between 2016 and 2020.
The document also covers investment and recurrent expenditure with domestic resources and official development assistance (ODA) for the five-year period.
Viet Nam, U.S. sign MoU on cooperation in health insurance policy
A Memorandum of Understanding (MoU) on cooperation in health insurance policy was signed by the Viet Nam Social Security and the U.S.-ASEAN Business Council (USABC) in Ha Noi on March 9.
The MoU will take effect within five years since the date of signing.
Accordingly, both sides will focus on carrying out health insurance such as sustainable development of universal health insurance; building methods to evaluate the quality, cost and price of medical equipment and supplies, medical services, medical equipment and drugs in payment of health insurance and performing medical insurance payment assessment.
In addition, they will share experience on medical service payment for high-cost treatment for cancer and chronic non-communicable diseases and necessary measures for patients in Viet Nam to access advanced treatments.
Remarkably, the USABC will support Viet Nam to establish technical assistance programs, improve management capacity and share experience in management model of pharmaceuticals and products related to health.
Gac Ma soldiers remembered in ceremony in Da Nang
War veterans who used to be stationed on the Truong Sa (Spratly) Archipelago held a ceremony in the central city of Da Nang on March 13 to commemorate 64 soldiers of the Vietnamese navy who died on duty 34 years ago while defending the Gac Ma (Johnson South) Reef in Vietnam's Truong Sa (Spratly) archipelago on March 14, 1988.
The veterans and the fallen soldiers' families offered incense and then released rafts with flowers on Han River in memory of the soldiers.
The event aims to not only pay homage to the soldiers who lost their lives in safeguarding the country's sovereignty but also inspire patriotism among young people, said Colonel Hoang Duy Lap, former commander of the navy's Engineer Regiment No.83 who directly fought in the battle at Truong Sa in 1988.
Khanh Hoa advised to turn Truong Sa district into national socio-economic centre at sea
Prime Minister Pham Minh Chinh has underlined that Khanh Hoa should turn its Truong Sa island district into an economic, culture and social centre at sea, and a firm wall protecting the national sovereignty over seas and islands on the foundation of Vietnamese and international law, including the UN Convention on the Law of the Sea (UNCLOS) 1982.
Initially, Khanh Hoa should focus on developing logistics services for fisheries sector and help residents in the district to have a stable life, while reinforcing national defence and security at sea, he said at a working session with the standing board of the Party Committee of the south central province on March 13.
According to provincial leaders, last year, Khanh Hoa completed 13 out of 22 socio-economic targets for the year, with State budget collection exceeded the goal by 2 percent to over 14 trillion VND.
In 2022, the province aims to speed up its socio-economic recovery and development towards the goal of 8.5 percent in economic growth.
Source: VNA/SGT/VNS/VOV/VGP/SGGP/Dtinews
Two consecutive earthquakes happen in Quang Nam