Prompt moves taken to ensure safety for Vietnamese citizens in Ukraine: spokeswoman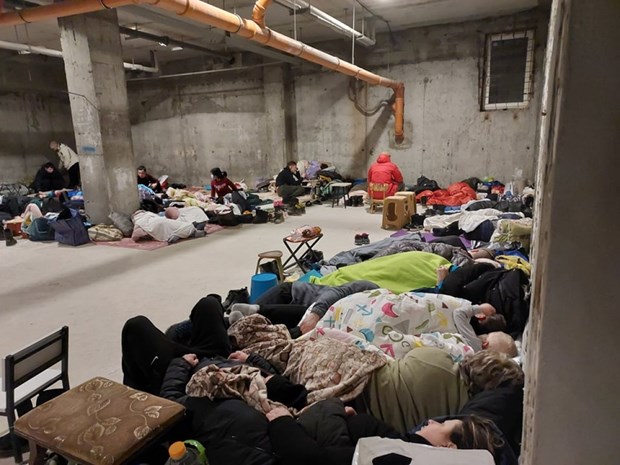 Vietnamese people in Ukraine rest at a shelter (Photo: VOV)
The Ministry of Foreign Affairs (MoFA) has been working with relevant authorities, domestic airlines, and representative agencies in Ukraine and surrounding areas to make plans for ensuring security, safety, and conditions necessary for evacuating Vietnamese citizens from war zones and repatriating them if they wish.
MoFA Spokeswoman Le Thi Thu Hang made the remark on March 1 in response to reporters' question about Vietnam's reaction to the tensions in Ukraine and moves to protect its citizens there.
She noted that Vietnam has paid close attention to and kept a close watch on the developments in Ukraine, as well as the situation of Vietnamese people in this country. There are about 7,000 Vietnamese people in Ukraine at present, and they have not suffered from any damage.
Prioritising the ultimate safety of the lives, property, and legal and legitimate interests of Vietnamese citizens and legal entities in Ukraine, since tense developments began, the MoFA has promptly moved to protect citizens.
The ministry has directed the Vietnamese Embassy in Ukraine to keep frequent contact with the Vietnamese community there, operate hotlines around the clock so as to receive information and provide timely support, ask the host country's authorised agencies to assist and ensure safety for Vietnamese citizens and businesses, and coordinate with agencies in Vietnam to have citizen protection plans ready, according to Hang.
She added the MoFA and the embassy have also issued recommendations and safety guidance for the overseas Vietnamese. The State Committee for Overseas Vietnamese Affairs set up a communication channel with Vietnamese associations in Ukraine to stay updated on their situation and give them safety guidance while requesting associations in nearby countries to prepare for helping Vietnamese people in Ukraine.
Vietnam's representative agencies in Poland, Russia, Romania, Hungary, and Slovakia have been ordered to keep the citizen protection hotlines available; liaise with the host countries' agencies to update information about the Vietnamese coming from Ukraine; ask for the facilitation of Vietnamese people's entry, transit, and temporary stay; provide evacuated Vietnamese with essential goods; and coordinate with Vietnamese associations to aid the evacuation.
The MoFA has also asked authorities of the relevant parties to create a "safe corridor" for Vietnamese people to evacuate, the spokeswoman went on, saying that Vietnam has called on agencies of the United Nations and the host countries to help provide the conditions necessary for citizen safety and evacuation.
As of March 1 noon, about 200 Vietnamese were helped to move out of war zones. The Vietnamese Embassy in Ukraine is continuing to gather the citizens' needs in order to carry out appropriate plans, Hang added.
COVID-19: New cases almost reach 99,000 on March 1
A total 98,762 cases of COVID-19 were recorded in the past 24 hours from 4pm February 28 to 4pm March 1, including 19 imported cases, according to the Ministry of Health.
Hanoi continued to record the highest number of infections with 13,323 cases, followed by Quang Ninh with 4,011 and Bac Ninh with 3,933.
Besides, the northern province of Ha Giang supplemented 15,382 cases after verifying information.
The national tally reached 3,557,629.
There are 3,851 patients in critical conditions, while an additional 86 deaths were recorded in the past 24 hours, taking the total fatalities to 40,338, accounting to 1.1 percent of the caseload.
Fine arts museum opens new space for contemporary artworks
A space dedicated to contemporary artworks is opened at the Vietnam National Fine Arts Museum (VNFAM) on February 25.
On display are 65 drawings and sculptures which were created from 1986 onward.
The show is being uploaded on the iMuseum VFA app to help enhance visitors' experience in both in-person and virtual forms.
HCM City opens training course on COVID-19 vaccination for children aged 5 – 11
The Ho Chi Minh City Centre for Disease Control (HCDC) on March 1 opened a training course on safe COVID-19 vaccination for children aged 5 – 11.
The course, which will last until March 11, will provide training for about 1,350 members of local vaccination teams, with guidance given by experts from three children's hospitals in the city.
About 963,000 children aged 5 – 11 in HCM City need to be vaccinated against COVID-19, according to data from the Department of Education and Training and the Department of Labour, Invalids and Social Affairs.
On February 5, the Government issued a resolution on purchasing COVID-19 vaccine of Pfizer for children aged between 5 and under 12.
The number of COVID-19 cases among local children has been on the rise, especially when schools have reopened. From February 13 to 26, there were 2,659 confirmed cases who are children under 18, according to the Department of Education and Training.
At least 80 percent of total communes hoped to be new-style rural areas by 2025
The national target programme on new-style rural area building for 2021 – 2025 has recently been approved by the Prime Minister, aiming to have at least 80 percent of the communes nationwide earning the status by 2025.
Among the detailed targets for 2025, the programme looks to have at least 80 percent of the communes recognised as new-style rural areas, with about 40 percent meeting advanced standards and at least 10 percent being model areas.
At least 50 percent of the district-level localities are hoped to earn the new-style countryside status, with at least 20 percent meeting advanced standards or named model areas.
In this programme, Vietnam will also strive for about 17 – 19 provinces and centrally-run cities completing the building of new-style rural areas.
Deputy PM requests inter-sectoral inspections in ensuring aviation security
Deputy Prime Minister Pham Binh Minh has requested inter-sectoral inspections in ensuring aviation security, as well as in preventing and combating terrorism and illegal intervention in civil aviation activities in provinces and cities with airports.
In a notice dated March 1, Minh, who is Head of the National Civil Aviation Security Committee (NCASC), praised agencies and member units of the NCASC, the People's Committees of provinces and centrally-run cities with airports and aviation enterprises for their efforts to complete the tasks last year, especially amid complicated developments of the COVID-19 pandemic.
The number of flights, passengers and the volume of cargo decreased sharply last year and production and business activities of aviation firms was seriously affected by the pandemic. However, ministries, agencies and localities have focused their resources on pandemic prevention and control and effectively implemented measures to ensure aviation security, he said.
The NCASC was requested to organise training for its members in line with the pandemic situation as well as conduct inter-sectoral inspections over coordination in guaranteeing aviation secuirty, and terrorism prevention and combat.
Gov't sets up appraisal council for press network planning
An appraisal council with representatives of several ministries and agencies has been established to evaluate the development plan for press, radio and television, electronic information and publishing networks for 2021-2030 period, with a vision to 2050.
The appraisal council will be headed by Nguyen Manh Hung, Minister of Information and Communications and Pham Anh Tuan, Deputy Minister of Information and Communications will be the council's vice chairman, according to Decision 276/QD-TTg signed by Deputy Prime Minister Vu Duc Dam.
The council's members include leaders of ministries of Public Security, National Defence, Justice, Planning and Investment, Finance, Home Affairs, Natural Resources and Environment, Culture, Sports and Tourism, as well as representatives from the Party Central Committee's Commission for Popularisation and Education, Nhan Dan newspaper, Vietnam News Agency, Radio The Voice of Vietnam and Vietnam Television, among others.
Hanoi asked to be ready for COVID-19 peak in next two weeks
Hanoi must prepare necessary medical plans to respond to the COVID-19 pandemic that is forecast to reach its peak in the next two weeks, Chairman of the municipal People's Committee Chu Ngoc Anh has ordered.
More than 10,000 new patients are reported in Hanoi on a daily basis, causing pressure on the treatment work.
So far, the city has prepared 2,180 beds, of which only 1,000 bed are being used. F0 cases treated at home account for 96 percent of the total infections reported in Hanoi.
The municipal health system is not overloaded in treating patients, Director of the municipal Health Department Tran Thi Nhi Ha affirmed, adding that it has prepared plans to meet even when the number of cases doubles.
International arrivals to Vietnam surge in first two months
Vietnam welcomed 49,200 foreign tourists in the first two months of this year, representing a year-on-year surge of over 71 percent.
The General Statistics Office reported that the majority of international holiday-makers arrived in Vietnam by air, accounting for more than 87 percent of the total foreign arrivals.
In February alone, the number of foreign visitors to Vietnam increased by over 49 percent month-on-month, and more than 196 percent compared to the same period last year.
The positive results were attributed to Vietnam's pilot roadmap for re-opening its door to foreign tourists, and the resumption of international air routes.
The tourism industry is implementing the second phase of a pilot programme on welcoming international visitors, while making necessary preparations to fully open tourism activities from March 15.
This year, the sector is expected to serve 65 million holiday-makers, including 5 million foreigners.
Writing contest on protecting Party's ideology, refuting hostile views launched
The second essay writing contest on protecting the Communist Party of Vietnam (CPV)'s ideological foundation and refuting wrongful and hostile views was launched during a press conference in Hanoi on March 1.
The contest, the second of its kind, is organised by the Ho Chi Minh National Academy of Politics, the Party Central Committee's Commission for Information and Education, the Central Theoretical Council, the Communist Review, the Nhan dan (People) Newspaper, and the Vietnamese Journalists' Association.
The entries can be submitted from now until July 30. The award ceremony is slated for October. Last year, the contest was successful with 8,129 entries.
Long An soldiers strive to find martyrs' remains in Cambodia
A team of soldiers from the Military High Command of southern Long An province is striving to search for remains of Vietnamese volunteers and experts who laid down their lives during the wartime in Cambodia.
The head of the team, Sen. Lieut. Col. Tran Chi Cong, said that it recently had working sessions with authorities of Cambodia's Pailin and Battambang provinces where the soldiers perform their mission.
Representatives of the two provinces pledged to create all favourable conditions for the team, showing their hope to continue tightening solidarity and friendship between Pailin and Battambang and Long An, and between Cambodia and Vietnam at large.
On February 26, the team unearth remains of two martyrs in Sala Krau district of Pailin province. They expect to find remains of another 80 during this dry season which will last until the end of April. Since 2001, the team has detected and repatriated remains of about 280 matyrs.
HCM City: Festival honouring traditional dress to begin this month
The Ho Chi Minh City Department of Tourism on March 1 announced the 8th municipal ao dai (traditional long dress) festival will kick off on March 5 and last until April 15.
The festival will introduce the beauty and convenience of ao dai, making it a familiar garment of people in contribution to preserving the nation's cultural identity and promoting the image of the country and Vietnamese people.
The opening ceremony on March 5 will treat the public to a display of more than 300 ao dai models from 15 outstanding collections by renowned local designers.
The festival is planned to feature a peace demonstration of over 2,000 people wearing the dress, an art programme, an exhibition, and a fashion design contest, among others.
Youth Month 2022 promotes creative spirit among young people
The Central Committee of the Ho Chi Minh Communist Youth Union (HCYU) launched the Youth Month 2022 themed "Creative youth" during a ceremony in Hanoi on March 1 on the occasion of the 91st founding anniversary of the union.
Activities during the month will focus on popularising and educating the glorious traditions of Vietnamese youth and the HCYU; promoting creativity and voluntary spirit of the youth for community; supporting young people in starting a business and integrating into the world; taking care of children and teenagers; and building strong youth organisations.
A dialogue between the First Secretary of the HCYU Central Committee and youth union members and young people, a programme to award 10 Vietnam outstanding young faces in 2021 and present the Ly Tu Trong Award 2022 will be held within the framework of the month.
Children aged 5-11 to get 0.2ml of Pfizer vaccine each dose
Children aged between 5 and 11 in Vietnam will be administered with Pfizer BioNTech Covid-19 Vaccine with a dosage of 0.2ml, according to the Ministry of Health.
The ministry on March 1 issued a decision amending Article 1 of a decision on conditional approval of vaccines for urgent needs in COVID-19 prevention and control.
People aged from 12 will receive 0.3ml of Pfizer each dose.
The Government recently decided to buy 21.9 million doses of Pfizer for children aged 5-11.
13th National Women's Congress to take place next week
The 13th National Women's Congress will be held from March 9-13 in Hanoi, said Vice President of the Vietnam Women's Union (VWU) Central Committee Nguyen Thi Minh Huong at a press briefing on March 1.
The congress, themed "Promoting tradition, solidairty, creativity and integration; building a strong association for the happiness of women and prosperity of the nation," is expected to lure 1,000 delegates representing Vietnamese women from different social classes, ethnic groups, religions and sectors, along with about 200 guests.
Various activities will be held within the congress' framework, including a photo exhibition, a texting campaign to raise funds to support at least 130 livelihood models worth 13 billion VND (569,800 USD) for women in border areas, and a dialogue on gender equality and women empowerment.
Dong Thap: yellow apricot tree collection sets world record
A collection of ten yellow apricot trees, including one aged over 100 years, by a resident in the Mekong Delta province of Dong Thap has made a world record for its unique values, a rare one for Vietnam in the field of ornamental trees.
With a great passion for the plant, the owner Vu Duc Dong, born in 1972 in Sa Dec city, has spent decades and about 20 billion VND (876,616 USD) on forming and caring for his ten special trees.
Freshly accredited by the World Records Union (WorldKings), the collection has a 2m-high ancient tree of more than 100 years old, whose trunk is gold-inlaid with two words "Tue Sam" – the names of Dong's parents. Its nine roots rising above the ground represent the images of nine dragons.
As his parents have nine children, the nine other trees of Dong's collection, each having its own value, demonstrate many shapes featuring family affection.
All of the ten valuable trees are now on display at the Sa Dec Apricot Blossom Tree Club. Dong himself currently owns 14 record-making ornamental plants, with 19 related Vietnamese, regional, and world records already established.
Ministry, UNDP step up efforts on poverty reduction
The Ministry of Labour, Invalids and Social Affairs (MOLISA)'s National Coordination Office for Poverty Reduction and the United Nations Development Programme (UNDP) on February 28 signed a memorandum of understanding and launched a project on programme development and policy advising on multidimensional and sustainable poverty reduction for 2021-2023.
Vietnam's poverty rate, which was 58.1 percent in 1993, decreased to 2.75 percent in 2020 and 2.23 percent in 2021. On January 18 this year, the Prime Minister issued Decision No. 90/QD-TTg approving the national target programme on sustainable poverty reduction in the 2021-2025 period, which focuses on investing in improving the capacity of the poor and clearly identifies the causes of poverty in order to radically and thoroughly solve the problem.
The launched project is a join work among the UNDP, the MoLISA, and the Australian Department of Foreign Affairs and Trade (DFAT). It has provided technical support for the MOLISA in a series of contents, such as researching and developing the national programme; studying and finalising the poverty line and instruments for multi-dimensional poverty measurement for the period 2021 – 2025 which are relevant to Vietnam; and researching and proposing solutions to support the poor affected by the COVID-19 pandemic; among others.
Policy reform aims to promote socio-economic development in ethnic minority-inhabited, mountainous areas
Deputy Prime Minister Pham Binh Minh has signed a decision issuing an action framework on mechanism and policy reform to support the national target programme on socio-economic development in ethnic minority-inhabited and mountainous areas in the 2021-2030 period.
Under the scheme, as part of the efforts to improve the human development indicator, the Ministry of Education and Training this month will form a mechanism to implement the second phase of a project to strengthen the teaching of the Vietnamese language among pre-school children and primary pupils in the areas.
The ministry will also complete a draft circular on the organisation and operation of boarding schools for ethnic minority students and a similar circular for semi-boarding schools for ethnic minority students.
Projects funded by Vietnamese defence ministry handed over to Laos
The economic-defence team of Vietnam's Army Corps 15 has handed over five projects as gift to Vang Tat hamlet cluster in Sanxay district, Attapeu provinces of Laos.
The facilities, including irrigation and water systems, an upgraded boarding school and rooms for boarders, have a total funding of over 4.1 billion VND (179,750 USD) sourced from the Vietnamese Ministry of National Defence.
UNHRC opens 49th session, Vietnam attends its high-level segment
The United Nations Human Rights Council (UNHRC) opened its 49th session in Geneva on February 28, with the participation of many high-ranking leaders and representatives of 47 member countries and over 100 observers of the UNHRC, and inter-governmental and non-governmental organisations headquartered in Geneva.
Vietnamese Minister of Foreign Affairs Bui Thanh Son attended and delivered an online speech at a high-level segment of this session.
Tra Vinh earmarks 64.2 million USD to improve ethnic minority people's life
The Mekong Delta province of Tra Vinh will spend 1.4 trillion VND (64.2 million USD) on projects which aim at improving ethnic minority people's living conditions over the next three years.
The sum, mobilised from central and local government resources and others, will be used to build infrastructure in areas where ethnic minority people reside, help poor people set up businesses or carry out agricultural production in sustainable methods and enhance the quality of human resources. It will also seek to improve health care services and promote traditional values of ethnic minority people in association with tourism development.
The province targets to raise the average income of ethnic communities to 80 million VND per person per year by 2025. The number of poor ethnic minority households will also be reduced by 3-4 percent each year. It will no longer have extremely difficult communes.
Expiry date of Cuba's Abdala vaccine extended
The Ministry of Health has announced the extension of an additional three months to the shelf-life of Cuba's Abdala vaccine against COVID-19.
On October 8, 2021, the Ministry of Health issued Decision No. 4749/QD-BYT on conditional approval of the Abdala vaccine for urgent needs in the prevention and control of the COVID-19 pandemic. According to the producer's instructions for use, the shelf life is six months at storage conditions of two to eight degrees Celsius.
Like other COVID-19 vaccines, the Abdala vaccine is researched and approved on a rolling basis, meaning it is approved for completed portions while the manufacturer continues doing research on others.
According to the Ministry of Health's statement on February 28, based on additional studies assessing the stability related to the vaccine's shelf life, Vietnam's specialised agencies have considered and appraised it.
Specifically, on February 23, the Drug Administration of Vietnam agreed to increase the shelf life of the Abdala vaccine from six months to nine months at storage conditions of two to eight degrees Celsius.
Ex-officials of Khanh Hoa prosecuted for land-related wrongdoings
Seven former officials of Khanh Hoa province have been prosecuted for violating land management regulations under Clause 3 of Article 229 in the 2015 Penal Code.
They consist of Nguyen Chien Thang and Le Duc Vinh, former chairmen of the provincial People's Committee; Dao Cong Thien, former vice chairman of the provincial People's Committee; Le Mong Diep and Vo Tan Thai, former directors of the Department of Natural Resources and Environment; Le Van De, former director of the Department of Construction; and Tran Van Hung, former head of the land management division at the Department of Natural Resources and Environment.
From 2012 to 2015, the suspects, who were then leaders of the provincial People's Committee and the departments, illegally handed over land, changed land use purposes, and granted land use right certificates in connection with the Cuu Long Son Tu ecological and spiritual tourism project and the Vinh Trung villa project in Nha Trang city, according to the indictment issued by the provincial People's Procuracy.
Khanh Hoa police started a criminal case on the law violations related to those projects on June 8, 2021 and later started legal proceedings and detained the above-mentioned former officials to serve the probe.
Mekong Delta faces increasing saline intrusion
The Mekong Delta is seeing increasing saltwater intrusion caused by high tides this week, with salinity boundary of 4 g/l likely to penetrate up to 65km upstream, according the Ministry of Agriculture and Rural Development's Directorate of Water Resources.
The agency forecast that saltwater is expected to enter 35-50km deep into estuaries of the Mekong River, 55-65km into Vam Co River and 35-45km into Cai Lon River this week.
Though saline intrusion started affecting irrigation in areas 35-45km upstream during days when tides are high, freshwater supply remains sufficient for agricultural production.
In March, the salinity boundary of 4 g/l is predicted to penetrate 55-65km inland, 10-20km lower than that in 2020.
Saline intrusion is expected to decline from April.
Source: VNA/VNS/VOV/VGP/SGT/SGGP
Traffic accidents continue to fall in February