Nguyen Hue Flower Street opens in HCM City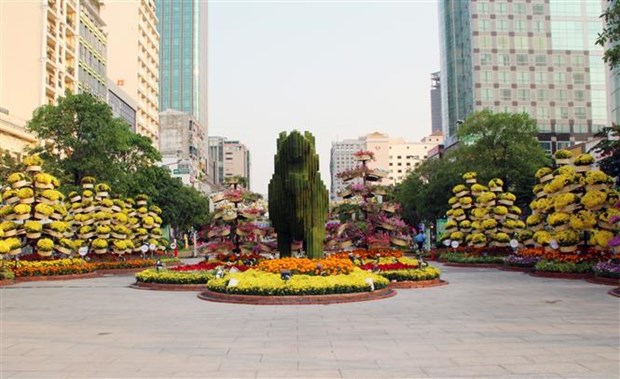 The highlight of the street will be its tiger mascot, the zodiac animal of the upcoming lunar new year.
Nguyen Hue Flower Street in Ho Chi Minh City opened on January 29 as the Tet (Lunar New Year) – the biggest and longest festival of the Vietnamese people – is nearing.
The flower street, with the theme "Xuan Que Huong, Am Tinh Nhan Ai (Homeland Spring, Full of Love", opens from 7pm from January 29 to 5pm on February 4.
The purpose of the flower street is to pay tribute to frontliners in HCM City's fight against the COVID-19 pandemic, especially medical workers.
The highlight of the street will be its tiger mascot, the zodiac animal of the upcoming lunar new year. Another image of a tiger that stands at 4.6 metres is placed in the middle of the flower road
Several environmentally-friendly and reusable materials such as metal, foam, rattan, bamboo, and bricks are used as decorations, while roughly 97,000 flower baskets of all kinds are on display during Tet (Lunar New Year). This year, in particular, is the first time that gravel has been utilised as a decorating material.
The same day, the 2022 Lunar New Year's book street festival began on Nguyen Hue, Ngo Duc Ke, Mac Thi Buoi, and Nguyen Van Binh Streets.
Approximately 50,000 book titles are presented with a wide range of genres and topics to fulfill the demands of readers.
Other activities are also held on the book streets including a calligraphy street, and exhibitions of paintings, photographs and publications focused on Ho Chi Minh City and the fight against COVID-19 last year as well as an exhibition on Vietnam's seas and islands with the introduction of two sets of stamps "Homeland sea and islands" and "Vietnam on world stamps."
The book street is open to the public from 8:00 am to 10:00 pm from January 29 to February 4 or from the 27th day of the last lunar month to the fourth day of the Lunar New Year.
Vietnamese traditional offering trays prepared for Lunar New Year's Eve
According to ancient traditions, on the last day of a lunar year, a typical Vietnamese family puts aside everything to prepare a feast to worship their grandparents and ancestors, praying for a brighter year ahead.
The Lunar New Year's Eve meal is an opportunity for Vietnamese to invite ancestors and deceased family members to celebrate Tet and reunite with their children and grandchildren. It also connects generations in the family to see off the old year and welcome a new year full of happiness and good things.
According to Tran Huu Son, deputy head of the Vietnam folk arts association, each family normally prepares two offering trays of food on the occasion. The oldest man in the house will burn incence and read prayers inviting gods and ancestors to come to celebrate Tet with his family.
In the past, an offering tray, particularly in the north, often had six bows and eight plates of different traditional culinary delights for Tet. As time flies, the feast now sees less of traditional food and includes more modern specialties.
The trays also present different dishes according to regions. Northern people hardly forget to place banh chung (square glutinous rice cake), gio lua (sausage made of pork and traditionally wrapped in banana leaves), and nem ran (spring rolls) on their strays; residents of the central region prefer banh tet (round glutinous rice cake) and boiled pock; while braised meat and shrimp and meat salad are the must-have traditional food for people in the South.
In addition to these food trays, there are a five-fruit tray, incence, flower vases, candles, tea, and votive offerings, among others placed on the alters of Vietnamese families on the special eve./.
NA Chairman offers incense in tribute to President Ho Chi Minh at Kim Lien relic site
National Assembly Chairman Vuong Dinh Hue on January 30 offered incense in tribute to President Ho Chi Minh at Kim Lien special national relic site in Nam Dan district, Nghe An province, on the occasion of the Lunar New Year (Tet) Festival and 92th founding anniversary of the Communist Party of Vietnam (February 3, 1930-2022).
He was accompanied by provincial leaders and representatives of local agencies and departments.
The delegates offered incenses in tribute to President Ho Chi Minh, the great leader of the Vietnamese Party and people, who sacrificed iên his whole life to the cause of national liberation and struggle for peace and happiness of Vietnamese and people around the world
They also reaffirmed their determination to study and follow the late President's thought, morality and lifestyle.
PM visits people's public security forces prior to Tet holiday
Prime Minister Pham Minh Chinh on January 30 visited the Department of Cyber Security and High-Tech Crime Prevention and the Department of Fire Prevention and Fighting and Rescue under the Ministry of Public Security on the occasion of the Lunar New Year (Tet) Festival.
The PM praised efforts and achievements that the two departments have made over the past time. Last year, in addition to regular tasks, they have contributed to the successful organisation of the 13th National Party Congress; the election of deputies to the 15th National Assembly and People's Councils at all levels for the 2021-2026 term and to consolidate the entire political system.
Notably, PM Chinh said, during the fourth wave of COVID-19 infections, the police force in general and the cyber security and hi-tech crime prevention and control and the fire prevention and fighting and rescue forces, in particular, stood on the frontline of the fight against the pandemic. They took part in the development of pandemic prevention and control technology, contributing to the maintenance of political stability as well as ensuring social order and safety, he said.
The PM also requested the two forces to be more active, flexible and creative in carrying out tasks. They must enhance human resource training to meet increasing requirements and tasks and invest in science and technology, facilities, and professional skills in the new context, PM Chinh stressed.
It is necessary to strengthen management science and coordination among forces, mobilising the strength of the whole society to ensure cyber security, preventing and combating crimes using high technologies, fire prevention and fighting. The administrative reform is also a must, he said.
The PM requested the police force to stay ready round the clock during the Lunar New Year so that people have a healthy, safe and happy Tet holiday.
He affirmed that Party and State leaders always pay attention to the people's public security force and expressed his belief that with their glorious traditions, the two departments will achieve greater achievements in 2022.
Vietnamese peacekeepers in South Sudan erect New Year tree
Vietnamese staff members of level-2 field hospital No. 3 in South Sudan have recently erected a "Neu" tree (New Year's tree) to kick off the traditional Lunar New Year (Tet) celebration.
Vietnamese people in the old days put up tall bamboo poles with red garment strips hanging on them during Tet, believing that the poles prevented ghosts and monsters from entering the community during the holiday. The tradition of raising the "Neu" pole remains alive today in many villages and homes around the country.
"Neu" tree is a sacred symbol that wards off evil spirits and misfortunes of the old year and prays for a lucky and auspicious new year.
The Vietnamese peacekeepers in South Sudan used a discarded antenna pole to make the 10-metre "Neu" tree and decorated it with strings of colorful flags and ornaments recycled from nylon. A national flag was placed atop the "Neu" tree with a wind chime made of bamboo hung beneath.
The traditional tree can be seen from far away, capturing the interest of local people, UN staff at the mission, patients, and visitors.
Plan to implement Secretariat's directive on sustainable poverty reduction
The Government has recently issued a plan to implement Directive No. 05-CT/TW dated June 23, 2021 of the 13th Party Central Committee's Secretariat on strengthening the Party's leadership on sustainable poverty reduction by 2030.
One of the tasks and solutions to carry out the plan is to continue perfecting and implementing poverty reduction mechanisms and policies effectively. Specifically, attention will be paid to improving poverty reduction policies, multidimensional poverty in association with sustainable development goals, to ensure a gradual increase in minimum living standards and people's access to basic social services.
The plan will renew the way of approach to poverty reduction, increase social protection for poor households which are unable to work, adopt policies to encourage enterprises and cooperatives to cooperate in production and business, develop diversified production models with the participation of poor and near-poor households, and support the development of poverty reduction models and projects associated with national defence and security.
Activities to provide consultancy, connect and introduce jobs to poor people and those living in underprivileged areas will be stepped up, and actions will be taken to perfect mechanisms and policies on housing, hygienic water and rural sanitation for the poor and people in areas with extremely difficult socio-economic conditions, border areas and islands.
The plan will also intensify the implementation of preferential credit policies for poor and near-poor households, and those just getting out of poverty and other policy beneficiaries, adopt policies to support and encourage enterprises to invest in disadvantaged areas associated with ensuring national defence and security, and review and adjust planning, and step up resettlement to ensure sustainable and safe livelihoods for residents in areas frequently affected by natural disasters, climate change, and in special forest areas.
Efforts will be made to allocate suitable production and residential land, create jobs, ensure basic services for the poor, especially those in ethnic-inhabited and mountainous regions.
Another task is to mobilise and effectively use domestic and foreign resources for poverty reduction. The State plays a leading role in securing resources and developing socio-economic infrastructure in poor districts and communes with extremely difficult conditions.
Mai Chau – Pearl of the Northwest
Mai Chau district in the northwest mountainous province of Hoa Binh is a destination where visitors can admire nature's majestic beauty, unique and wild ecosystems and the hospitality of local ethnic minority people.
It takes visitor only a 3-hour drive from Hanoi along National Highway No 6 to Mai Chau. The district currently boasts 12 relics and landscapes, of which 5 are recognised by the Ministry of Culture, Sports and Tourism.
There are also many places in the district with great potential for tourism development, such as Hang Kia, Pa Co, and primeval forests. Mai Chau is a treasure trove of rich culture and folklore, with festivals such as a rain praying festival and the Gau Tao festival of the Mong people.
The beautiful nature and unique cultural identity of Mai Chau have long been listed on Vietnam's tourist map, with the US' Business Insider magazine writing it has an indigenous culture worth exploring and offers a variety of interesting experiences.
The nature, culture, land, and people of Mai Chau leave an indelible impression on visitors, bringing a sense of lightness and relaxation to those visiting for the first time and a feeling of nostalgia to those returning once more./.
Localities urged to accelerate vaccinations against COVID-19 during Tet
The Ministry of Health (MoH) has asked provinces and cities nationwide to speed up the vaccination campaign during Tet (Lunar New Year) festival so as to complete the second shot for teenagers aged between 12-17 in January and the third dose for adults in the first quarter of this year.
It aims to ensure that all children and adults who still need vaccinations can receive the shots during the occasion, especially high-risk people.
Localities were requested to make plans so that the inoculation will be given to the right people and in line with the MoH's instructions.
They were also asked to continue the dissemination campaign on the benefits of vaccination, thereby encouraging people to get full vaccinations on schedule as well as assuring adequate benefits for the health sector's staff who take part in the pandemic prevention and vaccination work during the Lunar New Year holiday as required.
According to the MoH, by January 26, 2022, the coverage rate of the second dose of vaccine for people aged 18 years and older had reached over 95 percent and for those aged 12 to 17 years had reached over 87 percent.
Party leader pays tribute to President Ho Chi Minh at House 67
Party General Secretary Nguyen Phu Trong offered incense in tribute to President Ho Chi Minh at House 67 inside the Presidential Palace complex on January 30 on the occasion of the Lunar New Year Festival – the biggest and longest festival of the Vietnamese people.
House 67, where President Ho Chi Minh breathed his last, still keeps many remembrances associated with his life and career.
Talking to the relic site's staff, the Party chief asked for better preservation of the archives, items and landscape in the site while stepping up collection and communications to serve domestic and foreign visitors learning about the life, career, thought and morality of the late President.
He also expressed his wish that the staff members will have a new year full of happiness and health, and fulfill all assigned tasks.
House 67 is where President Ho Chi Minh lived, worked and passed away. It provides a venue for the Political Bureau's meetings during the fiercest years of the war in Vietnam.
Free rides for workers and students going home for Tet
Workers and students in Ho Chi Minh City have been offered free rides home this Tet (Lunar New Year), a gesture of support with the hope that everyone can be reunited with their families.
On January 28, two 'Trains of Spring' carried a total of 138 people, including labourers together with their spouses and children, back to their hometowns in the Central and Northern regions.
The programme, which has been carried out for the past few years, is a practical and meaningful action towards the migrant workers who cannot afford to go home for the holiday.
According to Huynh Van Tuan, president of the union for industrial parks and export processing zones in the city, the initial plan was to transport 800 people (equivalent to 200 families) on these charity train rides.
However, the demand was lower than in the previous years due to the complicated COVID-19 situation. There were also five other businesses and grassroots unions that helped transport 600 people back to their hometowns.
The workers who chose to stay back also received support from the unions. The HCM City Federation of Labour especially offered 4,000 families free packages to Đầm Sen amusement park throughout the holiday, from January 29 to February 7, 2022.
On January 27, the HCM City Communist Youth Union and Suntory PepsiCo Vietnam Beverage also organised the programme Mang Tet ve nha (Bring Tet home) to help people from HCM City, Dong Nai and Binh Duong provinces to return home for Tet.
A total of 540 flight tickets, 325 train tickets, and 3,105 bus tickets (returning trips included) were handed out to people in need.
Earlier on January 23, more than 1000 students and workers were also offered free bus rides home.
The trips were organised by the Communist Youth Union, Vietnam National Union of Students, and the student support centre in HCM City.
Many migrant labourers from the Central region were also given free bus tickets to their hometowns.
Taking a step further, HCM City plans to coordinate with several provinces to help the students go back to their universities after the holiday. It is expected that up to 1,500 students will return to the city on these bus rides when the pandemic situation is under control.
The Vietnam National Union of Students and the Vietnamese Student Development and Support Centre also handed out 100 million VND (4,415 USD) in total to support students in need in HCM City.
The free bus ride programme for the Lunar New Year now entered its twenty-first year of operation, having transported a total of nearly 57,000 people home for the holiday.
The local student support centre also plans to hold a gathering and handed out gifts for students who remain in the city, with 1,500 presents given to students of difficult circumstances affected by COVID-19.
Discovering Kon Ha Nung world biosphere reserve
Kon Ha Nung Plateau in the Central Highlands province of Gia Lai, recognised as a world biosphere reserve by UNESCO, is expected to create more opportunities to attract both domestic and international organisations to invest in conservation and development projects in this region.
Covering an area of about 413,500 hectares, the Kon Ha Nung Biosphere Reserves comprise two core zones – Kon Ka Kinh National Park and Kon Chu Rang natural reserve.
Kon Ha Nung is home to rare species such as the Gray-shanked douc – a rare and endemic primate species of Vietnam and classified as critically endangered, with only about 1,000 individuals in the wild.
This biosphere reserve plays an important role in socio-economic development and maintaining the ecological balance of not only the Central Highlands region but also the central and southeast regions of Vietnam.
Efforts made to restore Hanoi's relic site
Experts in the fields of culture and history are striving to restore Nghe Dang Dong, a shrine in Hanoi which saw the birth of a UNESCO-recognised folk game.
The sitting tug-of-war was added to UNESCO's list of Intangible Cultural Heritage of Humanity icons on December 2, 2015.
Typically held near a communal house or shrine, the game sees the teams on the two ends of a rope try to tug it away from the other. The practice is strengthening community solidarity and identity, UNESCO said on its website.
Tug-of-war rituals and games are prevalent in the rice-farming civilisation of East Asia and Southeast Asia as a form for communities to pray for bumper harvests and prosperity. They mark the start of the agricultural cycle and often begin with commemorative rites to local deities.
The game used to be held every year in March of the lunar calendar in Nghe Dang Dong. But since the shrine collapsed, its celebration was moved to nearby Tran Vu Temple, according to elders in Ngoc Tri village.
Source: VNA/VOV/VNS/ND/SGT/SGGP/VNN
Vietnam to increase frequency of commercial international flights