Ministries asked to use only one medical declaration app to prevent traffic jam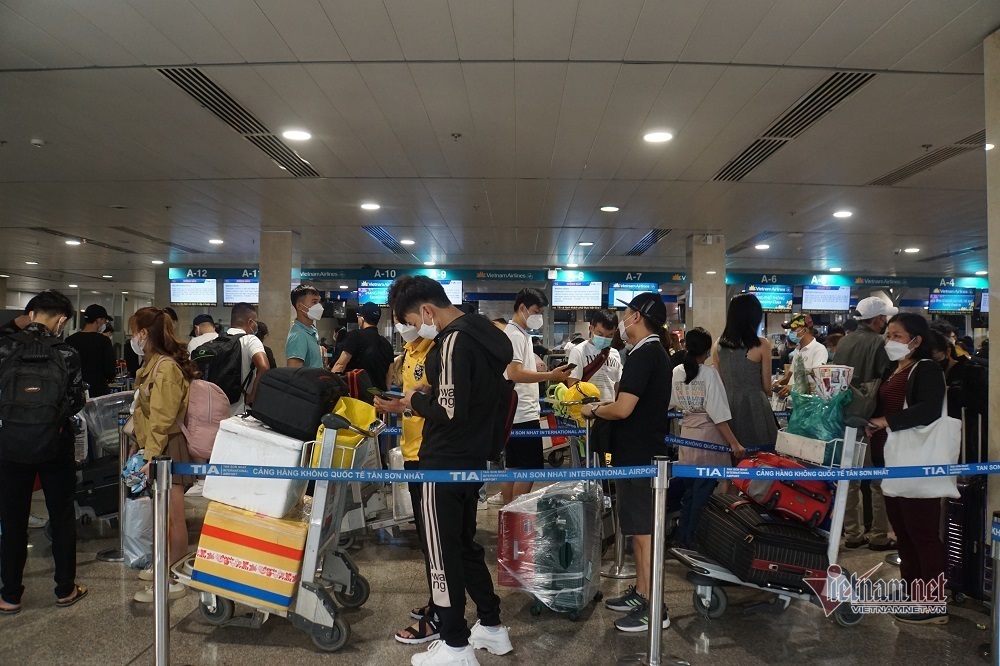 At Tan Son Nhat Airport, HCM City.
Permanent Deputy Prime Minister Pham Binh Minh assigned the Ministry of Public Security to coordinate with the Ministry of Health and the Ministry of Information and Communications to unify the use of only one medical declaration application, so as not to cause traffic jams at the Noi Bai International Airport.
The Deputy Prime Minister asked all airlines to comply with regulations on transportation, especially testing for passengers but prevent additional procedures arising compared to regulations.
The Ministry of Health was urged to report the implementation of the Government's direction on increasing vaccination and controlling the new Omicron variant .
The Ministry must follow the direction of the Ministry of Transport, the Civil Aviation Administration of Vietnam about the quick test for passengers before boarding and after disembarking.
Airport enterprises shall arrange places for medical declaration and medical examination at airports properly to avoid large crowds that increase risks of infection.
The ministries Transport, National Defense, Public Security, Foreign Affairs, and Health arrange combo flights or delay landing time to reduce the load on Noi Bai and Tan Son Nhat airports logically so that it will not affect commercial flights.
Airlines asked to adjust flight time to ease overcrowding around Tet Holiday
The Civil Aviation Authority of Vietnam (CAAV) has asked local airlines to adjust flight times to ease the current overcrowding at the Noi Bai and Tan Son Nhat airports as travel demand has increased as Tet nears.
In a report sent to the Ministry of Transport, CAAV said that overcrowding has occurred at the two airports in recent days and many flights have been delayed.
"On January 23, as many as 25 flights were delayed at Tan Son Nhat Airport airport," CAAV said. "We've asked local airlines to adjust flight times on some routes to ease overcrowding at some peak hours. Airlines are also encouraged to arrange more night flights."
According to CAAV, Tan Son Nhat Airport has been allowed to operate a maximum of 24 domestic flights per hour during the Lunar New Year Holiday. Meanwhile, the number of flights operated per hour allowed in Noi Bai Airport during this time is 17.
"Tan Son Nhat Airport operated 19 flights during the peak hour (between 11am-11.59am) on January 23, and 22 flights during the peak hour of January 24," CAAV said.
The country's two biggest airports have become more crowded in recent days due to increasing amounts of travel around the Lunar New Year Holiday.
Cold spell to cause temperatures to drop, frost in the north during Tet
A cold spell combined with a strong north-east monsoon is forecast to cause temperatures in the northern region to drop sharply, with frost in mountainous areas between Friday and next Thursday – the Tết (Lunar New Year) holidays.
The National Centre for Hydro-Meteorological Forecasting on Tuesday warned that the temperature is predicted to fall to 10-14 degrees Celsius in the northern delta provinces and 7-10 degree Celsius in northern mountainous areas from Saturday.
The northern region is also forecast to see showers, thunderstorms, hail and strong winds between Friday and next Thursday, the centre said.
However, the weather will become warmer from next Friday in the region, with temperatures of 13-20 degrees Celsius in the delta provinces and 10-13 degrees Celsius in mountainous provinces, the centre said.
Temperatures in provinces from Thanh Hoá to Thừa Thiên-Huế are expected to be 13-23 degrees Celsius between Saturday and next Wednesday.
The provinces are also forecast to see showers during this time, the centre said.
The temperatures in localities from Đà Nẵng to Bình Thuận provinces are predicted to be 19-30 degrees Celsius between Sunday and next Thursday. Sunny weather is forecast in these localities.
The southern region will experience sunny days from Tuesday and next Sunday with temperatures of 21-33 degrees Celsius, the centre added.
HCM City airport and bus stations busy as Tet approaches
Tân Sơn Nhất International Airport has been crowded for the last few days. Its check-in and security-check areas have been packed with long queues of passengers travelling from and to the city.
According to the Tân Sơn Nhất airport authority, the airport operated more than 600 flights, transporting about 59,000 passengers last Sunday, equal to 66 per cent of flights and 44 per cent of passengers compared to the same period last year.
However, the level has increased recently and is forecast to continue to rise sharply in the coming days.
The old Miền Đông (Eastern) Bus Station in Bình Thạnh District has also seen an increasing demand for bus tickets.
As of January 22, bus operators have sold nearly 50,000 Tết bus tickets, reaching 51 per cent of the plan.
Miền Tây (Western) Bus Station in Bình Tân District also faces a similar situation. The number of passengers has decreased significantly compared to the same period last year but is increasing gradually over the last few days.
So far around 57,000 Tết tickets have been sold, and more than 75,000 tickets will be supplied to passengers, said Trần Văn Phương, the bus station's deputy director.
Books on Party Congress documents in seven languages launched
Books on the 13th National Party Congress documents in seven foreign languages have been launched in Hanoi on January 24.
The publication of the documents in English, Khmer, Lao, Russian, French, Spanish and Chinese is of significance, aiming to implement a Politburo directive on popularising and implementing the Resolution of the 13th National Party Congress.
The books also serve overseas Vietnamese and foreign readers' needs for research and study.
The contents of the books include a political report, the Congress resolution, biographies of 18 Politburo members, and lists of members of the Secretariat, Inspection Commission and Party Central Committee.
The documents can be read online at www.stook.vn and www.thuviencoso.vn.
HCM City's annual Tet book fair to be held at several downtown locations
The HCM City Department of Culture and Sports will organise the annual Tết (the Lunar New Year) Book Fair from January 29 to February 4 at several locations in the downtown area.
To be held on Mạc Thị Bưởi, Nguyễn Huệ and Ngô Đức Kế streets and Book Pedestrian Street in District 1, this year it has the theme 'Xuân Quê Hương – Ấm Tình Nhân Ái' (Homeland Spring – Full of Love), and hopes to promote the reading culture among people and offer entertainment and cultural spots during the Tết holidays.
The highlight of the fair will be an exhibition called 'Xuân Chia Sẻ' (Sharing in Spring) of documents, publications and photos to mark 92 years of the establishment of the Communist Party of Việt Nam on February 3.
It will also feature articles and photos related to the fight against the COVID-19 pandemic in the city.
Film screenings to mark 92nd anniversary of Party
Film screenings marking the 92nd founding anniversary of the Communist Party of Vietnam and the upcoming Lunar New Year will take place nationwide from January 26 to February 6, the Ministry of Culture, Sports and Tourism announced on January 25.
Films selected for screening include "Binh minh do" (Red Sunrise) by HODA Film, the documentaries "Chi khi nguoi cong san Viet Nam – Trong trach niem tin va khat vong" (Spirit of Vietnamese communists – Responsibility, Trust and Aspiration) and "Chi khi nguoi cong san Viet Nam – Nhung hat giong do" (Spirit of Vietnamese communists – Red seeds) by the National Documentary and Scientific Film Studio One-Member Co.Ltd, and cartoon "Nu tuong Me Linh" (General Me Linh) by the Vietnam Animation JSC.
According to the ministry, film screenings will only be held in areas where the pandemic is under control and in line with pandemic prevention and control regulations by the Health Ministry. In case of delay, the above films will be screened in next film weeks.
HCM City leaders meet OVs on Tet occasion
A get-together between Ho Chi Minh City's leaders and representatives of the overseas Vietnamese (OV) community was held on January 25, on the occasion of the approaching Lunar New Year (Tet) – the biggest festival in a year of Vietnamese people.
Politburo member, Secretary of the municipal Party Committee Nguyen Van Nen and Deputy Chairman of the State Committee for Overseas Vietnamese Affairs Luong Thanh Nghi attended the event, along with about 300 OVs who are in the city to welcome the Year of the Tiger.
Speaking at the get-together, Vietnamese German Philipp Rösler, former Vice Chancellor of Germany; and Vietnamese Australian Nguyen Ngoc Luan, General Director of the Global Trading Company Limited, expressed their joy and honour to attend the event, and thanked Party and State leaders for creating favourable conditions for OVs to return and contribute to national construction.
On this occasion, President Nguyen Xuan Phuc's gifts were presented to five outstanding OVs, and the municipal People's Committee certificates of merit handed to 15 collectives and 29 individuals with prominent achievements in the OV affairs and great contributions to the city's building and development.
Tam Dao becomes national tourist site
Tam Dao area in the northern province of Vinh Phuc has been recognised as a National Tourist Site under a just-signed decision by the Ministry of Culture, Sports and Tourism.
The site covers 10,723 hectares, including 5,399 hectares of Tam Dao National Park, 4,561 hectares around Tam Dao mountain, 477.6 hectares of Tay Thien landscape complex, and 284 hectares of Tam Dao tourism area.
Located about 60km from Hanoi and 40km from Noi Bai International Airport, Tam Dao has been well-known as a special cultural and spiritual tourism site and resort area.
It is a wonderful destination with fresh, pure and cool air, and beautiful scenery. The weather is cool all year round with an average temperature of 20 to 22°C and it may change four seasons in a day. During the hottest days, the temperature reaches 27°C (80.6°F).
The recognition on January 25 of the site is expected to create a chance for Vinh Phuc to further promote its tourism and attract more investment in the area, thus turning tourism into a spearhead economic sector./.
UNDP, WorldShare build more flood-resilient houses in Quang Binh
The United Nations Development Programme (UNDP) and the WorldShare organisation have recently signed a cooperation agreement to build 73 flood-resilient houses for poor households affected by storms in the central province of Quang Binh.
It is the second phase of support in their joint effort to help disadvantaged households that had their houses seriously damaged following the historic typhoon in 2020.
In the first phase, 39 safe houses were handed over to families in coastal areas in Le Thuy district in December 2021. The activity was part of the crowd funding campaign named "Safe Houses – Save Lives" launched by the UNDP in response to the Vietnamese Ministry of Planning and Investment's appeal to help local residents who met housing difficulties following the 2020 disasters.
UNDP Resident Representative in Vietnam Caitlin Wiesen vowed to work closely with local authorities and people to complete the construction of 73 houses before rainy season this June.
According to Director of the provincial Department of Planning and Investment Phan Phong Phu, two historic floods in 2020 in Quang Binh left thousands of houses, schools and traffic works under water, causing a loss of over 3.5 trillion VND (152.1 million USD).
Traffic accidents drop in first month of 2022
As many as 963 traffic accidents were reported from December 15, 2021 to January 14, 2022, killing 565 people and injuring 599 others, the National Traffic Safety Committee said.
The figures dropped by 27.05 percent, 10.46 percent and 36.07 percent, respectively, year on year.
In the period, 953 road accidents left 558 people dead and 598 injured, representing decreases of 27.2 percent, 9.85 percent and 36.11 percent, respectively, from the same period last year.
Seven railway accidents killed five and injured another. Although the number of cases increased 40 percent, deaths and injuries remain unchanged as compared with the previous year.
Three accidents on waterways claimed two lives and no injuries, while no maritime accidents were reported in the period.
Vietnam records 15,743 new COVID-19 infections
A total of 15,743 new COVID-19 cases were reported in Vietnam on January 25, bringing the country's tally to 2,171,527.
Of the new transmissions, 44 were imported and quarantined upon arrival, and the rest is domestic infections.
The capital city of Hanoi still has the highest infection rate, with 2,956 cases, followed by central Da Nang (989) and northern Hai Phong cities (704).
A further 126 COVID-19 related deaths were also announced on the same day.
Up to 62,889 patients were announced to have fully recovered from the virus, bringing the total number of recoveries to 1,904,069.
There are 4,602 patients being currently treated in hospitals nationwide, including 19 on life support.
Vietnam has so far administered more than 177.3 million doses of COVID vaccines.
Vietnam, US should increase meetings, dialogues at high level: Deputy FM
Vietnamese Deputy Minister of Foreign Affairs Nguyen Quoc Dung on January 25 held phone talks with Kurt Campbell, Deputy Assistant to the US President and Coordinator for Indo-Pacific Affairs on the US National Security Council, and Daniel Kritenbrink, Assistant Secretary of State for East Asian and Pacific Affairs.
Dung proposed that in order to further deepen the bilateral ties, the two sides should increase meetings and dialogues, especially at the high level, while promoting economic, trade and investment cooperation within the Trade and Investment Framework Agreement (TIFA).
On this occasion, Dung expressed the wish that the US will continue to promote comprehensive, sustainable and inclusive cooperation with the region, support the intra-bloc unity and the central role of the Association of Southeast Asian Nations (ASEAN), and further strengthen the ASEAN-US strategic partnership, and the Mekong-US partnership.
The two sides also discussed regional and international matters, including the East Sea issue. They agreed to enhance cooperation within the framework of the United Nations as well as other multilateral forums, thus contributing to peace, stability, security and development in the region and the world.
Top Vietnamese, Chinese leaders exchange Lunar New Year greetings
Party General Secretary Nguyen Phu Trong and Chinese Party General Secretary and President of China Xi Jinping exchanged their letters of Lunar New Year greetings on January 25.
In the letters, they stressed the important meaning of 2021 to both parties and nations, as Vietnam successfully organised the 13th National Congress of the Communist Party of Vietnam and China celebrated the 100th founding anniversary of the Communist Party of China.
Looking forward to 2022, the top leaders agreed to maintain regular exchanges, and orient further developments of the Vietnam – China relations in the spirit of neighbourliness, friendship, comradeship and partnership.
They requested Vietnamese and Chinese ministries, sectors and localities to seriously implement the nations' high-level common perceptions; bolster practical economic, trade, and investment cooperation; diversely promote people-to-people exchanges; and tightly collaborate in disease prevention and control.
The leaders also ordered good control and tackling of differences between the sides based on peaceful negotiations in line with international law, helping develop the Vietnam-China relations of neighbourliness, friendship and comprehensive strategic cooperative partnership in a healthy and sustainable manner, serving fundamental and long-term interests of the two parties, countries and peoples, for peace, stability, cooperation and prosperity in the region and the world over.
They wished Vietnamese and Chinese parties, states, and peoples a peaceful, happy, and successful New Year of the Tiger.
Special TV programme to feature reunion values on New Year Eve
"Mua doan tu" (Reunion season) – a special TV programme – will be aired by the Vietnam Television on the Lunar New Year Eve which will come on the night of January 31.
The highlight of the programme is humanity stories in the context of the COVID-19 pandemic, which manifest the mutual support and solidarity of Vietnamese people in the difficult time, as well as their efforts to heal themselves and overcome challenges to create the country's miracles.
The programme also includes an art performance featuring famoust artists such as singers Thanh Lam, Ha Tran, Uyen Linh, Doan Trang and Khanh Linh.
Particularly, Associate Prof. Dr. Nguyen Hong Son, Associate Prof. Dr. Tran Dac Phu, Ambassador to India Pham Sanh Chau, and many other guests will appear in the programme to share their stories in the past year and expectations for the New Year.
Education minister stresses need for school reopening
Minister of Education and Training Nguyen Kim Son has underlined the necessity for school reopening, noting that the country now has sufficient conditions for the move.
Safely adapting to the pandemic and gradually reopening schools are highly important for educational activities to return to normal, he told the Vietnam News Agency on January 25.
He said under the Government's directions on safe and flexible adaptation to and effective control of COVID-19, the Ministry of Education and Training (MoET) has worked with the Health Ministry to issue guidance on pandemic safety for students once in-person learning is restored.
Over the last two years, online teaching and learning have been carried out on a large scale as a compulsory measure in response to the pandemic. However, differences in communication infrastructure and economic conditions among regions have resulted in a large gap in educational access. Students, especially preschool and primary ones, in less developed, mountainous, and insular areas have encountered disadvantages in this regard, Son admitted.
Facing that fact, various solutions have been taken. Under a programme launched by the Prime Minister, localities, businesses, organisations, and individuals have donated school tools and expanded the Internet coverage to help with online learning. Thousands of computers and smart phones have been delivered to underprivileged students so far, according to the minister.
Source: VNA/VNS/SGT/VOV/Dtinews/SGGP/ND
HCMC has 88 Omicron variant infection cases so far