New regulations for domestic travellers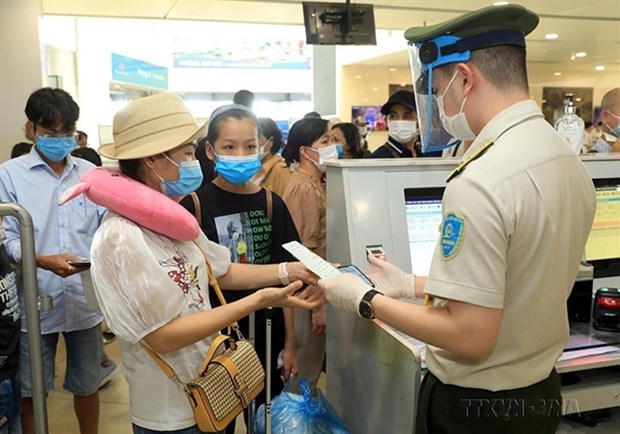 Passengers queue up to complete procedures before their flight at the Noi Bai International Airport in Hanoi.
The Ministry of Transport (MoT) on January 21 issued a document that adjusted regulations for domestic passengers in the context of high vaccination coverage, aiming to create favourable conditions for citizens to travel, especially during the traditional Lunar New Year festival.
Under the new regulations, domestic passengers only have to test negative for SARS-CoV-2 within three days if they live in or travel from "red areas," which are ranked as level four – the highest level of COVID-19 risk, or from lockdown areas.
Currently, no areas in the country are at level four and there are no lockdown areas.
For children travelling from red zones, the MoT has asked the Ministry of Health for guidance.
The MoT has also removed its requirement to test domestic flight crews every seven days.
Domestic passengers still have to make medical declarations on the PC-COVID application before their trip.
Tet colours on Da Nang flower fields
Flower growers in Da Nang city are busy these days on the final stages of preparing to provide flowers to Tet markets. This year, however, many have cut their output compared to previous years due to concerns about COVID-19.
Winners of Party building press awards 2021 announced
Winners of the Bua Liem Vang (Golden Hammer and Sickle) Award 2021, the sixth National Press Award on Party Building, were announced at a ceremony at the Hanoi Opera House on January 21 night.
The organisation board presented six A, 12 B and 16 C prizes as well 30 consolation prizes to outstanding works choosen from over 2,000 entries, along with 10 thematic awards.
The A prizes were presented to six works by journalists from the Nhan dan Newspaper, Ca Mau Newspaper, Lao Cai Radio-Television Broadcaster, Bao Dau Tu (Investment Review), Xay dung Dang (Party Building) Magazine, and the Vietnam Television.
This year, for the first time, three media agencies – Nhan dan (People) Newspaper, Vietnam News Agency (VNA) and the Dang Cong San Vietnam (Communist Party of Vietnam) online newspaper- were honoured for their creative communication products on Party building.
Foreign Minister holds New Year meeting with press agencies
Minister of Foreign Affairs Bui Thanh Son had a New Year meeting with representatives of press and press management agencies, and reporters covering foreign affairs.
During the meeting, Minister Son thanked press agencies and reporters for their effective contribution to the overall success of foreign affairs as well as external information work of the country in 2021, saying that they provided timely and accurate information for both domestic and foreign audiences, contributing to popularising the foreign policy of the Party and State, and creating consensus, solidarity and support of the public at home and abroad, as well as international friends.
On this occasion, FM Son presented the insignia for the diplomatic service and the Foreign Minister's certificate of merit to a number of collectives and individuals who have made excellent achievements in the external information work and the development of Vietnam's diplomatic sector.
Ice, snow reported on Mount Fansipan
Ice and snow have been spotted on Mount Fansipan, the highest mountain in Vietnam, as a result of widespread rain and freezing temperatures on early January 21.
This is the first rain with snow on this mountain, located in Lao Cai province, since the start of the 2021 winter.
It is a rare phenomenon in Vietnam and only recorded in high mountain areas in the northern region in winter.
Over 13,000 tonnes of rice provided to needy people in nine provinces
Deputy Prime Minister Le Minh Khai has signed decisions on the free-of-charge provision of over 13,000 tonnes of rice sourced from the national reserves to nine provinces nationwide to support flood-hit and needy people during the Lunar New Year (Tet) festival and the between-crop period in early 2022.
Of the rice amount, more than 3,738 tonnes will be delivered to the central provinces of Quang Ngai, Phu Yen and Binh Dinh to support people affected by flood.
Meanwhile, the southern province of Tay Ninh, the northern mountainous province of Cao Bang, the central provinces of Phu Yen, Ninh Thuan, Nghe An and Quang Binh, and the Central Highlands province of Gia Lai will be allocated over 9,877 tonnes of rice to support people on the occasion of the Lunar New Year (Tet) festival and during the between-crop period.
Overseas Vietnamese honoured for contributions to homeland's COVID-19 combat
Overseas Vietnamese (OV) who have made great contributions to the home country's COVID-19 fight and development, were honoured in a meeting on January 22 within the framework of the annual "Xuan Que Huong" (Homeland Spring) programme 2022.
Accordingly, OVs in many countries had engaged in practical activities to help the homeland. They have donated up to 80 billion VND (over 3.5 million USD) to the fight against the COVID-19 pandemic in general and the COVID-19 vaccine fund in particular, along with large amounts of medical equipment and supplies.
Many Vietnamese expatriates in Singapore, Australia, Japan, Germany, the US, and the Republic of Korea have actively worked along Vietnamese representative agencies abroad in calling for assistance from their host countries' governments, opening up many opportunities for Vietnam to access vaccines, medicines and medical equipment and supplies for COVID-19 prevention.
Exhibition welcomes in the Spring at Thang Long Imperial Citadel
A special exhibition to welcome in the Lunar New Year (Tet) is being held at the Thang Long – Hanoi Heritage Conservation Centre.
Also at the Thang Long Imperial Citadel, the organisers are displaying traditional Tet customs, such as worshiping the ancestors, hanging Tet pictures, New Year couplets, and New Year greetings. The custom of asking for the first letter of the year has become common among many people.
Hungarian parliament delegation's visit deepens bilateral ties with Vietnam
A delegation from the Hungarian National Assembly (NA) led by its First Officer Márta Mátrai is paying a working visit to Vietnam from January 18 to 22, becoming the first international guests of the Vietnamese NA this year.
The visit takes place prior to the 72nd founding anniversary of diplomatic relations between the two countries (February 3, 1950 – 2022). It is among activities to maintain visits by senior leaders of the Vietnamese and Hungarian law-making bodies, concretising the contents discussed and agreed between the two parliaments' leaders at an online conference held in late July 2021.
During the trip, Mátrai paid courtesy calls on NA Chairman Vuong Dinh Hue and Vice President Vo Thi Anh Xuan, and met with Permanent member of the Party Central Committee's Secretariat Vo Van Thuong.
She also held talks with Standing Vice Chairman of the NA Tran Thanh Man and attended a reception banquet hosted by the latter.
Vietnam, Uzbekistan hold deputy ministerial-level political consultation
Vietnamese Deputy Minister of Foreign Affairs To Anh Dung and his Uzbekistani counterpart Furkat Sidikov co-chaired the fifth political consultation via videoconference on January 21 to discuss bilateral ties as well as regional and global issues of shared concern.
Both sides reached consensus on a number of measures to further strengthen bilateral ties amid the complicated developments of the pandemic, including online discussions and gradually restoring face-to-face meetings within bilateral and multilateral frameworks.
Both sides also discussed regional and global issues of shared concern, including maintaining peace and stability in the East Sea. They stressed that political consultation is an important mechanism to offer timely opinions and maintain joint work in bilateral and multilateral fields.
Endangered turtles returned to the wild
The Cham Island's Marine Protected Area (MPA) management board and Quang Nam province's rangers have released an endangered turtle to the local forest, three days after it was captured by a local farmer and handed to the MPA.
The 1.5kg, 24cm shell turtle, which is listed in the International Union for Conservation of Nature as a critically endangered species, was returned to the wild on January 20.
According to MPA, seven tortoises and sea turtles, handed in by locals, have been released in the Cham Islands in 2021.
Procuracy proposes upholding first-instance sentences for defendants in Sabeco case
The High-Level People's Procuracy in Hanoi on January 21 suggested upholding the first-instance trial's sentences for four defendants in the case that occurred at the Ministry of Industry and Trade (MoIT), Saigon Beer – Alcohol – Beverage JSC (Sabeco) and Ho Chi Minh City.
They included former Minister of Industry and Trade Vu Huy Hoang, former Director of the MoIT's Department of Light Industry Phan Chi Dung, former Deputy Director of HCM City's Department of Planning and Investment Lam Nguyen Khoi, and former head of the department's Infrastructure Development Division Le Quang Minh.
Earlier, at the instance trial, the Hanoi People's Court sentenced Hoang to 11 years' imprisonment and Dung to nine years in prison for "violating regulations on the management and use of State assets, causing losses and wastefulness".
Khoi got a jail term of four and a half years, while Minh received a prison sentence of three and a half years for "violating regulations on land management."
30th anniversary of Vietnam-Ukraine diplomatic ties marked in Hanoi
A ceremony took place in Hanoi on January 21 to mark the 30th anniversary of the diplomatic relations between Vietnam and Ukraine (January 23, 1992 – 2022).
Attending the ceremony, Ambassador Nguyen Phuong Nga, Chairwoman of the VUFO, expressed her belief in future growth of the ties thanks to the nations' potential, strengths, efforts, and determination.
Natalya Zhynkina, Ukrainian Chargé d'Affaires to Vietnam, affirmed Ukraine stands ready to be a trustworthy partner of Vietnam in Europe.
The Ukrainian Embassy in Vietnam is willing to support the VUFA in organising exchanges and friendship activities between the two peoples.
Vietnamese people in US applauds resumption of int'l commercial flights
Many Vietnamese people and businesses in the US have shown their support for the homeland's restoration of international commercial flights, describing the move as a good start for the New Year.
Sean Lam, Vice President of IMSG – a partner of the Vietnam Air Traffic Management Corporation, said after almost two years of international flight suspension, Vietnamese guest workers with expired labour contracts, students, or people on business trips but stranded abroad now has huge demand for reuniting with their families.
Nguyen Huu Quoc, owner of a travel company in the state of Maryland, said though Vietnam's restoration of regular international flights is slower than other regional countries, it will be an encouraging start and a condition for businesses to resume operations and reactivate services for international tourists, helping restart the tourism sector.
Tran Kim Ngoc, an accountant at the US-based CPA company, said the resumption not only create conditions for many OVs to reunite with their families during the Lunar New Year festival but also meet people's travel and studying demand.
The move is greatly expected by not only businesses but also the entire Vietnamese community in the US. It shows the Government's attention to people's demand and investment cooperation so as to shore up the economy in the time ahead, she added.
Appeal trial for ex-Minister of Industry and Trade Vu Huy Hoang resumes
The High-Level People's Court in Hanoi on January 21 reopened an appeal trial for the case that occurred at the Ministry of Industry and Trade (MoIT), Saigon Beer – Alcohol – Beverage JSC (Sabeco) and Ho Chi Minh City, causing a loss of over 2.7 trillion VND (119.25 million USD) for the State, despite the absence of defendant ex-Minister of MoIT Vu Huy Hoang.
Hoang and three other defendants appealed against the first-instance sentences, asking for reduced punishment. The other three are Phan Chi Dung, former Director of the Light Industry Department at the MoIT; Lam Nguyen Khoi, former Deputy Director of the HCM City Department of Planning and Investment; and Le Quang Minh, former head of the HCM City Department of Planning and Investment's Infrastructure Development Division.
The trial was suspended late December 2021 due to the absence of Hoang and Minh who were under medical quarantine, along with the absence of representatives from Sabeco and some lawyers.
Earlier, at the instance trial, the Hanoi People's Court sentenced Hoang to 11 years' imprisonment and Dung to nine years in prison for "violating regulations on the management and use of State assets, causing losses and wastefulness".
New technology applied in coastal erosion prevention in Ba Ria-Vung Tau
The Vietnam Science and Technology Joint Stock Company (BUSADCO) has gained positive results in using assembled concrete components in the protection of riverbanks, lakes and dykes in the southern province of Ba Ria-Vung Tau, contributing to preventing coastal erosion.
On January 20, the company held a ceremony to complete the project building the entire embankment to protect the downstream of Ray River in the province's Xuyen Moc district.
Do Huu Hien, Deputy Director of the provincial Department of Science and Technology, said that the increase of rains, storms and tropical depressions, sea level rise due to climate change, along with human activities have changed the alluvial balance at the coast, negatively affected coastal works and caused severe consequences on the socio-economic life.
Deputy Defence Minister receives Romanian Ambassador
Member of the Party Central Committee, member of the Central Military Commission and Deputy Minister of National Defence Sen. Lieut. Gen. Hoang Xuan Chien hosted a reception for Romanian Ambassador to Vietnam Cristina Romila on January 21.
At the function, the two sides agreed to further promote defence cooperation between the two countries in line with each country's capacity and needs.
They agreed to maintain contact and exchanges at different levels in suitable forms, enhance collaboration in personnel training and overcoming war aftermaths, and share experience in participating in United Nations peacekeeping missions.
Special books introduced ahead of Tet festival
Dong A Books Joint Stock Company has published a book titled Sach Tet Nham Dan 2022 (Book for the Year of the Tiger 2022).
The book features a collection of stories, poems, songs, paintings and illustrations about spring and the Tet festival by 60 writers and painters, divided into six parts: Ky uc mua xuan (Memories of Spring), Van (Essays), Tho (Poems), Nhac (Songs), Hoa (Paintings), and Vi thanh (Conclusion).
Dong A has partnered with Tiem Mot – a bookshop chain available in 10 countries around the world -to deliver the book to Vietnamese people abroad.
For children, "Nham nhi Tet Nham Dan" (Tasting Tet of the Year of the Tiger) by renowned Kim Dong publishing house would be a good choice. It contains poems, paintings, comic stories and tips for cooking during Tet.
Meanwhile, Nha Nam Publishing and Communication JSC offers another choice for readers with its publication "Chuyen tra-Lich su mot thuc uong lau doi cua nguoi Viet" (Tea story-The history of a long-lasting drinking of Vietnamese people).
2022 AFC Women's Asian Cup: RoK stun Vietnam 3-0
Vietnamese women were outplayed 3-0 by their opponents from the Republic of Korea (RoK) in their 2022 AFC Women's Asian Cup opener in India on January 21.
RoK women with most of them playing in European-class tournaments took the initiative to dominate the match while Vietnamese women did not have the best physical strength after combating the COVID-19 during their training camp in Spain.
Playing the RoK that are 200 points more on the FIFA rankings, it was not strange that Vietnam conceded two goals in just seven minutes of the game and another goal before the last whistle of the referee.
Israeli Embassy, Miss Universe VN H'Hen Nie open libraries for ethnic students
The Israeli Embassy in Vietnam joined with Miss Universe Vietnam 2017 H'Hen Nie to debut a Room to Read library at an elementary school in Minh Son commune of Bac Me district in the northern province of Ha Giang.
The library is as part of a three-year project which aims to help develop reading habits for ethnic students in remote mountainous areas.
The project is also being implemented at an elementary school in Niem Tong commune of Meo Vac district in Ha Giang province.
This scheme will see students gain access to high-quality books which are suitable for their ages, while they will be able to read books at schools and will be encouraged to maintain their reading habit at home.
Mai Vàng award honours veteran artist Kim Cương
People's Artist Kim Cương, a renowned cải lương (reformed opera) performer, was honoured at the 27th Mai Vàng (Golden Ochna) awards ceremony at the HCM City Opera House on Thursday night.
Cương received the Mai Vàng award for her contribution to the nation's arts and community activities over the past 50 years.
Pop star Noo Phước Thịnh was named best singer for his live show Đêm Nhạc Trên Mây (Concert in the Cloud) held in Đà Lạt City in April.
Late singer Phi Nhung was awarded the prize for the best contemporary singer, while her song, Bậu Ơi Đừng Khóc (Don't Cry), a composition by Hamlet Trương, was named as the best song.
The Mai Vàng award for the best film was given to TV serial, Cây Táo Nở Hoa (The Apple Tree in Blossom), a remake of South Korean TV serial What's Wrong, Poong-sang.
Actor and singer Ngô Kiến Huy received two Mai Vàng Awards for best actor and MC.
The HCM City-based theatre company, Trần Hữu Trang Cải Lương, adaptation of Nàng Xê Đa, a famous play from the 1980s by the late playwright and poet Lưu Quang Vũ of Hà Nội, won the best theatre play award.
Young actor Võ Minh Lâm, who plays Prince Pơliem, got the award for the best theatrical actor, while young actress Hồng Trang was named best theatrical actress.
Source: VNA/VOV/VNS/SGGP/Dtinews
Don't make obstacles for people travelling back home for Tet holiday: PM