Don't make obstacles for people travelling back home for Tet holiday: PM
In an official document sent to localities on Wednesday, Prime Minister Pham Minh Chinh required provinces and cities to speed up COVID-19 vaccination work, and pay more attention to people facing a high-risks from the pandemic.Localities should conduct the necessary tests, quarantine scientifically, and avoid regulations that make difficulties for citizens.The Minister of Health should learn from other countries' experiences and recommendations from the World Health Organization, to give in-time instructions and solutions.Concerned ministries and organisations well coordinate with multimedia to call for the whole society to ensure a healthy and safe Tết holiday, so that all people will adapt to the new situation for sustainable development.Gov't chief launches Spring vaccination campaignPrime Minister Pham Minh Chinh on Thursday launched Spring vaccination campaign with an aim to significantly increase the COVID-19 vaccination rate.The campaign will be implemented from February 1 to 28, which means COVID-19 vaccine administration will continue during the nine-day Lunar New Year festival that start from December 31.The second dose vaccination for 12-18 year-old people must be finalized in January and booster shots for the adult population will be finished by the end of the first quarter.The PM tasked the Ministry of Health to prepare a plan for kid vaccination in accordance with recommendations of the World Health Organization (WHO) and Viet Nam's practical reality.Minister of Health Nguyen Thanh Long forecast that Viet Nam would be unable to completely put the COVID-19 pandemic under control in 2022 due to the emergence of new COVID-19 variants.Probe underway on shooting threat against Japan-Vietnam flightInvestigation is still underway on a shooting threat made against a Vietnam Airlines flight en route from Japan to Vietnam earlier this month, spokeswoman Le Thi Thu Hang told the Foreign Ministry's regular press conference on January 20.Shortly after receiving the information about the incident, the Embassy of Vietnam in Japan has supported the representative office of Vietnam Airlines in the country to contact local authorities for information verification, Hang said. The embassy has also sent a note to the Japanese Ministry of Foreign Affairs requesting an urgent security check for the flight upon its arrival at Fukuoka Airport, aiming to ensure safety of all passengers.At present, the case is under investigation. The relevant agencies of Vietnam are coordinating with the Japanese side to continue clarify the reasons behind it as well as identify the caller.Vietnamese female football team to play with high resolve in Asian Cup finalThe women's football team of Vietnam will compete in the 2022 Asian Football Confederation (AFC) Women's Asian Cup with strong determination and effort, head coach Mai Duc Chung said on January 20.Speaking at a press conference held in India, where the team are gearing up for their match against the Republic of Korea, Chung said that he and the whole team are very happy to once again participate in the 2022 Asian Women's Football Cup final, and thanked the Organising Committee of the host country India for the warm welcoming of the team.The Vietnamese women's team are in a group with very strong opponents such as Japan, the Republic of Korea (RoK) and Myanmar, he said, adding "This is unfortunate for us, but as a professional coach with many years of experience in women's football, I and the team members will keep up our resolve".Vietnam are set to play the Republic of Korea on January 21.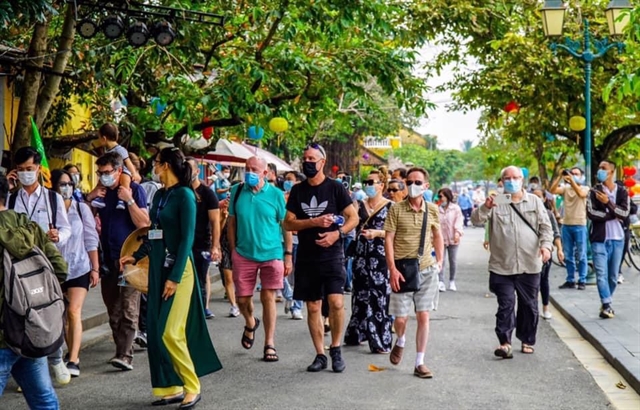 Poor, AO victims receive Tet gifts from Vietnam Red Cross SocietyThe Central Committee of the Vietnam Red Cross Society (VRC) has allocated nearly 10 billion VND (over 441,000 USD) to cities and provinces to support the poor and victims of Agent Orange (AO)/dioxin on the occasion of the Tet (Lunar New Year) festival.The "Tet for the poor and AO victims" was launched by the VRC in 1993. Since then, its chapters at all levels have granted over 28.9 million gifts to poor households, families of AO victims, those affected by natural disasters and epidemics, and disadvantaged people, with total funding amounting to nearly 10 trillion VND.This year, the VRC plans to present at least 1.8 million gifts to the groups, including households affected by the COVID-19 pandemic, with more than 80 percent of the gifts valued from 500,000 VND each.Vietnam – trustworthy friend of South AfricaA delegation of the Vietnamese Embassy in South Africa led by Ambassador Hoang Van Loi paid a working visit to the Garden Route District Municipality (GRDM) and George city in South Africa's Western Cape province from January 17-20.Ambassador Loi used the occasion to learn about investment opportunities and experience in socio-economic development and tourism in seven districts of the GRDM.On this occasion, the ambassador presented the Parkdene High School and the Tabatha Primary School in George each with 200,000 medical masks donated by the Vietnamese community in South Africa.VN face player shortage in run-up to Australia clashVietnam's World Cup qualifying campaign will resume against Australia in just six days but a shortage of available players is causing a headache for coach Park Hang–seo. COVID-19, injuries, suspensions and visa issues are the four main problems at the moment.A week after testing positive with COVID-19, Nguyen Tien Linh is now fully recovered. However, Linh hasn't yet completed the quarantine period, so the 24–year–old striker can't meet the visa deadline to enter Australia. This is also the case for Hoàng Anh Gia Lai striker Nguyễn Văn Toàn.After Linh and Toan tested positive, South Korean oach Park called up Trần Phi Sơn and Ngân Văn Đại, but the duo have since faced visa issues as they were not on the original invitation list of the host Australia.Việt Nam's remaining striker Hà Đức Chinh and midfielder Nguyễn Tuấn Anh are also out due to injuries. The bad luck continues as former captain Quế Ngọc Hải is suspended, having received two yellow cards in previous matches.The absence of these seven important players, coupled with a strong Australian side looking to qualify for their sixth World Cup, has created a difficult puzzle for coach Park to try and solve.Việt Nam will face Australia in Melbourne on January 27 before hosting China at home on February 1 in their remaining world cup final qualifiers campaign.Thua Thien-Hue launches virtual tourism spaceA virtual space introducing tourist destinations of the central province of Thua Thien-Hue was launched on January 20, aiming to optimise digital transformation to boost the industry's recovery and encourage traveling activities amid new normal situation.Visitors can access the Thua Thien-Hue virtual tourism space at websites http://khonggianao.huetourism.gov.vn and http://khonggianao.visithue.vn to enjoy images of destinations, festivals and specialties as well as tourism activities of the province in a 3D format.The department and its technology partner Vietsoftpro JSC have supported travel firms to register to join the virtual tourism space and interact with customers. So far, more than 90 localities and businesses have registered to take part in the space.RoK organisation presents computer lab to Hanoi studentsThe Global Civic Sharing (GCS) organisation of the Republic of Korea (RoK) on January 20 presented a computer lab worth 550 million VND (24,300 USD) to Lien Chau secondary school in Hanoi's Thanh Oai district, on the occasion of the 30th founding anniversary of the Vietnam-RoK diplomatic ties.It is part of a project backed by the Seoul Guarantee Insurance Company (SGI), aiming at improving conditions for Vietnamese students. The lab comprises 35 computers, printers and Internet connection.This year, through HAUFO, the GCS Office in Vietnam will present two computer labs and libraries totalling 1.8 billion VND to some schools in My Duc district and Son Tay town of Hanoi.Top legislator's gifts delivered to policy beneficiaries, soldiers in Tay NinhUnder the authorisation of National Assembly (NA) Chairman Vuong Dinh Hue, the delegation of NA deputies of the southern province of Tay Ninh delivered the NA Chairman's Lunar New Year gifts to 10 border check points set up during the fight against COVID-19 pandemic in three districts of Tan Bien, Chau Thanh and Ben Cau.The delegation also brought 50 gifts to Vietnamese Heroic Mothers, families of martyrs, wounded soldiers, people who rendered service to the revolution, Agent Orange/dioxin victims, and members of the Vietnam Association of Former Youth Volunteers who are living in difficult circumstances.Party officials of Vietnam, India hold talksThe head of the Party Central Committee's Commission for External Relations, Le Hoai Trung, held virtual talks on January 20 with the chief of the Foreign Affairs Department of the Indian ruling Bharatiya Janata Party (BJP), Vijay Chauthaiwale, and BJP Member of Parliament Ravishandar Prasad.The two sides exchanged views on regional and international issues of common concern, and discussed measures and directions to promote the ties between the CPV and the BJP in the time ahead, contributing to deepening the comprehensive strategic partnership between the two countries.Foreign Minister delivers Tet gifts to needy Vietnamese CambodiansMinister of Foreign Affairs Bui Thanh Son met with leaders of the Khmer-Vietnam Association and presented gifts to needy Cambodians of Vietnamese origin in Cambodia on January 19 as part of his two-day official visit to the neighbouring country.He took the occasion to present 500 Tet gift packages, funded by the Vietnam Fatherland Front, to Vietnamese Cambodians affected by the pandemic.Vietnam, Malaysia should lift bilateral trade to 20 billion USD by 2025: PresidentPresident Nguyen Xuan Phuc said he wants Vietnam and Malaysia to lift bilateral trade to 20 billion USD by 2025 during a reception for outgoing Ambassador of Malaysia to Vietnam Dato Sharifah Norhana Syed Mustaffa on January 20 afternoon.Phuc highly regarded the Malaysian diplomat for her outstanding contributions to promoting the strategic partnership between the two countries during her mission in Vietnam. Vietnam and Malaysia have boasted effective partnership at regional and global forums thanks to her efforts to strengthen information exchange between the two sides, he said.He highlighted that the bilateral ties have grown constantly in various fields despite COVID-19 challenges, with two-way trade reaching 12.5 billion USD in 2021, up 25.5 percent from the previous year.Top legislator hosts First Officer of Hungarian National AssemblyNational Assembly Chairman Vuong Dinh Hue on January 20 hosted a reception for First Officer of the Hungarian National Assembly Márta Mátrai who is on a working visit to Vietnam.The same day, the First Officer of the Hungarian NA met with Vo Van Thuong, Politburo member and permanent member of the Party Central Committee's Secretariat.The two sides briefed each other on the situation of their respective parties and countries, and exchanged experience in Party building, the pandemic combat, economic recovery and national development.They also compared notes on measures to foster relations between the parties and the two countries in the coming time.
Vietnam, France hold seventh high-level economic dialogueThe seventh high-level economic dialogue between Vietnam and France took place in the form of videoconference on January 20.The event was co-chaired by Director of the External Economic Department under the Ministry of Planning and Investment Pham Hoang Mai, and on the French side head of the Bilateral Affairs and International Business Development Department at the French Treasury Magali Cesana.The two sides exchanged notes on bilateral programmes and projects funded by French ODA, particularly the urban railway No.3 in Hanoi, which is considered a symbol of Vietnam-France ties and expected to be put into operation at the end of this year.They also discussed in details possibilities for cooperation in agriculture and transport, the Long Thanh airport project and a scheme on forming an international farm produce wholesale market.Exhibition on traditional Tet opens to publicMore than 100 rare documents and images from the Nguyen dynasty to the end of the 20th century are on display.The exhibition and side events partially depict the traditional Tết atmosphere with the customs and rituals of the previous generations.This exhibition introduces to the public a traditional Tết atmosphere through a variety of archival materials of various genres such as images, manuscripts, newspapers, paintings.The exhibition offers free entry until March 15 at the National Archives Centre 1, 5 Vu Pham Ham Street, Cau Giay District, Hanoi.Vietnam, Cambodia enjoy thriving tiesMinister of Foreign Affairs Bui Thanh Son on January 20 held talks with his Cambodian counterpart Prak Sakhonn during which both sides said they are happy to see the growing ties between the two countries' ministries, agencies, localities and people.Despite COVID-19 impacts, the bilateral trade surged nearly 80 percent to reach 10 billion USD last year.In 2021, Vietnamese companies poured more than 88.9 million USD in four new projects in Cambodia. This raised Vietnam's total investment to over 2.84 billion USD, making it one of the five largest foreign investors in the neighbouring country.The two FMs agreed to strengthen cooperation and actively enforce agreements reached by both countries' leaders on land border demarcation and marker planting.Vietnam logs 16,715 new COVID-19 cases on January 20A total of 16,715 new COVID-19 infections were detected on January 20, bringing the national caseload to 2,094,802.The capital city of Hanoi continued to record the highest number of infections at 2,884, followed by Da Nang at 983 and Hai Phong at 722.Vietnam has recorded 108 Omicron infections so far.A further 152 COVID-19 related deaths were also announced, raising the country's death toll to 36,266, accounting for 1.7 percent of total cases.The Ministry of Health also reported that 4,591 patients nationwide are in serious condition, with 647 requiring invasive ventilation and 20 on life support.Ice, snow reported on Mount FansipanIce and snow have been spotted on Mount Fansipan, the highest mountain in Vietnam, as a result of widespread rain and freezing temperatures on early January 21.A light rain mixed with snow occurred for about 10 minutes at 6:30am on the day, resulting in a thin layer of ice on the ground on Mount Fansipan and nearby areas, according to a worker at the Fansipan cable car station.This is the first rain with snow on this mountain, located in Lao Cai province, since the start of the 2021 winter.It is a rare phenomenon in Vietnam and only recorded in high mountain areas in the northern region in winter.Travel businesses expect this weather condition will help attract more visitors to the Sa Pa national tourism area during the coming Lunar New Year (Tet) holiday.Nearly 10,000 tonnes of rice aid proposed for the needyThe Ministry of Labour, Invalids and Social Affairs (MoLISA) has proposed the Prime Minister provide over 9,877 tonnes of rice in aid for needy households during the Lunar New Year (Tet) holiday and the between-crop period of early 2022.Seven provinces hit hard by the pandemic and natural disasters, namely Tay Ninh, Cao Bang, Phu Yen, Ninh Thuan, Nghe An, Gia Lai, and Quang Binh, asked the PM for more than 11,448 tonnes of rice aid for 197,952 households, with 658,525 people, during Tet and the between-crop period.In the initial phase, the MoLISA proposed over 9,877 tonnes of rice be delivered free of charge to the seven provinces. That includes about 6,902 tonnes for 141,659 households with 460,147 people during Tet, and 2,975 tonnes for 56,293 households with 198,378 people to survive the between-crop period.Further tourist destinations in Kien Giang reopen to touristsSeveral tourist attractions, including U Minh Thuong National Park, Hang Pagoda, and Hon Phu Tu tourist site in the Mekong Delta province of Kien Giang have reopened to tourists following a long period of closure due to the impact of COVID-19.U Minh Thuong National Park is one of the nation's remaining peat swamp forests and boasts a vast diversity of rare animals and plant species. In addition, it is recognized as one of the three highest priority areas for wetland conservation throughout the Mekong Delta region.Furthermore, Hang Pagoda and Hon Phu Tu tourist sites have also made thorough preparations as they prepare to welcome back visitors from January 28, said Ho Van Luc, director of the Centre for Culture, Sports and Radio of Kien Luong district.Hon Phu Tu tourism complex boasts a variety of caves and rocky mountains which are home to unique shapes and beautiful beaches, earning the nickname the "Ha Long Bay" of the south.Thailand invests over US$13 billion in Vietnam throughout 2021Thai businesses invested in 645 valid projects nationwide with total registered capital of over US$13 billion last year, ranking eight out of 140 countries and territories investing in the country, according to figures given by the Ministry of Planning and Investment.The majority of Thai capital flows in Vietnam are poured into the processing and manufacturing industryMost notably, Thailand's foreign direct investment (FDI) capital into the country reached US$927.12 million in 2019 before skyrocketing to US$1.8 billion in 2020 with the involvement of the Long Son petrochemical project.Last year, despite the complicated developments of the COVID-19 pandemic, Thai businesses invested in 35 new projects capitalized at US$349.47 million in the Vietnamese market, ranking 11 out of 106 countries and territories investing in the country.Ba Ria-Vung Tau receives three ASEAN tourism awardsThe southern province of Ba Ria-Vung Tau was honoured in categories such as the ASEAN Green Hotel Standard, Clean Tourist City Standard, and MICE Venue Standard at an awards ceremony held on January 19 as part of the ASEAN Tourism Forum (ATF) 2022 in Cambodia.This year the nation boasts up to 20 localities which have been awarded in several categories. Among them, three localities received the ASEAN Clean Tourist City Standard, including Ha Long City in Quang Ninh province, Da Lat City in Lam Dong province, and Vung Tau City in Ba Ria-Vung Tau province.The occasion also saw representatives of ASEAN member states press a button to welcome the reopening of ASEAN tourism, with the ceremony affirming the regional bloc's determination to resume tourism activities in both the region and around the globe.Vietnam hopes all parties increase dialogue on Korean Peninsula issueVietnam hopes all relevant parties will increase dialogue and seek peaceful solutions to the Korean Peninsula issue, while exercising restraint, strengthening trust-building, and avoiding effects on civilians, stated Ambassador Dang Dinh Quy, Permanent Representative of Vietnam to the UN.Speaking to a Vietnam News Agency correspondent in New York after the UN Security Council's meeting on the Korean Peninsula issue, the second convened by the council in two weeks after the Democratic People's Republic of Korea (DPRK)'s fire test of tactical guided missiles on January 17, Quy said that there remain differences among members of the council on whether the tests violate UNSC resolutions or not.Chinese illegal migrants deported from HCM CityHCM City police have deported 12 Chinese people who illegally entered Vietnam.They entered Vietnam illegally through the northern border gates with the support of smugglers. They took coaches to HCM City. Some of them wanted to stay in HCM City to find jobs, while the others intended to seek work in Cambodia.The Chinese were found in rented rooms in Thu Duc City and Nha Be districts.Several illegal Chinese entrants were previously found in HCM City.In 2021, up to 264 illegal migrants were deported from Vietnam by HCM City police.HCM City airport becomes crowded as Tet nearsTan Son Nhat Airport in HCM City has become more crowded in recent days due to increasing amounts of travel around the Lunar New Year Holiday.Long queues of passengers at all the check-in desks on the afternoon of January 19.Long queues of passengers were seen at all the check-in desks on the afternoon of January 19.Passengers had to declare their health status and show Covid-19 test results at the check-in desks, which made the overcrowding more serious.To save time, airlines have advised passengers to check in through websites, telephones or at kiosks 24 hours before departure.Source: VNA/VNS/VOV/VIR/SGT/SGGP/VGP