PM directs building roadmap to welcoming foreign visitors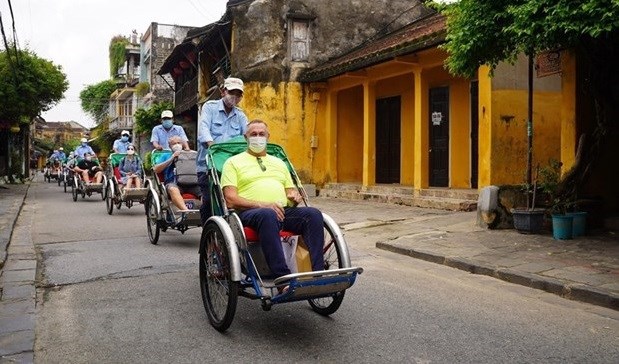 In Hoi An ancient city (Photo: VNA)

The Government Office has issued a dispatch on the Prime Minister's directions about building a roadmap to open the door to welcome foreign visitors in a safe, scientific and effective manner.
As the country is safely, flexibly adapting to and effectively controlling the pandemic while gradually re-opening its economy, PM Chinh asked the Ministry of Culture, Sports and Tourism (MoCST) to partner with the ministries of health, national defence, public security, foreign affairs, transport, information and communications; ministries, agencies concerned and localities to promptly build a plan and roadmap in this regard.
They were assigned to hold seminars gathering experts, scientists and managers to reach their consensus.
People's committees of centrally-run cities and provinces must work with the MoCST, Health Ministry and concerned agencies to issue detailed plans for the effort, prepare for human resources and equipment and come up with plans to cope with the pandemic and any arising medical incidents.
Deputy Prime Minister Vu Duc Dam was tasked with directing the building and implementation of the roadmap.
Vietnamese-French painter and dreams about the homeland
While pursuing his art in Paris, Vietnamese-French painter Vincent Monluc still directed his soul towards Vietnam – his ancestral homeland. After many decades, the 70-year-old painter finally fulfilled his life's desire with the holding of an exhibition entitled "Dream".
The exhibition, which took place at the Alley Art Gallery in Ho Chi Minh City, displayed 95 watercolour and oil paintings.
Vincent worked in many different jobs in France, but his love for painting remained firm in his heart. After returning to live in Vietnam in 2019, his creative inspiration has seemed endless.
He travels all over Vietnam, exploring the country through the lens of his art. What he most cares about is people. He loves to draw workers on the streets and in villages and the countryside because he believes that this is the life and soul of Vietnam./.
Exhibition showcases tigers in ancient Vietnamese art
An exhibition highlighting tigers in ancient Vietnamese art is underway at the Vietnam National Museum of History.
Held in celebration of the upcoming Year of the Tiger, the exhibition is being jointly arranged by the museum, the Hung Kings Temple historical relic site, and collectors.
On show are more than 30 exhibits, documents, and images featuring tigers throughout the more than 2,000 years of the country's art history, revealing that tigers were widely portrayed in ancient pottery, carvings, and folk paintings, among others.
The exhibition will help the public understand more about the depiction of tigers in Vietnamese art and why the tiger is one of the zodiac animals. It is open until August 31.
Two additional COVID-19 cases linked to Omicron cases in HCM City
The HCM City health department has reported two additional COVID-19 cases related to the first cluster of Omicron in the community detected in Việt Nam.
They have been quarantined at the COVID-19 field hospital 12, and are awaiting results of genomic sequencing.
The new cases have linked to a Vietnamese woman returning from the US and her three relatives that came to the Tân Sơn Nhất International Airport to welcome her back home, who tested positive for SARS-CoV-2 on January 15.
After genomic sequencing, the three relatives were found with the Omicron variant, while the woman's result is still pending.
New South African Defence Attaché welcomed in Vietnam
Deputy Minister of National Defence Sen. Lieut. Gen. Hoang Xuan Chien on January 20 hosted a reception for Colonel Eugene Vincent Jeoffrey Dudley, the new South African Defense Attaché in Vietnam.
Colonel Eugene Vincent Jeoffrey Dudley showed his delight at the progress of defence cooperation between South Africa and Vietnam over the years, and affirmed that South Africa is willing to cooperate with Vietnam in areas including English language training, military medicine, logistics and other fields of South Africa's strengths.
He said he hopes to receive support from the Vietnamese Ministry of National Defence during his working term in Vietnam, thus contributing to fostering the defence ties between the two countries.
Prices hiked in holistic medicine for COVID patients
As cases rise, many COVID patients in Hà Nội treating at home have turned to holistic methods such as aromatherapy to relieve symptoms.
Seeing the rise in demand, many merchants have hiked prices of aromatherapy ingredients. Prices of herbs used for herbal steam, which normally costs between VNĐ6,000-10,000 (US$0.26-0.44) are now four or five times more expensive.
The situation is similar with ingredients such as ginger or garlic, which are used in traditional cold medicines.
Many families have turned away from just using herbs to buying other items, including ceramic pots used for herbal steam. But the price of the pots is also unstable, ranging from VNĐ75,000 to VNĐ250,000.
Quang Ninh ready to welcome foreign tourists back
The northern coastal province of Quang Ninh is ready to welcome international tourists back from late January or early February.
The province is among seven localities nationwide chosen to pilot reopening doors to foreign visitors in a bid to revive the tourism industry after a long hiatus caused by the COVID-19 pandemic.
Tuan Chau Group was selected to welcome and serve international tourists to the province. The group has directed relevant units to make thorough preparations, ensure necessary facilities, sufficient medical equipment and supplies.
Travel agencies, businesses, hotels, accommodation establishments and restaurants have prepared the best and safest options for international tourists to feel secure when coming to Quang Ninh.
Hang Luoc traditional flower market opens in Hanoi
The Hoan Kiem District People's Committee opened Hang Luoc street traditional flower market and diverse activities at Phung Hung street mural space on January 19 in celebration of the upcoming Tet (Lunar New Year) holiday.
In addition to organising the Tet flower market, Hoan Kiem district's authorities have also organised cultural and art activities in bridge arches along Phung Hung mural street every year since 2018 so that people can feel the elegance and joy surrounding.
The same day, Da Nang Spring Festival was launched by the city's Department of Industry and Trade with the participation of hundreds of businesses, cooperatives and production facilities.
The festival will be held from January 19 to 24 at Danang Exhibition and Convention Centre. It featured more than 150 stalls showcasing One Commune One Product (OCOP) products, regional specialties of provinces and cities including Quang Nam, Bac Ninh, Binh Dinh, Dong Nai, Hai Duong and Ho Chi Minh City.
HCM City could reopen preschool to 6th grade classes after Tết
The HCM City Department of Education and Training has sought approval from the People's Committee to allow preschool children and first to sixth graders to return to school after the Tết (Lunar New Year) holidays.
It requires schools to prepare for resumption of classes from February 7 and receive students a week later.
Local COVID prevention and control committees will check their pandemic response plans before the resumption.
Many schools have said they are ready to resume classes after being closed for nearly one year due to the pandemic.
Nineteen public and 26 private preschools with a total of 8,500 students are fully prepared.
HCM City artists honoured at Drama Festival
Artists Ngô Mỹ Uyên and Lê Lộc of HCM City have won top prizes at the 2021 Southern Drama Festival launched by the Performing Art Department under the Ministry of Culture, Sports and Tourism.
Meritorious Artist Uyên won gold prize for the Best Actress in Tình Lá Diêu Bông (Woman in Love), a production on family issues staged by the HCM City Small Theatre.
Uyên's performance captured the hearts of judges and audiences during the 13-day event.
Lộc won gold prize for Best Actor in Ngã Rẽ (Turn of Life), a play on urban youth and their conflicts in love, family life and their careers.
The two were among 40 artists who were honoured at the festival's award ceremony on Monday at HCM City's Trần Hữu Trang Cải Lương Theatre.
Culture ministry proposes fully opening to international visitors from April 30
Minister of Culture, Sports and Tourism Nguyễn Văn Hùng and economic experts believe that April 30 is an appropriate occasion to welcome foreign tourists back to Việt Nam.
As part of a current pilot project, groups of foreign tourists have been welcomed to selected destinations on closed, package tours.
Addressing a conference on improving tourism competitiveness on Tuesday, Minister Hùng noted Việt Nam is kick-starting its tourism recovery scheme by reopening the door to domestic tourism, receiving support from localities and travel businesses.
The minister requested that localities continue implementing the pilot scheme from now until April 30, and if the proposal is approved, Việt Nam will fully reopen its market to international tourism.
New captain Dung aims for Tết special against China
Returning after a serious leg-break almost a year ago, Đỗ Hùng Dũng is back in the national squad and, with the captain's armband, is ready to stamp his authority on Việt Nam's remaining World Cup qualifiers against Australia, China, Oman and Japan.
The national team will face China at the Mỹ Đình stadium on the first day of Lunar New Year, a game that will mean a lot for Dũng.
Returning to football after an awful tackle in a game against Hồ Chí Minh City FC sidelined him in March last year, Dũng has put his all into getting back into the form that saw him win the Vietnamese Golden Ball in 2019.
Despite being advised not to rush his recovery, Dũng never says "No" when his nation calls.
The newly-appointed national-side captain knows he has big shoes to fill in taking over from Quế Ngọc Hải, but isn't lacking confidence.
PM stresses need for comprehensive approach to tackling climate change
Chairing the first meeting of the National Steering Committee for the Delivery of Việt Nam's Commitments at the 26th United Nations Climate Change Conference of the Parties (COP26) held on Thursday, Prime Minister Phạm Minh Chính, who is also the committee's head, said Việt Nam's commitments made at the COP26 to reducing greenhouse gas emissions to zero by 2050 and methane emission by 30 per cent by 2030 are in line with the national economic restructuring programme and the global trend of green, circular and digital economic development.
He said climate change combat should be synchronously and effectively combined with green and digital transformation, and other transformations. The entire political system should engage in and all possible resources at home and abroad should be mobilised for the effort, which requires high determination and drastic actions.
He instructed that this year, the steering committee and relevant ministries and sectors should build a comprehensive programme detailing forecasts, goals and tasks for climate change response to submit to the competent authorities for consideration. Each ministry and sector should build its own plan for fulfilling climate change commitments.
Chính asked members of the committee, ministries and agencies to meet partners, donors and scientists to acquire expertise, resources and experience, and choose qualified personnel with passion and dedication to realise the country's COP26 commitments.
Early Tết visit for officers and soldiers on DK1 Platforms
A delegation of the High Command of the Naval Region 2 paid an early Tết visit to officers and soldiers on duty on DK1/10 Platform on Cà Mau Shoals yesterday.
Located in the southernmost province of Cà Mau, the was the last stop in the delegation's trip to DK1 platforms to mark the approaching Lunar New Year.
Between January 8-19, the delegation visited DK1/15 on Phúc Nguyên (Prince Consort Bank), DK1/11, DK1/12 and DK1/14 on Bãi Tư Chính (Vanguard Bank), and the on-duty vessel 637, to deliver Tết gifts from the mainland.
At the marine rigs in the southern Trường Sa (Spratly) Islands in the East Sea, the delegation listened to the commanders of the DK1 rigs reporting on their combat readiness during the Lunar New Year, as well as activities to take care of the material and spiritual lives of soldiers over the holiday period.
Mentorship model needed to reduce COVID-19 cases and fatality rate in Hanoi
Hà Nội should apply a model of medical mentorship in treating COVID-19, taking advantage of human resources and infrastructure of different treatment layers to reduce the number of serious cases and fatalities in the capital.
That is according to Dr Nguyễn Trung Cấp, deputy director of the National Hospital for Tropical Diseases, a leading hospital in COVID treatment in the country.
Hà Nội is applying a three-layer COVID assessment level for treatment; asymptomatic, patients with light symptoms and severe cases.
About 93 per cent of COVID-19 patients in Hà Nội are asymptomatic or have light symptoms. Among those, more than 50,000 patients are being treated at home. Others are being treated at city/district-level healthcare centres.
The rising number of infections in the city has however resulted in more serious cases.
Hanoi schools prepare to welcome back students after Tet Holiday
Schools in Hà Nội will rehearse welcoming back seventh graders and above before the Tết holiday.
The rehearsal follows a request from the chairman of the municipal people's committee Chu Ngọc Anh.
Anh made the request in an online meeting of the Hà Nội Steering Committee on COVID-19 Prevention and Control with districts in the capital city on Wednesday.
Schools will also prepare plans in case new COVID-19 cases are detected in educational settings.
Currently, only ninth and twelfth grades in localities in areas considered at low risks of COVID-19 are learning offline.
Deputy minister receives outgoing, new Russian defence attaché
Deputy Minister of National Defence Sen. Lieut. Gen. Hoang Xuan Chien hosted a reception in Hanoi on January 19 for outgoing Russian defence attaché to Vietnam Col. Roman Boytsov and new defence attache Col. Govorov Alexey Arkadievich.
He said despite the COVID-19 pandemic, bilateral defence bonds have been further deepened in various areas, notably the exchange of political and defence policies, reward for the two ministries' leaders and officials, personnel training, multilateral activities held by the two ministries, scientific research and military technical cooperation.
The host wished that in any position, Boytsov would continue making active contributions to bilateral ties and ties between the two ministries in particular.
Arkadievich vowed to build on the past achievements of his predecessor and partner with the Vietnamese authorities to enhance bilateral defence ties.
Gov't approves 2021-2025 national target programme on sustainable poverty reduction
Permanent Deputy Prime Minister Pham Binh Minh has recently signed a decision approving the national target programme on sustainable poverty reduction for the 2021-2025 period with total funding of at least 75 trillion VND (3.3 billion USD).
The overall goal of the programme is to achieve multidimensional, inclusive and sustainable poverty reduction. It will be carried out nationwide, with the focus on poor districts and extremely disadvantageous communes in lowland and coastal areas and on islands.
The programme targets to reduce the nationwide poverty rate by 1-1.5 percent, by over 3 percent among ethnic minority households, and by 4-4.5 percent in poor districts per year.
COVID-19: HCM City looks for passengers onboard two flights
The Ho Chi Minh City Centre for Disease Control (HCDC) is looking for passengers who were onboard two flights earlier this month following the detection of the first community infections of COVID-19 Omicron variant in the city.
On January 19, HCM City reported three Omicron infections linked to a Vietnamese woman who has entered the country since January 7, according to an urgent notice issued by the HCDC later the same day.
The woman, who had previously received three doses of Pfizer/BioNTech vaccine, had a negative PCR test three days before in the US but was later confirmed to be infected with the virus in Vietnam.
She arrived at Cam Ranh International Airport in Khanh Hoa on the flight VN5409 from the Republic of Korea on January 7. She was quarantined in a separate room at a hotel in Nha Trang city. She was tested for COVID-19 again on January 9, and the results showed negative for the virus.
On January 10, she took a Vietnam Airlines flight (VN1345) to HCM City.
The HCDC is asking all passengers to come forward and contact with local medical stations for immediate consultation and testing, the notice said.
Bicycle-sharing service attracts young people in HCM city
As many as 62,000 people, have used the bicycle-sharing service in Ho Chi Minh during the one-month trial period, according to Do Ba Dan, chairman of Tri Nam Group, the investor of the project.
The service is especially popular at the weekend with most of the customers being young people, aged between 18-40 years old, he said.
The service was launched by the city's Department of Transport (DoT) and Tri Nam Group on December 16, 2021 on a pilot basis in District 1 to encourage an alternative, greener method of transport in the southern metropolis.
The Tri Nam Group has set up 43 bike rental spots in District 1 near areas of interest such as tourist sites, parks and bus stops. Around 400 bikes are available.
The pilot public bicycle rental service will be available in 12 months. Prices start at 5,000 VND (0.22 USD) for 30 minutes, with an hour costing 10,000 VND (0.44 USD). To rent a bike, users need to download the TNGO mobile application and set up accounts. The app can be used to unlock a bike at any rental spot by scanning the QR code.
Thousands of tourists in HCM City book tours for Tet
Thousands of tourists in Ho Chi Minh City have booked tours during the Lunar New Year festival, known locally as Tet, with travel businesses launching diverse tours especially for the occasion since early December.
According to travel firms, tourists have a preference for choosing popular destinations during Tet, including Phu Quoc, Quy Nhon, Da Nang, Da Lat, Nha Trang, and Vung Tau.
Experts have pointed out that travelers tend to select tours with competitive prices, adding that tour operators such as Fiditour, Saigontourist, and Vietravel have launched a number of package tours offering huge discounts for customers.
Nearly 100 nursery schools in HCM City close due to pandemic
Nearly 100 preschools in HCM City have had to stop operations due to the Covid-19 pandemic, according to the municipal Department of Education and Training.
Truong Thi Hong Diep, head of the Nursery Education Board, said up to 3,200 nursery schools in HCM City have been closed for between 3-6 months due to the pandemic. Among those, around 100 private nursery schools have stopped operations.
Since May, 2021 roughly 5,900 students and 5,300 teachers and other staff working at schools in HCM City have been infected with Covid-19, the official said.
HCMC: Limiting events, gatherings to prevent spread of Covid-19 during Tet
The People's Committee of HCMC on January 18 has delegated departments, agencies and People's Committees of Thu Duc City and districts to limit social gatherings to help prevent the spread of Covid-19 before and after the lunar New Year.workers are presented coach tickets to reunite with their families in hometowns.
Festivals, sport and leisure activities have not been organized in the weeks prior to Tet and last for many days after the lunar New Year as well as in accordance with the Covid-19 alert level of localities.
The competent departments and units have to ensure food supply, safety, traceability, stable prices along with social security and people's travel demand during Tet holidays.
The municipal People's Committee has asked agencies and units to arrange work based on their plans during the holidays to ensure the fulfillment of their tasks and serve the people.
HCMC's unique floating flower market to open on January 27
HCMC's unique floating flower market is scheduled to open on January 27 (on the 25th day of the last lunar month). The flower market will take place on the Tau Hu-Ben Nghe canal along the streets of Ben Binh Dong and Nguyen Van Cua in District 8.
This year's event also includes competitions of decoration of floating flower boats and flower houses; making Banh Chung (the cube-shaped rice cake) and Banh Tet (the cylindrical-shaped rice cake); flower arrangement; photo contests of family reunion on Tet holidays and the beauty of the city's floating flower market.
Flowers and ornamental trees wil also be placed on the Tau Hu-Ben Nghe canal and along Ben Binh Dong and Nguyen Van Cua streets. Visitors to the flower market will have chance to take beautiful photos. In addition, the organization board will also host performances of Don Ca Tai Tu Nam Bo (southern amateur music) on boats along the canal.
Gov't approves national target program on poverty reduction for 2021-2025
Permanent Deputy Prime Minister Pham Binh Minh has signed Decíion No. 90/QD-TTg approving the national target program on sustainable poverty reduction for the 2021-2025 period with total funding of at least VND 75,000 billion.
The overall goal of the program is to achieve multidimensional, inclusive and sustainable poverty reduction.
The program targets to reduce the nationwide poverty rate by 1-1.5 percent, by over 3 percent among ethnic minority households, and by 4-4.5 percent in poor districts per year.
The number of poor and near-poor households is expected to decrease by half by 2025, according to the program.
Source: VNA/VOV/VNS/SGT/SGGP/VNN/
Hanoi approves 18-hectare park in Gia Lam